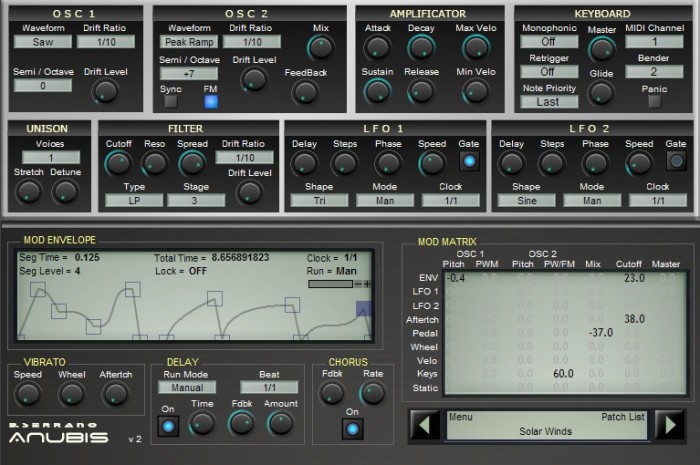 B. Serrano has released version 2 of Anubis, a free synthesizer instrument for Windows.
Anubis 2 features
32 voices polyphonic.
Unison up to 8 voices.
Same waveform as Dionysos.
3 layers multimode filter.
Drifting effect.
Full MDI learn implementation.
Envelope & LFO Host syncable.
…. and more.
The plug-in is available to download for Windows (VST).
Klevgränd produktion has released Enkl, a monophonic synthesizer, designed to be versatile and easy to use.
Enkl consists of two oscillators with one LFO each. These oscillators can be added, subtracted or multiplied together, and optionally processed though a filter. There is a simple built-in arpeggiator, a delay and a three-band EQ. The iPad version also has a unique "Extended Keyboard", which takes benefit of the touch screen, rather than trying to simulate a traditional keyboard.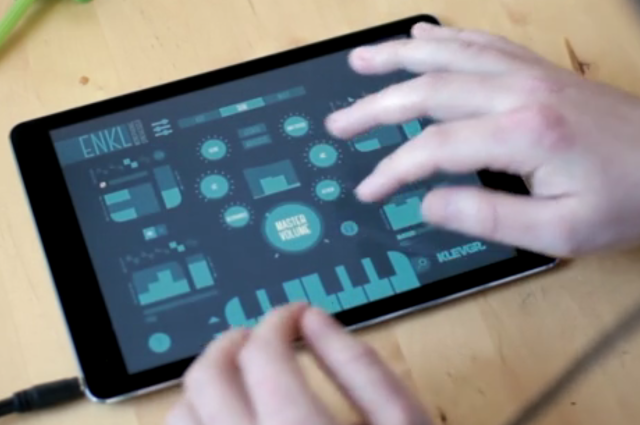 Features:
Realtime rendered audio – no samples involved
Two separate oscillators with separate LFO's
Oscillators can generate Triangle, Sawtooth, Square or Noise waveforms
Oscillators can be summed or multiplied together
Each LFO has its own ADSR and modulates its oscillator's pitch or volume
High cut and low cut filter with resonance (also controllable via MIDI)
Chiptune-style arpeggiator
Legato mode
Ping-pong delay as a post effect
Three band EQ as a post effect
MIDI support (including IAA MIDI and Virtual MIDI)
Extended Keyboard for live performing (also sends MIDI to any output port)
Local on / off
Pitch bend, Modulation, Low Cut, High Cut and Resonance controllable via MIDI
Comes with 93 factory presets
Documentation within app
Inter App Audio support
AudioBus support including state saving
Enkl Monophonic Synthesizer For iPad is available now for US $5.99.
Chiptune Remix by Fredrik Segerfalk on SidTracker 64 for iPad
http://www.sidtracker64.com
3 voices of chip bliss, and a slight reverb added. Nothing else.
https://soundcloud.com/analogsweden/t…
Graphics by Vanja Utne: http://twitter.com/CheesePirateEq2
Video and extra GFX by Moppe
SidTracker programming by Daniel Larsson
SidTracker 64 for iPad
Want to make some soulful Bleeps?
Wether you just want some creative juice for your productions, or produce entire chiptunes , we have created the perfect chiptune platform for you.The SidTracker 64.
Original song: https://www.youtube.com/watch?v=ZTidn…
David Hasselhoff – True Survivor – Jörgen Elofsson & Mitch Murder(P) 2015 Universal Music AB. © 2015 Universal Music AB.
http://www.analogsweden.com/
https://instagram.com/sidtracker64
https://twitter.com/sidtracker64
https://www.facebook.com/SidTracker64
u-he presented on Musikmesse the Supersaw Synthesizer Hive. But the supersaw is only one feature of many others
Sugar Bytes has introduced Cyclop for iPad – a synth designed for 'monstrous bass sounds'.
Cyclop is a monophonic synthesizer that they say does one thing very well -'delivering cutting-edge digital madness at the low end of the frequency spectrum'.
Cyclop uses mid/side processing to introduce stereo imaging between 250Hz and 4kHz. This ensures wide, interesting sounds that retain their punch and bass. There are no phasing issues, which means Cyclop cuts through the mix very nicely.
Features:
Monophonic Bass Synthesizer
6×2 Synthesiser Engines, 10×2 Filter Engines
Analog Sync, FM, Sample Transformer, Spectromat, Saw Regiment, Phase Stressor
Vowel Filter Mode
Free Signal Flow for 2 Oscillators, Filters and Distortions.
Incredibly versatile modulation system
Multi FX Knob/Sequencer
powerful Preset Browser with tagging and rating
Full MIDI Support (Virtual, Network, External)
Music Library Access (Transformer Oscillator)
iTunes File Sharing
Inter-App Audio
Audiobus

Roland has announced the JD-XA Analog/Digital Crossover Synthesizer, an advanced new keyboard that offers a unique and powerful approach to synthesis.
Equipped with fully featured analog and digital sound engines that can be used independently or interactively, the JD-XA brings together analog warmth and digital versatility in one super-creative, no-compromise instrument.

With its distinctive crossover design, the JD-XA is truly two synths in one, providing keyboardists and sound designers an incredibly flexible platform for creating any sound they can imagine. The analog and digital engines can be used side by side, or layered together for monstrous hybrid sounds. Additionally, the two engines are able to interact in many creative ways, such as routing digital sounds through the analog filters or using them as modulation sources for the Cross Mod and Ring Mod functions in the analog section.

The JD-XA's analog side features a discrete, four-part engine with true analog filters and a direct dry output. Each part has two oscillators, along with filter and amp sections and four envelopes with incredibly fast attack and response times. There are also two LFOs with super-smooth coverage from ultra-slow to ultra-fast. After building an analog sound, users can route it directly to the dry output, or send it to the onboard digital effects to shape the sound further.

On the digital side, the JD-XA is equipped with a four-part, 64-voice sound engine powered by Roland's acclaimed SuperNATURAL synthesizer technology, providing some of the most expressive and natural sounds available anywhere. The engine is compatible with the synth engine from the INTEGRA-7 sound module, a favorite of top producers, composers, and sound designers. This allows users to take advantage of the large library of custom INTEGRA-7 sounds available for free at Roland's Axial website.

The JD-XA offers an enormous amount of effects horsepower for shaping sounds. Each analog and digital part is equipped with an MFX processor that offers 67 different effect types, including high-impact processing options like Bit Crusher. The essentials are also covered via the five system effects processors, which provide reverb, delay, and master EQ plus two TFX processors with 29 effect types each.

With its comprehensive 16-track pattern sequencer, users can build songs and beats directly inside the JD-XA. There are 8 tracks for internal parts and 8 tracks for external sources, plus real-time and step recording modes for capturing parts in the method that best suits the user's style and music.

Friendly and intuitive, the JD-XA's interface is built around harnessing the potential of its remarkable sound engines. The velocity-sensitive keyboard supports aftertouch, and there are plenty of backlit sliders, knobs, and wheel controllers for direct hands-on control while creating and performing.

JD-XA owners can add an extra dimension to their sound via the synth's built-in mic input. A voice can be used as an additional modulation source, controlling filter cutoff, Cross Mod, or other parameters for unique effects. With the Vocoder, users are able to sing into the mic and control the tone and pitch via sounds played on the keyboard. The mic input can be used for normal singing as well, with a high-quality reverb available as a dedicated vocal effect.

Along with standard MIDI I/O, the JD-XA features a USB audio/MIDI interface for working seamlessly with computer music software. It's also equipped with two CV/GATE outputs, making it easy to interface with popular CV/GATE instruments.
The JD-XA will be available in Summer 2015, with an expected price of 2,099 EUR.
A new product category for Roland, with 128 note SuperNATURAL synth engine, plus 1 Osc analog (filter) synth voice, vocoder and 4 track sequencer – is it a bundle of fun?
The Roland JD-Xi synthesizer is a new mini-synth that offers an analog monosynth, dual digital synths, 808-style drum sequencing and a digital effects section.
According to the company, the JD-Xi gives musicians the best of both worlds: the warm, smooth response of classic analog, and the clarity and versatility of modern digital.
Vintage synthesizer demo featuring the Yamaha DX7II FD
supported by UVI: http://bit.ly/retrosound-uvi
YAMAHA DX7II FD FM Synthesizer with GREY MATTER E! expansion (1987)
E! spec:
Octal Mode (8 different patches can be played in one Performance), voice stacking, random detune, patch mapping, velocity processing, micro-tuning, pattern sequencer, arpeggiator, 4 memory banks and a lot more
more info: http://www.retrosound.de/The_DX7.htm
About the Yamaha model:
The DX7, a classic FM synth, gets a make-over with three significant updates. The updated models feature a more sturdy chassis with actual push-buttons replacing the cheaper and less reliable membrane buttons of the original DX7. The two real time sliders (that allow for control of user-programmable parameters in real time) are larger than before. Internally, the biggest improvement is the updated 16-bit digital circuitry for cleaner and much less noisy sound quality. Patch memory has also been doubled from 32 to 64 voices. Additional general improvements include enhanced MIDI support, micro-tuning capabilities, aftertouch controlled pitch bending, and multiple LFOs.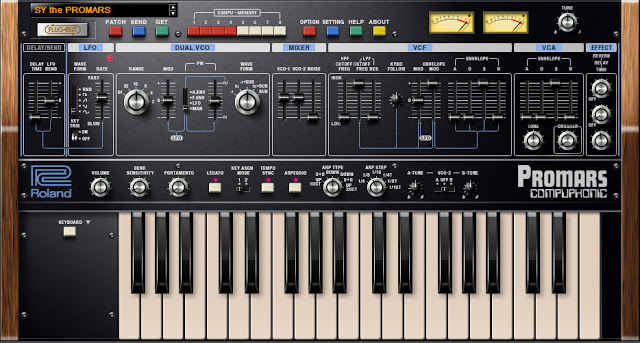 The PROMARS PLUG-OUT Software Synthesizer is a complete reproduction of the rare and powerful PROMARS synthesizer first released in 1979. With two detunable VCOs and two sub-oscillators per voice, the PROMARS is easily one of the most deep and rich sounding monosynths ever created. Designed for SYSTEM-1 as well as Mac and PC hosts, the new PROMARS uses Analog Circuit Behavior to faithfully recreate every detail of the incredibly warm, dense sound of the original, with a level of authenticity that can only come from Roland.
Perfect replica of rare PROMARS COMPUPHONIC synthesizer
ACB provides the rich, warm vintage tone of the original
Two VCOs plus two sub-oscillators per voice
Fast envelopes and filters with classic Roland character
VST, AU and PLUG-OUT compatible
The original PROMARS was a sibling of the legendary JUPITER-4, and is often thought of as simply a monophonic version. But the PROMARS was more than that. While the JUPITER-4 had one VCO and one sub-OSC per voice, the PROMARS had two of each. The pitch of the two VCOs could be slightly detuned to produce a unison chorus effect, and a sub-OSC was provided on each VCO. Able to produce sounds similar to a four-VCO synthesizer, the PROMARS sounded positively huge , and is practically the definition of big, fat synth tone. While not as well known as the JUPITER-4, the thick sound and "compu-memory" function that allowed sounds to be stored and recalled made it a highly regarded instrument with a unique place among the classic Roland monosynths.
With the new PROMARS PLUG-OUT Synthesizer, the sound of this rare, vintage instrument is perfectly reproduced with Analog Circuit Behavior (ACB) technology. ACB faithfully captures the sound and feel of our most revered classics, using original design specs, and a detailed, part-by-part analysis of each analog circuit. While the sound and behavior is reproduced with total accuracy, we couldn't help but improve a few things in this new version. The VCOs have increased range settings, the LFO has a "Random" waveform setting, and the Noise and and Pulse Width sections have full range control of those parameters. And like our other PLUG-OUT synths, the PROMARS has great-sounding effects and an advanced arpeggiator section.
While multiple instances of the PROMARS plug-in can be used in any VST or AU compatible DAW, the PROMARS PLUG-OUT Software Synthesizer offers seamless integration and unique capabilities for SYSTEM-1 owners. Connect a SYSTEM-1 and it becomes a dedicated controller, only lighting the appropriate knobs and sliders pertinent to the PROMARS. Transfer sounds back and forth between the PROMARS and SYSTEM-1 and even use the SYSTEM-1 as a high-quality audio and MIDI interface. Or break free entirely and PLUG-OUT directly to the SYSTEM-1, creating a stand-alone, hardware PROMARS synthesizer with real physical controls that can go anywhere and doesn't require a computer
It looks like a teaser video – but so far we've seen nothing official from Behringer on it