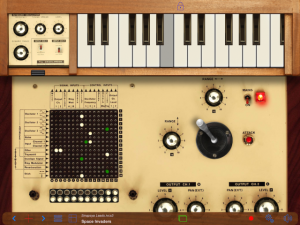 The original VCS3 is a very rare monophonic synthesizer, introduced in 1969. It offers a 3 VCO/VCF/VCA/ subtractive synth architecture, and includes a flexible patching matrix and some interesting control options, including a joystick.
iVCS comes from Densitygs, creators of Density asynchronous granular synthesizer for Mac & Win, Pulsaret microsound granular synth for Mac & Win, and iPulsaret and iDensity for iOS.
Specifications and pricing/availability details are to be announced.
Description:
The VCS3 has three oscillators (in reality, the first 2 oscillators are normal oscillators and the 3rd an LFO or Low Frequency Oscillator), a noise generator, two input amplifiers, a ring modulator, a 18dB/octave (pre-1974) or 24dB/octave (after 1974) voltage controlled low pass filter (VCF),[citation needed] a trapezoid envelope generator, joy-stick controller, voltage controlled spring reverb unit and 2 stereo output amplifiers. Unlike most modular synthesiser systems which use cables to link components together, the VCS3 uses a distinctive patch board matrix into which pins are inserted in order to connect its components together.
Keyboards controller
Although the VCS3 is often used for generating sound effects due to lack of built-in keyboard, there were external keyboard controllers for melodic play. The DK1 in 1969 was an early velocity sensitive monophonic keyboard for VCS3 with an extra VCO and VCA. Later it was extended for duophonic play, as DK2, in 1972.] Also in 1972, Synthi AKS was released, and its digital sequencer with a touch-sensitive flat keyboard, KS sequencer, and its mechanical keyboard version, DKS, were also released.
Related models
The VCS3′s basic design was reused by EMS in many other of their own products,[citation needed] most notably in the EMS Synthi 100 (1971), and the Synthi A (1971) and AKS (1972) (essentially a VCS3 housed in a plastic briefcase). The AKS also has a sequencer built into the keyboard in the lid.
Also an earlier agent of EMS in the United States, Ionic Industries in the Morristown, New Jersey, have released portable-keyboard version of VCS3 clone. The Ionic Performer in 1973 was designed based on VCS3′s circuit, replaced patch board matrix with over hundred of push-buttons, and added built-in keyboard and effects units.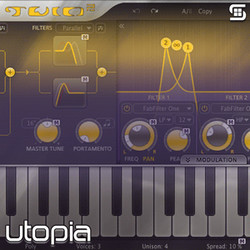 Sonic Elements has launched Utopia, a soundset by Shaun Wallace for the Twin 2 synthesizer instrument by FabFilter.
It features a focus of modern techniques to achieve new tones and textures with Twin2. If you have been looking for a sonic update to Twin2 look no further.

Utopia has basses of all varieties, rich legato leads, mind bending pads, and spectrum filling plucks. Special attention to the unique filter design and variations of Twin2. Each patch has specially selected filters for each patch to help the sound cut through a mix.
Utopia features
140 presets.
Developed for usability and quality.
Focus on modern synthesis methods.
Presets categorized in easy to sort folders.
The soundset is available to purchase for $21.50 USD.
All sounds from the 1978 Roland Jupiter-4 analog synthesizer. One of the best sounding analog poly synths ever built.
The first Jupiter synth. It was among one of the first poly synthesizers (4 individual voices which could be synced together for one fat monophonic lead), it had a pitch wheel that could be assigned to the VCA, VCF, VCO or all together, there are 8 memory locations and a cool arpeggiator – the arpeggiator can be heard in the Duran Duran classic, "Rio". It also has a very slow LFO for those ever-so-long filter sweeps. Pretty good for 1978!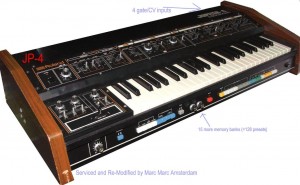 Not so cool however, are the 10 preset sounds which sound nothing like the piano, brass or strings they claim to be. The placement of all the preset buttons below the keyboard can be inconvenient, especially while playing it. And as with most old analog synths, the Jupiter-4′s tuning can go out often. Still it is a nice analog synth for creating weird trippy analog sounds.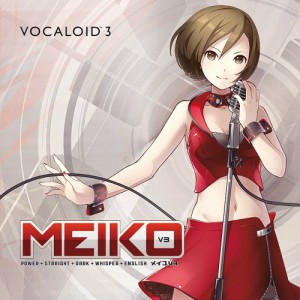 Best Service has released MEIKO V3. Here's all the details in their own words…
MEIKO V3 is futuristic singing voice synthesizer software. It is the brand-new version of Cryptons first released Vocaloid. The new MEIKO V3 features a beautiful female voice that fits a wide range of music genres from rock to electronic music. With its high sound quality and resemblance of a real voice the software lets you incorporate MEIKOs voice immediately into your music production.
MEIKO V3 features 4 carefully produced Japanese voice banks with various voice tones and moods, and an additional English voice bank for your production with English lyrics.
This all-in-one package includes vocal editor Piapro Studio VSTi, PreSonus Studio One Artist Piapro Edition, and over 200 virtual instruments for your immediate music production.
Easily edit Vocals in your music production environment
A vocal editor that allows you to easily operate and modify Meiko´s voice, Piapro Studio works as a VSTi and AU plugin, and therefore performs at a high compatibility with main music production applications (PreSonus Studio One, Ableton Live, Steinberg Cubase, Apple LogicX, Garage Band etc.).
Database (Voice Bank)
The database is based on a human voice, carefully recorded in a high-standard studio environment. Every sound was edited and optimized for the VOCALOID engine in order to create this database. With parameters such as gender factor or brightness, you are able to modify the voice and customize it to exactly fit your sound.
Features
Supported VSTi / AU plugin by all main music software applications
Piano Roll Editor: Easy to use note & lyric editing. Enter the notes you want Meiko to sing via the easy-to-use sequencer window, then type in the lyrics corresponding to each note
Control Effects via Automation: Dynamics, breath, velocity, gender and other vocal characteristics can be manipulated simply with a pencil tool
Vocal parts editable while playback
Chorus: You can add up to 15 voice tracks simultaneously
Leads VSQ, VSQX, MIDI
Import MIDI Files as Input: You can import a standard MIDI file and use the notes as the basis for Vocaloid tracks
Save/Export Vocal Parts as .wav files
Interface Language: Japanese, English, Chinese
Display of multiple Automation Tracks
Automatic Update (requires Internet Connection)
Bundled Software
MEIKO V3 comes in an all-in-one package for your own music production of songs! The product contains MEIKOs English and Japanese singing voice database, vocal editor Piapro Studio and the music production application Studio One Artist Piapro Edition coming with over 200 virtual instruments (guitar, piano, drums, and various other synthesizers). All applications can be synched with each other which enables you to easily produce whole musical compositions.
Studio One
With Studio One Artist, you can not only create rhythms and melodies, but also add all kinds of effects on Meikos voice! The softwares intuitive operation interface allows easy editing, mixing and mastering of your musical creations.
PreSonus Virtual Instruments & Sounds
Studio One Artist Piapro Edition comes with over 200 instruments, enabling your creativity to explore and compose for a wide range of music genres. [Instruments] Guitar / Bass / Keyboard / Drum / Strings / Woodwind / Percussion and more!
Additional Software included:
Tiny VOCALOID™3 Editor (for Windows only)
MUTANT VSTi Version (for Windows only)
SONICWIRE Bonus Samples
Pricing and Availability:
£125 /  €149
'gstormelectro' captures a comparison of three classic string synthesizers – in all their creamy goodness:
Logan/Honer String Melody II
ARP/Eminent Solina SE-IV, and
The Roland VP-330 MKI
Presented for your viewing pleasure are three of the creamiest string synthesizer elite:
Logan/Honer String Melody II, ARP/Eminent Solina SE-IV, and the VP-330 MKI. Behold these heavenly machines in a side-by-side sound comparison. With a special appearance by my hand built JH Triple Chorus ensemble module, auditioned with a dry Solina signal run through. http://gstormelectronica.blogspot.com/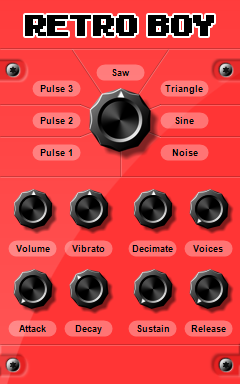 Sound-Base Audio has released Retro Boy, a free chiptune synthesizer instrument for Windows.
Retro Boy is a virtual analog chiptune synthesizer/emulator. It does not specifically emulate a single device or sound chip, but it was made with a certain handheld gaming system in mind.

The goal was to make a simple, minimal, synth that could create "8-bit music" without being overly complicated or requiring much knowledge from the end-user.
Retro Boy features
Single oscillator with seven different waveforms: Pulse 1 (12.5% duty cycle), Pulse 2 (25% duty cycle), Pulse 3 (50% duty cycle), Saw, Triangle, Sine, Noise.
Volume, vibrato, decimation, ADSR envelope, and voice control (adjustable from 1 to 4 voices).
Low CPU usage, <1% on an i5 processor.
Retro Boy for Windows (VST) is available to download as freeware.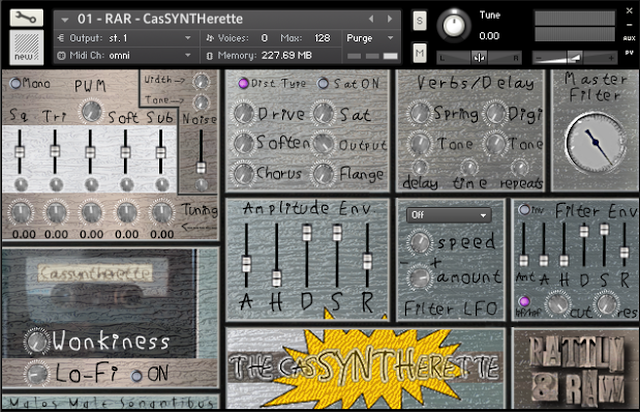 Rattly and Raw has announced the release of The CaSYNTHerette, a virtual instrument library for Native Instruments Kontakt.
TWO synths, one using waveforms from classic synthesisers sampled from a very rare, stable, full range cassette recorder with loads of character and the other using waveforms sampled using the dirty, noisy Cassamplerette recording mechanism.

Whilst the Cassamplerette was looped and single shot recordings of real instruments, the CasSYNTHerette is a fully functional synthesis instrument using waveforms from some classic synth oscillators recorded and looped onto different cassette tape systems.
The CaSYNTHerette features
FOUR cassette tape-based waveform oscillator faders: Square, Triangle, PWM and Soft (a combination wave from a classic synth).
Additional SUB oscillator fader!
Tape cassette noise fader with stereo and tone controls.
Individual waveform tuning via tape speed controls!
Individual waveform pans.
HP/LP Filter + lfo + envelope.
Amplitude envelope.
x2 custom convolution reverbs with tone control. One very rare cranky vintage spring verb and one old spacey hardware digital verb!
Fully controllable delay.
Two state distortion control with 'soften' control.
Saturation control.
LoFi (Bitcrush) control.
Chorus and Flanger controls.
Wonkiness control – magnify the cassette tape wobbliness!
Switchable MONO/POLY.
Loads of PRESETS!
The library is available to purchase for £20 GBP.
This is the ultimate analog polysynth. Eight voices, four oscillators per voice, all discrete point-to-point circuitry. It costs the price of a new economy car (literally, it's $20,000), and you know what? We'll walk to work.
Recent advances in DSP performance and the designer's relentless perfectionism in the development of sound synthesis algorithms have taken things up yet another level. The result is this brand new polyphonic instrument sporting a sound quality never heard before from digital synthesizers.
Each voice consists of three oscillators, two multimode filters, 6 envelope generators, three voice LFOs and one section LFO. Phasemodulation, time linearity modulation, oscillator synchronisation, ringmodulation, sweepable waveforms and a unique modulation and audio matrix allow for a much bigger spectrum fexibility than the analog subtractive synthesizer counterpart. An additional noise source with independent multimode filtering and variable signal routing has been added for more sonic flexibility. A three band full parametric EQ per voice is a perfect addition to the engine to place that instrument right into the mix. A very nice balanced lightweight keyboard with 61 keys, keyboard split option, aftertouch and velocity sensitivity completes the new synthesizer.
The Accelerator is perfectly prepared for Live performances. A lot of synthesizers nowadays do not offer direct patch selection anymore. Instead of using direct access push buttons one has to dial in the desired patch and press enter. The Accelerator makes sound selection instantly available at your fingertips with dedicated patch select buttons.
Additionally the unique program chain feature allows for programming a chain of programs that selects the correct patch automatically for you. Another stunning new feature is the the built in acceleration sensor. Movements of the keyboard are converted into modulation data. This brilliant addition allows for controlling parameters like pitch, the filter frequency or modulation depths by lifting up or shaking the keyboard.
How about step sequencers and arpeggiators? The Accelerator would certainly not be a Radikal Technologies synthesizer if the designers had not integrated some sequencing goodies. You can enter some notes into the step sequencer, transpose the sequences with the left hand while performing a solo at the upper end of the split keyboard. Piece of cake! The powerfully warm and crispy sound of this new flagship synthesizer is destined to become the centerpiece of any keyboard setup. For anyone wishing to expand the Accelerators sonic power even more additional voices with up to 2 DSP expansion modules are available. The DSP expansions not only add extra polyphony to the Accelerator, they will also allow the use up to eight independent synthesizer sounds at a time with the integrated multimode feature.
KORG fully enters the realms of iOS with this powerful app, details below:
For every situation that creative minded people face, KORG's answer is "KORG Gadget."
KORG released the iELECTRIBE simultaneously with the appearance of the first-generation iPad in 2010, and ever since has maintained its position at the forefront of mobile music apps. And now we've brought you the ultimate all-in-one studio app for serious mobile music production.
KORG Gadget provides a collection of 15 different synthesizers and drum machines called "Gadgets", which can be freely combined to produce powerful electronic music. Users can take advantage of the simple and intuitive sequencer, and experience track-making in an environment that's been perfectly optimized for mobile use, while retaining professional quality in everything from the effects to the mixer. Also, songs created using KORG Gadget can be shared on "GadgetCloud," a music sharing site for KORG Gadget users worldwide.
There's a roadmap for future updates that will add new gadgets and support audio tracks, further perfecting the system as a mobile music production studio. KORG Gadget will continue to evolve in support of serious mobile music-making.
—————————————-
­—————
KORG Gadget is available on the App Store:
World: https://itunes.apple.com/app/korg-gad…
Japan: https://itunes.apple.com/jp/app/korg-…
—————————————-­—————
Learn more about Gadget at http://www.korg.com.
Music & Video produced and performed by Mee Zanook
- The ultimate mobile synth collection on your iPad -
KORG Gadget – the all-in-one music production studio