Enkl monophonic synthesizer demo
Klevgränd produktion has released Enkl, a monophonic synthesizer, designed to be versatile and easy to use.
Enkl consists of two oscillators with one LFO each. These oscillators can be added, subtracted or multiplied together, and optionally processed though a filter. There is a simple built-in arpeggiator, a delay and a three-band EQ. The iPad version also has a unique "Extended Keyboard", which takes benefit of the touch screen, rather than trying to simulate a traditional keyboard.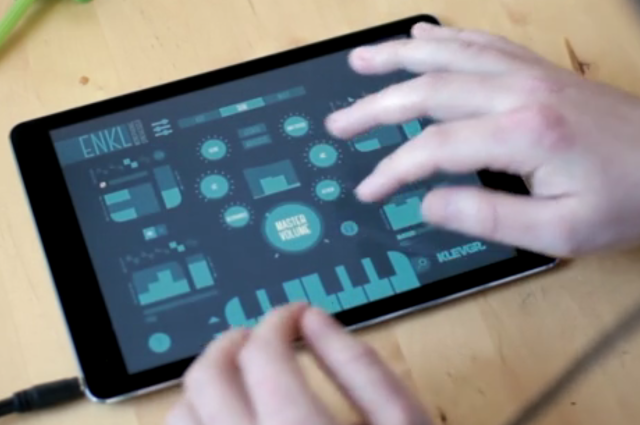 Features:
Realtime rendered audio – no samples involved
Two separate oscillators with separate LFO's
Oscillators can generate Triangle, Sawtooth, Square or Noise waveforms
Oscillators can be summed or multiplied together
Each LFO has its own ADSR and modulates its oscillator's pitch or volume
High cut and low cut filter with resonance (also controllable via MIDI)
Chiptune-style arpeggiator
Legato mode
Ping-pong delay as a post effect
Three band EQ as a post effect
MIDI support (including IAA MIDI and Virtual MIDI)
Extended Keyboard for live performing (also sends MIDI to any output port)
Local on / off
Pitch bend, Modulation, Low Cut, High Cut and Resonance controllable via MIDI
Comes with 93 factory presets
Documentation within app
Inter App Audio support
AudioBus support including state saving
Enkl Monophonic Synthesizer For iPad is available now for US $5.99.
Comments