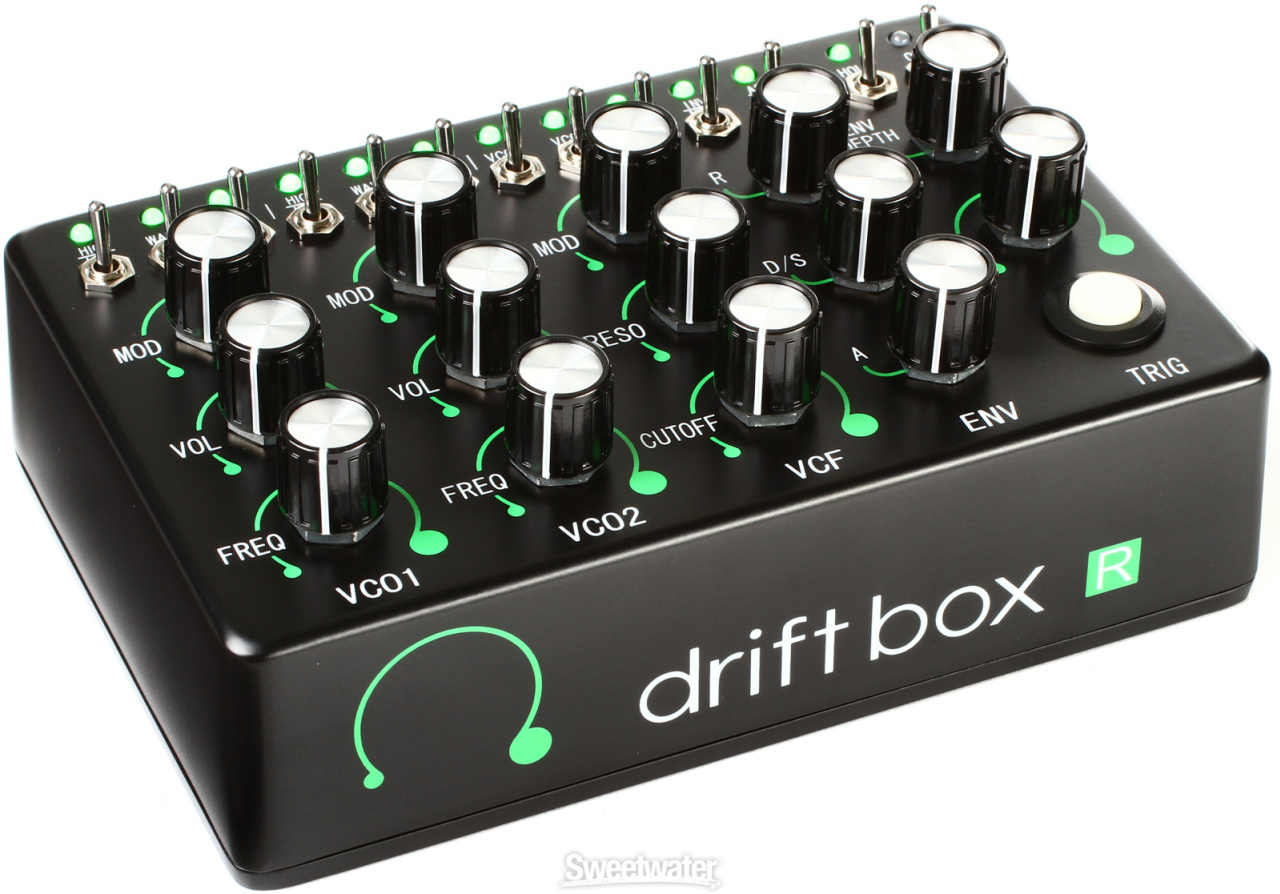 Roland has released a new analog synthesizer – the Roland Driftbox-R Limited Analog Monosynth. The Roland DriftBox-R Limited is an updated version of the original Reon DriftBox.
Originally commissioned by Roland to demonstrate the the SBX-1 Sync Box, the DriftBox-R Limited features two oscillators, filter, and envelope generator.
Control is via five CV/gate connections, letting you integrate the synth with other analog gear.
Features:
Updated version of the original Reon DriftBox
A wide range of functions in a small desktop box
Two VCOs, a great-sounding filter, and an envelope generator
CV/gate I/O for semi-modular flexibility
Use it alone, triggering its envelope with the onboard momentary button
Combine it with other hardware for endless possibilities
You can get ENKL here at the App Store.
https://itunes.apple.com/us/app/enkl-…
This fully featured monophonic synthesizer can create a huge variety of sounds. Fat basses, stabby leads, glitchy noises, old style chip tune sounds (including arpeggios), weird percussion, you name it. Enkl does the job!
Enkl comes with 93 high quality factory presets, all crafted by professional music producers. Of course it is possible to create new ones and save. The Extended Keyboard makes Enkl really fun to play in standalone mode, choose scale, key and hit it off! With Inter App Audio, AudioBus and MIDI support it's easy to connect the app to other DAW apps, MIDI generator apps or external devices. When it comes to MIDI, Enkl supports both MIDI IN and MIDI OUT. It's even possible to play other MIDI compatible instruments with the Extended Keyboard.
Noteworthy features:
• Realtime rendered audio – no samples involved
• Two separate oscillators with separate LFO's
• Oscillators can generate Triangle, Sawtooth, Square or Noise waveforms
• Oscillators can be summed or multiplied together
• Each LFO has its own ADSR and modulates its oscillator's pitch or volume
• High cut and low cut filter with resonance (also controllable via MIDI)
• Chiptune-style arpeggiator
• Legato mode
• Ping-pong delay as a post effect
• Three band EQ as a post effect
• MIDI support (including IAA MIDI and Virtual MIDI)
• Extended Keyboard for live performing (also sends MIDI to any output port)
• Local on / off
• Pitch bend, Modulation, Low Cut, High Cut and Resonance controllable via MIDI
• Comes with 93 factory presets
• Documentation within app
• Inter App Audio support
• AudioBus support including state saving
Klevgränd produktion has released Enkl, a monophonic synthesizer, designed to be versatile and easy to use.
Enkl consists of two oscillators with one LFO each. These oscillators can be added, subtracted or multiplied together, and optionally processed though a filter. There is a simple built-in arpeggiator, a delay and a three-band EQ. The iPad version also has a unique "Extended Keyboard", which takes benefit of the touch screen, rather than trying to simulate a traditional keyboard.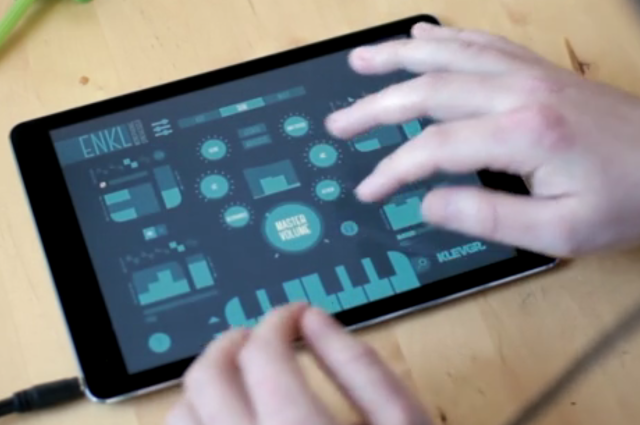 Features:
Realtime rendered audio – no samples involved
Two separate oscillators with separate LFO's
Oscillators can generate Triangle, Sawtooth, Square or Noise waveforms
Oscillators can be summed or multiplied together
Each LFO has its own ADSR and modulates its oscillator's pitch or volume
High cut and low cut filter with resonance (also controllable via MIDI)
Chiptune-style arpeggiator
Legato mode
Ping-pong delay as a post effect
Three band EQ as a post effect
MIDI support (including IAA MIDI and Virtual MIDI)
Extended Keyboard for live performing (also sends MIDI to any output port)
Local on / off
Pitch bend, Modulation, Low Cut, High Cut and Resonance controllable via MIDI
Comes with 93 factory presets
Documentation within app
Inter App Audio support
AudioBus support including state saving
Enkl Monophonic Synthesizer For iPad is available now for US $5.99.
New Monophonic Synth from Klevgränd produktion. Coming April 29!
enkl.klevgrand.se
Mr. Soulsby himself shows the new features for the Atmegatron.
The Atmegatron Complete is a revolutionary new synthesizer that takes classic 80s Chiptune sounds and adds powerful new features.
Musicians will love it because it is quick and easy to create and manipulate amazing sounds. The Atmegatron can do everything from bright square wave leads, to dirty basses, to wild sci-fi effects.
Programmers will love it because it is built on the Arduino platform and the software is open source. This allows programmers to change or add new features and upload them to the Atmegatron.
Play
8-bit monophonic MIDI synthesizer
Unique Wavetable PWM Synthesis audio engine.
Quick and intuitive controls, no complex menu systems
Stylish white aluminium case with walnut side panels
Many features controllable by MIDI:
mod & pitch wheels, filters, portamento and more
16 preset sounds that can be overwritten with your own patches
Program
Huge selection of waveforms and filters
Upload your own waveforms using the included Atmegatron Librarian software
LFO and 2 envelopes
Powerful synthesis features that takes Chiptune beyond 80s computer sounds
Advanced arpeggiator sequencer
Unique 'wave crusher' effect
Analogue bass boost for warm bass sounds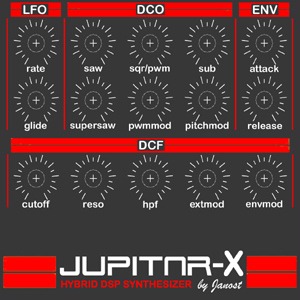 The Jupitar-X tabletop synth is a monophonic synth with a single Juno DCO voice available ready-built or as a kit from Jan Ostman at DSP Synthesizers

Features:
Oscillator with SAW, SQR/PWM and SUB waveforms.
SUPERSAW unison setting for the SAW waveform.
LFO and AR-envelope.
DSP filter with LPF, HPF and Resonance setting.
MIDI input for note on/off.
5 volt CV/Gate input for oscillator. Frequency range 65-2093Hz (C2-C7).
5 volt CV input for filter cutoff.
External audio input to filter.
Great analog sound.
Also available is the extremely tiny (65x60mm) Jano-X synth
Features:
Just CV/Gate, PWM-CV and Pitch-CV 0-5v analog inputs.
SUPERSAW unison setting for the SAW waveform.
Great for sequencing and use with external filter.
Pricing and Availability:
Jupitar-X : $330 ready built or $235 for a kit including all parts, knobs, box and frontpanel.
Jano-X: $70
Order from DSP Synthesizers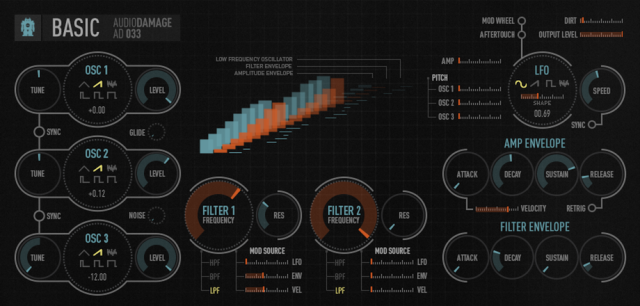 Audio Damage has introduced Basic – a three-oscillator monophonic software synthesizer for Mac & Windows.
According to Audio Damage, Basic is designed with ease-of-use, low cost, and simplicity in mind, and offers 'an aggressive tone and self-resonating filters that 'scream' when pushed'.
Features:
Three alias-free wavetable oscillators with six waveforms each, and oscillator sync.
A pair of cascaded filters featuring MS20-style lowpass and highpass, and a bandpass of our own design.
A four-waveform tempo-syncable LFO with waveshaper.
ADSR envelopes for amplitude and filter frequency.
User-definable soft-saturation.
A simple and easy-to-understand workflow, inspired by the classic topology of vintage analog synths like the Minimoog, SEM, and MS20, but with modern usability.
Touchscreen-friendly and highly visible user interface.
DRM-free, for easy installation and updating.
Audio Damage Basic is available now. It is priced at US $39 through Sept 4, 2014. After that, $49.00. See the AD site for an audio demo.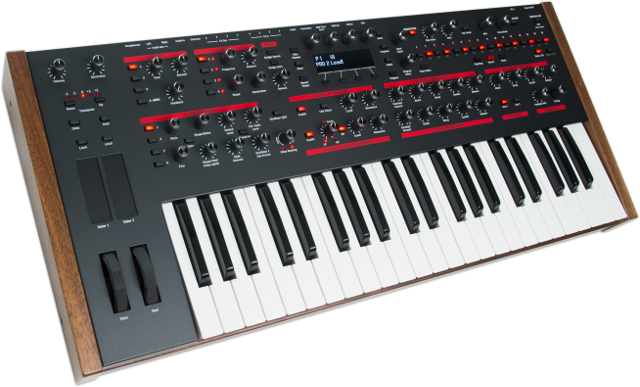 Dave Smith Instruments has introduced the Pro 2, an all-new, feature-rich monophonic synthesizer. "We really raised the bar with this one," said Smith. "As synth geeks, we asked ourselves what our ultimate mono synth would be. Then we built it."
A hybrid instrument, the Pro 2 features four digital oscillators (plus sub-oscillator) with superwaves and newly-designed, dual analog filters inspired by classic designs. The filters (one low-pass and one state-variable) can be run in series or parallel, with the state-variable filter providing low-pass, notch, high-pass, and band-pass modes. Oscillators can be routed in pairs to either filter for a variety of tonal possibilities. "Our new analog filter design gives the Pro 2 a depth and presence that's immediately recognizable," said Smith. "It has a sound all its own—distinctly different from our other instruments such as the Prophet 12."
The full-featured multitrack step sequencer operates in 32 x 8, or 16 x 16 mode and allows real-time input. It can sync to external MIDI clock and can also be driven by an external audio input. Sequences can control not only oscillator pitch, but any parameter in the Pro 2's extensive modulation matrix. It supports both rests and variable-length sequences.
Another notable feature of the Pro 2 is its 4 rear-panel control voltage inputs and outputs, which make it compatible with modular synths. The control voltages can be assigned and routed from within the modulation matrix and can run at audio rates for extreme modulation effects. "A primary goal was to make the Pro 2 as open-ended and flexible as possible," said Smith. "The four control voltage ins and outs really open up a world of interfacing possibilities with other gear. You could almost call the Pro 2 our own mini-modular."
Smith says that the surprises don't end there: "A very cool bonus features is that even though we designed it primarily as a very powerful mono synth, it's actually 4-voice paraphonic—you can play 4 notes simultaneously, if you want to. Add in the super saws, and you've got a very big sound." In paraphonic operation, the 4 individual voices share a common filter and envelopes. Paraphony has gained popularity in recent years and was found in such vintage instruments as the ARP 2600 and ARP Odyssey, which were duophonic.
The feature set of the Pro 2 is rounded out with a multimode arpeggiator; 4 stereo, multi-tap delays with analog modeling; 4 LFOs; tuned feedback; analog distortion; Character controls with sound sculpting options such as Drive, Hack, Decimation, Girth, and Air; and extensive modulation possibilities. The LFOs, delay, and arpeggiator can be synced to either the internal clock or an external MIDI clock. Two programmable position- and pressure-sensitive touch sliders and pitch and mod wheels provide nuanced control over live performance.
"Right now there's a trend of reissuing classic synths from the past. People have been asking for a reissue of the old Sequential Pro-One for quite a while. But as a synth designer, I'm happiest creating new instruments—synths that with every iteration put more power and better sounds into the hands of musicians. The Pro 2 is light years beyond the Pro-One in every way. It's the most powerful mono synth I've ever made. You've got to keep moving forward."
The Pro 2 will be available late July of 2014 with a US MAP of $1,999
Minimojo is an emulation of an old synthesizer built in Reaktor, available for all registered product owners in the NI Reaktor User Library.
The Juice 3 is not in any way a copy of MONARK. The builder did not have access to or ever used MONARK during the making of Juice 3. Instead, the old ensemble Minimood made by NI in 1999, which has then been modified by several users, has been used as the starting point. I think that the basic structure will be recognizable from that early ensemble.
As the Model D is the most emulated synthesizer the world probably don't need yet another one. Juice 3 should be seen as a proof of concept; how to emulate the should of vintage synthesizers using the Reaktor environment.
The technology developed for this is called Analog Legacy. Analog Legacy is the theory of modulating all functions in a synthesizer at all frequencies. The key is to find the right balance of the modulation depth for each frequency. Juice 3 is the first attempt to use this theory in practice.
http://youtu.be/cAhNylHjX_4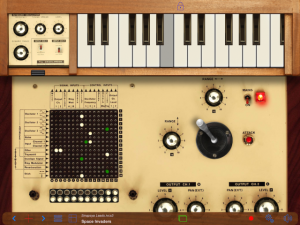 The original VCS3 is a very rare monophonic synthesizer, introduced in 1969. It offers a 3 VCO/VCF/VCA/ subtractive synth architecture, and includes a flexible patching matrix and some interesting control options, including a joystick.
iVCS comes from Densitygs, creators of Density asynchronous granular synthesizer for Mac & Win, Pulsaret microsound granular synth for Mac & Win, and iPulsaret and iDensity for iOS.
Specifications and pricing/availability details are to be announced.
Description:
The VCS3 has three oscillators (in reality, the first 2 oscillators are normal oscillators and the 3rd an LFO or Low Frequency Oscillator), a noise generator, two input amplifiers, a ring modulator, a 18dB/octave (pre-1974) or 24dB/octave (after 1974) voltage controlled low pass filter (VCF),[citation needed] a trapezoid envelope generator, joy-stick controller, voltage controlled spring reverb unit and 2 stereo output amplifiers. Unlike most modular synthesiser systems which use cables to link components together, the VCS3 uses a distinctive patch board matrix into which pins are inserted in order to connect its components together.
Keyboards controller
Although the VCS3 is often used for generating sound effects due to lack of built-in keyboard, there were external keyboard controllers for melodic play. The DK1 in 1969 was an early velocity sensitive monophonic keyboard for VCS3 with an extra VCO and VCA. Later it was extended for duophonic play, as DK2, in 1972.] Also in 1972, Synthi AKS was released, and its digital sequencer with a touch-sensitive flat keyboard, KS sequencer, and its mechanical keyboard version, DKS, were also released.
Related models
The VCS3's basic design was reused by EMS in many other of their own products,[citation needed] most notably in the EMS Synthi 100 (1971), and the Synthi A (1971) and AKS (1972) (essentially a VCS3 housed in a plastic briefcase). The AKS also has a sequencer built into the keyboard in the lid.
Also an earlier agent of EMS in the United States, Ionic Industries in the Morristown, New Jersey, have released portable-keyboard version of VCS3 clone. The Ionic Performer in 1973 was designed based on VCS3's circuit, replaced patch board matrix with over hundred of push-buttons, and added built-in keyboard and effects units.