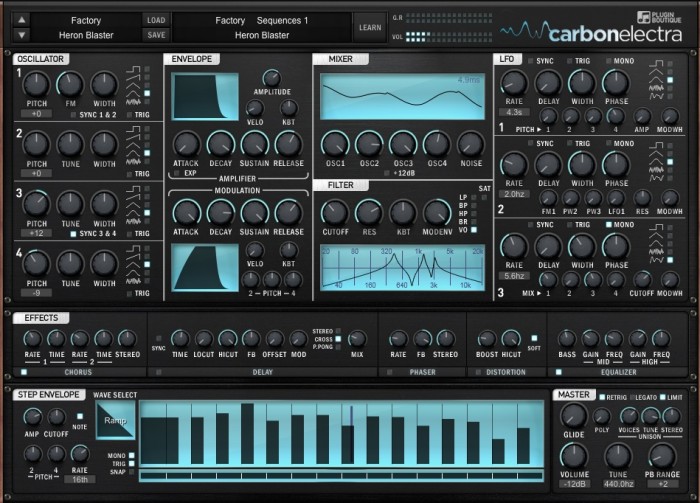 Plugin Boutique has announced Carbon Electra, a soon to be released 4 oscillator subtractive synthesiser by David Carbone.
Carbon Electra is a powerful and intuitive synth built by producers, for producers. It's a four-oscillator subtractive synth with a modern feature set.

It has been developed as an advanced learning tool whilst also being a powerful and easy to program synth. It is based on vintage analogue routing and features flexible modulation options including an editable stepper and note performer. The graphical displays act as a comprehensive information tool and as an accurate guide to each parameter change. Best of all, it sounds incredible.
Carbon Electra features
Powerful synth engine that is easy to learn and use with no hidden menus.
4 Analog style syncable oscillators with adjustable pulse width, frequency modulation and multiple wave types including pitchable noise.
Informative physics based graphic displays with comprehensive info pane.
6 filter types including powerful vocal filter with filter drive and saturation.
Simple, usable and useful FX section, like having a bunch of great guitar pedals.
Editable step editor that can be assigned to pitch, volume or cut-off independently or simultaneously, with various wave types and edit mode allowing node creation and line curves.
Over 600 factory and artist presets covering sequences, chords, motions, bass, leads, keys, pads and effects.
Ability to run the amp section "too hot" into the built in optional limiter at the main output, creating a modern hyper-compressed sound.
Super flexible unison control ranging from subtle warmth to massive super saw or super square sound.
Multiple stereo width parameters allowing high precision control of the stereo field.
Carbon Electra for Windows and Mac (VST/AU) will be available late July 2015 for $99 USD / £59 GBP.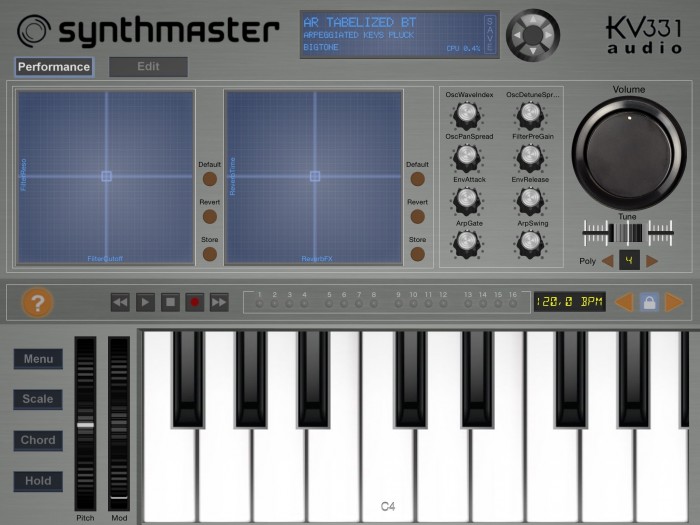 KV331 Audio has announced SynthMaster Player for iPad, a mobile player version of the SynthMaster synthesizer instrument.
It is targeted towards users who prefer to use presets rather than designing their own sounds during music production. Although it is a preset based player, users can edit the following parameters:

8 easy parameters assigned by the sound designer
2 XY Pads assigned by the sound designer
Effect bypass states and send amounts
Layer bypass states and volumes
Master volume, polyphony

The free app comes with 100 factory presets. When users complete registration by entering their names and email addresses they receive another 100 factory presets as a bonus. After completing registration, users can upgrade to the Pro version of the app by purchasing the "Factory Presets" bank via In-App-Purchase (IAP) for $9.99. With the Pro Upgrade all of the 800 factory presets are loaded and also the following features are unlocked:

Users can save the changes they have made to the presets
Users can purchase additional preset banks via In-App-Purchase (IAP)
Existing SynthMaster users can download their previously purchased SynthMaster preset banks inside the app, so that they don't have to purchase them again
Existing SynthMaster users can export their own presets in SynthMaster v2.7 and import them into SynthMaster Player for iPad using iTunes.
The app is available for download for iOS 7 and higher.
You can get Crystal Synth XT here at the App Store.
https://itunes.apple.com/us/app/cryst…
Crystal Synth XT is a full featured semi-modular synthesizer, ideally suited to creating lush evolving soundscapes. Crystal VST has long been a popular synthesizer on the desktop. Crystal XT brings that same powerful synthesis engine to the iPad and iPhone. Crystal XT features MIDI keyboard input via the iPad's camera adapter or any CoreMIDI-compatible MIDI interface such as the Line 6 MIDI Mobilizer and sharing of sounds with the desktop version of Crystal.
== Features ==
Browse through the included sounds and use the 2 octave keypad to trigger notes to produce evolving, rhythmic, or melodic sounds. Create your own sounds with a single button press using the breed feature. When using an iPad, you can delve into a tweaker's dream by using the extensive editing features to sculpt sounds to your heart's content (editing features are only available when used on an iPad).
Crystal features both subtractive synthesis and frequency modulation (FM) synthesis. It offers abundant modulation control with over 90 parameters which may be modulated, multi-stage envelopes with graphical editors, extensive tempo sync of envelopes/lfo rates/delay times, built-in effects for chorus/flanging/comb filtering/echoes, and a band splitter for effects processing by frequency band. Not only that, Crystal has wave sequencing and granular synthesis. The musical applications for Crystal are literally boundless.
== MIDI ==
With MIDI keyboard input, you can connect a MIDI keyboard to your iPad and play Crystal XT like a hardware synth. Or use a CoreMIDI-compatible MIDI interface such as the Line 6 MIDI Mobilizer and connect your MIDI keyboard to Crystal XT on an iPhone.
== Virtual MIDI ==
Use virtual midi to play Crystal from a midi controller app. Use the Settings app to turn on the CrystalSynthXT Background Audio mode to enable Crystal to play audio when in the background. You can then play Crystal from a midi controller app which supports virtual midi.
== Sharing ==
With patch sharing you can create sounds on your iPad or iPhone while away from the studio, then transfer them to the desktop Crystal when you get back to the studio to use in recording projects. Or, create banks of sounds on the desktop Crystal, then transfer them to the iPad/iPhone Crystal to use in a live performance for a truly portable rig. Use Audio copy/paste to record your performance on Crystal and transfer that performance to another app. Or copy your recorded performance to your computer.
== Audiobus ==
To use with Audiobus, use the Settings app to turn on Background Audio for Crystal Synth XT.
== Different Versions ==
If you don't need all the features of Crystal XT, try the basic version of Crystal, also available in the app store from Green Oak Software. With the basic version you can browse sounds, play notes, and create new sounds, taking advantage of its powerful semimodular synthesis engine. Crystal XT adds MIDI keyboard input via the iPad's camera adapter and sharing of patches with the desktop version. Choose the app that is best for you!
== Notes ==
Important note for iPhone and iPodTouch users: Crystal XT runs on both the iPad and the iPhone. Because of the limited screen space on the iPhone however, the editing pages, which contain the edit controls, are not available when running on that device. But on the iPhone you can still browse sounds, play notes from the keypad, create new sounds with the Breed feature, modify patches with the Design feature, and share sounds with desktop Crystal VST.
MIDI input via Apple's camera adapter requires an iPad. Apple's camera adapter is not supported on the iPhone/iPod Touch. On the iPhone/iPod Touch use CoreMIDI-compatible MIDI interface such as the Line 6 MIDI Mobilizer to connect your MIDI keyboard to Crystal. We recommend www.iosmidi.com as a good place to go to learn whether specific keyboards will work with the camera adapter.
For videos and information about Crystal XT, visit:
http://www.greenoak.com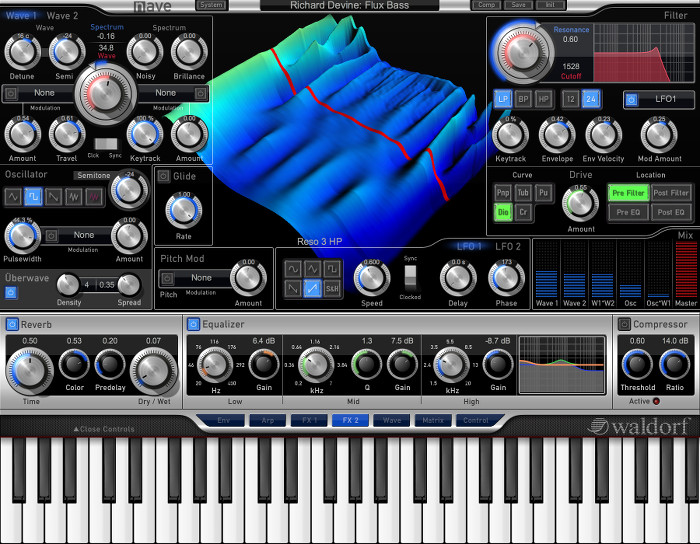 Waldorf has released Nave for VST/AU/AAX, an advanced wavetable synthesizer instrument for Windows and Mac.
Nave, our award winning next generation wavetable synthesizer, comes pre-packed with superb sounds, ranging from spatial pads to vivid wavetable scans and cutting leads to solid basses, but, above and beyond that, also an abundance of incredibly imaginative sound worlds – many of them professionally produced by some of the top sound designers around.

As a synthesizer thoroughbred at heart, Nave really represents a phenomenal playground for sound creation creativity. Its oscillators offer expanded wavetable functionality with elaborate editing facilities and an extremely effective speech synthesizer.
Nave features
Two independent advanced wavetable oscillators.
Osc module with (up to) 8-oscillator Überwave with saw, triangle, PWM, white and pink noise.
Two ring modulators.
Multimode filter with LP/BP/HP, 12dB and 24dB.
3 envelopes, 2 LFOs.
10 Modulation Matrix entries.
Drive with adjustable curve, depth, and position.
Modulation effect with either Chorus, Flanger or Phaser.
Reverb, Modulation Delay.
Three-Band Parametric Equalizer, Compressor.
Blades with musical scales and optional chord mode.
Polyphonic Aftertouch.
Up to 3 X/Y control pads.
Arpeggiator.
Polyphonic unison.
Speech synthesizer for wavetables, 3D wavetable editing.
Generation of wavetables from external audio files.
Patch management with user banks and patch categories.
Sound Patches can be exchanged with Nave iPad version.
Supporting 32bit & 64bit VST, VST3 and AudioUnit hosts.
Supporting ProTools 11 with AAX64 native.
Nave for VST/AU/AAX is available for purchase for 149 EUR.
You can get ENKL here at the App Store.
https://itunes.apple.com/us/app/enkl-…
This fully featured monophonic synthesizer can create a huge variety of sounds. Fat basses, stabby leads, glitchy noises, old style chip tune sounds (including arpeggios), weird percussion, you name it. Enkl does the job!
Enkl comes with 93 high quality factory presets, all crafted by professional music producers. Of course it is possible to create new ones and save. The Extended Keyboard makes Enkl really fun to play in standalone mode, choose scale, key and hit it off! With Inter App Audio, AudioBus and MIDI support it's easy to connect the app to other DAW apps, MIDI generator apps or external devices. When it comes to MIDI, Enkl supports both MIDI IN and MIDI OUT. It's even possible to play other MIDI compatible instruments with the Extended Keyboard.
Noteworthy features:
• Realtime rendered audio – no samples involved
• Two separate oscillators with separate LFO's
• Oscillators can generate Triangle, Sawtooth, Square or Noise waveforms
• Oscillators can be summed or multiplied together
• Each LFO has its own ADSR and modulates its oscillator's pitch or volume
• High cut and low cut filter with resonance (also controllable via MIDI)
• Chiptune-style arpeggiator
• Legato mode
• Ping-pong delay as a post effect
• Three band EQ as a post effect
• MIDI support (including IAA MIDI and Virtual MIDI)
• Extended Keyboard for live performing (also sends MIDI to any output port)
• Local on / off
• Pitch bend, Modulation, Low Cut, High Cut and Resonance controllable via MIDI
• Comes with 93 factory presets
• Documentation within app
• Inter App Audio support
• AudioBus support including state saving
This week the Photphore Synth by Taika Systems Ltd
Photophore is a unique instrument that uses flocks of up to 100 sound generators to create rich, organic synthesizer sounds. By controlling the behavior of the flocks you can make Photophore sound like a choir of synthesizers or, at more extreme settings, a swarm of angry insects.
Unlike other digital synthesizers, Photophore creates warmth and character in a completely new way. Instead of modeling analog circuits, it models animal behavior. Photophore's sound engine is made up of flocks of oscillators that move through a virtual three-dimensional environment. Their motion is controlled by a special behavioral algorithm and physics simulation that keeps the oscillators in tune with each other, but allows for a certain amount of natural drifting and detuning. This creates rich timbres that are perfect for crafting massive bass sounds, complex pads and searing leads.
https://itunes.apple.com/us/app/photo…
Can machines make music by themselves? What would happen if you told Pepp to make up something at random? I just did.. Enjoy the Pepp machine! Available soon for iPhone and iPad.
AudioThing has released miniBit, a 8-bit/chiptune synthesizer.
miniBit is a 8-bit/chiptune style synthesizer that emulates the sound of 80s game consoles and retrocomputers.
It features a main oscillator with 12 waveforms paired with a sub oscillator (a square wave pitched one octave below). The waveforms are not bandlimited and will produce aliasing. Furthermore, using the built-in bitcrusher, is it possible to create even more noisy and retro sounds.
Details:
12 Waveforms.
Sub Oscillator.
Poly and Mono mode with Glide.
2-poles Low Pass Filter.
Delay and BitCrusher effects.
LFO with multiple destinations.
30 Presets.
Preset randomizer.
Formats: VST, AU, and AAX (32/64-bit).
Platforms: OS X, Windows.
Price: €20 / $24.50. miniBit is available for the introductory price of €16 / $19.60 until January 15th, 2015.
This week ISyn Poly
https://itunes.apple.com/app/id443141…
iSyn Poly is an electronic music studio for use with Apple iPad. iSyn Poly places an unbelievable number of features including three studio-quality, fully programmable virtual analog synthesizers and a drum machine packed in just three different screens on your iPad !
Each synthesizer is a full-featured analog modeling synth with three oscillators, a classic 24 db/oct ladder-style lowpass filter, independent filter and amp envelope generators, and full modulation routings. With our 10+ years of experience with analog simulations you can expect some serious sound easily covering all those fat frequencies so prevalent in modern production.
iSyn Poly also includes a sample playback-based drum machine with seventeen kits, each containing eight samples. Drum samples include 808, 909, modular synth drums and numerous 80's drum machines. Volume, pan and decay time are individually adjustable and pitches are tunable over a wide range for crazy effects.
The full fledged sequencer let you arrange complete songs and can record the notes and controller movements of your performance. The unique gesture oriented user interface makes it ideal for live editing of notes and automations.
With the Apple iPad Camera Connection Kit you can use a CoreMIDI compatible MIDI Keyboard to control iSyn Poly.
iSyn Poly is developed by VirSyn with content from audioMIDI.com.
Features:
Three Independent Synthesizers
One polyphonic synth with eight voices and two monophonic synths with:
• Three oscillators with sawtooth, pulse, triangle and sine waves.
Modulations routings: LFO->pitch, filter ADSR->cutoff, LFO->pulse width.
• White/Pink noise generator.
• Classic 24 dB/oct  ladder-style lowpass filter with drive parameter.
Modulations routings:  LFO->Cutoff, Filter ADSR->Cutoff.
• Amp section includes distortion with drive, asymmetry and crusher.
• Control matrix allows real time control of five parameters using the X/Y touch pad, the modulation wheel and the tilt sensors of the iPad.
• Arpeggiator for automated sequences.
• 64 factory presets, unlimited user presets can be shared.
Drum Machine
• Eight simultaneous instruments arranged into eight user-selectable drum kits.
• Editor page allows tuning, panning, level and decay time for individual instruments.
Effects Section
• iSyn Poly features one global effects unit with phaser, flanger, chorus and stereo/cross delay.
Live
• Play melodies live with onscreen keyboard/drum pads. Drag fingers for slides and vibrato.
• Optionally use CoreMIDI compatible hardware keyboard.
Full featured Sequencer
• Four track sequencer with piano roll and automation editor.
• Real time recording with quantize function and metronome.
• Arrange your songs with variable length patterns. Move and copy/paste patterns.
• Recording and playback of X/Y Pad movements, mod wheel, pitch bend and key velocity.
• Full set of editing functions with unlimited undo.
Sample Logic has released CYCLONE RETWISTED, which they describe as the ultimate sample synth. This is what they have to say about it…
Completely re-engineered and re-imagined, CYCLONE RETWISTED is the next generation of Sample Logic's CYCLONE. Now equipped with Sample Logic's proprietary Step and FX Animator technology along with a new dual-voice additive synthesizer, CYCLONE RETWISTED is truly a one-stop shop for astounding, inspiring electronic sounds, and the ultimate sample synth solution for Kontakt. So whether you're on a tight deadline, in need of inspirational presets and production tools, or looking to dig deep and create your own twisted instruments, CYCLONE RETWISTED delivers amazing multi presets and instruments that are production ready and can be quickly customized for instant transformation.