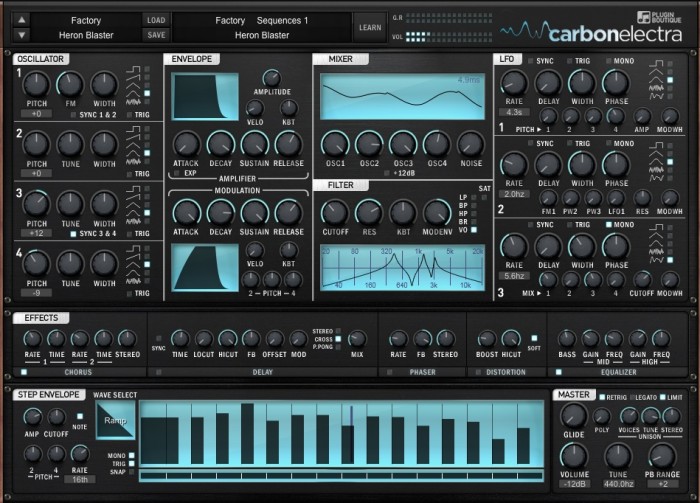 Plugin Boutique has announced Carbon Electra, a soon to be released 4 oscillator subtractive synthesiser by David Carbone.
Carbon Electra is a powerful and intuitive synth built by producers, for producers. It's a four-oscillator subtractive synth with a modern feature set.

It has been developed as an advanced learning tool whilst also being a powerful and easy to program synth. It is based on vintage analogue routing and features flexible modulation options including an editable stepper and note performer. The graphical displays act as a comprehensive information tool and as an accurate guide to each parameter change. Best of all, it sounds incredible.
Carbon Electra features
Powerful synth engine that is easy to learn and use with no hidden menus.
4 Analog style syncable oscillators with adjustable pulse width, frequency modulation and multiple wave types including pitchable noise.
Informative physics based graphic displays with comprehensive info pane.
6 filter types including powerful vocal filter with filter drive and saturation.
Simple, usable and useful FX section, like having a bunch of great guitar pedals.
Editable step editor that can be assigned to pitch, volume or cut-off independently or simultaneously, with various wave types and edit mode allowing node creation and line curves.
Over 600 factory and artist presets covering sequences, chords, motions, bass, leads, keys, pads and effects.
Ability to run the amp section "too hot" into the built in optional limiter at the main output, creating a modern hyper-compressed sound.
Super flexible unison control ranging from subtle warmth to massive super saw or super square sound.
Multiple stereo width parameters allowing high precision control of the stereo field.
Carbon Electra for Windows and Mac (VST/AU) will be available late July 2015 for $99 USD / £59 GBP.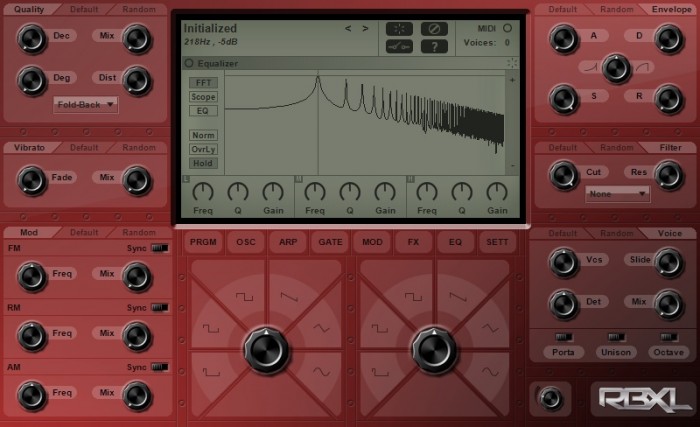 Sound-Base Audio has announced the release of RBXL, a synthesizer instrument for Windows.
RBXL is a full-size, dual oscillator subtractive hybrid VST plug-in combined with FM, RM, and AM. This synth also has built-in effects, an EQ, and an arpeggiator. RBXL is the bigger brother of Retro Boy and was made for retro quality sounds.
RBXL features
Dual seven shape oscillators: 12.5% Pulse, 25% Pulse, 50% Pulse, Saw, Triangle, Sine, Noise.
1 to 64 note polyphony with portamento and slide.
16 step arpeggiator with adjustable oct/semi/fine tuning, gate, and velocity.
16 step mono gate.
LFO, sequence, and envelope modulation for 20+ parameters.
Low usage reverb, delay, chorus, stereo, and phaser effects.
Built in parametric EQ and FFT/scope analysis.
Multi slope lowpass, highpass, bandpass, and band reject filters.
Frequency, ring, and amplitude modulation with frequency syncing.
Unison mode with detune and octave spread.
User settings and personalization features.
RBXL is available for purchase for $59 USD.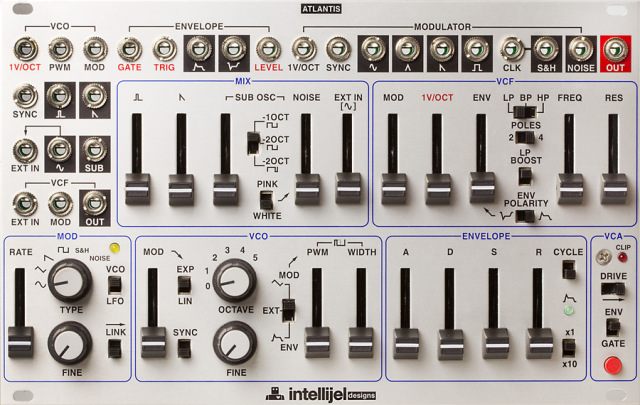 Intellijel has introduced the Atlantis – a fully patchable dual oscillator analog subtractive synth voice in Eurorack format.
The Atlantis is heavily inspired by the architecture and sound of the classic Roland SH-101. However, the Atlantis uses triangle core VCOs (based on the Dixie core) instead of Saw core, which respond much more musically to FM. The modulation oscillator can be used as an LFO or VCO (audio rate) and both track very precisely over 8 or more octaves.
The Intellijel Atlantis
In the mixer section you can adjust the balance of the primary oscillators waveforms including a sinewave which is normalled to the EXT IN jack. You could also patch in one of the modulation oscillators waveforms into this channel and be able to operate the Atlantis as a proper two oscillator synth. There is a switch labelled ?LINK? which enables the modulation vco pitch to be based as an offset of the primary VCO. This is useful when using it as a stacked dual vco or when you have the mod VCO acting as the linear FM source for the primary vco and wish to maintain the ratio.
The filter section is a Roland style cascaded 4 pole multimode filter with LP, BP and HP modes. The LP Boost switch engages a special mode useful for the LP that produces a much fatter and prominent sound that is not drowned out by resonance (unlike the original SH-101). The filter self-oscillates to produce a very clean sine wave which also tracks 1V/Oct. Between the Mod VCO, Primary VCO, Sub Oscillator and resonating filter it is possible to layer up to four different pitches at one time.
The envelope section is an ADSR with a dual range switch. It also can be set to a looping mode which can be gated on/off externally.
The output VCA feeds into a two level output clipping circuit that you can use to get a much ballsier/dirtier sound.
Features:
Modulation VCO: triangle core with Hard Sync and Link switch to connect pitch to primary
Primary VCO: triangle core with Hard Sync, Octave switches, Linear/Exp FM and PWM
Global modulation bus with four VCO waveforms, noise and S&H options
Cascaded 4-Pole multimode filter
Looping ADSR with range switch, manual gate, and external level (velocity) control.
Three position output clipping circuit
27 jacks for creative and complex patching options
Header on back of pcb that allows it to be linked (normalled) to the Intellijel Metropolis sequencer
Skiff Friendly
Summary of enhancements/differences over the SH-101 core:
Discrete triangle core vcos (with far better tracking and Hard sync) instead of CEM based IC.
Primary vco has linear FM (not just exp)
MOD VCO can be linked to the primary VCO pitch CV.
Modulation oscillator switchable from LFO to VCO
Filter is multimode, 2/4pole switchable and has a special LP boost mode
Filter allows for selection of inverted ADSR mod source
Mixer section includes and external source which is normalled to a sinewave
Filter has built in soft clipping
Envelope has looping option, re-trigger and selectable time range
Output VCA has two stage clipping circuit
Patch points for every synthesis section
The Intellijel Atlantis is priced at $699 and is available now.
It's a Bigger Badder Mopho!
Mopho SE is the newest addition to DSI's revered line of analog subtractive synthesizers. Building upon the same award winning voice architecture of the Mopho and Mopho Keyboard, the Mopho SE boasts huge sound in an ideally sized, portable, and elegantly designed package. Use it to create huge basses, creamy leads, and maniacal sequences.
The Mopho Sings!
The Mopho SE voice is composed of two analog oscillators, two sub octave generators, selectable 2- or 4-pole famed Curtis low-pass filter, three 5-stage envelope generators, four LFOs, a re-latchable arpeggiator, and a 16 x 4 step sequencer. Its voice also comes packed with 20 modulation sources and almost 50 destinations!
FM the filter to create metallic bell-like sounds and use the feedback path to add subtle or destructive harmonic content to your sound. Process external audio through the Mopho's voice and add some analog warmth to any source. Mopho SE's 100% analog signal path is powerful, monstrous, and sonically dynamic!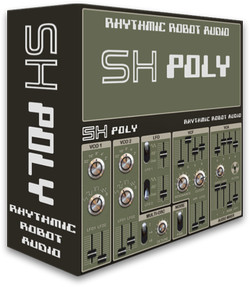 Rhythmic Robot has released SH Poly, a classic analogue subtractive synth for Native Instruments Kontakt, sampled from Roland's 70′s flagship synthesizer, the SH7.
It features two main oscillators accessing six different waveforms between them, plus a white / pink noise generator, dual LFOs with sine, ramp or randomised output, and a host of modulation possibilities.

The two main oscillators can be thickened further using the Multi-Osc feature, which adds multiple extra detonable oscillators – up to a maximum of ten, for an intense, stacked, "supersaw" style sound. SH Poly also features a selection of 70s-inspired effects and Rhythmic Robot's trademark Glitch button, which randomises the instrument in a musically-aware fashion, making generating your own patches extremely simple. The user interface is closely modelled on the classic Roland signature graphics and colour palette.

The original SH7 was a powerhouse monosynth that crowned Roland's lineup in the late 70s. SH Poly takes that amazing sound and crams it into a poly machine: rich, lush pads and thick basses can be dialled up with ease; bubbling leads and squelchy riffs are right there too. The sound is characteristically dense, warm and rich, especially with the Over Load control turned up and a little dose of Multi-Osc.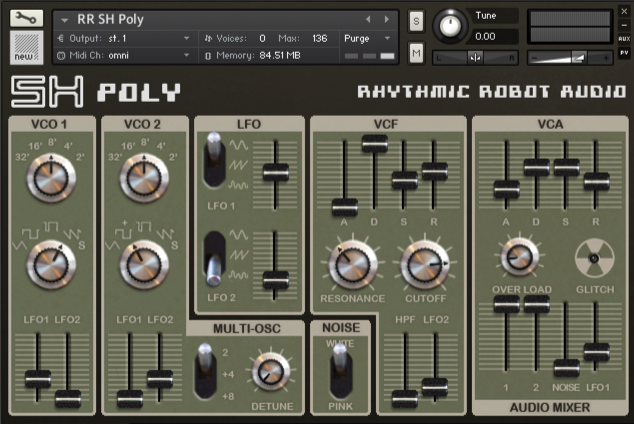 SH Poly features
Classic twin-oscillator subtractive synthesis in a Roland-inspired framework.
Multiple samples of authentic SH7 oscillators.
58 factory patches to start you off.
"Multi-Osc" allows extra oscillators to be switched in for a hugely rich, intense sound.
"Glitch" button for instant, musically-randomised inspiration.
The Poly SH for Kontakt is available to purchase for the introductory price of £13.45 GBP (regular £14.95 GBP).
Of course our personal favorite is the last one featuring Matsutake from Logic System

Arturia's new baby – is 100% analogue with a lot of features for the money – see what we make of it.
Enjoy !!
+ a little Japanese bonus:
"Mogul, pine Takeshi analog synth love playing down analog synths Arturia, the MiniBrute.
I would connect you to their own "closet" to the (Moog Modular)." Googlish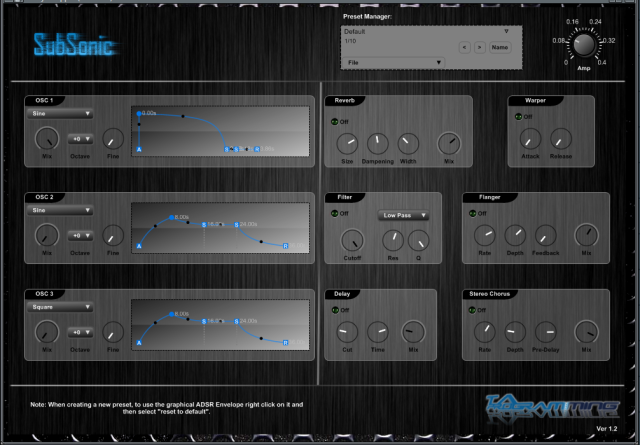 TA Programming has released a new free subtractive software synthesizer, SubSonic.
Features:
3 Oscillators (Sine, Sawtooth, Triangle, Square, Noise) with detune
Graphical ADSR Envelope
Multiple filter selection: Low Pass, High Pass, Band Pass, Band Reject, and Peaking.
Fully customisable reverb module
Delay Module for standard Echo delay effects.
Stereo Chorus
The Flanger module is versatile and powerful, combining overall sound of the 3 oscillators and using a sine wave to phase invert the sounds before adding feedback. This can give 'unearthly sci-fi like textures'.
The Warper: This module is an envelope modulator. Aviss notes that some 'wacky timbres can' be made using this.
Amp
Subtractor, the original Reason synth, still packs a punch! In this tutorial we'll learn the basics of this virtual analog classic by creating a synth bass from scratch. Regardless if you own Reason, Reason Essentials or if you're just trying out the demo, this should get you started creating your own sounds with Subtractor!
More info here – http://bit.ly/XFjhIO
8 years in the making, Secrets of Subtractive Synthesis is a 200+ page book, which is accompanied by four DVDs with over 10 hours of content. Written by Rob Papen, the book gives an in-depth insight into his approach of working with subtractive synthesis — the most commonly used method of synthesis.
Rob Papen is a globally renowned sound designer whose sounds and virtual synthesizers, including Predator, Blue and Blade, to name just a few, are used and loved by many synthesizer players and music producers.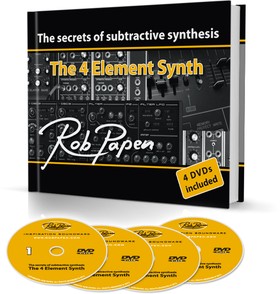 Rob Papen has announced The secrets of subtractive synthesis "The 4 Element Synth", a sound design book and DVD set.
Rob Papen is a globally renowned sound designer whose sounds and virtual synthesizers are used and loved by many synthesizer players and music producers.

This 200+ page book, which is accompanied by four DVDs with over 10 hours of content, gives an in-depth insight into his approach of working with subtractive synthesis.

In 2001, Rob Papen began giving exclusive masterclasses teaching 'synthesizer sound design" in his studio. For these training sessions, Rob developed his own method to explain the secrets of subtractive synthesis, called "The 4 Element Synth". This masterclass training is now transformed into a combined book and DVD package that also delivers numerous 'tips and tricks' which will help you to design and tweak your own sounds. Throughout the masterclass, a variety of hardware and software synthesizers are explored.

We are sure this synthesizer sound design training is an eye-opener for every synthesizer player, from novice to pro. A must have for everyone who takes his sounds seriously!
The secrets of subtractive synthesis is expected tho ship in November/Early December, 2012, priced at 74 EUR/$89 USD (excl. shipping).