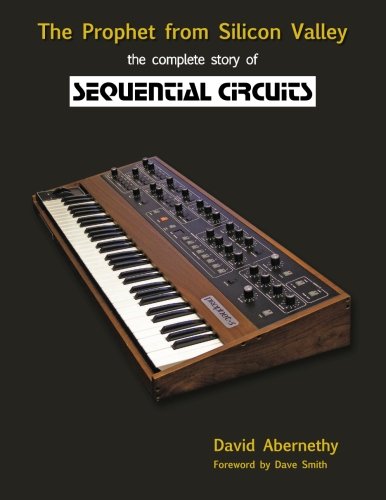 The story of Sequential Circuits, the leading synthesizer manufacturer of the 1980s. One of the great American synthesizer companies, founded and led by San Francisco electronics and computer graduate, Dave Smith, Sequential Circuits Inc. paved the way for music of the future. Smith brought easy, affordable and powerful polyphonic synthesis to all levels of music production in the form of the ground-breaking Prophet-5 synthesizer. Released in 1978, the Prophet led the new wave movement into the next decade, creating a sonically exciting soundtrack to eighties culture. It expanded the palette of all music genres and was embraced by professionals and amateurs alike. Sequential Circuits went on to create further innovative concepts and products such as programmable effects, MIDI, multitimbrality, high-quality sampling, workstation and MPC systems and many more. Today the Prophet-5 is very much sought-after as one of those truly iconic classic musical instruments. The book features many exclusive and highly entertaining and informative stories from ex-Sequential staff, music industry moguls, and famous keyboard players. Includes over 240 photos and illustrations (paperback)"
by David Abernethy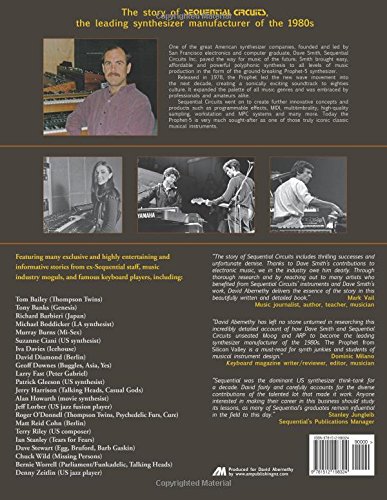 Reviews:
Mark Vail, Music journalist, author, teacher, musician: 'The story of Sequential Circuits includes thrilling successes and unfortunate demise. Thanks to Dave Smith's contributions to electronic music, we in the industry owe him dearly. Through thorough research and by reaching out to many artists who benefited from Sequential Circuits' instruments and Dave Smith's work, David Abernethy delivers the essence of the story in this beautifully written and detailed book.'
Dominic Milano, Keyboard magazine writer/reviewer, editor: 'David Abernethy has left no stone unturned in researching this incredibly detailed account of how Dave Smith and Sequential Circuits unseated Moog and ARP to become the leading synthesizer manufacturer of the 1980s. The Prophet from Silicon Valley is a must-read for synth junkies and students of musical instrument design.'
Stanley Jungleib, Sequential's Publications Manager, Seer Systems founder: 'Sequential was the dominant US synthesizer think-tank for a decade. David Abernethy fairly and carefully accounts for the diverse contributions of the talented lot that made it work. Anyone interested in making their career in this business should study its lessons, as many of Sequential's graduates remain influential in the field to this day.'
About the Author
David Abernethy is a musician, writer and electrical engineer from Auckland, New Zealand.
Product Details
Paperback: 274 pages
Publisher: CreateSpace Independent Publishing Platform; 1 edition (June 10, 2015)
Language: English
ISBN-10: 1512198323
ISBN-13: 978-1512198324
Product Dimensions: 8.5 x 0.6 x 11 inches
Shipping Weight: 1.8 pounds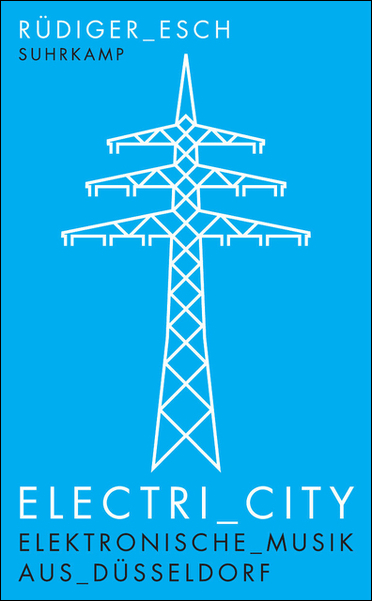 "Electri_City – Elektronische Musik aus Duesseldorf" is a brand new book that is being prepped for release on the 10th of March 2014 via Suhrkamp Verlag. Described by the publisher as 'Das definitive Buch zu Kraftwerk, Neu!, La Düsseldorf, DAF, Die Krupps, Der Plan, Liaisons Dangereuses, Rheingold, Propaganda' you can expect a detailed background on the Düsseldorf scene. That scene has since the 70s and 80s been considered as the electronic popmusic Mekka (let's hope Allah and co won't kill us for using this description).
The book is written by Düsseldorf resident and Die Krupps member Rüdiger Esch. In the book he covers the period from 1970 bis till the end of the 'analog phase' in 1986. Expect feedback in the book from Wolfgang Flür (Kraftwerk), Bodo Staiger (Rheingold), Gabi Delgado (DAF), Jürgen Engler (Die Krupps), Ralf Dörper (Propaganda), plus remarks from Giorgio Moroder, Ryuichi Sakamoto, Andy McCluskey (OMD), Martyn Ware (The Human League), Glenn Gregory (Heaven 17) and so on.
Still according to the publisher the book will also talk about reality versus myth regarding the scene.
You can order the book right here on Amazon: http://www.amazon.de/ElectriCity-Elektronische-D%C3%BCsseldorf-suhrkamp-taschenbuch/dp/3518464647/ref=sr_1_1?s=books&ie=UTF8&qid=1374060902&sr=1-1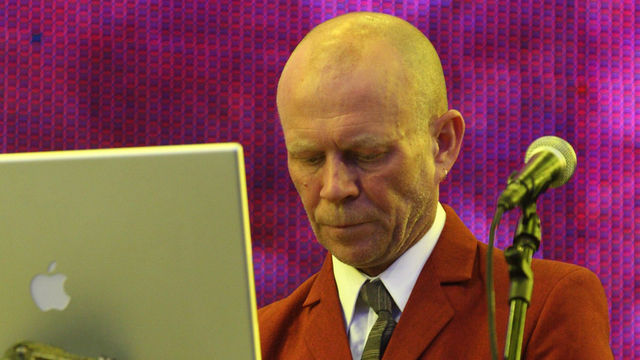 Historical interviews with the most famous electro musicians in the world have appeared in a new eBook.
The Electro Legend Interviews features interviews conducted over the past 20 years and taken from the archives of Computer Music and Future Music magazine.
Revealing their music-making techniques and inspirations are: Aphex Twin, Gary Numan, The Prodigy's Liam Howlett, Vince Clarke, Kraftwerk's Wolfgang Flür, Moby, Hot Chip, Alec Empire and Ultravox's Midge Ure.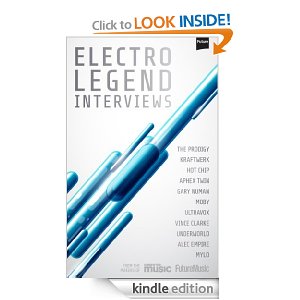 Available for just £2.99, the book sheds light on The Prodigy's place in the early rave scene, with Liam Howlett explaining in a 1993 interview that"When rave dies there are always going to be people who will still want to dance, so as long as we keep coming out with original songs we'll still be around…"
Meanwhile, Gary Numan discusses his classic Replicas album. Addressing the cover art, he says: "The character on the cover is called a Machman – he's looking out on the world, looking out at the park. Outside of the park, there's a man in a grey coat and a grey hat, which was a ghost I saw when I was much younger…"
Elsewhere reclusive genius Aphex Twin gives one of his only ever interviews. "If you plan to be good at anything, it has to happen using your own ideas. It's inevitable. It's exactly like natural selection," he muses.
Speaking exclusively about the early days of Kraftwerk, WolfgangFlür comments: "We were young, shy and childish! We loved to construct things and we never thought we would get famous from that."
The book also features Vince Clarke revealing his computer music-making secrets. "Once you've got the hang of the computer and the software," he says, "then you've still got to write the songs…"
And discussing the history of Ultravox, Midge Ure reveals that: "In those early days, a lot of musicians saw synths as electronic guitars. We just started going bang-bang-bang. Suddenly, you got this blast of unearthly noise and it changed the musical landscape."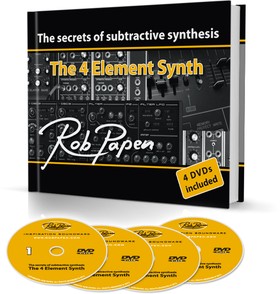 Rob Papen has announced The secrets of subtractive synthesis "The 4 Element Synth", a sound design book and DVD set.
Rob Papen is a globally renowned sound designer whose sounds and virtual synthesizers are used and loved by many synthesizer players and music producers.

This 200+ page book, which is accompanied by four DVDs with over 10 hours of content, gives an in-depth insight into his approach of working with subtractive synthesis.

In 2001, Rob Papen began giving exclusive masterclasses teaching 'synthesizer sound design" in his studio. For these training sessions, Rob developed his own method to explain the secrets of subtractive synthesis, called "The 4 Element Synth". This masterclass training is now transformed into a combined book and DVD package that also delivers numerous 'tips and tricks' which will help you to design and tweak your own sounds. Throughout the masterclass, a variety of hardware and software synthesizers are explored.

We are sure this synthesizer sound design training is an eye-opener for every synthesizer player, from novice to pro. A must have for everyone who takes his sounds seriously!
The secrets of subtractive synthesis is expected tho ship in November/Early December, 2012, priced at 74 EUR/$89 USD (excl. shipping).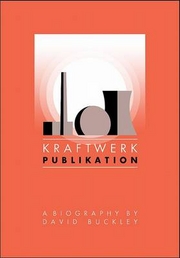 Omnibus Press presents a new and major biography of the first-ever all-electronic pop group, Kraftwerk, one of the most influential bands in popular music history. David Buckley examines the cult enigma that is Kraftwerk! The inner workings of this most secretive of bands are revealed through interviews with friends and close associates. The story of their incredible impact on modern music is traced up to the present day using interviews with a host of musicians, from original electro pioneers such as Gary Numan and the Human League to contemporary acts still in awe of the original Man Machines.
3.5 'Tomorrow Belongs To Those Who Can Hear It Coming'

It wasn't just young would-be musicians who were listening either. The old guard were listening too. In 1975, modern music's most important icon, David Bowie, was listening hard to Kraftwerk. Receiving an endorsement from Bowie, at the time the most innovative and critically lauded rock star on the planet, was a big deal. It's hard now to imagine how influential David Bowie was in the seventies and early eighties. Far and away the most sought after interviewee by the UK music press, his every move was scrutinised, his every word picked over by an adoring audience.

Not that 1975 was personally a good year for Bowie. Commercially, he had never been more popular. 'Fame', an unlikely collaboration with John Lennon, became his first US number one, and a re-released 'Space Oddity' from 1969 would top the UK charts later that autumn. But physically and emotionally, Bowie was a man of shellac, ready to shatter into pieces, addicted to cocaine and obsessed with the occult. However, amongst the nonsequiturs and ridiculous assertions in his interviews, Bowie was, once again, picking up on a massive shift within modern music. He felt that rock, as a statement, was over. His music of the time, dubbed by its creator 'plastic soul', was his first attempt to break free from rock cliché. His second attempt, more fully realised, and much more artistically successful, would be just around the corner. 'Rock 'n' roll certainly hasn't fulfilled its original promise,' he told Anthony O'Grady in August of that year. 'The original aim of rock 'n' roll when it first came out was to establish an alternative media speak voice for people who had neither the power nor advantage to infiltrate any other media or carry any weight, and cornily enough, people really needed rock 'n' roll. And what we said was that we were only using rock 'n' roll to express our vehement arguments against the conditions we find ourselves in, and we promise that we will do something to change the world from how it was. We will use rock 'n' roll as a springboard.' Bowie continues: 'But it's just become one more whirling deity, right? Going round that never-decreasing circle. And rock 'n' roll is dead … It's a toothless old woman. It's really embarrassing.'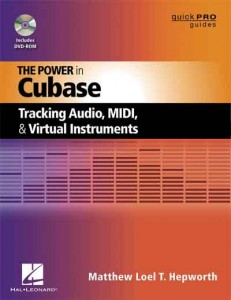 Hal Leonard Books has published ThePower in Cubase by Matthew Loel T. Hepworth. They say that it's a comprehensive, thoughtful, and engaging guide, written to help the new user master the ins and outs of Cubase. Here's what they have to say:
Consider this: Cubase is a program that will turn your computer into a complete recording studio. That is, Cubase can create virtually every button, knob, switch, and fader found in a "real" studio, including a few components that don't exist in the hardware realm. Imagine the challenge of sitting at a large mixing desk and being expected to use all that technology to produce professional recordings. Well, by installing Cubase on your computer, that's exactly what you've expected of yourself. Knowing how daunting that task sounds, it's easy to get overwhelmed, if not disillusioned.
The Power in Cubase: Tracking Audio, MIDI, and Virtual Instruments will help you get started so that you can use Cubase to your full benefit. It is specifically written to allow a new user to quickly get started with Cubase while avoiding a myriad of pitfalls. First, you'll learn the process of installation and proper studio configuration. Next, you'll learn the foundations of rudimentary Cubase operations. You'll also learn how to avoid common mistakes that can ruin a recording. Finally, you'll learn how to properly record MIDI, instrument, and audio tracks. Whether they're your own tracks or those of a client, you'll achieve recordings in your own home or project studio that were recently considered unobtainable without a big studio. And you'll discover Cubase is easier to learn than you may have expected.
QuickPro Guides
If you want to quickly start implementing professional techniques into your audio recordings and productions, the Hal Leonard Books Quick Pro Guides are designed for you. These straightforward, task-driven, and easy-to-understand books cover music industry topics in a way that gets to the point and helps maximize your creative and technical accomplishments. The Quick Pro Guides are efficient and accessible, and the included DVD-ROM provides audio and video demonstrations of key QuickPro topics.
About the Author:
Matthew Loel T. Hepworth has been teaching music technology since 1984. He authors how-to videos on Cubase and Waveloab for macProVideo.com. He has also written Wavelab7 Power! for Course Technology PTR. He records, mixes, and masters audio projects for clients including Air Supply, FranklinCovery, Jonni Lightfoot, and many more. Hepworth also consults with several pro audio manufacturers like Steinberg North America, Yamaha Corporation of America, Lexicon, and Tascam. He is a video producer and photographer, and in his spare time, he plays bass guitar and Theremin in his band, ZenTherStick. He lives in Salt Lake City, Utah.
Pricing and Availability:
$16.99
More information:
Hal Leonard Books is now shipping Power Tools for Reason 6 by Andrew Eisele, described as a comprehensive book that provides a quick-start tutorial that not only gets you up and running quickly, but also delves into advanced sequencing and mixing techniques.
"With an unbelievable array of tools, Reason 6 gives you everything necessary to record, mix and produce music projects from start to finish. Reason 6 has the best of Propellerhead's Record and Reason, with the addition of some fantastic new features and effects, including the Pulveriser Demolition, Alligator Filter Gate, and the Echo tape delay. With the ability to record and edit audio directly into the arrangement window – and with audio time-stretching capabilities – it is now possible to record audio and adjust the tempo while keeping everything in sample accurate synchronization."
Inside Power Tools for Reason 6, you'll find:
How to set up your studio for Reason 6
An overview of the feature set
An explanation of MIDI concepts from signal flow and recording to hardware and instruments
A sound primer for digital audio concepts and recording
How to get the most out of the synths, effects, drum and percussion instruments, and routing capabilities of Reason 6
How to best use the sampler to capture, play back and manipulate digital audio
And much more
Hal Leonard tells us that Power Tools for Reason 6 includes video tutorials on an accompanying DVD-ROM that let you see and hear many of the most important tools and techniques now available in Reason.
About the Author:
Andrew Eisele is the author and host of the Music Pro Guides, a training DVD series spanning 40-plus titles covering all major music production software. His teaching credits include Full Sail Real World Education, the School of Audio Engineering and Dubspot. Currently, he works as a producer/DJ and is co-founder of the arts collective Tsunami Bass Experience and MorphSaru Productions.
Pricing and Availability:
$39.99
More information: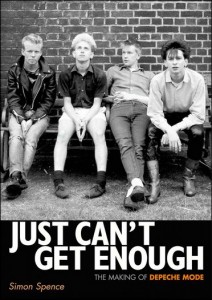 New biography of Depeche Mode has hit the stores:  "Just Can't Get Enough – The Making of Depeche Mode". This one was penned by Simon Spence who collaborated with Rolling Stones manager Andrew Loog Oldham on the memoirs "Stoned" and "2Stoned". He also wrote a book about Loog Oldham's Immediate Records. As a journalist Simon has written features on popular culture for many publications, including the NME, The Face, i-D, Dazed and Confused, The Independent, The Japan Times and International Herald Tribune.
This book is another unofficial Depeche Mode biography and while the awful cover – featuring a funny early photo of the band – could make you think that it's pointless and not very interesting, it is actually rather interesting. This is probably the best biography charting the very early days of the band up to the Black Celebration era.
NME journalist Simon Spence draws on first hand interviews with people close to the band such as friends, lovers, club runners, support acts, pluggers, producers and even church elders, such as Alison Moyet, Robert Marlow, Gareth Jones, Neil Ferris, Adrian Sherwood, Martyn Atkins, Brian Griffin, Robert Gorl etc..
The first chapter deals with Basildon, because it's important to understand this new post war experimental city to really understand Depeche Mode. Then we learn how the boys arrived there, how they met, their previous bands and how they created one of the ten best-selling bands in music history. Don't expect gossip and trivia facts, you'll get the real story about Dave, Martin, Alan, Fletch and Vince and experience their journey to world superstardom! Part musical odyssey, part cultural history, this book traces the story of Depeche Mode from the front rooms and school halls to the Bridgehouse and from their very first appearance on Top of The Pops to Black Celebration tour arenas.
You can order the book at Amazon US, Amazon UK and Amazon DE.
New Talk Talk book 'The Spirit of Talk Talk' & website – register now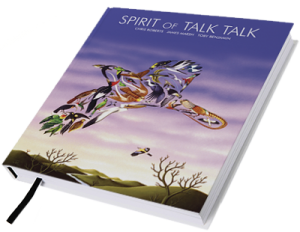 Something for your book shelf:  "The Spirit of Talk Talk", a richly illustrated and designed publication celebrating the music and art of the legendary group Talk Talk.
None other than the celebrated illustrator, and Talk Talk cover artist, James Marsh has remastered and chronicled all of the iconic artwork that he produced for the band throughout their 10 year reign in the 80's. The book will feature James' original cover concept sketches, hand written lyrics from Mark Hollis, as well as various ephemera, posters, and related items of interest to fans. It will also feature unseen group photos from 3 sessions with photographer Richard Haughton.
The main essay has been written by music writer Chris Roberts. But the book also features 80 written contributions from bands, label owners, DJs and creatives, all of whom have been inspired or influenced by the music and art of Talk Talk. And yep, you'll find a note by Alan Wilder as well in there next to a string of other artists.
And here's the best bit: if you want to speed up the pressing of getting this book released, then register at www.spiritoftalktalk.com . Registering does not commit you to purchase the book but simply helps the publisher gauge the print run required. You will be kept informed about developments right up to publication.
Don't forget that there will also be a Talk Talk tribute CD featuring Elbow, Alan Wilder, The Lovetones, Chris Walla from Death Cab For Cutie, Turin Brakes, and Stars Of The Lid amongst many others.
Here is what Jason Lytle from Grandaddy has to say about it:
'Fans of Talk Talk unite! This is an incredible book on the band that needs to get published. I will be helping to support this, and I really hope you will too!'
This website is currently gauging interest in the book. If it appeals to you, please register and you will help ensure the book goes ahead.
Superbly produced and documented it will be the definitive visual companion to the Talk Talk legend, to become a desirable collectors' item, featuring:
Every copy individually signed by James Marsh
Fine fabric cover featuring one of James Marsh's artworks
High quality heavyweight art paper
Full color throughout
Roll of Honour listing the names of readers who pre-order the book
Produced by Essential Works, publishers of the acclaimed Barrett
Projected price

£40

Expected publication

Spring 2012
As the 90s came to a close, the business of music began to change profoundly. New technology allowed artists to record and produce their own music and music videos, and the internet became a free-for-all distribution platform for musicians to promote themselves to audiences across the world. The result was an influx of artists onto the cultural scene, and audiences were left wondering how to sort through them all. In this episode we discuss these massive changes, and reveal how music blogs and websites have arisen as the new arbiters of quality.
Featuring:
Jon Cohen, Co-Founder, FADER Label
Ryan Dombal, Senior Editor, Pitchfork
Blake Whitman, VP of Creative Development, Vimeo
Anthony Volodkin, Founder, Hype Machine
Music by:
Flex Blur: soundcloud.com/flex-blur
Mindthings: jamendo.com/en/artist/mindthings
Dub Terminator: jamendo.com/en/artist/DUB_TERMINATOR
Nestor Gonzalez: jamendo.com/en/artist/Nestor_Gonzalez
Special Location thanks to Converse Rubber Tracks Studio
Artists from Music Video Section:
Rihanna – We Found Love – vimeo.com/33123323
Miss Eaves – Diva Pop – vimeo.com/34415367
My First Earthquake – We Float – vimeo.com/31941995
Moullinex – Catalina – vimeo.com/19723907
Sleigh Bells – Riot Rhythm – vimeo.com/16668477
Keep The Heat
Morning Teleportation – Expanding Anyway – vimeo.com/14304059
Da Silva – Les Stations Balnearies – vimeo.com/33569324
Goose – Synrise – vimeo.com/20913850
Tim and Puma Mimi – Perspective – vimeo.com/11742651
DYE – Fantasy – vimeo.com/30798517
Dan Wholey – Amateur Rocketry – vimeo.com/29672263
Health – We Are Water – vimeo.com/10818338
Colours – Colourfornia – vimeo.com/26906724
Dancing Pigeons – Ritalin – vimeo.com/13639493
The Naked And Famous – The Sun – vimeo.com/27790801
The Limousines – vimeo.com/18665622
Flying Lotus – Kill Your Co-Workers – vimeo.com/15568767
Follow Off Book:
Twitter: @pbsoffbook
Tumblr: pbsarts.tumblr.com/
Produced by Kornhaber Brown: kornhaberbrown.com