Just Can't Get Enough – The Making of Depeche Mode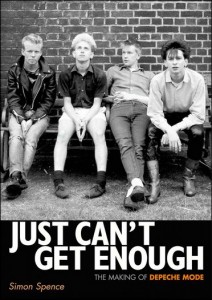 New biography of Depeche Mode has hit the stores:  "Just Can't Get Enough – The Making of Depeche Mode". This one was penned by Simon Spence who collaborated with Rolling Stones manager Andrew Loog Oldham on the memoirs "Stoned" and "2Stoned". He also wrote a book about Loog Oldham's Immediate Records. As a journalist Simon has written features on popular culture for many publications, including the NME, The Face, i-D, Dazed and Confused, The Independent, The Japan Times and International Herald Tribune.
This book is another unofficial Depeche Mode biography and while the awful cover – featuring a funny early photo of the band – could make you think that it's pointless and not very interesting, it is actually rather interesting. This is probably the best biography charting the very early days of the band up to the Black Celebration era.
NME journalist Simon Spence draws on first hand interviews with people close to the band such as friends, lovers, club runners, support acts, pluggers, producers and even church elders, such as Alison Moyet, Robert Marlow, Gareth Jones, Neil Ferris, Adrian Sherwood, Martyn Atkins, Brian Griffin, Robert Gorl etc..
The first chapter deals with Basildon, because it's important to understand this new post war experimental city to really understand Depeche Mode. Then we learn how the boys arrived there, how they met, their previous bands and how they created one of the ten best-selling bands in music history. Don't expect gossip and trivia facts, you'll get the real story about Dave, Martin, Alan, Fletch and Vince and experience their journey to world superstardom! Part musical odyssey, part cultural history, this book traces the story of Depeche Mode from the front rooms and school halls to the Bridgehouse and from their very first appearance on Top of The Pops to Black Celebration tour arenas.
You can order the book at Amazon US, Amazon UK and Amazon DE.
Comments