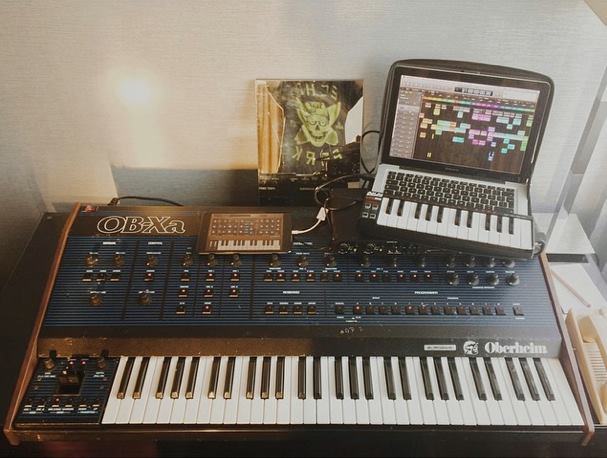 Gary Numan posted this picture of his live set up from a hotel rehearsal for his London show on Friday.
Gary Numan makes a surprise appearance on stage with Nine Inch Nails for a performance of his song "Metal," live in London, UK, July 15th, 2009.
This performance continues with "Cars" at http://www.youtube.com/watch?v=6qlUFK…
Filmed by Rob Sheridan with the Canon 5D Mark II. Audio mix by Blumpy.
Youtube alias 'Eric Mauro·12′  arrangement of Cars by Gary Numan. Started by creating a drum loop then played the synths over top
Directed by Logan Owlbeemoth with effects by Omebi Velouria, this video was made using a Tachyons + video glitch synth effected live via a HI-8 camera and a CRT television to create triply, blurry, VHS-style images of Gary Numan as he sings the song. In a nod to Gary's analogue roots, no computer post production was used in the making of this video
Gary Numan is currently on tour in the US, then off to Australia/New Zealand followed by the UK(http://www.numan.co.uk/tour/). He'll be playing Denver on April 4th at the Gothic. Visit his official web site for more news and links to the new album http://www.numan.co.uk/.
)
The track appears on the forthcoming reissue of Jones' Nightclubbing LP reissue, and will come out on 12″ for Record Shop Day. Alongside the remastered version of the album itself, which features the single 'Pull Up To The Bumper', there'll be a double-disc edition, coming with other previously unreleased rarities.
Buy Grace Jones – Nightclubbing from Amazon:http://po.st/GraceJonesNC
Ade Fenton produced the current Gary Numan album Splinter – its Numan's first top 20 Uk success since 1983. Not only did Ade produce the record, but he also put together the tour. We caught up with him backstage last week at the penultimate gig at Brighton's Dome theatre to chat and take a look at what powers the show. Edd Butterworth interviews
Live shots of Gary Numan performing on his UK tour
Buy Tickets: http://bit.ly/k1BjPj
New Album 'Splinter (Songs From A Broken Mind)' is OUT NOW
Store: http://bit.ly/1a9jOry
iTunes US: http://bit.ly/19EY8Qw
iTunes UK: http://bit.ly/GZ8e6e
Geary Yelton, contributing editor to Keyboard and Electronic Musician magazines, interviews synth pop legend Gary Numan at Asheville's Mountain Oasis Music Festival, October 2013.
On September 23rd lucky competition winners were able to attend an exclusive Q&A with Gary Numan at The Hospital Club. The Quietus' Simon Price was on hand to host the event.
Gary Numan's new album Splinter (Songs From A Broken Mind) is out now. Buy from the following places…
iTunes – http://smarturl.it/gnsplinteritunes
Direct from Gary Numan – http://www.numan.co.uk/
Taken from Gary Numan's new album Splinter (Songs From A Broken Mind)
Buy from iTunes – http://smarturl.it/gnsplinteritunes
Buy the Single here – http://smarturl.it/gnlhb