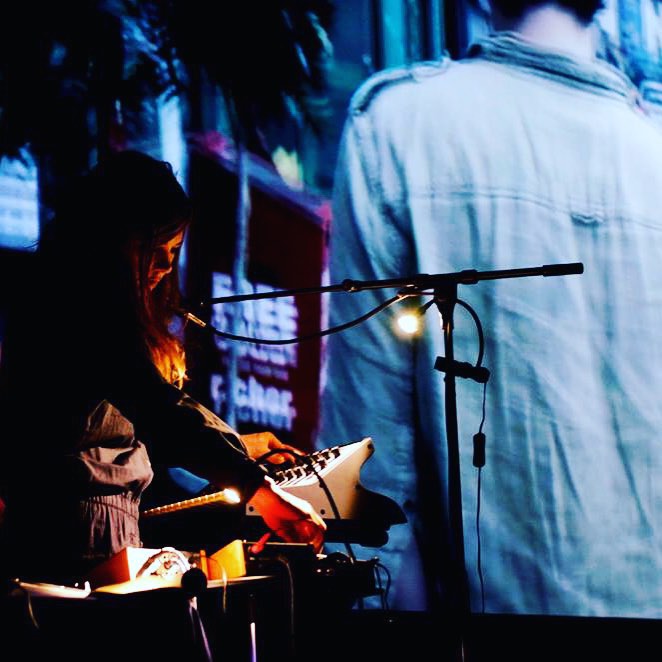 I Speak Machine (Tara Busch and Maf Lewis) has recently finished another of their live gigs in Malmö, Sweden, at Inkonst, this as an integrated performance with the ongoing art installation Sisters Academy. The band, being welcomed in a surreal environment featuring blindfolded students and experimental activities going on all over the place, fits nicely with the horror-futuristic music and visuals that I Speak Machine (ISM) performs on stage. Just like ISM the Sisters Academy are not just there due to general fascinations with the obscure, but rather a closer search into the realms of our existence and human conditions.
For those of you who have not seen ISM on stage, their live performances is far more than playing backtracked songs and soundscapes on laptops to visuals on the screen. Tara, a true machine geek, will bring a plethora of hardware gems on stage paired with intriguing vocals run through vocoders and the like. Perhaps not the most obvious route considering hers and Maf's common roots in the downtempo electronica band Dynamo Dresden. However, Tara and Maf apparently weren't content with performing in the straight forward rock/pop format. Tara have always had a fling towards dark and disturbing music, music that leaned towards horror and sci-fi, filled with those bizarre soundscapes – almost limitless in their nature.
Neither Tara nor Maf are 'true' horror/sci-fi geeks, but these type of movies do represent great reflexions on culture, and through ISM they have developed a new process on how to do things in this genre, without getting trapped in the conventional like the use of theremins and scary strings. This also means that ISM do not operate in a conventional way, such as adding music to a film score, but rather let the two grow and develop organically together, and through cross-pollination in the creative phase let music and visuals influence each other. And perhaps more importantly it is all being developed for live performances, not for home cinema viewing.
Read the full interview here >>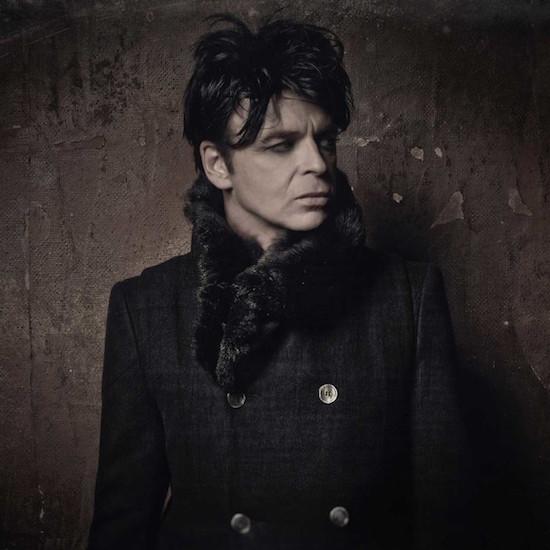 Three classic albums from Gary Numan will be reissued next month via label The Arkive.
1979's Replicas and The Pleasure Principle and 1980's Telekon will get the reissue treatment on standard black vinyl on October 16. Human will play the albums in full at a series of upcoming shows in Los Angeles and London. The London dates can be found below and tickets can be purchased here.
Gary Numan UK Dates
October
21 – The Forum – London, UK (performing Replicas)
22 – The Forum – London, UK (performing The Pleasure Principle)
23 – The Forum – London, UK (performing Telekon)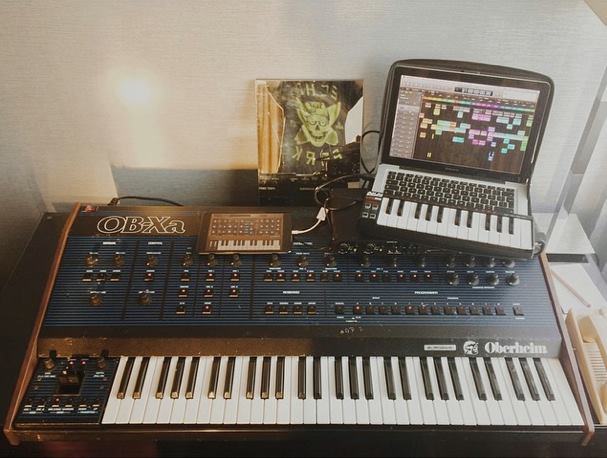 Gary Numan posted this picture of his live set up from a hotel rehearsal for his London show on Friday.
Gary Numan makes a surprise appearance on stage with Nine Inch Nails for a performance of his song "Metal," live in London, UK, July 15th, 2009.
This performance continues with "Cars" at http://www.youtube.com/watch?v=6qlUFK…
Filmed by Rob Sheridan with the Canon 5D Mark II. Audio mix by Blumpy.
Youtube alias 'Eric Mauro·12′  arrangement of Cars by Gary Numan. Started by creating a drum loop then played the synths over top
Directed by Logan Owlbeemoth with effects by Omebi Velouria, this video was made using a Tachyons + video glitch synth effected live via a HI-8 camera and a CRT television to create triply, blurry, VHS-style images of Gary Numan as he sings the song. In a nod to Gary's analogue roots, no computer post production was used in the making of this video
Gary Numan is currently on tour in the US, then off to Australia/New Zealand followed by the UK(http://www.numan.co.uk/tour/). He'll be playing Denver on April 4th at the Gothic. Visit his official web site for more news and links to the new album http://www.numan.co.uk/.
)
The track appears on the forthcoming reissue of Jones' Nightclubbing LP reissue, and will come out on 12″ for Record Shop Day. Alongside the remastered version of the album itself, which features the single 'Pull Up To The Bumper', there'll be a double-disc edition, coming with other previously unreleased rarities.
Buy Grace Jones – Nightclubbing from Amazon:http://po.st/GraceJonesNC
Ade Fenton produced the current Gary Numan album Splinter – its Numan's first top 20 Uk success since 1983. Not only did Ade produce the record, but he also put together the tour. We caught up with him backstage last week at the penultimate gig at Brighton's Dome theatre to chat and take a look at what powers the show. Edd Butterworth interviews
Live shots of Gary Numan performing on his UK tour
Buy Tickets: http://bit.ly/k1BjPj
New Album 'Splinter (Songs From A Broken Mind)' is OUT NOW
Store: http://bit.ly/1a9jOry
iTunes US: http://bit.ly/19EY8Qw
iTunes UK: http://bit.ly/GZ8e6e
Geary Yelton, contributing editor to Keyboard and Electronic Musician magazines, interviews synth pop legend Gary Numan at Asheville's Mountain Oasis Music Festival, October 2013.