After posting a teaser video and some basic information last month, John Foxx has unveiled further details about his new album, Evidence Of Time Travel. It's a fully-fledged audiovisual work, a "unique sonic & visual investigation into the terrors and pleasures of temporal displacement" to be precise, and sees Foxx collaborating musically with Steve D'Agostino, with graphics created by KARBORN. The album will be released on vinyl, CD and download on October 6 via Foxx's Metamatic label, while a performance of the piece as a live film will take place at the BFI in London on November 21.
The project has its own website, which hosts KARBORN's monthly graphic volume instalments, with four of them up there already. Elsewhere on the site, notes add that the work is, "A sinister sonic architecture of drum-machine-music and analogue synthesisers. Opens with 'The Forbidden Experiment', as surveillance TV glitches and the ghostly, ripped-up multi-temporal universe of 'Evidence Of Time Travel' infiltrates the labyrinth of dark electronica. Span forty years in a moment . . . Ultimate time transfusion . . . skin crackles, a rhapsody in flames… witness images of torn, ruthless smiles through the crashed distortion; try to recall the future memory of a figure lost on a distant shore." Take a look at the teaser above, while you can pre-order the record and get hold of tickets for the film (from October 14 onwards; October 7 for BFI members) at the website.
John Foxx And The Maths have enlisted renowned Japanese film-maker Macoto Tezka to produce a couple of videos for tracks from their last two albums, this year's Evidence and 2012's The Shape Of Things, video details below:
Directed by Macoto Tezka in Tokyo, Japan 2013.
Taken from the album, 'The Shape Of Things'.
Evidence discounted to £6.99 on the Official John Foxx Store: http://johnfoxx.tmstor.es/index.php?p…
Available on Amazon: http://www.amazon.co.uk/exec/obidos/A…
www.johnfoxxandthemaths.com
www.metamatic.com
THE VIDEOS FOR 'EVIDENCE' AND 'TALK'
November 7, 2013 Macoto Tezka
One day, I came across a very old, classic western-style building in a corner of Ginza-town in central Tokyo.
A building stood at the location well over 80 years. It's one of a Tokyo's relics of the past that survived war-fire and many earthquakes.
In the building, there are a couple of stairs around an old mechanical elevator. It used be an apartment but no one lives there anymore. Now galleries and antique stores occupy the building.
Walking through a narrow passage, I thought about the past and imagined how people lived here. Imagery of old silent films flashed into my imagination.
A few months later, I visited there again with my actor friends and a cinematographer. Because I couldn't think of a better location for John Foxx And The Maths videos.
John's music has a feeling of "déjà vu". It's always fresh but somehow nostalgic. Silhouette of a figure that walks through an old avenue; vague, indistinctive face . . That is the image created by his music. But some images of my own memories also came up.
Our cinematographer shot this film with a Canon camera. Before editing, it had sharply-defined shapes and vivid color, so I removed it all. Next, I adjusted the speed to express an eternal moment. Then I synchronized the music to the image and I found something was still missing.
By watching the film for many weeks I kept asking myself, 'whats' missing'? Then an idea came up to my mind to bring the film to perfection. The gaps of 'scattered memories and missing time' need to be added. So I decided to attach these 'invisible moments' to fill the gap. The film was finished by these invisible moments.
Ms. Cay in the video 'Talk' is a dancer and actress. She heads up a team of a worldwide performance unit called 'Tokyo Dolores'.
This short song has uniqueness and a mystical sense of beauty; it brings me back the picture of surrealistic piece of art. Such dreams expressed in the film have a similar essence to a Japanese "tan-ka" poem.
Credit;
Starring: Go Setoguchi, Megumi Oka ('Evidence'), Cay ('Talk')
Director: Macoto Tezka
Director of Photography: Kenji Tsuji
Makeup: Ai Nobayashi
Stylist: Yushi Gender Takemoto
Macoto Tezka Profile
Born in Tokyo. Began his career as a film director when he was at high school.
Since his debut, he's expressed himself visually through feature length films, experimental film, documentary and MTV.
As a family of famous Manga-artist Osamu Tezuka, he supports to produce posthumous Manga and Anime works.
In 1999, he directed feature film called 'Hakuchi: the innocent- '. It was invited and shown at The Venice International Film Festival.
In 2012, Directed a documentary film 'Ogatsu ~the revival of the Houin Kagura Dance'.
His best known works are "MODELS (1987)", "NARAKURE (1997)", "EXPERIMENTAL FILM(1999)" and "BLACK KISS(2005)". Contributed a short film on JOHN FOXX's DVD "DNA".
Taken from the European Splendour EP which includes a remix by David Lynch.
(c) 2013 Sugarcane Recordings iTunes: http://bit.ly/16YZczb
Vinyl and CD Available on Amazon: http://amzn.com/B00DJ4JSZM
There are people vanishing in this city.
Conceptually based on original 'Quiet Man' artwork by John Foxx.
Credits:
Editing, Filming & Direction – Karborn, Xavier Boivin, Michael Kinsella-Perks.
Assisted by – Daniel Mancini
Shadow Man – Xavier Boivin
Shadow Woman – Yani Foord
Shot on location in East London. Treatments to video material includes re filming through Trinitron broadcast monitors and tracing paper, among other special effects.
Many thanks to everyone involved.
www.karborn.com
Taken from the Album 'The Shape Of Things'
DETAILS…
Format : Double Compact Disc
Release Date : 13 October 2011
TRACK-LISTING…
Disc One : The Shape Of Things
01. Spirus
02. Rear-View Mirror
03. Talk
04. Psytron
05. September Town
06. Unrecognised
07. Modreno
08. Falling Away
09. Invisible Ray
10. Vapour Trails
11. Buddwing
12. Tides
13. Astoria
14. The Shadow Of His Former Self
Disc Two
01. Evergreen (Radio Mix)
02. Shatterproof (Wrangler Mix)
03. Where You End And I Begin
(Featuring Tara Busch)
04. Summerland (Belbury Poly Mix)
05. The Good Shadow (Tim 'Love' Lee Mix)
06. Watching A Building On Fire (Grayed Out Mix)
07. Interplay (Grayed Out Mix)
08. Evergreen (Xeno & Oaklander Mix)
—————————————-
Evidence is the name of the new album from John Foxx And The Maths, and it features collaborations with Xeno & Oaxlander, Gazelle Twin, Tara Busch, The Soft Moon and Matthew Dear. It was released on 24th September, 2012
John Foxx mangling around with the moog modular filter. see http://myblogitsfullofstars.blogspot…. for more
Written and produced by JOHN FOXX and JORI HULKKONEN.
The European Splendour EP will be available on Vinyl and CD August 19th Includes a remix by DAVID LYNCH. www.sugarcanerecordings.com
____
Why are our senses aroused by something that threatens their own existence?
Creators
Gabriel Pulecio (http://www.lustix.com)
Lorena Kraus (http://www.lorenakraus.com)
Produced by http://sugarcanerecordings.com/ and http://www.lustix.com/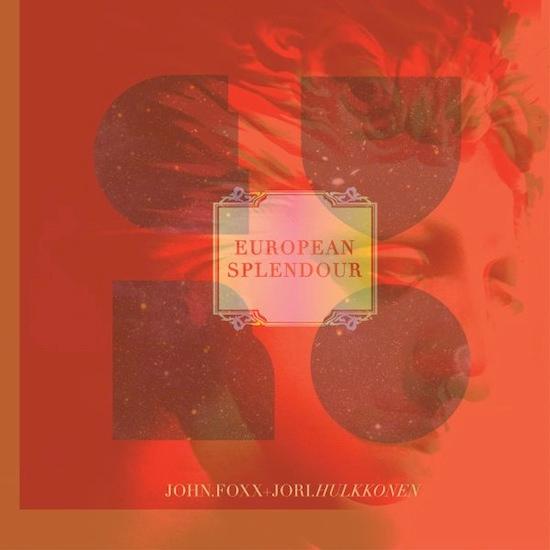 John Foxx and Jori Hulkkonen, the prolific Finnish electronic producer and DJ, have a collaborative EP, European Splendour, on the way on August 19 via Sugarcane Recordings.
If that wasn't good news enough, it's set to feature two remixes by none other than David Lynch (whose own LP The Big Dream is out next Monday, July 15). And for a record already heavily laden with big names, for good measure they've got Jonathan Barnbrook, designer of Bowie's The Next Day cover and frequent Foxx associate, on artwork duties (which itself features a sculpture by Foxx. Blimey, this is getting a bit much now…) – have a look at the vinyl cover above, with the CD sleeve below.
It's Foxx and Hulkkonen's third collaboration, following the singles 'Dislocated' in 2005 and 'Never Been Here Before' in 2007, and has its genesis, "when John Foxx And The Maths played a live show at the Roundhouse in London with me supporting as a DJ – and I also ended up on stage to play on John's song, 'Underpass'," says Hulkkonen.
Conjuring an image of wonderful simplicity, Foxx explains that it's: "[a] Lynchian love story set against the background of a convulsed Europe – where New York is the capital of France, Rome has moved to Manhattan and declared itself a republic, and New Neon Blackpool has outstripped Las Vegas and London as the playground of Sino-Russian oligarchs. It's based in a Eurozone where dark forces insinuate the cafes, alleyways and penthouses."
Rear-View Mirror is taken from the album 'The Shape Of Things'.
For more information about this album and new releases:
http://johnfoxx.tmstor.es/
Official page: http://www.metamatic.com/
This brilliant follow-up to John Foxx And The Maths' debut Interplay was recorded and mixed at Benge's studio in London. Like Interplay, it's the sound of analogue synthesizers and drum machines – and on one track, feedbacking guitars played by Foxx himself. Although there's a raw edge to the likes of 'Falling Down' and 'Talk' this album is arguably more reflective and emotional than Interplay. Though not overtly auto-biographical, there is a sense of looking back over a life and exploring feelings of loss over opportunities and lovers missed, and possible futures that will remain unlived. All these thoughts and angles are expressed in 'Rear-View Mirror', 'Unrecognised', 'September Town', 'Talk' and 'Falling Down' , as conversations are remembered through dreams and scenes finally played out. Far from wallowing in nostalgia or bitterness, in many ways this is a vital, even sometimes pleasurable experience. At the end of the album those shadow worlds and darker feelings are actually zapped into a new form of life with the macabre sci-fi theatre of 'the Shadow Of His Former Self'. Meanwhile, 'Vapour Trails"s upbeat electronic pyschedelia is rooted in the music of Foxx's own youth, while 'Tides' looks widescreen over a lifetime's experiences, pinned to a fast Motorik beat and still looking to the future as Foxx rides 'those wild eternal tides, again and again.' Looking back in order to look forward, the album is about a life lived and a view on those shadow existences that also somehow stay with us. Ultimately it's a positive and necessary process. It's that glimpse when things unfold and we feel aware – just for a moment – of The Shape Of Things. This limited edition version of The Shape Of Things also features a hard-back book designed by Jonathan Barnbrook, and a bonus album of remixes by the likes of Ghost Box, Wrangler (featuring Stephen Mallinder from Cabaret Voltaire) and Gary Numan collaborator/remixer Andy Gray. There's also a brand new track with Tara Busch, who recently supported John Foxx & The Maths on their Interplay Tour.
Disc 1
1. Spirus
2. Rear-View Mirror
3. Talk
4. Psytron
5. September Town
6. Unrecognised
7. Modreno
8. Falling Away
9. Invisible Ray
10. Vapour Trails
11. Buddwing
12. Tides
13. Astoria
14. The Shadow Of His Former Self
Disc 2
1. Evergreen (Radio Mix)
2. Shatterproof (Wrangler Mix)
3. Where You End And I Begin (Featuring Tara Busch)
4. Summerland (Belbury Poly Mix)
5. The Good Shadow (Tim 'Love' Lee Mix)
6. Watching A Building On Fire (Grayed Out Mix)
7. Interplay (Grayed Out Mix)
8. Evergreen (Xeno & Oaklander Mix)
Written by John Foxx & Louis Gordon. Taken from the Exponentialism EP.
John Foxx Official Store: http://johnfoxx.tmstor.es/
Video by Karborn. www.karborn.com
www.gazelletwin.com
www.metamatic.com