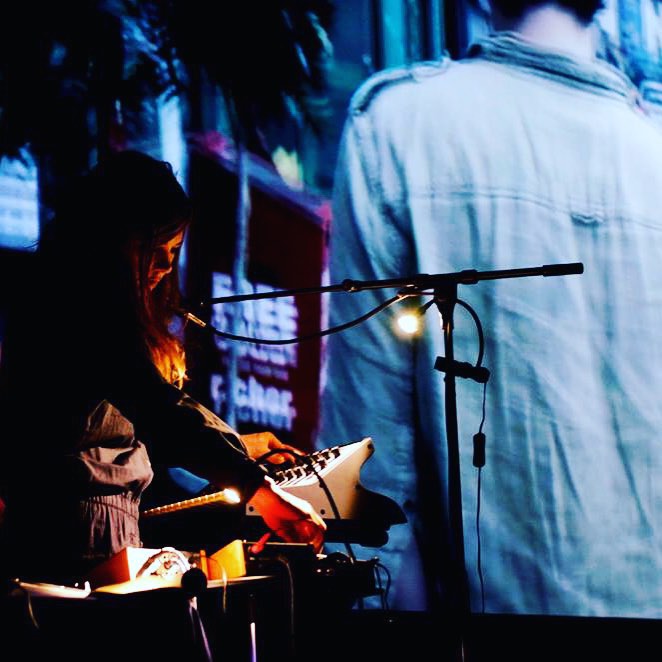 I Speak Machine (Tara Busch and Maf Lewis) has recently finished another of their live gigs in Malmö, Sweden, at Inkonst, this as an integrated performance with the ongoing art installation Sisters Academy. The band, being welcomed in a surreal environment featuring blindfolded students and experimental activities going on all over the place, fits nicely with the horror-futuristic music and visuals that I Speak Machine (ISM) performs on stage. Just like ISM the Sisters Academy are not just there due to general fascinations with the obscure, but rather a closer search into the realms of our existence and human conditions.
For those of you who have not seen ISM on stage, their live performances is far more than playing backtracked songs and soundscapes on laptops to visuals on the screen. Tara, a true machine geek, will bring a plethora of hardware gems on stage paired with intriguing vocals run through vocoders and the like. Perhaps not the most obvious route considering hers and Maf's common roots in the downtempo electronica band Dynamo Dresden. However, Tara and Maf apparently weren't content with performing in the straight forward rock/pop format. Tara have always had a fling towards dark and disturbing music, music that leaned towards horror and sci-fi, filled with those bizarre soundscapes – almost limitless in their nature.
Neither Tara nor Maf are 'true' horror/sci-fi geeks, but these type of movies do represent great reflexions on culture, and through ISM they have developed a new process on how to do things in this genre, without getting trapped in the conventional like the use of theremins and scary strings. This also means that ISM do not operate in a conventional way, such as adding music to a film score, but rather let the two grow and develop organically together, and through cross-pollination in the creative phase let music and visuals influence each other. And perhaps more importantly it is all being developed for live performances, not for home cinema viewing.
Read the full interview here >>
Cover version of classic John Foxx masterpiece.
Main patch played with Korg MicroKORG, sampled and looped on Boss RC-505. Bassline from Arturia Microbrute.
Drum sound from two different drumkits of Kaossilator2, sampled and looped on Boss RC-505.
As usual, one shot one kill…so excuse me for the mistakes!
No DAW or Pc involed.
Gears:
Arturia Microbrute
Akai Miniak
Korg MicroKORG
Korg Kaossilator 2
Boss RC-505
Effects:
Reverb preset by Xenyx X1622USB
Equalization and filter by Boss RC-505
Overdrive and distortion on Microbrute by Digitech BP50
Mixers:
Behringer Xenyx X1622USB
Behringer Xenyx Q602USB
Behringer MicroMIX MX400
Still, probably, one of few electro albums you will ever need to have

About this video:
l attempted to cover John Foxx's "Underpass" using the Elektron Analog Four and a little modular for some tacked on melody at the beginning and at the end.
After posting a teaser video and some basic information last month, John Foxx has unveiled further details about his new album, Evidence Of Time Travel. It's a fully-fledged audiovisual work, a "unique sonic & visual investigation into the terrors and pleasures of temporal displacement" to be precise, and sees Foxx collaborating musically with Steve D'Agostino, with graphics created by KARBORN. The album will be released on vinyl, CD and download on October 6 via Foxx's Metamatic label, while a performance of the piece as a live film will take place at the BFI in London on November 21.
The project has its own website, which hosts KARBORN's monthly graphic volume instalments, with four of them up there already. Elsewhere on the site, notes add that the work is, "A sinister sonic architecture of drum-machine-music and analogue synthesisers. Opens with 'The Forbidden Experiment', as surveillance TV glitches and the ghostly, ripped-up multi-temporal universe of 'Evidence Of Time Travel' infiltrates the labyrinth of dark electronica. Span forty years in a moment . . . Ultimate time transfusion . . . skin crackles, a rhapsody in flames… witness images of torn, ruthless smiles through the crashed distortion; try to recall the future memory of a figure lost on a distant shore." Take a look at the teaser above, while you can pre-order the record and get hold of tickets for the film (from October 14 onwards; October 7 for BFI members) at the website.
John Foxx And The Maths have enlisted renowned Japanese film-maker Macoto Tezka to produce a couple of videos for tracks from their last two albums, this year's Evidence and 2012's The Shape Of Things, video details below:
Directed by Macoto Tezka in Tokyo, Japan 2013.
Taken from the album, 'The Shape Of Things'.
Evidence discounted to £6.99 on the Official John Foxx Store: http://johnfoxx.tmstor.es/index.php?p…
Available on Amazon: http://www.amazon.co.uk/exec/obidos/A…
www.johnfoxxandthemaths.com
www.metamatic.com
THE VIDEOS FOR 'EVIDENCE' AND 'TALK'
November 7, 2013 Macoto Tezka
One day, I came across a very old, classic western-style building in a corner of Ginza-town in central Tokyo.
A building stood at the location well over 80 years. It's one of a Tokyo's relics of the past that survived war-fire and many earthquakes.
In the building, there are a couple of stairs around an old mechanical elevator. It used be an apartment but no one lives there anymore. Now galleries and antique stores occupy the building.
Walking through a narrow passage, I thought about the past and imagined how people lived here. Imagery of old silent films flashed into my imagination.
A few months later, I visited there again with my actor friends and a cinematographer. Because I couldn't think of a better location for John Foxx And The Maths videos.
John's music has a feeling of "déjà vu". It's always fresh but somehow nostalgic. Silhouette of a figure that walks through an old avenue; vague, indistinctive face . . That is the image created by his music. But some images of my own memories also came up.
Our cinematographer shot this film with a Canon camera. Before editing, it had sharply-defined shapes and vivid color, so I removed it all. Next, I adjusted the speed to express an eternal moment. Then I synchronized the music to the image and I found something was still missing.
By watching the film for many weeks I kept asking myself, 'whats' missing'? Then an idea came up to my mind to bring the film to perfection. The gaps of 'scattered memories and missing time' need to be added. So I decided to attach these 'invisible moments' to fill the gap. The film was finished by these invisible moments.
Ms. Cay in the video 'Talk' is a dancer and actress. She heads up a team of a worldwide performance unit called 'Tokyo Dolores'.
This short song has uniqueness and a mystical sense of beauty; it brings me back the picture of surrealistic piece of art. Such dreams expressed in the film have a similar essence to a Japanese "tan-ka" poem.
Credit;
Starring: Go Setoguchi, Megumi Oka ('Evidence'), Cay ('Talk')
Director: Macoto Tezka
Director of Photography: Kenji Tsuji
Makeup: Ai Nobayashi
Stylist: Yushi Gender Takemoto
Macoto Tezka Profile
Born in Tokyo. Began his career as a film director when he was at high school.
Since his debut, he's expressed himself visually through feature length films, experimental film, documentary and MTV.
As a family of famous Manga-artist Osamu Tezuka, he supports to produce posthumous Manga and Anime works.
In 1999, he directed feature film called 'Hakuchi: the innocent- '. It was invited and shown at The Venice International Film Festival.
In 2012, Directed a documentary film 'Ogatsu ~the revival of the Houin Kagura Dance'.
His best known works are "MODELS (1987)", "NARAKURE (1997)", "EXPERIMENTAL FILM(1999)" and "BLACK KISS(2005)". Contributed a short film on JOHN FOXX's DVD "DNA".
Taken from the European Splendour EP which includes a remix by David Lynch.
(c) 2013 Sugarcane Recordings iTunes: http://bit.ly/16YZczb
Vinyl and CD Available on Amazon: http://amzn.com/B00DJ4JSZM
There are people vanishing in this city.
Conceptually based on original 'Quiet Man' artwork by John Foxx.
Credits:
Editing, Filming & Direction – Karborn, Xavier Boivin, Michael Kinsella-Perks.
Assisted by – Daniel Mancini
Shadow Man – Xavier Boivin
Shadow Woman – Yani Foord
Shot on location in East London. Treatments to video material includes re filming through Trinitron broadcast monitors and tracing paper, among other special effects.
Many thanks to everyone involved.
www.karborn.com
Taken from the Album 'The Shape Of Things'
DETAILS…
Format : Double Compact Disc
Release Date : 13 October 2011
TRACK-LISTING…
Disc One : The Shape Of Things
01. Spirus
02. Rear-View Mirror
03. Talk
04. Psytron
05. September Town
06. Unrecognised
07. Modreno
08. Falling Away
09. Invisible Ray
10. Vapour Trails
11. Buddwing
12. Tides
13. Astoria
14. The Shadow Of His Former Self
Disc Two
01. Evergreen (Radio Mix)
02. Shatterproof (Wrangler Mix)
03. Where You End And I Begin
(Featuring Tara Busch)
04. Summerland (Belbury Poly Mix)
05. The Good Shadow (Tim 'Love' Lee Mix)
06. Watching A Building On Fire (Grayed Out Mix)
07. Interplay (Grayed Out Mix)
08. Evergreen (Xeno & Oaklander Mix)
—————————————-
Evidence is the name of the new album from John Foxx And The Maths, and it features collaborations with Xeno & Oaxlander, Gazelle Twin, Tara Busch, The Soft Moon and Matthew Dear. It was released on 24th September, 2012
John Foxx mangling around with the moog modular filter. see http://myblogitsfullofstars.blogspot…. for more