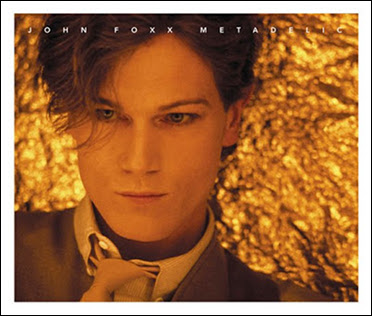 "Metadelic" is a brand new three disc John Foxx compilation album (two CDs and a DVD) intended as a companion to 2010's "Metatronic". This album includes an entire disc's worth of material (14 tracks) which has never been released on CD before – including a previously unreleased version of "Endlessly" – the "Sparkle Mix".
The accompanying DVD features all of the promotional videos from between 1981 through to 1985 – including the "Top Of The Pops" performance of "Europe After The Rain" which has never been previously released officially in any format.
The release will be out on Edsel / Demon Records by June 3rd.
The full track-listing:Disc One
Swimmer II
Miles Away
Europe After The Rain
Dancing Like A Gun
Endlessly
Twilight's Last Gleaming
Annexe
Sitting At The Edge Of The World (Alternative Version)
Ghosts On Water
An Ocean We Can Breathe
Through My Sleeping
Shifting City
Underwater
Never Been Here Before
Invisible Ray
Vapour Trails
Disc Two
BBC Session Versions:
Hiroshima Mon Amour (December 1983)
Twilight's Last Gleaming (December 1983)
In Mysterious Ways (June 1985)
Stars On Fire (June 1985)
Lose All Sense Of Time (June 1985)
Hanging In The Air (September 1985)
In Mysterious Ways (September 1985)
12 Inch Versions:
Endlessly
Like A Miracle
A Kind Of Wave
Stars On Fire
Enter The Angel
What Kind Of Girl
Endlessly (Sparkle Mix)
Disc Three [DVD]
Miles Away
Europe After The Rain (Top Of The Pops)
Dancing Like A Gun
Endlessly
Stars On Fire
Lose All Sense Of Time
New song featuring the ever so productive John Foxx:
Taken from the Exponentialism EP, also featuring Gazelle Twin.
Pre order: http://johnfoxx.tmstor.es/
Original version written by John Foxx & Billy Currie
I Speak Machine – My Sex (John Foxx, Billy Currie & Warren Can)
I Speak Machine – I Want To Be A Machine (John Foxx & Billy Currie)
Gazelle Twin – Never Let Me Go (John Foxx & Louis Gordon)
Gazelle Twin – He's A Liquid (John Foxx)
www.metamatic.com
www.ispeakmachine.com
www.gazelletwin.com
Dresden, the 2nd single to be taken from English Electric. This single is being released as a CD single – preorder from http://omd.firebrandstore.com/
Furthermore, "Dresden", the forthcoming second single from Orchestral Manoeuvres In The Dark's recently released "English Electric" album has also been given the remix treatment by John Foxx. The original got a remix with a pounding dance beat and harsher synth sounds. Says John Foxx of the remix; "OMG! – it's OMD!"
The single, released on the 27th of May via 100% Records, will include the B-side "Time Burns" together with remixes by Mike Jolly and Bounce Darkside, while the iTunes bundle comes with a reworking by Zebra and Snake.
Perhaps one of the best unknown covers of Kraftwerk's 1977 classic Europe Endless by Italian maestro Laso67. https://www.youtube.com/user/laso67
Steve Strange parody – Some scenes from Visage's videos re-en-visage-d, very clever. "Imitation is the greatest form of flattery" (even when it's 'dressed up') – remade scenes have come from Visage/Fade to Grey …Visage/Visage……any more spotted let me know
Hardrock Striker – Underpass. – john foxx cover
More details soon……
Background description below:
The conversation, filmed and presented above, fits the spirit of collaboration that surrounds these four musicians – Foxx' new album, Evidence includes a track recorded with Gazelle Twin, who is herself working with Scanner on a project looking at the very workings of the human body.
The four musicians start off discussing how in electronic music they're a great freedom to play with identity, from Gazelle Twin's costumes to Scanner sending people away to play live events on his behalf. Foxx, though, has a warning: "it gives you the opportunity to step away from your old self, and that can be good for you, because you're often burdened down with a lot of old baggage that you've collected through your life. And you see people who don't understand that, and die, because they've confused themselves with the object they're creating. If they think they are that object, it kills them. It's an interesting lesson to learn, and I've seen a lot of people do that."
Clip from John Foxx & The Maths – Analogue Circuit: Live At The Roundhouse. Release date: 15 October 2012. http://johnfoxx.tmstor.es/ – Exclusive to Official Store @ Townsend Records. www.johnfoxxandthemaths.com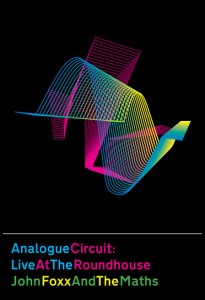 Metamatic Records announce the release of "Analogue Circuit: Live At The Roundhouse" by John Foxx And The Maths. The 3 disc set is out now and features the first ever live John Foxx DVD, plus a double album of the show, all in new artwork by designer Jonathan Barnbrook.
"Analogue Circuit" was filmed in June 2010 with multiple cameras at London's The Roundhouseone.It includes Robin Simon on guitar playing early Ultravox material; VJ cut-ups and Barnbrook graphics; a film by I Robot director Alex Proyas, an opening Metamatic section; songs from "Interplay"; all of this in a one-off show.
Extras include a photo gallery, Jonathan Barnbrook's films for "Interplay" and an interview with Future Music just before the band went on stage.
John Foxx & The Maths – He's a liquid – Live performance
"Mole Vanvitelliana – Ancona 28.07.2012 Acusmatiq 7.0 . Concerto molto bello, un Foxx veramente in forma!!"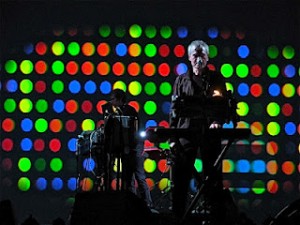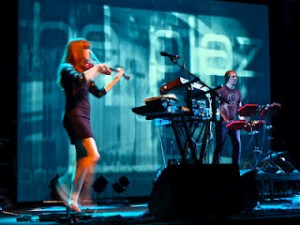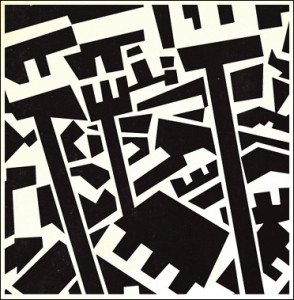 You can download the new track "Evidence" by The Soft Moon vs John Foxx And The Maths right here. The track was born naturally out of the two artists' mutual appreciation for one another. Captured Tracks will also be making "Evidence" available as a special one-sided seven inch single.
The track will also feature on the forthcoming John Foxx And The Maths mini-album (also entitled "Evidence") which is due to be released, together with "Analogue Circuit : Live At The Roundhouse", in early September.