Clip from John Foxx & The Maths – Analogue Circuit: Live At The Roundhouse. Release date: 15 October 2012. http://johnfoxx.tmstor.es/ – Exclusive to Official Store @ Townsend Records. www.johnfoxxandthemaths.com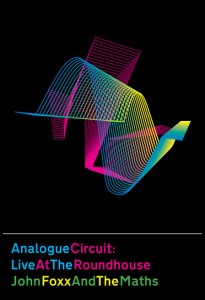 Metamatic Records announce the release of "Analogue Circuit: Live At The Roundhouse" by John Foxx And The Maths. The 3 disc set is out now and features the first ever live John Foxx DVD, plus a double album of the show, all in new artwork by designer Jonathan Barnbrook.
"Analogue Circuit" was filmed in June 2010 with multiple cameras at London's The Roundhouseone.It includes Robin Simon on guitar playing early Ultravox material; VJ cut-ups and Barnbrook graphics; a film by I Robot director Alex Proyas, an opening Metamatic section; songs from "Interplay"; all of this in a one-off show.
Extras include a photo gallery, Jonathan Barnbrook's films for "Interplay" and an interview with Future Music just before the band went on stage.
John Foxx & The Maths – He's a liquid – Live performance
"Mole Vanvitelliana – Ancona 28.07.2012 Acusmatiq 7.0 . Concerto molto bello, un Foxx veramente in forma!!"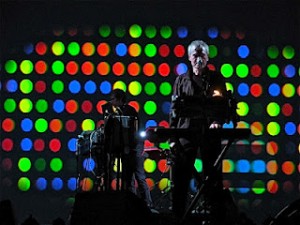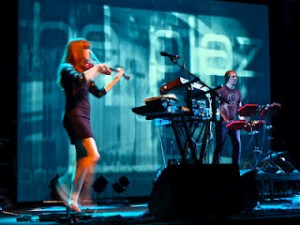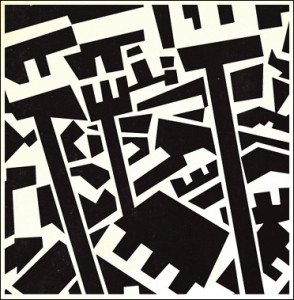 You can download the new track "Evidence" by The Soft Moon vs John Foxx And The Maths right here. The track was born naturally out of the two artists' mutual appreciation for one another. Captured Tracks will also be making "Evidence" available as a special one-sided seven inch single.
The track will also feature on the forthcoming John Foxx And The Maths mini-album (also entitled "Evidence") which is due to be released, together with "Analogue Circuit : Live At The Roundhouse", in early September.
OHN FOXX And The Maths – UNDERPASS – Live 25th Feb. 2012 Aarschot Belgium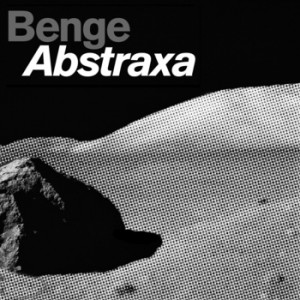 Listen to it here:
"Abstraxa – exploring the outer reaches, using the Buchla Electronic Music Box
The six compositions featured on Abstraxa were realised on a Buchla modular synthesiser. Donald Buchla began makng electronic musical instruments in 1963, developing the first Buchla 100 series systems in conjunction with the San Francisco Tape Music Center. These first inventions coincided with the development of Robert Moog's 900 Series modular systems over on the west coast of america, and as such belong to the very first generation of commercially available synthesisers. One intersting aspect is that Don Buchla is still developing and manufacturing his modular systems, using the same module format (now 200e series) that he introduced 50 years ago. The current 200e modules utilise a combination of analogue and digital components
The Buchla has a very unique way of producing sound, using electronic voltages to control the sound sources (oscillators and noise generators), sound modifiers (gates, filters, phase shifters, modulators, etc) and event timing generators (sequencers, random sources, pulse generators, etc). Systems can be built up from the available modules to suit the needs of the composer. The power of the system lies in the inter-modulation capabilities. This means that extremely deep patches can be set up with a myriad of connections interacting together in complex ways to produce evolving and self-generating soundscapes. It is anagolous to working with a living organism as opposed to a static machine, a brain rather than a computer
The pieces presented here were recorded to tape using overdubbing in places. Additional reverberation and delay lines were also incorporated into the system. See below for a full module list
Buchla 200e Electronic Music Box:
225e Midi Decoder (digital interface and preset manager)
227e System Interface (various audio mixing and panning functions)
251e Quad Sequential Voltage Source
255 CV Processor (octal slew and voltage source)
261e Complex Waveform Generator (dual digital VCO)
266e Source of Uncertainty (complex random and noise functions)
281e Quad Function Generator (quad LFO / envelope)
291e Triple Morphing Filter (three bandpass filters / VCAs plus sequencer)
292e Quad Dynamics Manager (four Vactrol lowpass gates)
077 (Eardrill) Pendulum / Ratchet (complex triggers and clock dividers)
254v (Verbos) Quad Voltage Processor
258v (Verbos) Dual Oscillator (clone of the 1970s Buchla analog VCO)
Boss DD3 Delay Unit (mono)
Ace Tone MP4 Spring Reverb (mono)
Track Listing:
1 – Alpha (4.55)
2 – Beta (4.22)
3 – Gamma (5.04)
4 – Delta (4.20)
5 – Epsilon (5.19)
6 – Zeta (Abstraxa) (6.21)
Total Duration (30.19)
Recorded at Benge Studios, London, February 2012
All Music and Design by Benge (c)2012 Ben Edwards (Benge)
All Rights Reserved
Cover picture adapted from NASA Images lunar photograph
www.bengestudios.com
www.expandingrecords.com
Taken from the ltd edition version of John Foxx And The Maths – The Shape Of Things. www.johnfoxxandthemaths.com www.metamatic.com www.xenoandoaklander.com
L'Âme Immortelle – Wie Tränen im Regen (official video clip)
Here's a new interview with John Foxx that was published by Resident Advisor:
In conversation with the synth pop pioneer and his current collaborator, Benge.
The final track on John Foxx's 1981 single, Burning Car, was called "Mr. No." And you'd be forgiven for thinking that it was the man's theme song. Whether it be leaving a band at the exact moment they were primed for stardom (Ultravox) in the late '70s, going it alone on legendary synth albums like Metamatic and The Garden or withdrawing from music altogether in the '90s to pursue graphic design, Foxx has been more than willing to play Bartleby time and time again. Turn it around, though, and you have a guy who has had the courage to walk away. A guy who can't help but hate to do the same thing twice. A guy you can also call Mr. Yes.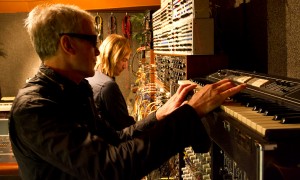 At this past year's Unsound Festival, we talked to Foxx alongside his current collaborator Benge as part of RA's Live Exchange series. The duo had recently put together an album, Interplay, that formed the basis for our conversation. Typically eloquent, Foxx was so engaging that we decided to edit and condense it for publication. Speaking with RA's Todd L. Burns in front of a crowd, Foxx and Benge touched on their partnership, the creative process and the power of the bass drum.
The new record is a return to synth pop in a way for you. I am wondering why now? Why was this the right time to revisit this space?
John Foxx: It was an accident in many ways. Benge made a record called Twenty Systems, in which a lot of synthesizers sounded like themselves. What I mean by that is that they didn't imitate any other instrument. I think it is a great sickness to try to imitate orchestras or bells or something specific. I think that this is a misuse of the instrument. What Benge was able to do was that he allowed them to make sounds that no other instruments could make, and therefore allow them to sound like themselves. When I heard that album, I wanted to work with him and to make some abstract music with him, but it didn't quite work out.
At what point did you realize it was turning into a more "pop" project?
Benge: Halfway through the first track I think.
John Foxx: Once we had set up something on the Moog, we let it run by itself and produced a rhythmic loop, and we were able to produce a song immediately. You have the melody, you have rhythm and you have harmonic intervals that lend themselves to layering. So I instinctively started started to sing along with the machine, which is a lovely way to work: the machine leads. The machine takes precedence. All you do is listen to what the machine produces. Benge would set up things, and it was delightful to respond to it.
John, were there any lyrical themes that seemed to recur throughout the album?
John Foxx: Yeah, I always seem to write about the basic level; a man, a woman and a city. It's because I am an urban creature most of the time. I think that's increasingly relevant now because I think most people do live in cities and I think it is very interesting what happens in that environment. We alter ourselves constantly to live in it, to survive in it and that process has very poetic levels. I don't want to sound pretentious, but it is very moving the way people accommodate each other and the city that they live in, and try to build this environment together. You almost have to dissolve yourself, re-incorporate yourself with the city in order to make it work on any level. All those tiny interactions and the major draws and minor draws that result from all that. I find it endlessly fascinating. I could sit in a cafe all day and some times I do. It's like being part of a beautiful ocean that is constantly moving. A lot of what I sing about is trying to describe some of that process.
I've read you talking about the importance of acoustic space in your work. I was wondering how that came to play in this album if at all.
John Foxx: We weren't so concerned with it because I think everything is artificial in some way.
Background data:
We recently posted an excellent stage tour from the John Foxx and the Maths gig at London's XOYO Club. Benge took us around selected highlights of the live rig used to reproduce the latest (and brilliant) release  from Foxx titled  Interplay. Its a lesson in how to produce minimal, dark electronica but with a healthy dose pop – recommended.
  Also shot on the day of the gig was a three way chat between Tara Busch – who was supporting for the UK section of the tour, Benge – musical collaborator for John's recent works and live drummer for the show and of course John Foxx himself.
Many thanks to Tara Busch for the interview
Via SS
Sonic State has produced this video featuring the synth maestro himself on stage and behind the scenes, here's a quote from article:
The thing that really hit me, was the power and purity of the sound and the songs. With Benge (musical collaborator on Interplay) playing the  Simmons SDS V analog drum kit, the sounds were MASSIVE and really made me rethink my opinions of electronic music played live. I became rather evangelical.

Fast forward to London and the first of two gigs at XOYO further into the UK leg of the tour. We were able to grab a few precious minutes post sound check with Benge, who gave us a look at some of the gear used to recreate Interplay live, as well as some earlier tunes from the Foxx catalog.

Stay tuned  for a pre-show interview with John  Foxx, Benge and Tara Bush.
For those of you who wants to know more about John check out our interview with him here >>