Interview – John Foxx: Mr. Yes
Here's a new interview with John Foxx that was published by Resident Advisor:
In conversation with the synth pop pioneer and his current collaborator, Benge.
The final track on John Foxx's 1981 single, Burning Car, was called "Mr. No." And you'd be forgiven for thinking that it was the man's theme song. Whether it be leaving a band at the exact moment they were primed for stardom (Ultravox) in the late '70s, going it alone on legendary synth albums like Metamatic and The Garden or withdrawing from music altogether in the '90s to pursue graphic design, Foxx has been more than willing to play Bartleby time and time again. Turn it around, though, and you have a guy who has had the courage to walk away. A guy who can't help but hate to do the same thing twice. A guy you can also call Mr. Yes.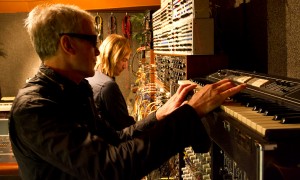 At this past year's Unsound Festival, we talked to Foxx alongside his current collaborator Benge as part of RA's Live Exchange series. The duo had recently put together an album, Interplay, that formed the basis for our conversation. Typically eloquent, Foxx was so engaging that we decided to edit and condense it for publication. Speaking with RA's Todd L. Burns in front of a crowd, Foxx and Benge touched on their partnership, the creative process and the power of the bass drum.
The new record is a return to synth pop in a way for you. I am wondering why now? Why was this the right time to revisit this space?
John Foxx: It was an accident in many ways. Benge made a record called Twenty Systems, in which a lot of synthesizers sounded like themselves. What I mean by that is that they didn't imitate any other instrument. I think it is a great sickness to try to imitate orchestras or bells or something specific. I think that this is a misuse of the instrument. What Benge was able to do was that he allowed them to make sounds that no other instruments could make, and therefore allow them to sound like themselves. When I heard that album, I wanted to work with him and to make some abstract music with him, but it didn't quite work out.
At what point did you realize it was turning into a more "pop" project?
Benge: Halfway through the first track I think.
John Foxx: Once we had set up something on the Moog, we let it run by itself and produced a rhythmic loop, and we were able to produce a song immediately. You have the melody, you have rhythm and you have harmonic intervals that lend themselves to layering. So I instinctively started started to sing along with the machine, which is a lovely way to work: the machine leads. The machine takes precedence. All you do is listen to what the machine produces. Benge would set up things, and it was delightful to respond to it.
John, were there any lyrical themes that seemed to recur throughout the album?
John Foxx: Yeah, I always seem to write about the basic level; a man, a woman and a city. It's because I am an urban creature most of the time. I think that's increasingly relevant now because I think most people do live in cities and I think it is very interesting what happens in that environment. We alter ourselves constantly to live in it, to survive in it and that process has very poetic levels. I don't want to sound pretentious, but it is very moving the way people accommodate each other and the city that they live in, and try to build this environment together. You almost have to dissolve yourself, re-incorporate yourself with the city in order to make it work on any level. All those tiny interactions and the major draws and minor draws that result from all that. I find it endlessly fascinating. I could sit in a cafe all day and some times I do. It's like being part of a beautiful ocean that is constantly moving. A lot of what I sing about is trying to describe some of that process.
I've read you talking about the importance of acoustic space in your work. I was wondering how that came to play in this album if at all.
John Foxx: We weren't so concerned with it because I think everything is artificial in some way.
Comments