Vangelis And The Journey to Ithaka is a new documentary on the Greek composer. Here we get a look at the custom set up that Vangelis uses and how he uses it to create improvised symphonic electronic compositions.
Background description:
The two-hour documentary includes interviews with Vangelis and many of his friends and colleagues, including Sean Connery, Hugh Hudson, Jessye Norman, Oliver Stone, Akiko Ebi, Julian Rachlin and many others. It also includes rare, historical footage, most of which has never been seen before. Another highlight includes recent footage of Vangelis improvising new music!
Vangelis, a composer of electronic, ambient, jazz, pop/rock and orchestral music, is best known for his Academy Award winning score for the film Chariots Of Fire, and composing scores for the films Antartica, Blade Runner, 1492: Conquest Of Paradise and Alexander, as well as the use of his music in the PBS documentary Cosmos: A Personal Voyage by Carl Sagan.
Vangelis began his professional music career working with several popular Greek bands in the '60s such as The Forminx and most notably Aphrodite's Child. Throughout the 1970s Vangelis composed music scores for several animal documentaries; the success of these scores brought him into the film scoring mainstream.
In the early '80s, Vangelis teamed up with YES vocalist/songwriter Jon Anderson. The duo recorded a series of successful and critically acclaimed albums under the name Jon & Vangelis. In 1981 Vangelis composed the score for the Oscar-winning film Chariots Of Fire, which won him an Academy Award for Best Original Music Score. The soundtrack's single 'Titles' reached the top of the American Billboard Hot 100 chart and was most recently used as theme music at the London 2012 Olympics.
In a career spanning over 50 years, writing and composing over 50 albums, Vangelis is regarded as one of the greatest composers of electronic music of all time. And now, the new documentary 'Vangelis And The Journey To Ithaka' celebrates the music legend's illustrious and fascinating career!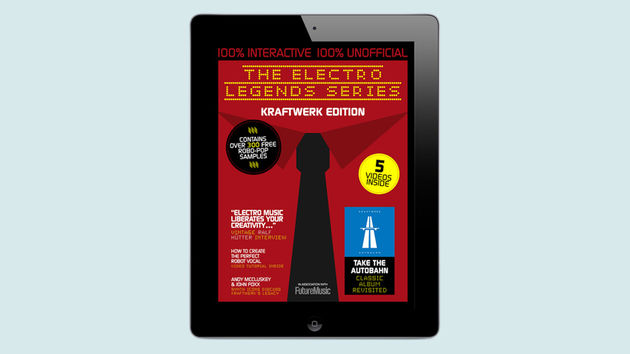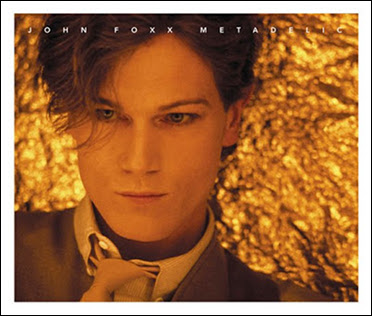 "Metadelic" is a brand new three disc John Foxx compilation album (two CDs and a DVD) intended as a companion to 2010's "Metatronic". This album includes an entire disc's worth of material (14 tracks) which has never been released on CD before – including a previously unreleased version of "Endlessly" – the "Sparkle Mix".
The accompanying DVD features all of the promotional videos from between 1981 through to 1985 – including the "Top Of The Pops" performance of "Europe After The Rain" which has never been previously released officially in any format.
The release will be out on Edsel / Demon Records by June 3rd.
The full track-listing:Disc One
Swimmer II
Miles Away
Europe After The Rain
Dancing Like A Gun
Endlessly
Twilight's Last Gleaming
Annexe
Sitting At The Edge Of The World (Alternative Version)
Ghosts On Water
An Ocean We Can Breathe
Through My Sleeping
Shifting City
Underwater
Never Been Here Before
Invisible Ray
Vapour Trails
Disc Two
BBC Session Versions:
Hiroshima Mon Amour (December 1983)
Twilight's Last Gleaming (December 1983)
In Mysterious Ways (June 1985)
Stars On Fire (June 1985)
Lose All Sense Of Time (June 1985)
Hanging In The Air (September 1985)
In Mysterious Ways (September 1985)
12 Inch Versions:
Endlessly
Like A Miracle
A Kind Of Wave
Stars On Fire
Enter The Angel
What Kind Of Girl
Endlessly (Sparkle Mix)
Disc Three [DVD]
Miles Away
Europe After The Rain (Top Of The Pops)
Dancing Like A Gun
Endlessly
Stars On Fire
Lose All Sense Of Time
New video from OMD, details below:
Dresden is out on May 20th and is from our new album "English Electric" Out Now
Dresden is available on a limited edition CD format exclusively available from our website only:
http://omd.firebrandstore.com/omd-dre…
As well as iTunes and digital store
After almost three decades Visage returns with a new album and here is the brand new video – Shameless Fashion
A Video introduction to Visage, The Blitz Club (the cauldron of 1980s style and fashion) and the new Visage album and line up. More info on www.visage.cc
Founding fathers of the New Romantics and pioneers of the 80s sound Visage, return with a new album "Hearts And Knives" May 2013. Visage began in 1978 when Steve Strange and Blitz Club partner-in-crime Rusty Egan joined forces with Midge Ure to create a futuristic, synthesizer-led group where style and fashion were matched by experimental but accessible music. The group was soon Magazine and Billy Currie. They recorded their first single Tar with Martin Rushent at his Genetic Studio in 1978 (shortly to become the birthplace of the Human League Dare album). Their breakthrough track "Fade To Grey" became a European hit and reached number 1 in 8 countries in 1980. As the public face of the band Steve Strange shot to stardom throughout Europe and beyond.
Steve Strange has been through his own share of highs and lows in the past 29 years. His emergence as a fashion and style icon of the 80s and beyond is one of the many highs. Steve had always believed that Visage had not yet reached its endpoint. Slowly the circumstances and pieces started falling into place to enable a new album to come to fruition. Firstly Steve reconnected with Steve Barnacle (a Visage band member from the 1984 Visage album "Beatboy") and began writing songs once more. This was augmented when ex Ultravox guitarist Robin Simon joined into the equation bringing not only a large slice of shared musical DNA (that "Visage sound") to the project but also his own distinctive style and ethereal musicianship. Lauren Duvall joined adding not only her sultry vocal ability but also a slice of the classic Visage glamour. Secondly the environment and interest in 80's fashion, style and music continues on unabated. The phone continues to ring for shows, television, news and exhibitions.
More info on www.visage.cc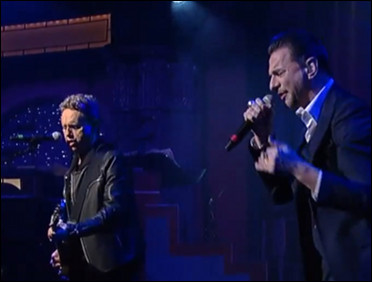 Yesterday evening Depeche Mode performed live on the David Letterman show. For those who missed it last night, you can see a high quality video that got upped a few moments ago right after the jump or in the video player of our mobile app. But more alluring to the fans is probably the fact that the full concert was upped on Soundcloud as well.
The Depeche Mode 'Live On Letterman' webcast aired last night was recorded at the Ed Sullivan Theater in New York and had the following track list:
Intro
Angel
Should Be Higher
Walking In My Shoes
Barrel Of A Gun
Heaven
Personal Jesus
Soft Touch/Raw Nerve
Soothe My Soul
Enjoy The Silence
For many this will be the first time they hear some more new material. Let us know what you think of it.
Note that the deluxe 2CD editions of the new Depeche Mode album are available now at dead cheap prices from Amazon DE ( http://fave.co/ZBjsmM ), Amazon UK ( http://fave.co/ZBjwTv ) and Amazon USA ( http://fave.co/X0hkRP ).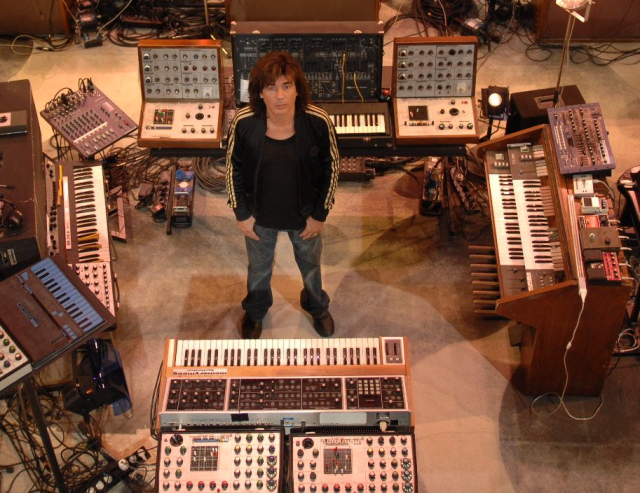 In a new interview, synth music pioneer Jean Michel Jarre explains why, despite all the advances in electronic music technology, he still has a love for vintage gear:
Jean Michel Jarre is reeling off some of the music he's been listening to lately: Actress, Fuck Buttons, Zomby… It's not the average 64-year-old's playlist, but Jarre has never really done average. His presence has loomed over electronic music for some four decades. The Frenchman studied under musique concrète progenitor Pierre Schaeffer—one of electronic music's earliest pioneers—and released the seminal Oxygene LP in 1976, which proved the catalyst to a sustained period of commercial and artistic success throughout the '80s and '90s. His career has been defined not just by his achievements themselves, but also the scale of them: on Bastille Day in 1979 he played to a live audience of one million in Paris, while a further 100 million tuned in on TV; nearly two decades later in Moscow he performed to a crowd of 3.5 million. He's also sold around 80 million albums (Oxygene alone has sold more than 18 million copies).

Jarre now exceeds the French pension age by four years, but he's not showing any signs of slowing down. He talks excitedly of two new albums he has on the boil. His most recent project, InFiné by JMJ, saw him delve into the French label's back-catalogue and pick out his 12 favourite tracks for a compilation. It was a low-key affair—by Jarre's standards at least. In conversation, he's clearly enthused by the project, earnestly discussing the merits of each inclusion and explaining his shared roots with the label—both he and former label boss Agoria hail from Lyon in southern France—with pride. We called up Jarre at his studio to discuss the compilation's origins, his current musical interests and his ambitious plans for an electronic music academy in East London.

Can you tell me about how the InFiné compilation came about?

It's a concept that started in my hometown. Like me, InFiné has its roots in Lyon, and lots of the label's artists are also from that part of France. I collaborated with some of the InFiné artists at the Nuits Sonores festival in Lyon last year, and we had a special evening where some of them revisited my work on stage. When InFiné decided to celebrate their tenth anniversary with a compilation, they asked if I would look into their catalogue and make some selections for a compilation.

How did you go about compiling it?

I went through lots of different tracks, and tried to build a kind of journey, using songs and artists that fit well together. As the music on InFiné is quite varied—there are artists from all kinds of different musical worlds—it was important to have some sense of direction on the compilation. A selection like this is always subjective; [the final selection] doesn't come down to which track is better than the other, it's just more reflective of my own tastes.

How did that sense of direction develop?

One of the reasons why InFiné is so important to me is that lots of artists on the label have been influenced by my own music. For the compilation I chose tracks that I felt were close to my own music in some way. The first track [Oxia's "Exaila"] could almost be a kind of introduction to one of my own albums; it's a short piece and I think it opens the door to the compilation nicely. Then there's Murcof's "Como Quisiera Decirte." I've admired this guy's work for a while, at times it's very close to the kind of stuff I was doing when I studying with Pierre Schaeffer at the musique concrète studio in Paris, when we were experimenting with sound design in pretty abstract ways. Murcof has an approach to music that I really enjoy—he mixes an experimental approach with Latin flavour. I've always been interested in trying to mix the Spanish or Italian soundtrack ambience of people like Pedro Almodóvar or Fellini into music. I find "Como Quisiera Decirte" quite haunting. It has a Mexican feel but it's still definitely electro. I love that mix, that hybrid feeling between two different worlds.

Which other artists on the compilation did you find yourself drawn to?

Rone is a good one—he has a very interesting sound. The problem with so much electronic music now is that more often than not, you hear a track, and it's interesting, but you don't feel it belongs to somebody in particular, or has a particular style, even if it's OK and you like it. In the case of Rone, for instance, or Agoria, and some of the other artists on this compilation, they have a definite sound world of their own. That's rare these days

Talking more broadly, which other contemporary artists do you listen to?

I'm listening to lots of different music. I really love Zomby's work, I've listened to a lot of his tracks over the past two years. And there's Actress—I've been appreciating his style of music recently. Then there are more established electronic artists in France like Air, Vitalic, M83, Justice or Sébastien Tellier—actually in fact I've just finishing a recording session with Sébastien today, we are working on a track together. I also really like Fuck Buttons. The first time I listened to their music I thought, "Wow, they've got such a special and unique type of sound." I mean, those guys build a kind of wall of sound in front of you, a fog of audio, with a kind of techno beat lost in smoke. It's a vaporized sound. I really love their direction and their Olympians EP was very nice.

How much time do you find yourself spending in the studio each week?

I try to spend as much time as possible in the studio, but it's never enough. There are always other things to do. My dream is to be like a writer, and spend four or five hours every day locked in the studio, but I can't really do that, I don't know why. I'm a workaholic in short spurts—I'll go into the studio and work for three or four days and nights, then I'll stop, take a break, and go back to the studio a week or so later. So for me, it's three or four days on, then three or four days off.

I read in an interview that you said when you're in the studio you feel more like a "painter than a producer, mixing with colour and light, and experimenting with textures." Do you still feel that way even when you're not in the studio as much?

Yes, more than ever. I think that's the beauty of electronic music. I used to do a lot of painting when I was a student, and I even hesitated between pursuing a career in painting or music. Over the years, when I've been faced with electronic instruments, oscillators and all these kind of strange machines, it occurred to me that mixing colours and mixing audio frequencies is actually the same thing. You are a craftsman, you are a painter, mixing colours and textures. For me, electronic music is very close to abstract painting, which is all about textures, shapes, colours and contrasts. These days, I like mixing analogue synthesizers with pure digital elements. I think this combination is actually reflective of society itself, because we aren't analogue anymore, but we're also struggling to deal with being in a virtual, digital world. I think it's quite nice when you can mix both worlds.
Full interview can be found here >>
Manhattan Clique Remix of the forthcoming OMD single Metroland. Metroland is out 25th March digitally and on limited 12″ vinyl from http://omd.firebrandstore.com/metrola…