Five demo clips of the Roland Juno-60 and Roland Juno-106, two classic DCO-based analog synths of the '80s. LinnDrum – drums; Eventide H3000-D/SE = dual long delay
Clip 1: Juno-60: Bass; Juno-106: Brass — 00:10
Clip 2: Juno-60: Harp; Juno-106: Strings — 01:57
Clip 3: Juno-60: Syn Strings; Juno-106: Synth — 04:21
Clip 4: Juno-60: Strings; Juno-106: Bass — 07:09
Clip 5: Juno-60: Organ; Juno-106: Bass — 09:54
The Roland Juno-60 is a popular analogue 61-key polyphonic synthesizer introduced by Roland Corporation in 1982 and a successor to the slightly earlier Juno-6. Like its predecessor, the Juno-60 has some digital enhancements, used only for clocking the oscillators and for saving and loading patches. This instrument was succeeded by the Roland Juno-106 in 1984.
Roland was losing market share with the Juno-6 in competition against the Korg Polysix. Related in features and price-class, the Polysix featured external control and patch memory, which the Juno-6 lacked. These features were quickly added to the Juno-6′s design, which sonically and architecturally did not change notably between the two versions, and then released as the Juno-60.
The Juno-106 is a very common and widely used analog polysynth. It continues to be one of the most popular analog synths due to its great sound and easy programmability. It was the next major incarnation of the Juno-series, following the Juno-60. While it has virtually the same synth engine as the Juno-60, the 106 added extensive MIDI control making it one of Roland's first MIDI-equipped synthesizers. There was also increased patch memory storage, up to 128 patches instead of the 56 patches available in the Juno-60. However, the Juno-60 is often said to have a slight sonic edge over the more advanced 106. The 60 had the ability to modulate oscillator pulse from its envelope and has a "punchier" sound quality.
The Juno-106 is a six-voice polyphonic and programable analog synth with one digitally controlled oscillator (DCO) per voice. While classic monophonic synths used two or three oscillators to create a fatter sound, the Juno-106 uses built-in Chorus to fatten up its sound to dramatic effect. The nature of its DCO meant it was stable and always in perfect tune but still warm and analog. There is an excellent 24dB/oct analog lowpass filter with plenty of resonance and self-oscillating possibilities and a non-resonant highpass filter. The programable pitch/mod bender can be assigned to control the DCO pitch, VCF cutoff, and LFO amount all at once or individually.
The Juno-106 was the first MIDI equipped Juno and its implementation is quite good. There are 16 MIDI channels available and MIDI SysEx data can be transmitted/received from all the sliders and buttons for total remote control and sequencing capability. A switch on the back of the keyboard, next to the MIDI ports allows the user to switch between three types of MIDI modes: Keyboard and Hold data only; Keyboard, Hold, Bender, Patch selection data; or All data (including SysEx). Most users simply set it to MIDI Function mode 3 and forget it.
This synth is incredibly straightforward and very powerful. It's SH-series derived panel layout is easy to understand and very hands-on. Use it to generate lush pads, filter sweeps, and funky bass lines and leads. The Juno-106 is an awesome learning tool for anyone new to analog synthesis, as well as an electronic musician's dream for its warm analog sounds coupled with modern features like MIDI and memory – all at a very reasonable price. And still the Juno-106 has an even cheaper alter-ego in the form of the HS-60 – a hobbyist version with built-in speakers.
Background video information:
Hi everyone! SynthFreq here with a new composition titled "Industrial World" written by Crystal (msMotif-6), performed by Danielle and Crystal using the following synths:
Jupiter-8: filtered bell patch
Roland D-50: bright ice
Roland Alpha Juno-1: Z-lead
Roland A-90ex: split syn bass/(midi) to JV-1080 pulse lead
Yamaha Motif-6: percussion live set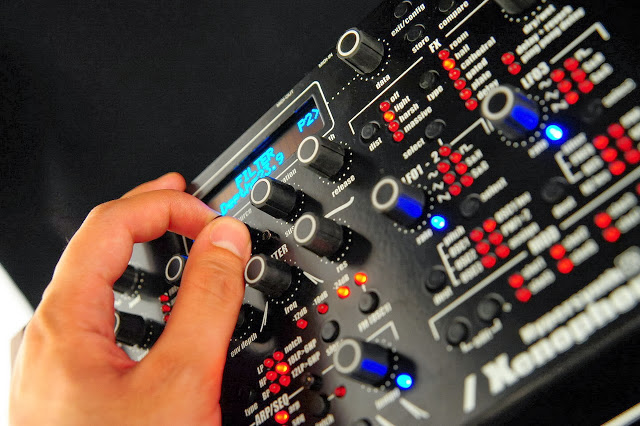 Here are all the details:
Synth-Engine:
Xenophone is an advanced analog mono-synth with 100% analog signal path. It has three oscillators, two subs, three ring modulators, one multimode VCF and analog distortion, all based on discrete analog circuits followed by a high quality stereo digital delay and reverb. The extensive modulation capabilities of the sound engine plus the warm and unique character of Xen's filter enriched by built-in analog distortion make it the best choice for creating deep basses, aggressive leads, transparent and crisp synth lines, acid sequences, complex arpeggios, punchy percussive sounds, extreme SFXs and more. Besides the synthesis capabilities, it can be used as a powerful audio processor to colorize an external input signal by analog filter, distortion and DFX.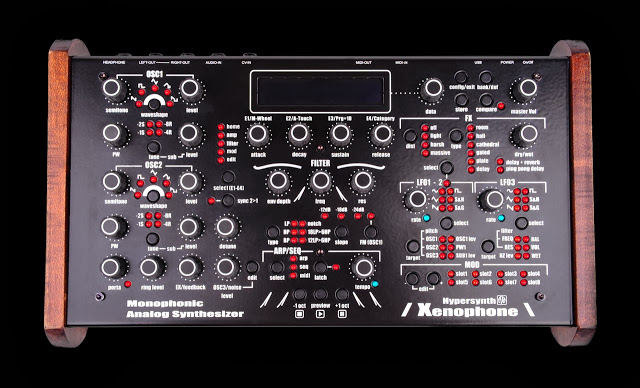 Control and User Interface:
26 encoders and 27 buttons put all the major parameters easily reachable with no menu diving. The Encoders smoothly turn and provide you 96 steps per rotation that mimic pot's feeling and sweep range. The layout is designed in a way to be simple and intuitive. Using 88 LEDs and a free-angle OLED display, it is easy to get the idea of the current preset at a glance. Master Tempo and all LFOs have blinking LEDs that show the BPM and rates. The presets can be previewed without external keyboard using 3 buttons in 3-octave range or pre-defined notes. User interface is easy to learn and creative with no useless bells and whistles. You can get a huge sound out of the box only with a few tweaks and changes.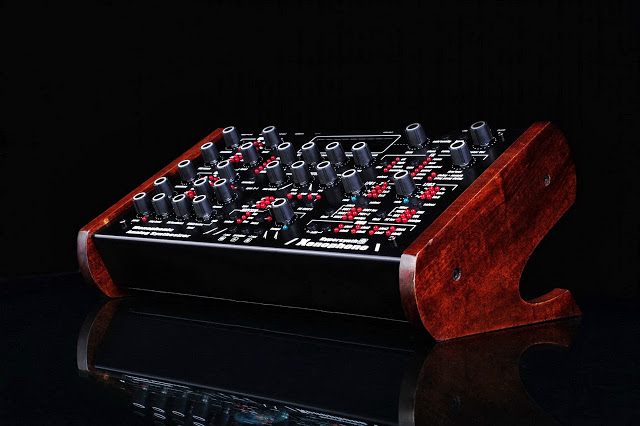 Enclosure and Connectivity:
Xenophone has a rigid Aluminum enclosure that comes with a pair of vintage style hand-made wooden side panel that made out of maple wood in two options: flat and tilted.
The box connects to the outside world using 2x balanced outputs (stereo), 1x headphone jack, 1x external input, 1x CV input, MIDI in/out, USB and DC power in.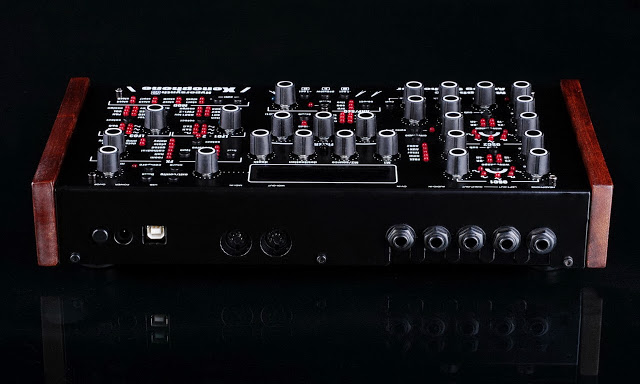 MIDI and DAW Integration:
Xenophone can function as a standalone instrument or fully programmable synth. It responds to the standard MIDI messages plus dedicated CC and NRPNs. The maximum implemented resolution in NRPN mode is 12bit, 4096 steps for filter frequency that provides super smooth sweep over the frequency range in compare to 127 steps CC standard!
The computer integration is an important feature of a modern synth that plays vital role in the studio. Xenophone comes with a software editor called: XEditor. Using this editor you can control and automate every parameter of the sound engine remotely via MIDI and storing your patches on your PC and vise-versa. It also helps you in deep and precise editing the patches. "XEditor" will be available as standalone and VST plug-in."
http://www.hypersynth.com/xenophone.html
This is the second video aimed to demonstrate the diverse capabilities of the three oscillator desktop sized MacBeth X-Series Micromac-D analogue synthesizer. In this video, we get to hear what the Oscillator section does, plus a few extras! As always, when things get going- hows does one adequately show what the potential of this thing has? Watch on………..there's some Trio-phony too!
Buchla's instruments, such as the Music Easel, use a different method of timbre generation than Moog synthesizers. Moog units use oscillators with basic function generator type waveshapes and rely heavily on filtering with 24dB resonant low-pass filters, while Buchlas are geared toward complex oscillators using frequency modulation, amplitude modulation, and dynamic waveshaping to produce other forms of timbre modulation. Many of Don Buchla's designs, including the Low-Pass Gates (later called Dynamic Managers) contain vactrols, photoresistive opto-isolator employed as voltage-controlled potentiometers, which contribute to a very "natural" Buchla sound.
At the January, 2012 NAMM show, Buchla & Associates announced new ownership, retaining Don Buchla as Chief Technology Officer and investment in the design, manufacturing, and marketing of Buchla products and the development of an expanded product line, and the company moving forward under the name Buchla Electronic Musical Instruments. One year later, Buchla Electronic Musical Instruments re-introduced the Buchla's Music Easel.
FartBarf Live at Studio Hermosa Sept. 26th 2013 (3 songs) (the show was actually on the 25th but they didn't come on till after midnight so you figure it out…)
Slow improvisation on two classic Moog synths – the Moog Minimoog and the Moog Source
Bass Station II is an analogue mono-synth based on the classic original Bass Station but re-worked for the 21st century. It has two filters, two oscillators plus a third sub-oscillator, patch save and a fully analogue effects section. Add a step sequencer, arpeggiator, full sized keys and a powerful modulation section and you have the makings of a synth that is built for bass, but capable of so much more.
Enjoy
This time the Dancing Bear is sequencing the Tinysizer!
Tinysizer ANYWARE-INSTRUMENTS ANALOG MODULAR MINI SYNTHESIZER is a fantastic complete mini analog modular synthesizer system.
The MFB Tanzbär analogue drum-computer has a tight step-sequencer and 16 instruments.
Recorded in Ableton Live – no additional effects.
Background story:
In the beginning of July I saw this synthesizer in the second hand pages for the equivalent of 65US$. The seller lived in the other end of the country but I decided that if it was still for sale when my summer holiday began then I would go and buy it.
Three weeks later it was still for sale and I went on the long trip up north. So this time the video is a sort of very short road movie. The synth is broken but I expect to be able to get it playing again. It could be an interesting winter project.
The music is something I made back in my tape-days. "Fashion Pack" was a hit for German singer Amanda Lear and here I play it on Yamaha HE-8, Viscount RBX-850, and Technics SX-C600 organs, Roland JX-8P synthesizer, and Roland CR-1000 drum machine. It was recorded on my Fostex model 80 8-channel tape recorder.