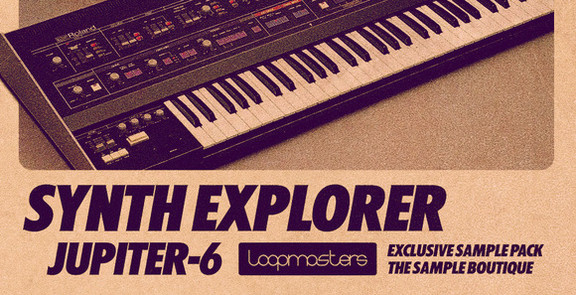 Loopmasters has launched Synth Explorer – Jupiter-6, the first title in a new series of royalty free loops and one shot samples that pay tribute to legendary synthesizers and drum machines.
First up for the Synth Explorer collection is the classic Roland Jupiter 6. First introduced to the world in 1983 the Jupiter 6 was one of the first analogue synthesisers to adopt MIDI and is considered to be a solid 12 oscillator analogue workhorse with a distinctive but fully capable palette of sounds ranging from Ambient Drones, Smooth Pads, Analog Leads to Techy Blips and Noises.

Synth Explorer – Jupiter 6 has been produced using a mint condition Roland Jupiter 6 owned by one careful, well known producer, recorded live through a TL Audio C-1 dual valve compressor and a Neve 8801 channel strip to capture the pure sonic delight of this vintage synth beauty.

This edition of Vintage Explorer sees a wealth of Loop and one shot samples aimed towards the soulful spectrums of electronic music production with a slight angle towards Italo Disco, Funk, Nu Disco and Deep House as well as more experimental down tempo genres.
Synth Explorer Jupiter-6 features
356 MB content, 24-bit quality.
Includes 41 arp loops, 24 music loops, 25 bass loops, 16 bass multi samples, 37 sfx hits, 41 chord hits, 34 synth stabs.
90 REX2 files.
114 soft sampler patches for Kontakt, HALion, EXS24, NN-XT and sfz formats.
The sample pack is available for purchase for £14.95 GBP.
The Jupiter-8 was Roland's first truly professional analog synthesizer. The Jupiter-8 features 16 rich analog oscillators at 2 per voice, eight voice polyphony and easy programming! At eight voices you can get some pretty thick analog sounds. Easy and intuitive programming via front panel sliders, knobs and buttons for all your tweaking needs. The legacy of the Jupiter synthesizers is due to their unique voice architecture and design, creating sounds that were so unreal and amazing that they have to be heard! No other synths in the world can create analog sounds as cool and authentic as these.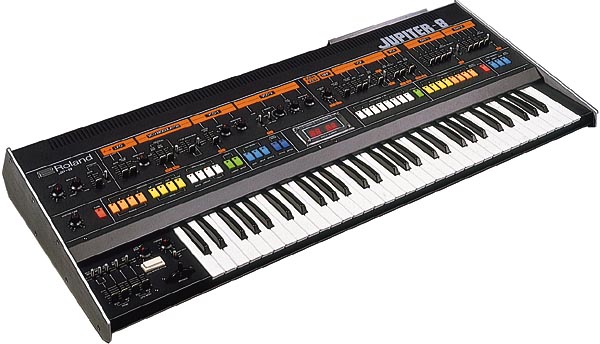 The Jupiter-8 was the biggest and fattest of them all (Jupiters and Junos)! It was one of the first synths to allow its keyboard to be split and layered – it's eight voices of trance heaven! Cross-mod, oscillator sync, a great LFO and a classic arpeggiator are also on-board. There's also a killer resonant analog low pass filter, same as the Juno-6 / 60, with the added option of choosing 2-pole (12 dB/oct) or 4-pole (24 dB/oct) modes as well as a separate high-pass filter. Unfortunately for the earlier models, tuning was very unstable but that seemed to be resolved in later models. Unlike its smaller counterpart, the Jupiter-6, the Jup 8 does not feature MIDI, only Roland's DCB sync can be found on some models. However, MIDI retro-kit's are available from various companies. Patch presets can store keyboard splits, arpeggiator settings, voice assign mode, hold, portamento and modulation settings.
Background video description:
Hey guys! Here is my 2nd attempt to make a better video of the Arturia Jupiter 8V. I finally figured out a better way to capture the video! This is a split patch that I created on the Jupiter 8V using an arpeggio saw wave patch on the lower half and a brass patch on the upper half. I added a touch of delay as well. I really like this software!
❐ Buy UVX-10P : http://www.uvi.net/uvx-10p.html
❐ UVI Official Website : http://www.uvi.net
Tap into the power of 3 analog super-synths—the JX-10, MKS-70 and JX-8P. UVX-10P recalls the last true analog synthesizers from the famed masterminds behind the Juno and Jupiter series, delivering a lush and extravagant analog sound. A fully-programmable interface lets you dive in and craft your own patches—utilize our high-quality amp and multimode filter designs, multiple effects, LFO, step modulator and much more.
In 1985 the world was introduced to the JX-10, a 12-voice, 24-oscillator analog synthesizer par excellence and the last true analog synth of its lineage. Following in the footsteps of the JX-8P and JX-3P, the Super JX was fashioned with a sparse aesthetic. A lack of knobs made the system a bit of a chore to program but an external controller (the PG800) could be attached, cheerfully reuniting synthesists with the immediacy and rapid programming speed of the ever-popular Jupiter and Juno lines. The JX-10 is known for an immense and capable analog sound, even some digital textures; it's simply a magnificent synth. Programming capabilities were equally rich with independent control of 2 DCOs per voice, 2 EGs, 2 VCFs, onboard chorus and even a sequencer (albeit a limited one).
UVX-10P was designed to deliver on all of the strengths of the JX series with none of the weaknesses. We started with a pristine JX-10, MKS-70, and JX-8P and set off, tirelessly programming and sampling these beauties in high-resolution through a world-class signal chain. As with the UVX-3P we made every sample twice, with and without the built-in chorus, providing an authentic and versatile foundation. This sonic backbone paired with the UVI Engine results in a lush and extravagant analog sound; faithful to the hardware with a modern studio bite. UVX-10P delivers a fully-featured and fully-programmable interface sporting ADSR control of our high-quality amp and multimode filter designs, multiple effects, LFO and step modulator, a tediously crafted library of 150+ patches and even original wave samples for you to create your own programs with.
A perfect complement to UVX-3P, UVX-10P delivers a tremendous analog sound at an outstanding price. Add a piece of vintage synth history to your collection today!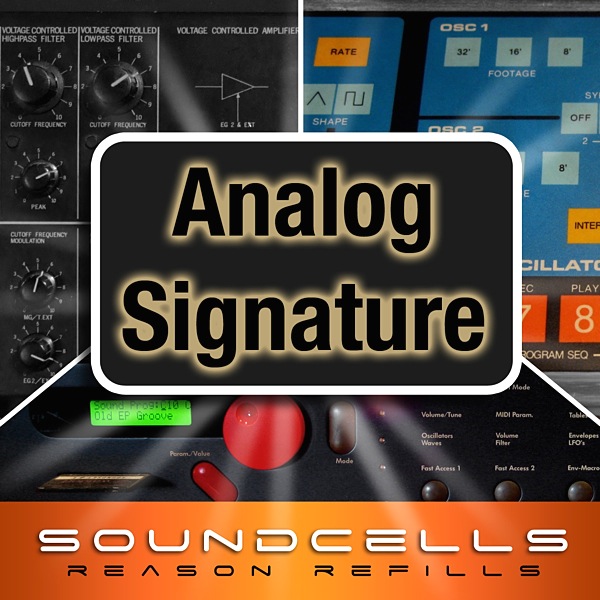 With version 4 of Analog Signature a new member is added to the family: the ROLAND Jupiter 6!
Moog Source, Korg MS20, the Waldorf Microwave 1, the Waldorf Pulse 1, and – from version 4 onwards – the Roland Jupiter 6 have been accurately sampled in such a way that their charming inaccuracies are still there in this perfect Reason environment in which Soundcells took their chance to add polyphony and velocity. A good balance of retro 1970′ s and 80′ s analog / digital sounds with modern programming makes this ReFill versatile for current styles of music as well as retro …
Analog Signature v4 Contents:
• 540 combinator patches.
• 276 NNXT patches containing the basic patches which were used to build the combinators.
• 1792 samples, 44 khz / 24bit.
• Samples coming from five classic synthesizer.
• 10 demo tracks in Reason format included.
The baby brother of the Jupiter-8. Still a pretty great machine, with an awesome arpeggiator and the cool Jupiter sound.
Italo-Disco style live improvisation with JP-6, TR-707, SH-101. Leveraging the power of the JP-6's sweet sounding multi-mode filter
Roland Jupiter-6 = BPF pad, portamento brass
Roland TR-707 = rhythm
Roland SH-101 = sequenced synth bass
The Roland Jupiter-6 (JP-6) is a synthesizer manufactured by the Roland Corporation introduced in January 1983 as a less expensive alternative to the Roland Jupiter-8. The Jupiter-6 is widely considered a workhorse among polyphonic analog synthesizers, capable of producing a wide variety of sounds, such as ambient drones, pads, lead synthesizer lines, and techy blips and buzzes. It is renowned for its reliability and easy, but sophisticated programmability.
The JP-6 has 12 analog oscillators (2 per voice), and is bitimbral, allowing its keyboard to be "split" into two sounds – one with 4 voices, and one with the remaining 2 voices (either "Split 4/2" or "Split 2/4" mode). "Whole Mode" is also available, dedicating all 6 voices to single (monotimbral) sound across the entire keyboard.
The JP-6 was among the first electronic instruments (alongside the Roland JX-3P and the Sequential Circuits Prophet-600) to feature MIDI, then a brand new technology. Sequential CEO Dave Smith demonstrated MIDI by connecting the Prophet to a Jupiter-6 during the January, 1983 Winter NAMM Show.
Europa, a popular firmware replacement available from 'Synthcom Systems' adds modern enhancements to the instrument's MIDI implementation, user interface and arpeggiator, turning the Jupiter 6 into a contemporaneously adaptable machine
Here's a multitrack using only the software synth Arturia Jupiter 8V, the recreation of the classic Roland synth. Only the drums and vocals are not Jupiter 8V.
The song is a cover of an old Alphaville song "The Elevator" or "The Nelson Highrise (Sector One: The Elevator). It's the b-side of "Sounds Like A Melody" from 1984.
Background video information:
Hi everyone! SynthFreq here with a new composition titled "Industrial World" written by Crystal (msMotif-6), performed by Danielle and Crystal using the following synths:
Jupiter-8: filtered bell patch
Roland D-50: bright ice
Roland Alpha Juno-1: Z-lead
Roland A-90ex: split syn bass/(midi) to JV-1080 pulse lead
Yamaha Motif-6: percussion live set
The Jupiter-6 is an incredible analog synth. All of the Jupiters have a sound that was unlike any other synthesizer and the Jup 6 is no exception. This sound is due in part to classic analog Roland technology in its filters, modulation capabilities and a thick cluster of 12 analog oscillators at 2 per voice. Easy and intuitive programming via front panel sliders, knobs and buttons for all your tweaking needs.
The Jup 6 is a scaled down version of the Jup 8 in terms of programming and polyphony. However the Jup 6 has some major improvements of its own such as newly added MIDI control and better tuning stability! While the Jup 6 does have MIDI, the implementation is very rudimentary and hard to control. The Jup 6 was one of the very first (along with the Sequential Prophet 600) synths to use the then new MIDI protocol, and the implementation on the Jup 6 is far from complete.
Synthcom Systems, Inc. offers the Europa firmware upgrade for the Jupiter-6 which gives it an up-to-date and comprehensive MIDI implementation. All parameters are controllable via Continuous Controller or SysEx. Europa also features an extensive arpeggiator which will sync to MIDI clock with programmable clock divisors and rhythms, and has about 50 more playback variations than the JP-6's original Up, Down, Up/Down, and Down/Up. A Europacized Jupiter-6 is a thoroughly modern synth with a classic sound.
The Jupiter-6 is an excellent for ambient drones, pads, blips, buzzes and leads.
Video details:
What kind of music gear do you have?
" musictrack gear " is now ready to open !!
http://gear.musictrack.jp/news
DEMO by Katsunori UJIIE.
This video shows a Roland Jupiter 8 with the New England Analog Pyxis aftertouch system.
The purpose of this particular video is to show how you can disable the lower 4 voices on the JP8 so that aftertouch wont affect them. However, using the aftertouch sensor on the lower half of the keyboard can still affect how the aftertouch modulates the upper 4 voices. This creates some interesting effects. Using "whole" mode with the lower 4 voices disabled will produce a sound much like a CS80 or something with polyphonic aftertouch.
On this particular Jupiter, there are two separate disable switches; one for disabling filter and VCA effects from Pyxis on lower 4 voices, and another for disabling Pyxis control of VCOs.