Background video description:
Thought I put up a little retro 80's type sound then the usual stuff on these machines. Enjoy! Connect with me on Soundcloud:https://soundcloud.com/freqknob
No audio processing in daw what so ever, just straight record.
Octatrack: Drums
Monomachine: Game Sounds
Analog 4: Chords & game type sounds
Mopho x4: Arp
Background video description:
Hey guys! Here is my 2nd attempt to make a better video of the Arturia Jupiter 8V. I finally figured out a better way to capture the video! This is a split patch that I created on the Jupiter 8V using an arpeggio saw wave patch on the lower half and a brass patch on the upper half. I added a touch of delay as well. I really like this software!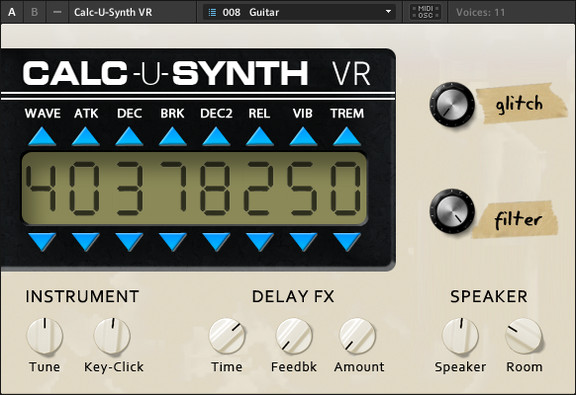 Icebreaker Audio has released Calc-U-Synth VR for Reaktor, an emulation of the classic Casio VL-Tone calculator/synthesizer combo from the '80s.
Precise measurements of the VL-Tone's volume envelope, vibrato, and tremolo were then gathered in order to faithfully emulate the whole instrument in Reaktor.

This library was designed in order to present the full capabilities of the VL-Tone's programmable features in a more convenient interface, while retaining the character of the original instrument.
Calc-U-Synth VR features
Full emulation of the Casio VL-Tone's programmable synth engine.
Built-in tempo-sync delay effect.
Speaker emulation with room simulation.
Additional "Bend" controls: Glitch and Filter.
Key-Click noise control.
The Calc-U-Synth VR for Reaktor is available to purchase for £4.50 GBP / $7 USD.
Icebreaker Audio has also announced a bundle sale, offering all its bundles at a 50% discount until November 30th, 2013.
At last,probably the rarest music clip on You Tube! The excellent Liverpool band,TWO PEOPLE with the grossly underrated THIS IS THE SHIRT.I found this clip on an old VHS from 1985.The tape literally fell apart as I was copying this!
It's taken me a week to replace the tape spools in another cassette.
Thankfully.its now preserved for your pleasure.
The sound is poor at the start,but its gets better during the chorus.ENJOY!!!
New video from the past:
I was happy to see the Spoons showcase yesterday put a smile on so many people's faces, so I hope that today's targeted 80sObscurities troop might bring back a few memories for others. The Two People referenced in this mid-80s U.K. act were guitarists/vocalists Mark Stevenson and Noel Ram, augmented by Brad Lang on bass, Steve Creese on drums and Ian Penman on keys.

The band debuted in 1985 with a pair of twangy, alt-pop singles, our highlight track "This Is The Shirt" and the down tempo ballad "Rescue Me." With moderate media support, Stevenson and Ram developed a following of fans who were rabid, but fewer and further between than Polydor Records had hoped. After just two more singles, 1986's "Mouth of an Angel" and the following year's "Heaven", the band broke up before ever releasing a single full length album. Little was ever heard from Stevenson again, but Ram (under the pseudonym Leon Mar) would go on to a rather potent and prolific career in the jungle/drum 'n bass genres, under various project names, most notably Arcon 2.

Broadcasting remotely from Charlotte, North Carolina, here's 80sObs and Two People.
Background video information:
You know, I was originally going to kick-start the weekend with another mindless Italo-disco dance number for today's 80sObscurities piece. Then I happened to read today's "Us Vs. Them" editorial on I Die: You Die. From an FGFC820 perspectiv, "us vs. them" typically refers to the common citizen vs. an unending layer of bureaucracy and government hell bent on oppressing such for personal or political gain. Clearly, such divisions – on a lesser scale – have existed in the music scene for, well, ever. It's not unique to our scene, or ID:UD's preferred nomenclature of "Our Thing", but it's as prominent here as anywhere. I don't know why that is, entirely, but considering that when it comes to "my" music I myself can possess the predilection for being an elitist prick on occasion – and a penchant, obviously, for run-on sentences – I can only address it from my own perspective. When you've suffered so much for something for so long, not only are you inclined to want to protect it, but you're also predisposed to discredit those who, in your view, haven't.
I first began spinning what I'll loosely call "scene music" – not listening to, but actively promoting it to others professionally – almost thirty years ago. THIRTY YEARS. That's a long time to love something; and serving this scene has sometimes felt like one giant, unending, unreciprocated affair. (In fact, perhaps obsession is a better word.) It's easy, I think, to understand why someone like me might be dubious of "the next big thing" – whatever it might be – emanating from an artist or movement that's existed less than a fraction of that time.
That the new is often championed by the even newer – often with this sense of sanctimonious swagger that only the young and naïve can muster with such sure – well, it triggers something in my aural gag reflex that's hard to suppress. Now, I recognize both the fault and the irony in taking such a stand. People can't help when they were born or what they've been exposed to. Accordingly, it's not always been easy, but some time ago I decided it would be more productive – for me and the artists I advocate – that rather than rail against the "musical ignorance" of others, I do my part to educate them. Not condescendingly, I hope, but in a way that communicates the love I have for this style of music (and its subsequent offshoots), in the hopes that others might love it, too.
With that in mind, whatever it is you're currently listening to… whether it's Covenant or Cut Copy, Hurts or Howard Jones… turn it off and go check out Liverpool's Dalek I Love You and 1979's "The World." That's not where this all started, but it's pretty important stuff. Thank you. Sincerely, Your Humble 80sObs Host.
Background video description:
Another day, another 80sObscurities feature for all of you beautiful people. Our 80s artist du jour is fabulous French band Little Nemo. Formed in 1983 by Olivier Champeau (vocals, keyboards) and Vincent Legallo (vocals, guitar) and named for the titular character in character in American cartoonist Winsor McCay's "Little Nemo in Slumberland", the band created music that ran the gamut from gothic ethereal to new romantic to dark wave. (Their final album, 1992's "The World Is Flat", was misdirected, quasi-commercial pop rock that didn't register well with their target audience – whoever that might have been – and has been largely discredited and discounted by the band's fan base.)
They debuted in 1986 on a split cassette with the band Rain Culture, who promptly disappeared immediately afterwards. While the production of their self-released first album "Past and Future" (also issued on cassette) left a lot to be desired, forgivably, Little Nemo's compositions showed significant promise. In 1988, they were joined by Nicolas Dufaure on bass and after again issuing another record on their own – the "Private Life" 12" – the band signed to esteemed indie label Lively Art. It was through this association that Little Nemo achieved their most widespread success.
They, along with label mates Asylum Party and Mary Goes Round, defined what became known as the "Touching Pop" movement, a musical style categorized as much by how it made the listener feel as by any mode of composition or instrumentation. The movement was a fleeting moment in time; by the early 90s, each of those bands – and the label itself – faded into oblivion. Champeau would rechristen himself as "Doctorolive" and maintain a level of visibility within the techno and house scenes through the middle part of the last decade, but today's track – the 1990 version of a song that first appeared on the band's 1987 debut – shows the artist at his 80sObs apex. Bon appetit!
If you're into lo-fi 80s electronica, the Bedroom Cassette Masters 1980-89 compilations are a must… Check out this free 15-minute mix of tracks from the first two albums..
This 80sObscurities was founded by DJ Rexx Arkana to showcase old, often unknown or forgotten acts and tracks from the decade when electronic music was truly the new wave. Rexx Arkana has been a club/radio DJ and promoter since the mid-80s and headlined festivals on several continents and currently holds a residency at DEFCON, NYC's current longest-running weekly scene party. He is also the founder and lyricist of Brudershaft and one half of harsh electro act FGFC820.
Hump day here at 80sObscurities and I'm hoping that today's selection will crank things up and get us closer to the weekend, faster. Force Legato only ever released one song, 1989's "System", but that doesn't mean they didn't leave their mark. This 12" has the distinction of being the first record released by legendary Frankfurt DJ/producer Oliver Lieb. Not only that, but it's also notable for the fact that Lieb's partner in the project was none other than equally legendary German producer and Dorian Gray night club resident DJ Torsten Fenslau (R.I.P.).
"System" was an audio documentation of the shift occurring in electronic music at the turn of the decade, where the "traditional" EBM and industrial beats that had dominated dance floors were beginning to morph into new styles and sounds. New Beat was already coming to fashion and it wouldn't be long before techno would totally take over. This track, however, has one foot firmly in both camps, which might explain why it resonated so well with so many and nearly hit the official German pop charts at the time.
Lieb would go on to achieve international acclaim for his trance projects LSG and Paragliders and today has over 250 production credits to his name. Fenslau, for his part, was even more successful in a sense. While outside of the Frankfurt scene he might not have gotten the same name recognition as Lieb, his "group" Culture Beat (really Fenslau and production partner Peter Zweier, with guest vocalists Tania Evans and Jay Supreme) topped charts around the globe with their 1993 hit "Mr. Vain." Sadly, Fenslau would be killed in a car accident later that year, but Oliver Lieb continues to be a major presence in electronic music. The more you know… from 80sObs.
Background video description:
This video isn't the best. I'm sleepy and I didn't even notice that the mixer channel with the DR-110 was panned to the side, so the drum machine is only on one channel. The rest of the video is just noodling with the synths, but I just wanted to put something out that showcased the sounds.
Roland SH-1000: synth bass
Roland Juno-60: synth strings
Boss DR-110: drum machine
Alesis Midiverb: reverb
http://www.t-racks.com for more information
The Bus Compressor is based on the mix bus VCA compressor of a worldwide known and acknowledged British mixing console from the 80's. This legendary processor has been painstakingly analyzed and measured down to the very single active and passive component to obtain a dead on behavior that will impart that famous "glue" effect on mix tracks without any compromise.
In this tutorial we look at several applications of the plug-in: The subtle yet effective "glue effect", compressing a drum bus from subtle to slamming or squashed, and all of the components of this plug-in including the great GRIT switch. Learn about the dual functionality of the RESET button, sidechain hi pass, and mid-side processing.
"Bus Compressor is one of the 20 professional mixing and mastering processors available in the T-RackS Custom Shop. Download the free T-RackS Custom Shop software, which comes with the Classic T-RackS Equalizer and a full metering suite, and you'll have access to the Custom Shop, where you can try our processors before you buy."