The Casio SK-1 is the cheapest sampler in the world. Followed by the SK-5, the second cheapest in the world. It's a polyphonic synthesizer (just four voices) with very cheap sounds and it can store one sample in its memory. The sampling is 8-bit PCM, 9.38kHz, giving about 1.4 seconds. It's so gritty… Samples can only be recorded through the awful mini-mic built-in to the upper-right corner or a 3.5mm line-input plug on the backside of the synth. Alas, its memory clears when turned off.

There are 11 built-in accompaniment-style drum patterns (disco, rock, samba, etc.) which are all embarrassingly fun and totally unusable. The keyboard uses mini plastic keys. It lacks MIDI, lacks effects, edit-ability, memory, and filtering. However there are 13 envelope shapes that can affect your sample or synth sounds somewhat. There is also portamento, vibrato, and chord accompaniment with the chord selector system.
Background video description:
One off custom Casio SK1 project.
Built for:
Evolving improvised set. Melodic ambience to drone to noise. Touching on the lines of PE and HNW. Anyone who's familiar with the Alec Empire live dvd of intelligence and sacrifice will probably recognise the tone of this from the noise set in new world order.
No post processing or production. It is what it is.
Vintage synthesizer demo featuring the Casio VZ-1
supported by UVI
CASIO VZ-1 iPD Synthesizer from the year 1987
The VZ-1 is a real digital synthesizer like the Yamaha DX-7. No virtual sound engine, no samples.
iPD synthesis = interactive phase distortion
The VZ-1 uses Phase Distortion synthesis for ring modulation and waveform generation and true Frequency Modulation Synthesis to generate the harmonics.
The sound is a bit similar to the DX series but the synthesis is different. Also different to the early CZ series. The voice combinations allows for some very wild and complex sounds.
Background video description:
Song I made entirely on battery powered and analog Casiotone MT-60 minikeyboard. Pictures were taken during that time in the late summer 2014.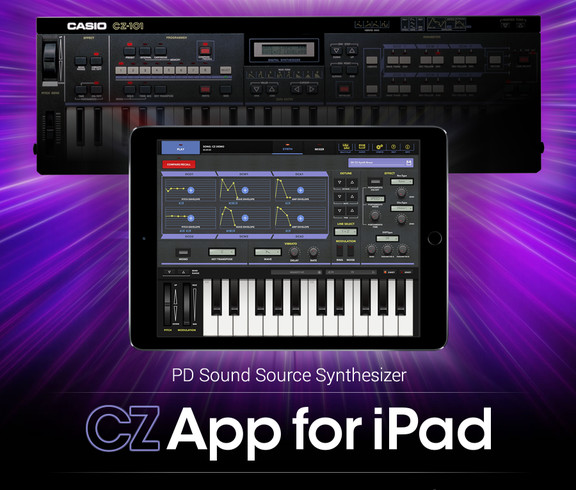 Casio has released CZ App for iPad, a virtual synthesizer app based on Casio's best-selling CZ series of synthesizers, including the CZ-101 model released in 1984.
Along with its electronic musical instruments, Casio has been developing musical apps with the goal of providing the joy of playing music to more and more people. To date, Casio has released several apps that have become widely popular: Chordana Viewer and Chordana Tap, which automatically detect the chord progressions of songs; as well as Musical Practice Tool, a useful app for practicing a musical instrument or singing.

Now Casio has released the CZ App for iPad, an iPad app that recreates its best-selling CZ series of classic synthesizers and includes several all-new functions. CZ App for iPad allows up to four separate parts to be played using the original Phase Distortion sound source by Casio, and features 36 types of waveforms for producing a wide range of sounds.
The app is available for purchase for $19.99 USD.
NAMM 2015: Casio XW-PD1 Up Close First look at the new hardware from Casio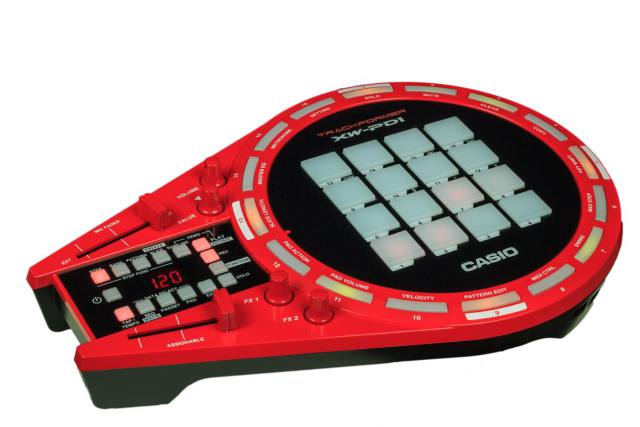 Casio has introduced two new Trackformer DJ products, the XW-DJ1 DJ Controller and XW-PD1 Groove Center. 
XW–PD1 Groove Center
The XW-PD1 Groove Center, above, is equipped with the sound engine from Casio's XW series of synthesizers The XW-PD1 design includes 16 velocity-sensitive pads and 4 knobs for fast real-time music production.
The XW-PD1 features an outer ring containing 16 buttons, which let you visualize the current rhythm pattern at a glance. Users can create rhythms and phrases with the pads as well as apply DSP effects such as roll, filter, bit crusher, break, and pitch shifter.
The XW-PD1 includes drum sounds for a variety of electronic styles, including Hip Hop, Trap, and House. It also features a synthesizer engine, a variety of effects and can sample sounds.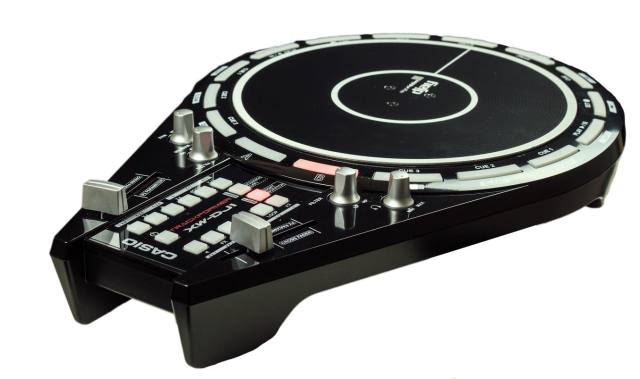 XW–DJ1 DJ Controller
Casio's XW-DJ1 DJ Controller, above, features a 7-inch platter that provides the feel of an analog turntable, filter controls and cross fader. The XW-DJ1 is compatible with Algoriddim's djay2 apps.
The XW-DJ1 integration with djay2 provides direct controls for cue points, tempo sync, effects and looping. Additionally, the XW-DJ1 is portable because it is battery-powered and offers a built-in-speaker.
The two Trackformer controllers can also be used in tandem. The audio output of the XW-DJ1 can be connected to the audio input of the XW-PD1. This lets users do remix performances, using the unique capabilities of each product.
Pricing and Availability
The XW-DJ1 DJ Controller will be available, beginning January 2015, for an MSRP of $299.00.
The XW-PD1 Groove Center will be available beginning March 2015 for an MSRP of $399.00.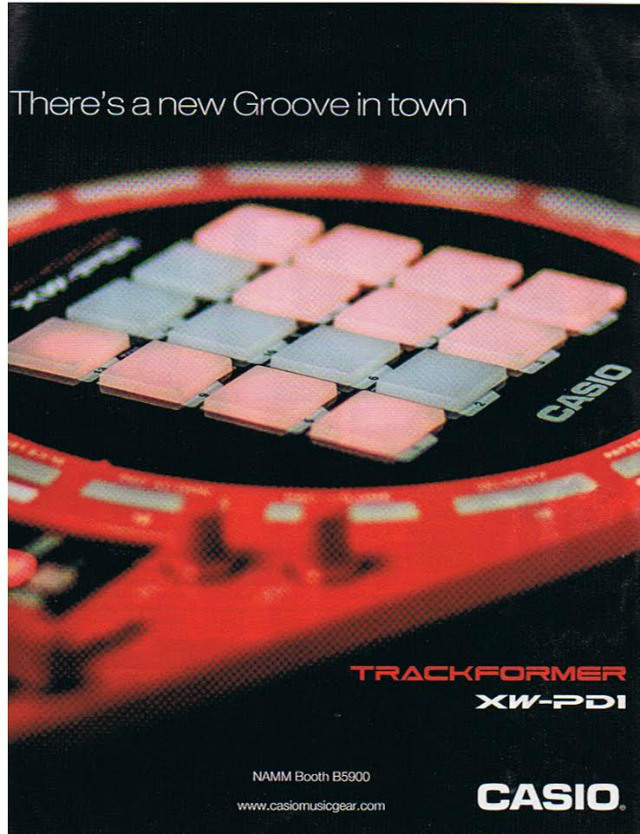 The Casio XQ-PD1 Trackformer is being teased in the latest Electronic Musician mag. Its all we know – honest, but it would seem that there's a new Casio groove box in the works. The round pad encrusted XW-PD1 appears to be some sort of track based groove box with 16 pads.
There's no official word from Casio on what the XW-PD1 Trackformer will be, but the 4×4 grid brings to mind certain Music Production Centers….
The clip is only a patch demonstration. I used some MFOS to modify this VL-1.
Go to the tumblr to see the audio-voltage signal path.
Utilizing the XW-P1 and Priva PX-5S, Casio's Mike Martin teaches the basics of Oscillators, Filters, Envelopes, LFOs and more in this live Ustream event.
http://www.casiomusicgear.com
http://www.casiomusicforums.com


Casio America has introduced two inexpensive digital sampling keyboards, the CTK-2090, and the LK-175V. They will be sold exclusively at Target.
According to Casio, build on the legacy of the SK-1, an inexpensive 8-bit sampler from nearly 30 years ago, that offered the ability to synthesize sounds from waveforms, envelopes, vibrato, portamento, rhythms, and sampling.
Both keyboards have two sampling modes: short and full.
Short Sampling Mode allows users to create up to five sounds 0.4 seconds in length.
Full Sampling Mode allows users to create one two-second sound. With a built-in sampling microphone, users can also sample their voice and other ambient sounds to create a variety of sampled tones and effects for later use.
Both the CTK-2090 and LK-175V are outfitted with Casio's Step-up Lesson System, which lets beginners learn 152 built-in songs, phase-by-phase, at their own individual pace. With the LK-175V, users can practice with the help of the lighted 61-Key Piano Style Touch-Response keyboard.
Additional features include a 92mm X 40mm LCD display, 150 built-in rhythms, 400 built-in tones, 110 built-in songs, USB port, and more. Each model also comes with a music stand, song book and X stand.
The CTK-2090 for $169.99 and the LK-175V for $199.99 will be sold at Target locations nationwide, beginning in September.