Googlish: Mini album in Satori name "Kaikou EP" came out from Upitup Records of Italy.
Please listen therefore certainly have been published at Download free from FMA (Free Music Archive).
Sound source is only CZ-5000 Casio. I'm going on a PC down and mix effects.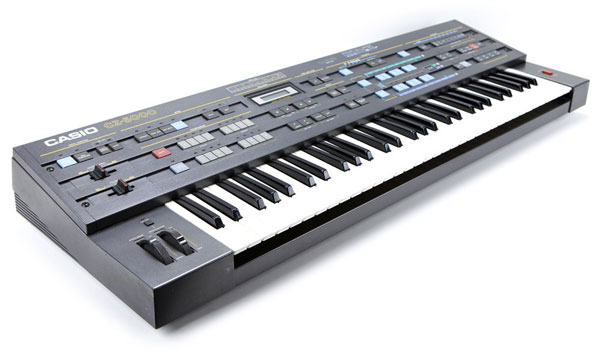 The CZ-5000 expands the Casio CZ series further into the professional arena. Based on the CZ-101 and CZ-1000 synths, the CZ-5000 adds many new features while retaining the same sound and programming methods as the latter. The keyboard is expanded to a full 61 note or 5-octave length and is capable of being split for bass and treble sounds. There is a built-in 8 track sequencer which is great for storing ideas or creating patterns and sequences to edit in real-time. And finally the CZ-5000 has an expanded waveform memory for even more sounds and thicker sounds. It's like having two stacked CZ-1000 synths all at once!
Casio's CZ series of phase-distortion digital synths make for a unique sound. After all, there are 8-stage envelopes and 2 oscillators per voice for a thicker tone. Their sound is similar to the Yamaha DX synths but is much easier to program. The CZ-5000 may be at the pinnacle of Casio's synthesizer line, and it is still a great low-cost means of getting into vintage digital synth sounds today. The CZ-5000 is not analog and has no filters. But many still find it useful where strange synth sounds are needed such as industrial and electro types of music.
Background video info – Original:
Satori名義でのミニアルバム「Kaikou EP」がイタリアのUpitup Recordsより出ました。
FMA(Free Music Archive)からもダウンロードフリーで公開されていますので是非聴いてみてくだ­さい。
音源はカシオのCZ-5000のみです。エフェクトとミックスダウンをPCで行ってい­ます。
Kaikou EP
upfree62 by Satori, released in May 2014
http://www.upitup.com/catalogue/relea…
Free Music Archive
Satori: Kaikou EP
http://freemusicarchive.org/music/Sat…
Bandcampにも楽曲を公開しています。
http://nemutai.bandcamp.com/
Vintage synthesizer demo track featuring the Casio CZ-101

all sounds: CASIO CZ-101 phase distortion synth (1986)
recording: multi-track
fx: reverb and delay
It's small, it's cheap, and it's good! This is the pea-size version of the CZ-1000 with a mini-keyboard. The CZ-101 is a digital synth and although the programming is somewhat limited there are plenty of analog-like traits and sounds to interest most anybody. It has a good 8-stage envelope design and uses Phase Distortion (PD) synthesis which gives it some pretty great sounds. The sounds are very similar to the Yamaha DX synthesizers, and they're much more affordable. PD is Casio's own take on digital synthesis from the mid-eighties and is found in all of their CZ series. You basically modify digital waveforms (sine waves) to create various sounds. It can create wild new sounds, notably percussive sounds. But it's not too easy to program if you don't know much about waveform theory and design.
Make no mistake, the CZ-101 is no toy although it can be considered very entry level. Three sets of 8-stage envelope sections are used to modulate your sounds extensively. The first is used to modify the DCO pitches over time. Another 8-stage envelope section in the DCW is used to modify the Phase Angle over time (like filtering). Finally the DCA amplifier also has an 8-stage envelope to modify the volume of sounds over time. For further tweaking the CZ-101 employs some surprisingly analog effects. Four types of Vibrato make up a simple LFO-type section with triangle, square, ramp up or down waveforms as well as rate, depth and delay settings. Portamento adds that classic glide effect from one note to the next. Double up on the oscillators with 4-note polyphony. Built-in noise and ring modulation. It's also MIDI equipped with 4 monophonic multitimbral parts. However, with only 32 patches (16 preset, 16 user) storage is a bit slim.
The CZ-1000 is a full-size keyboard version of the CZ-101 for a slightly more practical edge. Later CZ-series models like the CZ-3000 and CZ-5000 used this new Phase Distortion synthesis in more professional instruments. But none are as small and portable as the CZ-101 is! It can even be strapped on like a guitar and run on battery power.
A bit of experimentation with the CZ101 using Genome to access 4 voices in mono.
Lots of goodies in this one…you know what I mean when you watch it

Filmed and Directed by Amy Hobby.
Edited by Tony Zajkowski.
Over 20 different NYC female keyboardists playing vintage keyboards at Joe McGinty's Carousel Studio in Brooklyn, NY.
Available on iTunes!
http://itunes.apple.com/us/album/tubular-bells/id398862997
Featuring:
Kaia Wong (Mixel Pixel)
Kelly Rae Kerwin (Private Income)
Natasha Bartolf
Joanna Choy (Spray Paint Star)
Amy Merril (Mia Riddle)
Greta Gertler (The Universal Thump)
Supercute!
Anna Copa Cabanna
Rolyn Hu (True Primes)
Sondra Sun-Odeon (Silver Summit)
Michi Turner (Crash Diet Crew)
Katia Floreska (The Tall Pines)
Natalie Weiss (Unicornicopia, Camp Wanatachi)
Wendy Ip
Alice Cohen
Yvette Perez
Kelly Vaughn-Kauffman (Winstron Troy)
Yvette Perez (H*E*R)
Hula Hoop Harlot Melissa-Anne
Alix Brown (Golden Triangle)
Leah Cary (Girl Crisis)
Caitlin Jemison (Queen Of Sibyls)
Instruments featured:
Hammond M3 Organ
Fender Rhodes
Oberheim Xpander
Dave Smith Instruments Poly Evolver Keyboard
Steinway Upright Grand Piano
RMI Keyboard Computer
Jenco Celeste
Baldwin Electric Harpsichord
Bebot
Magical Musical Thing
Thingamagoop
Hohner Clavinet D6
Casio CZ-101
Wurlitzer Electric Piano
Conn Electric Band
ARP 2600
ARP Omni
Suzuki Omnichord
Yamaha CS-01
Yamaha TX802
Vox Continental
Fender Starmaster
Farfisa Combo Compact
Buzzing Bee
Optigan
Stylophone
Toy Piano
360 Systems Digital Keyboard
Hammond Synthesizer
Gibson Clavioline
Moog Little Phatty
MiniMoog
Mellotron
Mass-Rowe Vibrachime
Justin Robert launches Mothman Z3000, a virtual synth for Windows that is inspired by the Casio CZ-3000.
It also has the stereo chorus, noise and LFO just like the original CZ-3000. Also, there's an added switchable velocity feature that gives greater expression than the original CZ, and an added analog style filter on DCA2 to give even more sound options. You can also pan the different DCOs to give more stereo fx. But other than that, I kept it pretty faithful to the original synth.

There are 64 preset slots with 18 presets already created. The sound of this synth is very similar to the real thing. Real phase distortion synthesis is used, real eight point envelopes and a cool "Mothman" design.
"It's a 16 voice polyphonic synthesizer that features two Phase Distortion DCOs, two DCWs, and two DCAs all six feature the famous 8 point envelope section that made the CZ synthesizer so famous. You have the ability to make some of the most complex waveforms you've ever heard."
Phazeform Volume 2 : The mothership of Casio synthesis, the CZ-1 was a remarkable piece of technology in its day, emulated by other leading synthesizer manufacturers. Casio's CZ line of Phase Distortion synthesizers are incredibly unique devices that used digital synthesis without a filter as opposed to traditional analog subtractive synthesis with a filter. The CZ line used phase distortion to somewhat simulate an analog filter, it had in total eight different waveforms: as well as the standard sawtooth, square, and pulse waveforms, it had a special double sine waveform, a half-sine waveform, and three waveforms with simulated filter resonance: resonant sawtooth, triangle, and trapezoidal waveforms.
The Casio SK-1 is a classic low fidelity consumer keyboard from 1985 and arguably the first toy sampler. Puremagnetik captured all of the uniquely kitsch and useful factory tones and processed voices with the gritty 9.83 khz / 8 bit sampler. You can bask in the raw nostalgic tones of this time machine and make use of these modernized instruments by using native effects in Ableton, Kontakt and Logic.
Price: Phazeform Volume 2 is now available for Puremagnetik subscribers. Subscriptions start at $5.75 USD/Month.
Visit: Puremagnetik
The Synth is a Casio CZ101 and EMS Synthi A with Microphone as Feedback if I remember correctly plus Octapad.
Also used by Nitzer Ebb this VST really does the job
EGOkILLER uses a double-dose Phase Distortion Oscillator in place of the standard oscillator/filter set-up. It is a very powerful form of synthesis first seen in Casio's CZ synths in the '80's. The PD Oscillators have a very full sound that gives this synth great character. It is designed for EBM/Industrial music but is versatile enough to be used anywhere.
EGOkILLERversion2 is the first of the Version 2 synths. Like the original it is based on a single Phase Distortion Oscillator. The new version features a dual High Pass – Low Pass filter set-up with resonance, as well as graphical envelopes for both modulation and VCA. The LFO is new and extra flexibility has been added to modulation routings. It also includes really fat Unison and an enhanced overdrive.
And make sure to look out for the new one, scheduled to be released soon

GODkILLERversion2 is a versatile V/A synth, laid out in a similar manner to EGOkILLERv2. It improves on the original with two oscillators with sync and Hard Sync. The mixable Low-pass and Band Reject Filters are carried over from the original. It also has two graphical ADSR envelopes and a comprehensive LFO featuring 16 different waveforms. Overdrive and LFO destinations can be controlled by a Modulation Wheel on a MIDI keyboard controller.