Just a short demonstration of a 1960's Stylophone using the camera audio and then line out audio. These early models have no volume control and a vibrato that sounds more akin to pulse width modulation. Plus they are much bassier via line out than the speaker due to a passive low pass filter over the output. I have it for sale in my Etsy shop here:
www.etsy.com/uk/shop/SymetriColour
Background video description of this very cuckoo Krfatwerk edition:
Here's an old favourite played solely on the new Stylophone S2, recorded on the OP1. The video shots are the actual performances.. no fake dubbing. (I had some trouble with the sync though. I'm hoping it's ok.)
If you could breed an Omnichord with a Stylophone you might end up with some of these babies….
Use combinations of the buttons to select a chord type (maj, min, 7, maj7, min7, dim, aug) and root note. The chord is then mapped across the pads, which you play with a wired stylus, sending output by MIDI.
This is an old idea of mine that I've now turned into an open hardware kit, so anyone can make one. The updated firmware has some new goodies like guitar open chord fingerings, chord variations (sus4, add6, add9), two channel lead + chord drone and control over velocity.
Kit is available for purchase on Tindie at https://www.tindie.com/products/hotch… and the firmware/hardware source code is on GitHub at https://github.com/hotchk155/Voici-Le…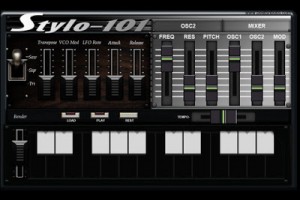 Details below:
I-phone 5 friendly! What do you get if you cross a Stylophone with the famous Roland SH-101? Well We have circuit-bent a virtual Stylophone and added Roland SH-101 modifications. You can create wacky and eerie sounds to meaty bass lines. As well as the Stylophone sound, you now have an extra oscillator driving a sawtooth wave with filter and resonance from the SH-101. You can adjust the mixer for each oscillator and the LFO can control oscillators and amp. We have increased the LFO speed and depth of the pitch modulation. We have also added an SH-101 style sequencer for creating bass lines or arpeggios. It is still monophonic but the notes will continue to decay if you release your finger before playing another key. You can also play over the top of the sequence while its playing.
2 oscillator monophonic synth
oscillator 1: saw, tri, square
oscillator 2: SH-101 Saw with SH-101 filter, SH-101 resonance (4 preset levels) and detune
LFO-pitch
LFO-AMP
Master Transpose
Mixer for osc1 and osc2
Arp/sequencer with tempo
Release controls notes played and sequencer
Attack controls notes only
2 oscillator monophonic synth
oscillator 1: saw, tri, square
oscillator 2: SH-101 Saw with SH-101 filter, SH-101 resonance (4 preset levels) and detune
LFO-pitch
LFO-AMP
Master Transpose
Mixer for osc1 and osc2
Arp/sequencer with tempo
Release controls notes played and sequencer
Attack controls notes only
The app is priced at $2.99
The Stylophone is a miniature analog stylus-operated synthesizer invented in 1967 by Brian Jarvis and going into production in 1968. It consists of a metal keyboard played by touching it with a stylus — each note being connected to a voltage-controlled oscillator via a different-value resistor – thus closing a circuit. The only other controls were a power switch and a vibrato control on the front panel beside the keyboard, and a tuning control on the rear. Some three million Stylophones were sold, mostly as children's toys.
The Stylophone was available in three variants: standard, bass and treble, the standard one being by far the most common. There was also a larger version called the 350S with more notes on the keyboard, various voices, a novel 'wah-wah' effect that was controlled by moving one's hand over a photo-sensor, and two styluses.
In the mid-70s a new model appeared which featured a fake wooden effect on the speaker panel, and, more importantly, a volume control. (Previous Stylophones had been infamous for being too loud in quiet situations). This was shortly before the Stylophone ceased production altogether in 1975.
Rolf Harris appeared for several years as the Stylophone's advertising spokesman in the United Kingdom, and appeared on many "play-along" records sold by the manufacturer.
To hear individual performances, click on the desired song/s at the end of this video.
http://youtu.be/fvhoehanCmI
Really cool retro video:
A short improvisation featuring the Stylophone, HP and BK sine wave generators, ring modulators, tape echo, various effects, and a dash of reverb.
Here is a demonstration of how you can use the Looper in the Eventide TimeFactor, along with the Octaver, Crystals, Harpeggiator, and H910 H949 effects in the Eventide PitchFactor, to create lots of unique sounds from only a few notes. For more info visit
http://Eventide.com/AudioDivision.aspx
Lots of goodies in this one…you know what I mean when you watch it

Filmed and Directed by Amy Hobby.
Edited by Tony Zajkowski.
Over 20 different NYC female keyboardists playing vintage keyboards at Joe McGinty's Carousel Studio in Brooklyn, NY.
Available on iTunes!
http://itunes.apple.com/us/album/tubular-bells/id398862997
Featuring:
Kaia Wong (Mixel Pixel)
Kelly Rae Kerwin (Private Income)
Natasha Bartolf
Joanna Choy (Spray Paint Star)
Amy Merril (Mia Riddle)
Greta Gertler (The Universal Thump)
Supercute!
Anna Copa Cabanna
Rolyn Hu (True Primes)
Sondra Sun-Odeon (Silver Summit)
Michi Turner (Crash Diet Crew)
Katia Floreska (The Tall Pines)
Natalie Weiss (Unicornicopia, Camp Wanatachi)
Wendy Ip
Alice Cohen
Yvette Perez
Kelly Vaughn-Kauffman (Winstron Troy)
Yvette Perez (H*E*R)
Hula Hoop Harlot Melissa-Anne
Alix Brown (Golden Triangle)
Leah Cary (Girl Crisis)
Caitlin Jemison (Queen Of Sibyls)
Instruments featured:
Hammond M3 Organ
Fender Rhodes
Oberheim Xpander
Dave Smith Instruments Poly Evolver Keyboard
Steinway Upright Grand Piano
RMI Keyboard Computer
Jenco Celeste
Baldwin Electric Harpsichord
Bebot
Magical Musical Thing
Thingamagoop
Hohner Clavinet D6
Casio CZ-101
Wurlitzer Electric Piano
Conn Electric Band
ARP 2600
ARP Omni
Suzuki Omnichord
Yamaha CS-01
Yamaha TX802
Vox Continental
Fender Starmaster
Farfisa Combo Compact
Buzzing Bee
Optigan
Stylophone
Toy Piano
360 Systems Digital Keyboard
Hammond Synthesizer
Gibson Clavioline
Moog Little Phatty
MiniMoog
Mellotron
Mass-Rowe Vibrachime
My cover of "Let it Be" played on the stylophone.
Also watch my cover of "They're taking the hobbits to Isengard" played on the stylophone and the Korg DS-10 synthesizer for the Nintendo DS:
http://www.youtube.com/watch?v=rCg3nI…
Shared by Th3Mus1cM4n
XBase888 + Revorution + TENORI-ON + mopho + Stylophone