If you could breed an Omnichord with a Stylophone you might end up with some of these babies….
Use combinations of the buttons to select a chord type (maj, min, 7, maj7, min7, dim, aug) and root note. The chord is then mapped across the pads, which you play with a wired stylus, sending output by MIDI.
This is an old idea of mine that I've now turned into an open hardware kit, so anyone can make one. The updated firmware has some new goodies like guitar open chord fingerings, chord variations (sus4, add6, add9), two channel lead + chord drone and control over velocity.
Kit is available for purchase on Tindie at https://www.tindie.com/products/hotch… and the firmware/hardware source code is on GitHub at https://github.com/hotchk155/Voici-Le…
Omnichord Synthesizer, well circuit bent with loads of useful modifications and wicked touch points.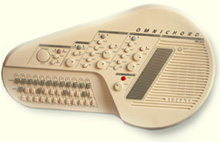 Analog Drums and Rhythms have new controls for tweeking and combining the preset rhythms. Also have touch points which allow the drums to be triggered by fingers!
LFO Circuit allows trippy vibrato & pitch modulation.
Lots of shiny metal touch points, and of course Wicked Glitch….
Flashing lights indicate drums, chord & bass.
About the Omnichord:
The Omnichord is an electronic musical instrument, introduced in 1981 and manufactured by the Suzuki Musical Instrument Corporation. It typically features a touch plate, and buttons for major, minor, and diminished chords. The most basic method of playing the instrument is to press the chord buttons and swipe the touch plate with a finger or guitar pick in imitation of strumming a stringed instrument.
The Omnichord is the technological successor to an earlier instrument, known as the Tronichord, with which it shares many technical and functional similarities. Omnichords often feature preset rhythms with a tempo control which the player may use as accompaniment. Several models of the Omnichord were produced, which added MIDI compatibility, a selection of voices for the touch plate, effects such as vibrato and sustain, and chord memory. Some Omnichord musicians will play the instrument as a keytar, by strapping the instrument on both ends and playing it as if it were an electric guitar.
Originally designed as an electronic substitute for an autoharp, the Omnichord has become popular as a unique instrument in its own right, due to its unique, chiming timbre and its value as a kitsch object.
The Omnnichord is still produced by Suzuki, but rebadged as the Q-chord. It features more modern versions of the original Omnichord's features.
Princess Pangolin's cover of the Flaming Lips' "Yoshimi vs.The Pink Robots," featuring omnichord, violin and telephone. Also, some hasty stop motion. No robots were harmed in the making of this video. Featuring Julie Carpenter on vox, violin & omnichord, and Dain Luscombe on Commodore 64, Kitten & other technological marvels. Album available from
http://princesspangolin.bandcamp.com/
Omnichord and analog waveshape performance by Lukas Ligeti on drums & glockenspiel and Miguel Frasconi on omnichord & analog waveshapers
I'm playing omnichord and analog waveshapers (see details below) with Lukas Ligeti on drums and glockenspiel.

More specifically, I'm playing an omnichord put through a Metasonix TM-1SE, into a Moog FM-102 ring-mod, into an Electro Harmonix Micro-POG, into a Pigtronics Echolution."

Video Description:
"Ligeti & Frasconi @ The Tank.
Lukas Ligeti: drums & glockenspiel
Miguel Frasconi: omnichord & analog waveshapers.
December 8, 2010. NYC.

Transcending the boundaries of genre, Lukas Ligeti has developed a musical style that draws upon downtown New York experimentalism, contemporary classical music, jazz, electronica, and world music. Known for his non-conformity and diverse interests, Lukas creates music ranging from the through-composed to the free-improvised, often exploring polyrhythmic/polytempo structures, non-tempered tunings, and non-western elements.

While best known for his menagerie of glass musical instruments, Miguel Frasconi has long explored the sonic possibilities of electronics. Tonight he will be using a combination of devices that enable tactile control over a vast array of electronic sounds. Frasconi is the director of Ne(x)tworks, one of NYC's leading new music ensembles, and teaches at Bard College where he directs the Bard Laptop Orchestra (BLOrk).