September 25, 2014 · Posted in
Uncategorized
·
Comments Off

on Ryuichi Sakamoto: Sensing Streams – invisible, inaudible

Among his eclectic array of projects, Ryuichi Sakamoto has recently made it his main concern to explore audiation, or the process of making audible, of data extracted from the environment. Daito Manabe (b.1976) is a media artist internationally acclaimed for his work, ranging from his experimental work using advanced technology to visualize data received from CERN (The European Organization for Nuclear Research), to producing visuals for the Japanese electro-pop group, Perfume.
Their first collaborative piece senses, visualizes, and makes audible electromagnetic waves, which are usually undetectable to the human senses. The piece focuses on the background role that electromagnetic waves play in technology that has become integral to modern society, manifested in mobile technology, inseparable from everyday life.
At the Moerenuma Park, visitors will find a large "High Resolution Large Display" (7.2 meters by 3.9 meters) and speakers in a brightly lit space, visualizing and making audible electromagnetic waves between 80MHz-5.2GHz that are captured in realtime by antennas set up in various places in the venue, which collect signals from cellphones, Wi-Fi, digital terrestrial broadcasting, and FM radio.
Additionally, the piece contrasts electromagnetic waves recorded at the Sapporo Ekimae-dori Underground Walkway (aka Chi-Ka-Ho) to show the notable difference time and place makes on the electromagnetic waves. As the audience changes the frequency with a turn of the dial-like interface in front of the screen, various electromagnetic waves will become visible on the screen simultaneously. Furthermore, the usage of cellphones or smartphones in the venue will alter the sound and image, reflecting the changing electromagnetism in the surrounding space.
The flow of electromagnetism is often forgotten, yet composes an indispensable infrastructure in our modern life, and the piece attempts to expose that. The installation also makes visible a kind of ecosystem, created by the active participation of audiences, that is simultaneously bound to a frequency range—a distributed territory—assigned to certain broadcasters or carriers.
At Chi-Ka-Ho, visitors will also be able to see an archived version of the video of the piece, along with one of the antennas used to capture electromagnetic data before the premiere of the installation.
December 2, 2013 · Posted in
Uncategorized
·
Comments Off

on New December series: 12 days of Modular 2013 – Day 1 Wavetables
First in a series of 12 videos during the month of December. Each video's music started with a different foundation of Modular Sounds. This video began as an exploration of wavetables. Sound and Video by Raul Pena.
November 18, 2012 · Posted in
Uncategorized
·
Comments Off

on Samplr iPad app with Jordan Rudess
Discovering Samplr for iPad, with Jordan Rudess
"I was surprised when I saw this app because it uses the idea i had to actually play on the waveform like we did in my app SampleWiz. It also takes it to another dimension by adding some great features including recording!"
September 1, 2012 · Posted in
Uncategorized
·
Comments Off

on Understanding Wavetable Synthesis
This lesson explores wavetable synthesis and looks at different ways of playing with Animoog. This should be helpful for people using PPG Wavegenerator and other wavetable synths too! Visit the site a free pack of Animoog Timbres and details on how to make your own: http://discchord.com/blog/2012/8/25/official-unofficial-animoog-timbres-plus-…
Wavetable synthesis was pioneered by Wolfgang Palm in his PPG synths of the 70s and 80s. With wavetable synthesis, a library of relatively complex wave shapes, rather than sine, square or triangle waves, are used as building blocks of sounds. Dynamic sounds can be created by mixing or morphing between different wave shapes.

Note that Moog calls the heart of Animoog its 'Anisotropic Synthesis Engine', which combines elements of wavetable synthesis and subtractive synthesis. Animoog lets you animate the modulation of your wavetable source(s), and then lets you filter the result with virtual-analog filters.
August 31, 2012 · Posted in
Uncategorized
·
Comments Off

on PPG WaveGenerator iPad App – Show And Tell
Wolfgang is back sharing more of the wholesome goodness found in his new baby PPG WaveGenerator App.
The PPG WaveGenerator comes with a multitude of wavetables. The sound material contains the typical sounds from the original PPG wave models, as well as many new sounds generated by versatile analysis tools and also hand edited waves.
This app enables the user, to create his own wavetables in a playful way, and to hear the result immediately. Also you can construct the waves by adding harmonics very precise. Another way is to transform a picture into a wavetable. You can load photos from your album or even shoot a picture with the camera.
The waves are collected in a grid of 256 fields, to which the 3 oscillators of the synthesizer have arbitrary and independent access. In a 3D display you get a visual impression on how the sound evolves. You can turn around the 3D object and zoom in and out, The Parameters of the synthesizer are divided into modules, which allows easy, yet powerful editing. It contains 3 oscillators with independent control of pitch and waveform. Each oscillator has its own glide, which gives a very dynamic sound.
With a sophisticated routing system, the diverse modulation sources can be connected to all important control points. The keyboard is configurable totally freely, so you can setup all well-known musical scales, but also all imaginable custom scales that best fit into your music. PPG WaveGenerator benefits all advantages of the iPad, like X/Y control after the key on event, or two finder gestures for spectrum control. After a key is hit, the tone may be modified and modulated in various ways, just by moving your finger.
A comfortable browser lets you sort the sound programs; you can categorize and rate them. Also complete custom sound banks may be created. All significant parameters are controllable via MIDI. There is a built in context specific help for all pages and modules.
December 16, 2011 · Posted in
Uncategorized
·
Comments Off

on WaveShaper – Create unique sound effects using any audio file!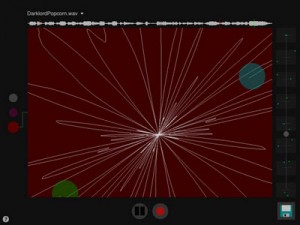 WaveShaper is an audio synthesis app that lets you control a unique sound generating algorithm using a large XY controller. Use two fingers to control four parameters in real-time. This app is full of surprises and will create sounds unlike any you might create in a typical sound design plugin!
"Sound designers and electronic music producers are always on the look out for new noise makers to use for one-off special effects in our projects, but rarely do we come across something that feels like a one stop shop for all noise making needs. Well, when I need noise for a sound design project, now I grab my iPad and load up WaveShaper.
I've been using WaveShaper for a few months now and already used it to do around 80% of the source material in a sci-fi action video game. It really excels at futuristic sounds like energy fields, gravity manipulators, computer terminals, space helicopters, tears in the fabric of the space-time continuum… Oh, and run it through a reverb filter bank with the right source file, you can make some super creepy horror ambiences.
WaveShaper gives you a bunch of source files to play with, but it's super easy to add in your own or create new ones right from within the app. Being able to see the waveform of your source file and control exactly what sections of the file you're hearing allows for some real expressive live playability. I suggest using source files with a lot of dynamic and tonal variety for the most expressive live setup. Of course you can choose different source files without interrupting playback, so there are no limits.
If you're into turntablism record scratch style sounds, but want something a little more future sounding, try some source of people talking or singing and use the red noise mode. I've made source that sounds like the best scratch DJ ever going nuts on eight turntables at once.
Oh and if you have a good subwoofer, you can bring the house down around you with this app." – Bobby Arlauskas, Sound Designer, GL33k game audio
Features of WaveShaper include:
white, pink, and red noise as a control source for the algorithm
two control points for controlling noise generation and location in the source audio
8 preset slots for storing control point positions
touch-and-slide on the presets to scrub between them
includes over 20 audio files to use in the app
add your own audio files using the Documents folder in iTunes
record your performance and save the result to the Documents folder
share your recordings on SoundCloud from within the app
The app is priced at $5.99.
October 6, 2011 · Posted in
Uncategorized
·
Comments Off

on Mixr Tutorials: Using Waveforms and Create
http://youtu.be/DHkioGtWuvI
iPad DJ App Mixr training tutorial on using waves. http:// www.mixrdj.com
http://youtu.be/UsouxhnBs0U
iPad DJ App Mixr training tutorial on using the Crate Manager.
http://youtu.be/EU2kfUKdr3Q
New Standard in Mobile DJ
August 14, 2011 · Posted in
Uncategorized
·
Comments Off

on Showcasing the WMD Gamma Wave Source
The WMD Gamma Wave Source is a dual digital wavetable VCO that can create millions of timbres using onboard digital "effects".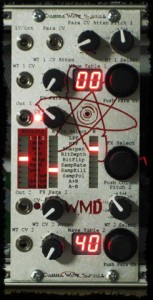 The Controls
1V/Oct – Pitch input, used with standard 1 Volt per Octave keyboards and MIDI-CV converters. 0-5 volt input.
Pitch 1 & 2 – Controls the relative pitch per channel.
WT 1 & 2 Select – Select the desired wave table from the chart. 256 are available, each producing a different sound. Click for the table chart.
Out 1 & 2- Oscilator section output, each puts out +-2.5V/ 5Vpp signal.
The Effects Section
The GWS has four effects pipelines. Two for each oscilator. The Routing table selects how the oscillators interact with the effects pipelines.
FX Select Knob – Pushing this knob in will select the column that the knob is adjusting. Turning it will adjust the LEDs in the select column and will alter the Routing or Effects selection.
FX Para 1 & 2 – These knobs control the FX parameter for the oscillator section. Each effect has a specific parameter that is controlled by this knob. Adujust to taste.
Para CV & Attenuation Knob – This is a CV input for modulating and controlling the effects on the oscillator. Press the WaveTable Select knob to activate CV control per oscillator section. The LED will light when CV control is active. The FX Para knob will adjust the center or edges of the CV control depending on the selected effect.
Effects Table – These are the available effects, they are all created mathematically using 8 bit processing. The result is generally lo-fi and edgy, but smooth fat sounds are also possible.
In this video:
Here's a little Kraftwerk-like jam showcasing the WMD Gamma Wave Source wavetable oscillator module.
Our TR-909 Rim Out is clocking the Kilpatrick K4815 Pattern Generator and one side of a Livewire Dual Bissell Generator as a simple Attack/Decay envelope generator.
The pitch CV of the K4815 is running to the other side of the Dual-Bissel, using it to generate portamento. This is much more fun than your typical portamento as you have control of up and down glide rates.
The new Critter and Guitari Pocket Piano GR is being played using its new mono glide mode, which sounds really nice!
For filters on the Gamma we're using a Division 6 Filtaire, modulated by the Livewire Vulcan's sinewave, and a Metasonix R-54. We're also using a Metasonix r-51 as our VCA and the Flight Of Harmony 'Sound of Shadows' karaoke delay.
August 9, 2011 · Posted in
Uncategorized
·
Comments Off

on Turbulence – a new modular waveshape sequencer AU plug-in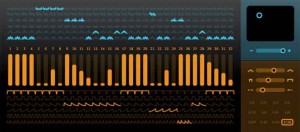 Sinevibes has announced Turbulence, an AudioUnit effect plugin for creating rich animated synth textures. At it's core it employs unique waveshaping algorithms that drastically transform the input signal, enriching it's spectral content. But most fun stuff comes from it's flexible step sequencer which drives waveshape modulation, envelope matrix and model matrix, allowing you, say Sinevibes, to create almost any rhythmical pattern imaginable. With all these tools combined, Sinevibes believes that Turbulence can easily turn simple waveforms into a huge variety of complex motion sounds with incredible richness and character.
Turbulence features:
Sequencer with up to 32 steps, variable swing and speed.
Waveshape matrix with 6 high-definition algorithms.
Envelope matrix with 6 shapes, adjustable time and smoothness.
Intuitive, high-contrast user interface.
Pricing and Availability:
Turbulence is immediately available as a download for $39. It requires Mac OS 10.5 or later, and a 32 or 64 bit AudioUnit host application that supports Cocoa user interface technology.
More information:
May 3, 2011 · Posted in
Uncategorized
·
Comments Off

on DubSpot presents you with a "WaveShaper Combinator Effect w/ Malström" tutorial
For more info – http://bit.ly/kxOGZt
In this new video tutorial titled To Waveshape the Future, Dubspot instructor and electronic music producer Chris Petti shows you how to create a WaveShaper Combinator effect patch from scratch using Propellerhead Reason's powerful synthesizers Malström and Thor. First, Petti starts with a fully-built WaveShaper effect patch plugged into to the output of Thor (which is generating an unprocessed sine wave) with a series of real-time controls mapped to Combinator. When the WaveShaper is engaged, the unprocessed sound is transformed dramatically. Then, in a step by step process, Petti demystifies the method he used to create the effect patch and shows you how to build your own WaveShaper effect from scratch, utilizing with a blank combinator patch. At the end of the tutorial you should have a good grasp of how to Wave Shape (process, bend, twist, or modify) any incoming sound and make the lead elements in your tracks more effective and lively.