Showcasing the WMD Gamma Wave Source
The WMD Gamma Wave Source is a dual digital wavetable VCO that can create millions of timbres using onboard digital "effects".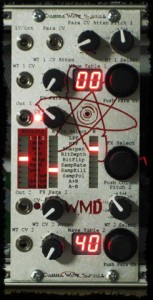 The Controls
1V/Oct – Pitch input, used with standard 1 Volt per Octave keyboards and MIDI-CV converters. 0-5 volt input.
Pitch 1 & 2 – Controls the relative pitch per channel.
WT 1 & 2 Select – Select the desired wave table from the chart. 256 are available, each producing a different sound. Click for the table chart.
Out 1 & 2- Oscilator section output, each puts out +-2.5V/ 5Vpp signal.
The Effects Section
The GWS has four effects pipelines. Two for each oscilator. The Routing table selects how the oscillators interact with the effects pipelines.
FX Select Knob – Pushing this knob in will select the column that the knob is adjusting. Turning it will adjust the LEDs in the select column and will alter the Routing or Effects selection.
FX Para 1 & 2 – These knobs control the FX parameter for the oscillator section. Each effect has a specific parameter that is controlled by this knob. Adujust to taste.
Para CV & Attenuation Knob – This is a CV input for modulating and controlling the effects on the oscillator. Press the WaveTable Select knob to activate CV control per oscillator section. The LED will light when CV control is active. The FX Para knob will adjust the center or edges of the CV control depending on the selected effect.
Effects Table – These are the available effects, they are all created mathematically using 8 bit processing. The result is generally lo-fi and edgy, but smooth fat sounds are also possible.
In this video:
Here's a little Kraftwerk-like jam showcasing the WMD Gamma Wave Source wavetable oscillator module.
Our TR-909 Rim Out is clocking the Kilpatrick K4815 Pattern Generator and one side of a Livewire Dual Bissell Generator as a simple Attack/Decay envelope generator.
The pitch CV of the K4815 is running to the other side of the Dual-Bissel, using it to generate portamento. This is much more fun than your typical portamento as you have control of up and down glide rates.
The new Critter and Guitari Pocket Piano GR is being played using its new mono glide mode, which sounds really nice!
For filters on the Gamma we're using a Division 6 Filtaire, modulated by the Livewire Vulcan's sinewave, and a Metasonix R-54. We're also using a Metasonix r-51 as our VCA and the Flight Of Harmony 'Sound of Shadows' karaoke delay.
Comments