3-D The Mix Show 22nd January 2015
20150130 BBC Four HD Kraftwerk PopArt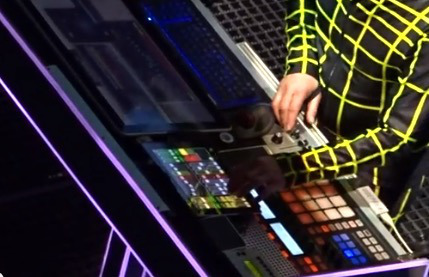 No copyright infrigement intented.
Used for the purpose of criticism and education.
NOTE: This is a live cover. I don't recorded the ambience sound of the public, bacause it was a small auditorium. Record was done though Mixer REC OUT.
Sequenced parts done on Cubase 5, than passed to Roland SP-404.
Hardware instruments used:
Roland SP-404 sampler
Korg T3 Master MIDI keyboard
Yamaha AN1x
Roland XP 60 fully expanded
Roland V-Synth XT
Roland JV-2080 fully expanded
Korg TR-Rack
Originally broadcasted on Arte TV in Germany & France
Great mesmo's Kraftwerk Klone,Roboticx (pronounced robotics).
Made in the late 90's with an Atari 1040ste and an Akai So1.Recorded onto a Tascam 8 track through a Spirit Soundcraft mixer (16:8:2) with effects from my rack.Drums were from my Korg 01/WR
KraftWerk @ FrenchTV1978 RARE By Nafoute Radioactivity
Kraftwerk – Musique Non Stop (final solos)(live in Wien 2014)
Nintendo 8-bit version of "Home Computer" by Kraftwerk. Everything except the vocals are recorded with the Midines, in one shot.
The synthetic speech is made with SayIt by AnalogX:
Here's an old favourite played solely on the new Stylophone S2, recorded on the OP1.
The video shots are the actual performances.. no fake dubbing. (I had some trouble with the sync though. I'm hoping it's ok.)