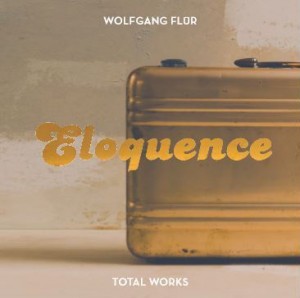 Eloquence: Total Works is the definitive compilation of ex-Kraftwerk percussionist Wolfgang Flür's electronic pop compositions from 2002 to the present day. "I selected the tracks on Eloquence to show the width of my artistic possibilities from lyric writing," he explains. "Melody development, working with my voice and my being involved in collaborations with interesting international artists".
"With Kraftwerk, I was a drummer and device inventor. I only detected my own more melodic musicality after I left my former group. If Kraftwerk played minimal electro, then I now play 'maximal electro'; for example, I have nothing against the sound of a trumpet in a song if it fits well, as in my track Best Friend's Birthday. In this respect, Eloquence charts my development from a drummer-boy to a melody inventor and story-telling man and it's been a great journey for me."
Eloquence starts with his sung autobiography, "I Was A Robot" which was a No.6 hit on the German Club charts. And instantly we hear Flür's own Kraftwerk heritage shining through. Whereas Kraftwerk were known for their stripped down arrangements, Wolfgang overlays lush melodies that fuse elements of electronica, jazz, Krautrock, dance music and verbatim theatre into one truly timeless innovative track.
"As a collection, Eloquence shows my way of performing most of my songs as a story-teller than a vocalist," he continues. "I slip into roles like an actor inside the song, trying to be the character within the song alongside my talented music partner and co-producer Stefan Lindlahr."
The second track, Cover Girl, was intended as Wolfgang's mark II to Kraftwerk's The Model. A story to follow the mannequin's career to her unfortunate end.
A truly international collection, Eloquence in all of its editions – Clear Vinyl Double LP, CD and Download – includes German versions of Cover Girl and On The Beam and a Japanese version of On The Beam sung by ex-Pizzicato Five's vocalist Nomiya Maki.
Tracklist:
01 – I Was A Robot
02 – Cover Girl (The Ninjaneer Mix)
03 – On The Beam (English Version)
04 – Blue Spark
05 – Staying In The Shadow
06 – Moda Makina (Fashion Machine)
07 – Beat Perfecto
08 – Axis of Envy
09 – Best Friend's Birthday
10 – Pleasure Lane
11 – Silk Paper
12 – Golden Light
Bonus tracks:
13 – I Was A Robot (Radio Edit)
14 – Cover Girl (English Version)
15 – Cover Girl (German Version)
16 – On The Beam (German Version)
17 – On The Beam (Japanese Version)
18 – On The Beam (Tokyo Minimal MIX)
Wolfgang Flür delivers the sparkling news that his new solo album 'Eloquence: The Complete Works' will be released on 16th October 2015 via Strike Force Entertainment & Cherry Red Records. Find out more here: http://eloquence-wolfgangflur.com
Stay tuned with E.D. Music Channel
More interviews and gear demos are coming…
Copyright: E.D.Music Co.
Special thanks: Peter Zinovieff, Isao Tomita, Wolfgang Flür, Hideki Matsutake, CEvin Key, Russell Haswell, Hisashi Saito, Galcid, Doravideo, Risa, Dave Skipper, Kenichi Hata
Music video for the Jack Dangers/Wolfgang Flür collaboration 'Staying In The Shadow', exclusive limited edition clear vinyl seven-inch, only available via the Electronic Sound Music Club.
Details here: www.kickstarter.com/projects/147541…lect­ronic-sound
Dublin-based synthpop act Empire State Human have announced a remix competition hosted exclusively by Laptop Rockers. This is your chance to take part in remixing their new track, "Melancholic Afro," featuring Wolfgang Flür (ex-Kraftwerk/Yamo).
…well they are all living evidence that Wolfgang Flur has not finished his music career after Kraftwerk. For those of you who still have not come to enjoy Dyko – make sure to check them out

[youtube=http://www.youtube.com/watch?v=imHVAlXv2XY]
…and for those of you who always wondered what happended to "Das Model", well here's Flur's take on it, not new but clearly worthwhile watching:
[youtube=http://www.youtube.com/watch?v=3KgTZbJrt5k]
…and Yamo, well go check it out for yourself >>
…and the reason I am posting this — I have started to re-read "I was a robot" and got inspired, hehe
Cheers