Stay tuned with E.D. Music Channel
More interviews and gear demos are coming…
Copyright: E.D.Music Co.
Special thanks: Peter Zinovieff, Isao Tomita, Wolfgang Flür, Hideki Matsutake, CEvin Key, Russell Haswell, Hisashi Saito, Galcid, Doravideo, Risa, Dave Skipper, Kenichi Hata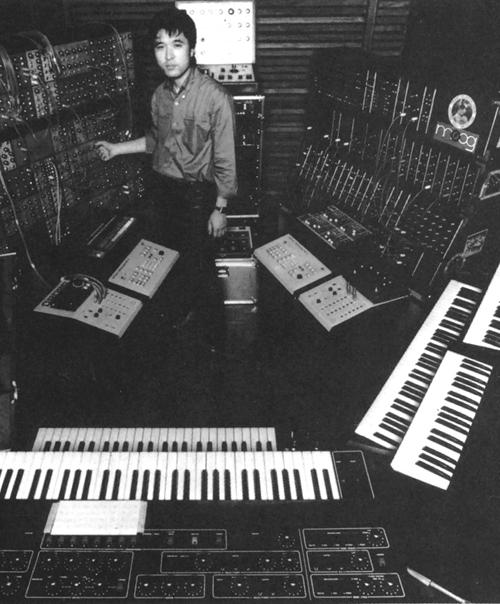 Logic System is the musical project of Hideki Matsutake who was the sequencer and synth programmer for Yellow Magic Orchestra between 1978-1982, often referred to as their fourth member. Before this he was the apprentice and later assistant to electronic 'space music' composer Isao Tomita.
Inspired by Wendy Carlos' album Switched On Bach, Matsutake started out in the industry arranging and programming for albums of Moog-ified popular songs (including a Beatles album), which were gaining popularity during the 70's. He was involved in the production of various releases from pop/new wave artists in Japan (and for each member of YMO's solo careers) throughout the 80's, and he somehow found the time to begin to record his own output in 1981 under the name Logic System.
Full article including tracks listening can be found here >>
Released last week, here´s the first demo of the new iOS synth
Description: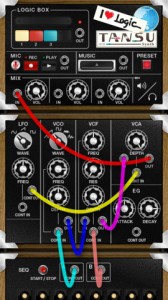 The iOS application – which is named "TANSU (dresser)", is a miniature
version of a Modular Analog Synthesizer. This synthesizer is the same as the
one used and mastered by Hideki Matsutake of LOGIC SYSTEM.
The sounds that were sampled and used for the VCO (Voltage Controlled
Oscillator) come directly from the actual "TANSU" owned by Hideki Matsutake
himself.
In addition, it also contains many original LOGIC SYSTEM recordings. The
application condenses the fun, experience and sound of an actual modular
synthesizer onto the small screen of an iPhone!!
What will the sound be like when using the application? This application is
focused on providing the user with the feeling and excitement of using the
actual synthesizer for which it is based.
Not only for a techno fan, but for any music lover!! Feel what it is like to
create your own music!!
Try this application to experience the "the birth of sound and music."
http://youtu.be/HXHUyo63nBc
シンセサイザー:松武秀樹・相沢舞・飯野賢治
【ニコ生】松武秀樹・相沢舞の『テクノスクール』
http://www.music-airport.com/techno-school/
Mai Aizawa, Kenji Iino, Hideki Matsutake: synthesizer
"Techno School" of Mai Aizawa, Hideki Matsutake Nico [raw]
We can also see Ryuichi Sakamoto's daughter Miu do the singing

Also known as Logic System
「タンス・マトリックス」アルバム内容
収録曲
(※ ♪マーク付きの曲はページ下部で試聴できます)
1. Turning Point – Epilogue ( Comp : H.Matsutake )
2. Hypnotize ( lyrics : A.Muto , Comp : J.Irie )♪
3. Wandering On The Road ( Comp : A.Kosaka )
4. Digiphone ( Comp : K.Yamamoto)
5. 桜繚乱 ( lyrics : N.Oikawa , Comp : J.Irie )♪
6. THOUSAND KNIVES ( Comp : R.Sakamoto )♪
7. Sweet Memories ( lyrics : T.Matsumoto , Comp : M.Omura )
8. Nenkororo (MOSH) ( Comp : K.Hiro)
9. LEFT-HANDED WOMAN ( Comp : K. Omura )♪
10. LOVE ( lyrics : A.Muto , Comp : J.Irie )
11. Y.M.C.A. ( lyrics : Belolo Henri , Comp : Morali Jacques )♪
12. a long cool rain ( Comp : A.Kosaka )
13. Go!! Rise!! Cow!! ( Comp : K.Yamamoto )
14. Land of 1000 Dances ( lyrics & Comp : KENNER CHRIS )
15. Some Enchanted Evening ( lyrics :Hammerstein Oscar II , Comp : Rodgers Richard )
16. Turning Point – Prologue ( Comp : H.Matsutake )
Logic System is a musical project of Hideki Matsutake. Hideki started as an assistant for Isao Tomita in the 70's and is well-known as the sequencer programmer and modular synthesizer operator for the Yellow Magic Orchestra (YMO), but he wasn't a member of YMO. He worked on several of their albums and toured with his huge collection of synths. He also did sequencing work for numerous technopop albums for other artists, particularily in the early 80's. In 1996 he performed in a big concert event organized by Isao Tomita and was also guest on Towa Tei albums. On his website is a huge number of MIDI files he released, with some of YMO's original songs.
Justcame to think about it, if you are a fan of YMO, just like me than you really should check this old 80's band out. They are especially good if you are studying since this music is good enough to get you into a relaxed moe when trying to focus, but "bad" enough not to get you engaged and start sing a long (this is especially tru since it is instrumental, at least mostly, and you do not understand any of it since it is in japanese.
So let me introduce one of my old time favorites the Logic System
Enjoy and have a nice weekend…
[youtube=http://youtube.com/watch?v=pQHjR5Ut5dk]
[youtube=http://youtube.com/watch?v=1FceMusRQJ0]
btw sorry it is only still images in the "video"