NAMM2016 Introducing the New Sputnik Modular Eurorack Modules
Sputnik Modular – Dual Multisegment Function Generator
Sputnik Modular – Sequential Filter
Sputnik Modular – Spectral Processor
Sputnik Modular – KB MD Expander
Sputnik Modular – Frequency Shifter
Sputnik Modular – 16 Step Voltage Source
Sputnik Modular – Multistep Voltage Source
Sputnik Modular – Dual Envelope & Gate
Available soon from
http://analoguezone.com/sputnik-modular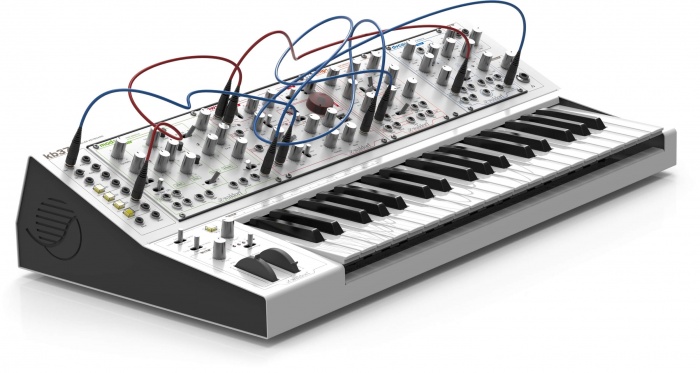 Waldorf Music has introduced its Eurorack Pack, a stylish, state-of-the-art, self-contained modular synth system, comprising the kb37 Controller Keyboard, and three colourful new modules for the Eurorack format to accompany the already-available nw1 Wavetable Module launched last year.
Our developers came up with a keyboard that is both intuitive for the beginner and versatile for the professional. And it's just as solid and elegant as all our instruments that we build here at Waldorf in Germany. kb37 is a compact and rugged performance instrument. It can house up to 100 HP of modules in its conveniently angled panel that sits right on top of the super high-quality Fatar TP9 keyboard.
With its high-resolution and temperature stable 16-bit CV interface, it provides extremely flexible control for your modules. MIDI channels are programmable, making the kb37 the perfect partner for both studio and stage. It provides perfect connectivity to all your modules to serve both the player and the sound designer's desires with an array of real-time control elements such as pitch and mod wheels. The professional, full-sized 37-note keybed transmits velocity and aftertouch.
New modules
mod1 — Three different modulation sources in one module make the mod1 the control center of your modular patch. From simple envelopes and LFOs to complex looped multi-stage curves, the mod1 delivers rich and endless modulation options – all based on pure analogue circuitry for everything from super- smooth curves to razor-sharp edges that never sound "digital". From gently undulating LFOs to ultra-precise hard cuts, you get it all based on innovative analogue circuits for a truly musical touch.
dvca1 — Built around two VCAs with a wide range of options including the most important one: the ability to musically colour the signal. Starting in dry mode, you get high-precision analogue amplification. But then when you turn the Colour knob, you add a warmer and more colourful timbre to the signal based on a finely-crafted state variable filtering circuit. But there's more: Simultaneous linear and exponential control as well as specialised AC and DC coupled inputs are provided. A positive gain control makes the dvca1 a true "amplifier," and flexible link modes let you create modulated panning.
cmp1 — A true high-end analogue compressor not only adds punch to your signal, but it also can be modulated in intriguing and unconventional ways! Side-chaining with a adjustable balance control will open a huge set of modular possibilities. The cmp1 has all the features you expect from a modern compressor including attack and release control, automatic and manual modes, hard and soft knee as well as output gain and bleed amount of the original signal.
The Eurorack Pack products are expected to ship Q3 2016.
» Keyboard & controllers
— Fatar TP9 37-keys keyboard with aftertouch
— Multiple velocity curves
— Pitchbend wheel
— Modulation wheel
— Glide
— Selectable note priority
— Octave up/down switch
— Gate retrigger
» Module section
— Width: 545mm/107 HP
— Eurorack compatible bus
— Bus CV & Gate linkable to CV interface via jumpers
— Built-in regulated power-supply (+12V/-12V, 1.5A)
» CV interface
— 8 CV outputs
— Pitch
— Velocity
— Aftertouch
— Pitchbend
— Modwheel
— 3 user-assignable MIDI controllers
— 3 Trigger outputs
—Gate
—Clock & Reset outputs for MIDI sync
» Connections
— USB with isolation
— MIDI In, Out, Thru
— Sustain pedal input
— Sensor input?/?output
— Stereo line outputs with volume control
— Headphones output with separate volume control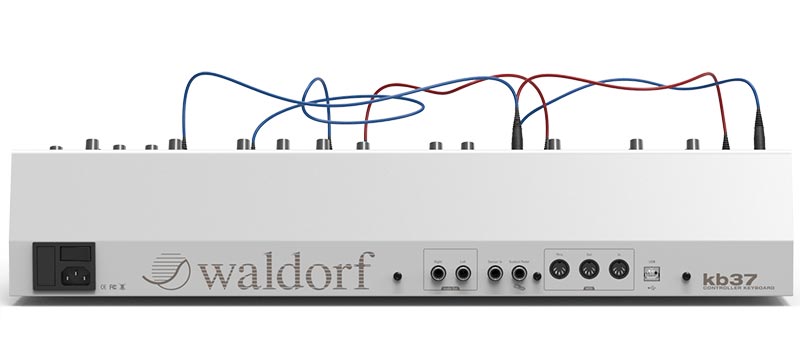 Claude Debussy's classic "Des pas sur la neige". Made with a patch up of the large format and Euro rack format modular synthesizer. Recorded in real-time to a stereo track in Cubase with Valhalla Shimmer added in places for reverb.
The Lifeforms SV-1 is a fully patchable synthesizer module, designed to be the heart and soul of any modular system. It features two independent, full-range analog oscillators. Each one generating beefy, organic waveforms perfect for dynamic and inspired performances. Did we mention the filter? Rich and thick, the sound of the revered Pittsburgh Modular Filter is unmistakable, dripping with harmonic character over the entire voltage controlled frequency range. In addition to the flexible oscillators and buttery filter, we rounded the SV-1 out with a staggering feature set designed to fuel the creative fire.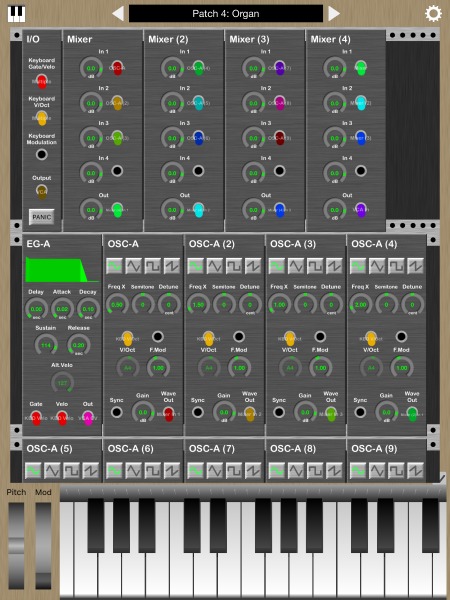 Ryouta Kira has released the  KQ MiniSynth, a polyphonic modular synthesizer for iOS. It supports External MIDI and Inter-App Audio.
Ryouta tells us, "The maximum number of modules you can set is 100… Of course it depends on your device's ability. You can install 10 Oscillators, make 10 series FM Modulators, and so on as you want."
The app implements the follow modules.
Oscillator
Oscillator Type A (Frequency Modulation)
Oscillator Type B (Pulse Width Modulation)
Super Saw Oscillator
Low Frequency Oscillator
White Noise Generator
Mixer/Amplifier
4 Channel Mixer
Voltage-Controlled Amplifier
Sample-and-Hold Amplifier
Booster
Envelope/Logic
Envelope Generator Type A
Envelope Generator Type B
Inverting Circuit
Logical And (Series Switch)
Logical Or (Parallel Switch)
Maximum/Minimum Selector
Modulator
V/Oct Vibrator
Keyboard Level Scaling
Ring Modulator
Filter/Effector
Voltage-Controlled Filter (LPF/HPF/BPF/BEF)
Delay Effector
Reverb Filter
Compressor
Pricing and Availability:
$3.99 at the app store.
Festive blinkenlights!

This is a self-playing patch on my modular, with no external sequencing.
Track is also available here:
https://soundcloud.com/ikjoyce/yuletide
The long awaited, always changing arsenal that is what must surely be the largest Plan B synth on this planet.
Vince Clarke Music has relaesed the IMAGINATOR VCX-378, the second product release in an ongoing series of creative and utilitarian modules for the ever-present Eurorack small-format modular system, designed and built to exacting standards in close collaboration with British 'boutique' analogue synthesiser and accessory designer/manufacturer Analogue Solutions.
Musical imagination is a wonderful thing. Synthesisers and associated modern-day music technology can help make that happen in wonderful ways. With an amazing number of hit singles and chart-topping albums to his Ivor Novello Award-winning songwriting name and an accompanying hard-earned and hard-working synthesiser collection to die for, synth-pop pioneer Vince Clarke clearly has it all in spades. So just imagine if you could call upon an amazingly musically inspirational device for assistance when seeking that defining elusive musical hook… well, you need not imagine anymore as the IMAGINATOR VCX-378 does just that, fresh from the imaginative musical mind of Vince Clarke! After all, sometimes serious songwriting synth-pop pioneers still need a helping hand (or Eurorack module): "I wanted a practical writing tool that would generate musical patterns based on user-controllable variables."

Vince Clarke got what he wished for… the ingenious IMAGINATOR VCX-378 produces one-bar musical phrases based on either user-control of the Clarke company's clever bespoke musical algorithm or a quasi-random solution. So anyone seeking to trigger their own musical imagination (and MIDI synthesisers) should simply add an IMAGINATOR VCX-378 to their Eurorack small-format modular system setup. The result? Almost unlimited combinations and permutations that will both inspire and amaze as it helps when searching for that defining elusive musical hook.

Housed in a 36 HP-width Eurorack module, the IMAGINATOR VCX-378 has a front facia-located one-octave 'keyboard' — with each 'note' having a push button and associated LED — alongside two Quantize sections, Octavize and Transpose sections, a Velocity treatment, plus internal (Sequencer) and external (Midi/Clock) clocking, as well as a full MIDI interface.

In most cases, users will want to sync to their sequencing software by sending the IMAGINATOR VCX-378 a MIDI note clock. This can be downloaded from the Clarke company website. The IMAGINATOR VCX-378 then references these notes and uses this information to clock the musical patterns it produces. With everything correctly connected, users can use soft synths or send those musically imaginative patterns out to an external synthesiser — something close to Vince Clarke's musical heart.

Helpfully, Vince Clarke himself has taken time out from an always musically successful schedule to prepare some seriously userfriendly tutorials to transport the new IMAGINATOR VCX-378 user from novice to expert in no time. "For full operation of the unit, I suggest you make yourself a nice cup of tea and watch the user video," he says, before later concluding: "Thanks for watching… and now I must get back to my day job."

Jesting aside, while the IMAGINATOR VCX-378 makes for a musically imaginative holiday season gift for the seasoned synth lover in someone's life, note that it will produce inspiring musical phrases well beyond the 12 days of Christmas! Let's hand off here to 'tutor' Vince Clarke to blow our musical minds with some insightful IMAGINATOR VCX-378 note-related number crunching: "With one note there are 16 possible positions within one bar for the note to go. With two notes there are 120 possible positions. With three notes there are 560. This increases and then decreases exponentially. So, if we do the math, we can say that using one to 16 notes there are a possible 65,535 combinations. Remember: we are only talking about one note. Once you start adding pitch to
this equation then the numbers really go through the roof. No wonder there seems to be an unlimited number of one-bar patterns." Perhaps the IMAGINATOR VCX-378 is not just for Christmas, after all?
The IMAGINATOR VCX-378 is available from Analogue Solutions for £349 GBP ex tax and delivery.
Utilizing the Moog Modular System 55, the psychedelic dub artist known simply as Ott designs a sonic environment in which to explore the duality of connection and isolation.
Learn more about the System 55 at:
http://www.moogmusic.com/products/mod…
Hear more from Ott at:
http://ottsonic.bandcamp.com/
A rack of the clones! Want to get the sound of a classic synth in your Eurorack set-up? An authentic sounding filter is the ideal place to start. We examine the modular world's best filter clones, from MS-20 emulations to 101-inspired modules, to see how they stack up head-to-head.
See more in issue 294 of Future Music: http://bit.ly/FMU294