Crazy frequency modulations, random LFOs, oscillating filters…. A bit of tweaking in the beginning then I just let the battle rage on. Done on The Weird Synth 001, a DiY Yusynth/MFOS modular synthesizer. Enjoy the madness.
A continuation of the exploration of the Doepfer A124 Wasp Filter. The Notch, Lowpass, and Highpass portions of the Doepfer A124 Wasp Filter are explored. In the next segment this filter is compared to the Doepfer A121 Multimode Filter. Sound and Video by Raul Pena.
Switched On is now carrying the Super Synthesis "Super37″ powered Eurorack modular case and keyboard. Simply plug in a custom array of Euro modules and build your super synth. The keyboard feels excellent to play and is velocity sensitive, it's very portable, and it has midi out. The onboard midi sends out polyphonic data as well!
It includes one module that allows for switching octaves, velocity out, trig,gate, and of course volt per ocatve out. The modules single LED bulb also indicates the amount of velocity being sent from the keyboard by how luminous it is. And last but not least it can slew voltage from the keyboard to create glide effects.
It features 104HP of high quality Tip Top Audio Z-rail space, includes a Tip Top Audio powersupply, and has a well crafted aluminum chassis with stained wood sides.
They are made by Super Synthesis in our hometown of Austin, TX and we are pleased to be carrying them.
Read more about the Super37 and purchase HERE.
http://www.switchedonaustin.com
As there didn't seem to be too many basic demo's of Serge modulars, 'pjoris2′ tries here to document his discoveries of Serge. He'll start with the most recommended "starter" M-class pannel: the Creature; and more specifically with the basic noisemaker in there: the Voltage-Controlled Timegen Oscillator (TGO). All noises are made with +/- only the TGO. X-Fader used as output, and sometimes the SSG als LFO. An overview of the video:
Basic Functions of the Left Oscillator (Osc 1)
(00:05) Saw wave output
(00:20) Square wave output
(00:30) Frequency modulation using variable CV input
(01:10) Audio-rate frequency modulation
(02:00) 1V/Oct CV input
Basic Functions of the Right Oscillator (Osc 2)
Trigger on (to the right)
(02:15) Triangular wave output with variable rise and fall
(03:00) Frequency modulation using variable CV input
(03:30) Pulse output, varying frequency and duty cycle
(04:30) Demonstrating trigger switch
Trigger off (to the left)
(04:45) Triggering Osc 2 with pulse out of Osc 1
(05:00) Depending on the relative settings of Osc 1 & 2, the frequency of Osc 2 is now controlled by Osc 1. We can vary now Rise & Fall without changing the pitch of the Osc 2 output.
(05:40) Now using the Pulse output of Osc 2: pulse width modulation.
Using Right Section as Filter
(06:00) Plug in saw of Osc 1 in the lower Sig In (black jack). The Rise pot changes filter cutoff. The Fall pot only makes signal more quiet.
(06:30) Filter cut-off modulation using the VC in of Osc 2.
(07:30) Audio-rate filter cut-off modulation
Saw of Osc 1 in Input of Osc 2 and Trigger On
(08:00) Filtering was with Trigger Off. Now see what happens with Trigger On for Osc 2. No idea what it does, but sounds interesting …
(08:40) Adding frequency modulation of Osc 2.
Feedback on Osc 2
(10:00) Feedback the output in the CV In: that way you get exponential (+ modulation) and logarithmic (- modulation) slopes
(11:00) Feedback of the output in the Sig In. No idea what this is.
(11:30) Add an LFO to the CV in. Even more noise.
(12:00) Certainly if you take the modulation into audio frequencies !
And finally: some more feedback:
(12:45) Osc 1 out in Osc 2 Sig In, Osc 1 Pulse in Osc 2 Gate in, LFO in Osc 2 CV in.
A test of the prototype PCB for the Two Thousand Six Hundred (TTSH) project.
Multitracked with all sounds, including drums, from the TTSH.
www.thehumancomparator.net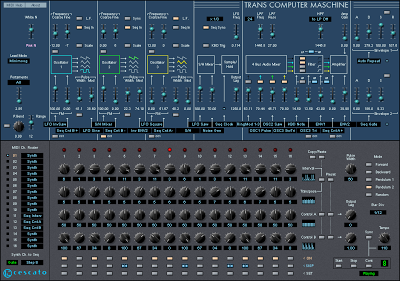 Cescato Musiktechnologie has released version 1.30 of Trans Computer
Maschine plug-in for Windows, a freeware Semi-modular Vintage Lead
Synthesizer + Pattern Sequencer modeled after two legendary mono
synths and a custom analog sequencer from Germany.
New features include:
- Added 'Envelopes' gate input indicators.
- Added 'Filter Cutoff Link' switch for band-pass use.
- Added 'Filter' modulation indicators.
- Added 'inverted Seq Cnt' modulation sources.
- Added labels to Sequencer 'Skip' buttons.
- Added middle position 'Preset' for Sequencer interval row.
- Added 'MIDI Ch. Router'. input indicators.
- Added mixer 'Oscillators Waveform' selection from GUI images.
- Improved Sequencer transport section featuring status display.
http://www.freewebs.com/wallyaudio/index.htm
Viennese-bred producer Patrick Pulsinger has managed to leave his warped electronic signature on just about every style and tempo of dance music, including albums from Hercules And Love Affair and Elektroguzzi among others. Here, he demonstrates patching his bespoke modular synth at the 2013 Red Bull Music Academy in New York.
Originally from East Germany, Pulsinger moved to Austria while still a child, and got into producing acid techno after he moved to New York to escape the Austrian military service. On returning home, he set up the Cheap Entertainment label and began releasing his music under various pseudonyms, on imprints like Disko B, Compost Black Label, and Mo' Wax. Weaving together elements from across the spectrum of Detroit techno, Chicago house, funk, jazz, electro, soul, hip hop, and disco, Patrick has the ability to spin out a masterpiece. When he isn't working on compositions for film scores, collaborations with orchestras and choirs, or as co-operator of Vienna's Feedback Studio, he is also responsible for two remarkable albums in electronic music in recent years: Elektro Guzzi's self-titled exploration into organic techno, and the second album by Andy Butler's Hercules and Love Affair.
For more films, lectures and features, visit redbullmusicacademy.com
Continuing on from yesterday's video featuring the MFB Urzweg – here's a new video hooking it up with a full blown modular system
MFB Urzwerg Pro is controlling four separate synth channels on Synthesizers.com Modular System. Each row sends CV for oscillators and Gate for Envelope(s); MIDI Out from Urzwerg is transmitting MIDI Clock to Acidlab.de MIAMI Analog Drum Machine. TC Flashback Delay (set at eight dotted lenght) is connected to Aux Send on mixer. Far on the left of picture, the 960 Step Sequencer acts like a "real time preset voltage source" for full four sequences transpose.
MFB Urzwerg Pro step sequencer is controlling Doepfer Dark Energy mk I analog synthesizer. CV 1 goes on pitch, CV 3 goes on Cutoff, CV 4 goes on Amp; Gate 1 goes on EG Gate. LFO 1 Square wave out from Doepfer goes to External Clock on sequencer.
This semi-improvised piece is recorded live, in one take, and features the MU format synth and the EMW200/300 cross-patched. The new DotCom S/H module is playing the cello like sound from the DDVCO. The EMW is providing filter filter modulation and some counter melodies from the sequencer and S/H section. I must also point out the new STG Soundlabs mixer and say that Eric's claims about the sound are absolutely true. Everything I feed through it sounds better coming out than going in. Off camera there are some effects units that are being controlled by hand (and foot) to process the sine wave from the small Eico signal generator.
May 5th is the birthday of Radiophonic Workshop pioneer Delia Derbyshire.
On a lazy Sunday Morning, Mario Bianco is extracting some weird and bubbling noise from his mighty EuroRack Modular Synthesizer; mainly Makenoise and Harvestman and Livewire and 4ms, sounds goes naturally in a "buchlesque" direction. Have fun.
"I tried to squeeze the most Trance I could out of the modular. Hope you enjoy it!"