Selfgenerating patch featuring a crazy jazzy oriental vibe – to me at least.
Patch notes:
1.) Rungler Pulsed -> 24dB HP in, triggered by Dual Env, selfmodulating via S&H Feedback to MOD B
2.) TwinPeak triggered by Dual Envelope same Feedback modulation as above
3.) oscHRM triggered by a B Envelope of the TwinPeak filter. FM'd via a second oscHRM, level of FM controlled by a triangle LFO into VCA of the modulating vco. Pitch via S&H out B into Quantizer.
In the end El Cap on the 2 buss.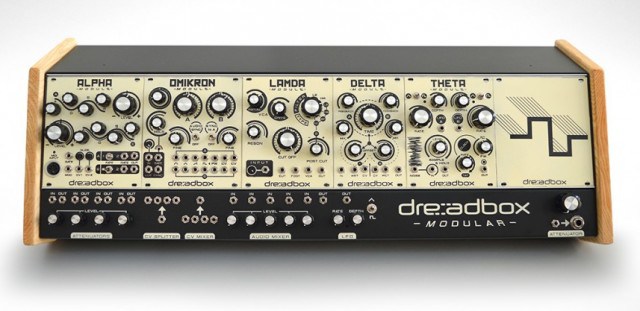 Dreadbox – maker of the Erebus and Hades synthesizers – has revealed new information on their Eurorack modular synthesizer line. The Dreadbox Modular lineup includes four Eurorack systems, including the Primary System, a 122 HP Modular Case, and a line of Euro modules. The Dreadbox Modular Case is priced at US $649. The Primary System, which features the case bundle and five modules, is priced US $2,435. Individual Eurorack modules are priced $259-$439 Details are available via their site.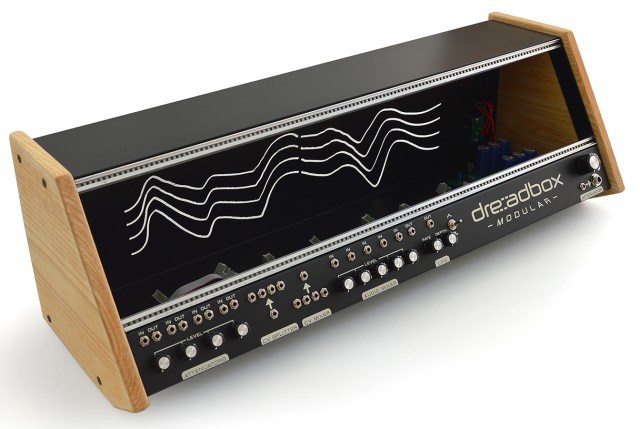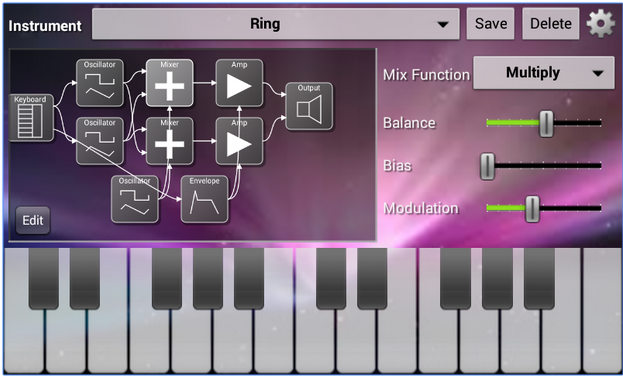 ModSynth allows the creation of many different kinds of music synthesizers. Connect any number of oscillators, filters, delays and other synthesizer modules in a graphical flow editor. Then, adjust the settings of each module while playing the instrument to get a desired sound. Save as many instruments or variants of an instrument as you'd like. Eight built-in instruments are provided to help you get started.
The free version is ad supported and contains the following modules:
– Keyboard to receive the notes as they are played (via the onscreen keyboard or a MIDI keyboard)
– Pad to control two dimensions of sound, such as pitch and volume, for theremin-like control
– Oscillator to generate different "raw" tones
– Filter to shape the overtones of the sound
– Envelope for describe how a value (such as overtones or volume) change over time
– Mixer to mix two sounds together
– Amp for change the amplitude of the sound
– Delay for delays and echo effects,
– Output to hear (and see!) the sound
In-app purchase the full version (for $4.99 US) to remove ads, unlock advanced capabilities, and access additional synthesizer modules:
– MultiOsc for smooth chorus sounds,
– Operator for building FM synthesis,
– PCM for sampled sounds,
– Sequencer for adding loops,
– Reverb for simulating room acoustics.
ModSynth has USB MIDI support for external MIDI keyboards. It has low latency on devices supporting Android low latency (such as Nexus). All oscillators are anti-aliased, providing low distortion at higher frequencies.
A guide to using ModSynth can be found at http://gallantrealm.weebly.com/modsynth.html.
If you don't see a capability you'd like, comment! There's a good chance it can be added!
By adding an extra oscillator to your Arturia Microbrute you can greatly expand the sonic possibilities of this already competent synth. I'll show you how to use the mod matrix to connect oscillator modules from Pittsburgh Modular. By tuning the oscillators and using pitch, envelope and LFO CV – I get the Microbrute, the Waveforms and the DNA Symbiotic Waves modules to sing beautifully together.
More on the Pittsburgh Modulars:
http://pittsburghmodular.com/waveforms/
http://pittsburghmodular.com/dna-symb…
Patch experiment using the Noise Engineering Variatic Erumption x 2, and Minigorille CV graphic modules x 2. Clock output from the Tiptop Circadian Rhythms into the CV Graphic input 1, left side (purple). Then another output from the TipTop CR taken to the right side (siliver) CV Graphic module. Output 4 from the Tiptop CR sent to the left side Variatic Erumption (ext gate to the hit jack input) which would send very slow burst of random gates. The CV Graphic CV output (PONG sequencer mode 2) A and B would output bouncing ball like CV voltages to the Variatic Erumption CV Pattern, and Time/Division input. This created some very organic scattered sequencing taking one output that was triggering a Snazzy Fx Ardcore running custom frac drums patch.
The other output was running into a trigger input on the Mutable instruments clouds, which is causing the light granular scattering in between the beats. Another output from the V.E. running into the Noise Engineering Basimilus Iteritas, for the FM pluck like percussion sound. Next output from VE running into a 4ms RCD, random triggering spaced out burst to the clock input. From here, the output was taken (4)out to the MakeNoise Optomix set slightly open, which was running a ALM's new "Akemie's Castle" dual voltage controlled oscillator, running out the chord output (OSC A). From the Akemie's Castle the output is going into a Tiptop Z-DSP processed with the The Halls of Valhalla card running program 7 (Asgard). Mult output also taken to the Strymon Big Sky pedal running in "Chorale" mode mix completely wet for delicate melodic swells. Making the rich choral timbres. Another gate output from the Noise Engineering V.E. running into the Mutable Instruments (mystery) module. Output from here sent to the Qu-Bit RT-60 effect module, which is also being triggered (for effects program change) via by the 5 division output from the 4ms Rotating Clock Divider.
Kick drum created using the MakeNoise telHarmonic module, running into a Optomix. Snare and hi-hat sounds courtesy of two Ladik D-333 Rom players. One running the Snares card, and another running hi-hats. Both outputs being summed into the Synthrotek DLY module. The delay input being modulated by a modcan QuadLFO output 1 slow S&H. First sequenced notes via the Mutable instruments Braids running the new "HARM" additive harmonics mode. The quantization was set to "Oinian". Second Braids for other harmony running the "OPSK" smooth sine like melody, VCA mode set to on, with short decay for pluck like quality. Signal for both braids are being sent to another Qu-Bit RT-60 running program number 1-Reverb. Quantization set to "Oinian". Bassline sound created with a Intellijel Shapeshifter output 1, then being run into intellijel uVCF filter in LPF input, then the signal goes out a Qu-Bit RT-60 in program 1 Reverb.
Link to download the free track here: bit.ly/1LkddOy
Link to the Noise Engineering Variatic Erumption: noiseengineering.us/variatic-erumption
Link to the Minigorille CV Graphic Module here: minigorille.com/cv_graphic.html
In this video it is shown how to send CV from Eurorack modules into Patchblocks. This can be used to sequence Patchblocks from analogue sequencers. Patchblocks are hardware audio modules, created by Sebastian Heinz, that you can program with your Mac or Windows computer.
Slide:
AAQAAAEneJxlz8EOwUAQBuB/2Y62PASRuEl2q7TN­nlwkDuIgLm6lJBJRh27Ek3gMj+UxalAisbOHPXz7­zwxAXSfA95Tl836ekLMin0AO9SACPEqdO9xRYhSX­FgICcGf2UOxPhwvkTm2H/IV6tERDG/1kLGpAfZxl­kMkujgGfrHODq0wQVcBjsEjPkPE64ABBK+qgGYbK­VMVGiv9OLq2dM3xt+lp9nA80xzbb5+3p8WQLyO1G­J5xPPd7S+ybWOI5XlEDrree2ePE4SjMembp0/eF4­AFDANHc=
Scale:
AAQAAAIseJxtUctKw0AUPbFp7tRYbSuouPIDFDIx­SVtmVVBRpLioe0mbFALBFE0sfpEbwQ8puPELBHd+­gAvRemNfis7MYph77jnnngFoZDxgvsbj/MyuEO0s­TqNBfAu9b4UuUBNLdAchlbSVpWwNWAdWWlkQJTtn­WTrIUuiNuh8AOj2JF5QsNd2A0U6CLE6gW57VBcri­go5BUtWnTJr4q0f0YbyiJNWeMxNcAwodf8g6XZsR­BXoTQ5iOM1dijKGh2BnEEbtx/abkJrFNW6AJwl7S­UOYJVxl4EN1EQQjd8d06v9AnHf70VGGBVhBAb/Yb­DR5WLNMzhKX2vSmgmocUBZHdG1xD73puCJjCFKcw­vFxLMqbwT5AGjcR9riSnlnXum+R4cvkdY9iTTaBI­j/w/ixjZOrF147evqtgVm/PxmM3kzqM4Sa7YU8Pj­ACr0TimKs3qNKTphHPZyobBn5+mf889ucFk5yuUA­mkpKtWCsal9Yq2bA
Theremin:
AAQAAAFdeJxtkE1uwjAUhCdg8hwlgNQTcAFaO0pU­UDZlyaKq1JwgJEGKhAJCMRIHoGfgKOy4UTccgD5+­XDb4eeHF55k3A7i/lOL/nM+Xa58QaVWXEOMijoGA­fuQH/ChSyX0coONApmbWrLO8gZjlUQn0WfMIj4FX­fce6/H1iimo5+DLNyjA6es8KoE1v8nBFbwPIT7No­qtViCzFXJdt6VNMevk6GI6WsbQC0Jt8QOs5CVndP­MsDLxVDF1tUu+ESyQ6HcgHRi12s/gXrk0g6SfS3V­B/xbiGl9zVDmeswlUcgVPjK0HHjcXw9/BRFCfw==
This video examines one way to use the Sputnik Modular Selector or any sequential switch to toggle between different audio rate wave shapes to create more complex shapes.
We're giving away one free Sputnik Modular Selector module! Check this link for more details!
https://www.voltagecontrollab.com/201…
Steve Averill plays around with sequencers on analog synthesizer.com rig. Experimental dual Fatar keyboard setup. Analog Drums Beat. Rakershine production Beaverton Oregon.
First run through with Roland Demora Module. Cycled nebulae samples through a custom Demora patch with external clocking (fed various clock divisions and randomised by dynamic destiny switch & Circadian Rhythm master clock) 12db filter plugin and internal patch routing via software

Performed live on a modular synthesizer with Electro Harmonix 45000 looper.
soundcloud.com/fourhexagons/analog-canyon
Patch Notes:
Ableton Live feeds notes to Yarns. Yarns in 4M, clocked by Ableton plays Tides > Clouds, triggers René, triggers Peaks and modulates Elements, clocks Electro Harmonix 45000 playing two loops (SH-101 > Eventide H9).
René triggers Maths Ch. 4 which Gates Elements.
René QCV to Elements VOCT, CV to Elements Mallet.
Maths modulates Elements and Tides:
Elements – EOR > Position, OR > Geometry, SUM > Space
Tides – Ch. 1 env to Tides Level and Smooth, INV to Shape
Additional reverb, delay, sidechain compression in Ableton Live.
100bpm