www.atomosynth.com
Hello World, the man machine cover using the AtomoSynth KOE modular! all sounds come from the KOE modular (except for the drums) including sound effects and the one used with the electroharmonix vocoder, recorded in cubase.
Youtube alias 'alternatingbitmusic' has shared this modular jam session
I've done enough chill vibe sessions, it's time to juice up the pace…
I hope you enjoy my modular techno session.
Instructions at https://littlebits.cc/projects/zoetrope
A zoetrope is a spinning device that produces the illusion of motion. Powered by a DC motor, 30 3d-printed figures spin on a disc inside a dark box. As they spin, three bright LEDS pulse quickly, animating the static 3d-printed figures so that they appear to be walking.
littleBits makes an open source library of electronic modules that snap together with magnets for prototyping, learning, and fun. Find out more at littleBits.cc
Explanation of the gear setup follows the music video…
Happily trying out my recently acquired MOTM series of modular including:
MFOS 16-step sequencer
MOTM-120 Sub-Octave Multiplexer
MOTM-101 Noise / Sample & Hold
Quick demonstration of a few ways to sync the Volca Beats to my modular:
1. Using arpeggio notes of the Korg Microstation to trigger the Volca Beats (trigger in) via a midi to cv convertor (Kilpatrick in this case)
2. Midi clock in the Volca Beats (midi through on the Kilpatrick)
3. Using trigger out of the sequencer (clock out works also)
Ring in the new year with a classic song played on your synth kit! Happy New Years from littleBits!
littleBits makes an open source library of electronic modules that snap together with magnets for prototyping, learning, and fun. Find out more at littleBits.cc
HAPPY HOLIDAYS FROM ANALOGUE SOLUTIONS!
Here's some holiday synthpop action featuring the Analogue Solutions' Polymath modular synthesizer (all synth sounds heard in the video) as well as the wildly talented and unforgettable Christine Anderson on vocals!
The track was assembled layer by layer using ONLY the Polymath as the sound source. Each track was recorded separately into Logic Pro. From the percussive analogue sequencer loops to the quirky retro leads: each sound was created specifically for use in the "Polymath Night" song and video.
The reverb heard on the instrumentation is from Polymath's own Spring Reverb. However, some slight delay was added on a couple of tracks for effect.
Christine Anderson offers her one of a kind sound and unique abilities as a vocalist, lyricist and overall creative contributor. Her "magic" touch can be seen and felt throughout the production and her fun-loving spirit brings an overflow of charm and fun to this project! Christine is also a star on the piano and an analogue enthusiast!
The musical bed uses all original Polymath sounds and was produced especially for the holidays by Sound of Science.
*If you enjoyed this video, please share!
More Info:
Christine Anderson: http://www.christineanderson.net
Analogue Solutions: http://www.analoguesolutions.com
Sound of Science: http://www.soundofscience.org
HAPPY HOLIDAYS EVERYONE!
In this experiment with the Jasuto Modular synth (http://www.jasuto.com/main/) , Mark has got Noise node modulating FM of a Triangle wave and a sample. The noise node is moving slowly via motion modulation. He added an Accelerometer device which is modulating LFO FM of Square node and delay time. His iPad is held to a mic stand with The Gig Easy Mount (https://thegigeasy.com/) which allows him to move the iPad around pretty aggressively without worrying about a drop. The video also illustrates that motion is relative and even though he manually move the Noise node, it keeps moving with the recorded motion relative to where he drags it.
For more info:
Mark Mosher
Electronic Musician
Boulder, CO
http://www.MarkMosherMusic.com
Op-1 connected to an iMac and sending MIDI for Volca Keys and EMW Modular Synth with Ableton Live. Endless sequencer is a lot of fun, Volca Keys is a great partner for the op-1 and the little EMW Modular sounds awesome.
Vector – a new way to interact with a modular synthesizer that's a bit like a theremin on steroids.
Vector is a three dimensional control interface designed for Eurorack modular system. It senses the location of a hand over its face and outputs a signal proportional to position for each axis: x (left and right), y (up and down), and z (in and out).
Vector works by generating an electrical field and sensing changes in it causes by the proximity of your hand. Think of it as a smartphone screen with an added dimension of depth four to five inches from the surface. The system uses six electrodes to form the active sensing area. The sensing electrodes are part of the circuit board which lays just behind the piece of acrylic.
This allows you to control three things at one time, like turning three knobs all at once by moving your hand through the air. You could control the amplitude of a sound with the x axis, the pitch with the y axis, and the modulation of that sound with the z axis.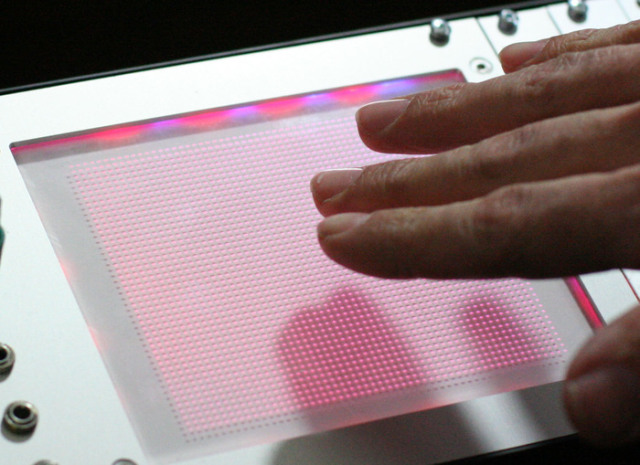 LED Feedback
To provide feedback, Vector has LEDs ringing its active sensing area. These LEDs light up according to the location of your hand.
Vector lights red for the z axis and blue for the x and y axis. As you get closer to the surface, the red LEDs get brighter. As you move closer to a location on the x-y axis, the blue LEDs in that region get brighter and those farther away get dimmer.
Gesture Recognition
Vector can also recognize a number of simple gestures. It recognizes swiping gestures, as well as circular motions over its surface. These gestures can be used as trigger outputs and for interacting with the built-in looping feature. Vector provides a menu system that uses gestures to change the system behavior.
Looping
Vector can record up to 30 seconds of position and gesture data for looping playback. Simply press the large illuminated switch to start the loop and release it to end it. The loop plays back immediately.
The loop can be retriggered with swipe gestures or by external signals from a module with trigger outputs. Vector records as long as the switch is held down, so long rhythmic sequences can be recorded by moving a hand in an out of the active area.
The loop switch can also be used as a sample and hold control. When pressed quickly, it freezes the hand position to lock in the output. The loop playback can be sped up or slowed by using circular gestures, clockwise for faster, counter-clockwise for slower. The loop recording can also be triggered externally. One pulse starts the recording and the next pulse ends it. Using external triggers to start and stop recording as well as to synchronize the playback, you can make perfectly synchronized loops.
Vector is being developed as a Kickstarter project, with the controller available to early supporters for $299