Using the on-board timing facilities of the Erbe Verb, Echophon and Clouds (in time-stretch mode) to mimic the shifting rhythms of a gamelan ensemble.
Bell voice: Braids
Bass voice: Shapeshifter
Drone: EHX Ravish Sitar
2X TipTopAudio Z3000 Oscillators into The Harvestman Maglorithm being enveloped by Intellijel Dual ADSR into Malekko Borg Dual stereo. Synthesis Technology E350 into wave shaper FM on Z3000's. Notes and envelopes controlled by Make Noise Pressure Points.
A collection of patches that demonstrate the variety of sounds my synthesizer can make. All sounds are made by the synth except for a splash of spring reverb.
For more about this project:
http://cb.hopto.org/cbfishes/2015/05/…
Here is each patch from the video:
0:00 Shotgun-shell Light "Theremin"
0:41 Acid bass sequence
1:20 Tuned Noise
1:42 Weird Resistor Ladder Sequencing
2:09 Big Thick Drone
2:31 Playing my Stylophone-style Keyboard
2:51 Playing the keyboard with fingers instead
3:08 Cowbell!
3:29 Laser bass drums
3:45 10 step sequencer as oscillator
4:10 Manual and clocked arpeggios
Mark Verbos shows us his Eurorack synth modules at MusikMesse 2015. Full article: http://askaudiomag.com/articles/watch…
Roland Aira System-1m, new Aira effects modules and analogue System 500 modules.
For those with short attention spans, audio starts at 3.46.
info coming soon… stay tuned.
Now introducing the new Waldorf nw1 Wavetable Eurorack Module
Available soon from
http://www.analoguezone.com/
Patchblocks are small synthesizer modules, which run program code that turns them into anything from oscillators, filters, sequencers, etc. You can easily program those functions with a drag & drop editor on Mac and Windows computers.
Sound Demo:
https://www.youtube.com/watch?v=i-NoK…
The Roland System 500, created in conjunction with Portland-based Malekko Heavy Industries, is a new line of Eurorack analog synthesizer modules, based on two of the most revered electronic instruments of all time—the SYSTEM-700 and SYSTEM-100m.
Now introducing the new Roland AIRA Digital Eurorack Modules!
Ein Messe-Highlight sind die neuen Module im Euro-Rack-Format.
Besonders geil sind die neuen alten Roland 100 Module und das System 1 Rack.
MESSE 2015: Roland System 100M Analog Modules Made in conjunction with Malekko
Rolands new Eurorack modules – System1M and four new digital programmable effects modules too
Today at the Musikmesse in Frankfurt I played around with the Roland System 1M – Plug out synthesizer. You can see it offers a lot of options and direct controls. I will update you with more detail information asap.
Roland is pleased to announce the development of the SYSTEM-500, an all-new, fully analog modular synthesizer based on two of the most revered electronic instruments of all time—the SYSTEM-700 and SYSTEM-100m. Designed exclusively for Eurorack, the SYSTEM-500 delivers classic Roland sound with all the advantages and reliability of a modern instrument.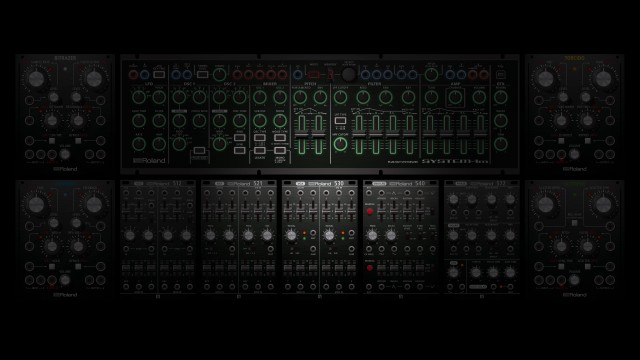 BITRAZER is a "bit and sample rate destruction" – a decimator effect.
http://www.roland.com/products/bitrazer/
DEMORA is a high-resolution delay, boasting a time range of 20 microseconds to 10 seconds, with delay time, feedback and width.
http://www.roland.com/products/demora/
SCOOPER is a "scatter" effect in a modular.
http://www.roland.com/products/scooper/
TORCIDO is a distortion.
http://www.roland.com/products/torcido/
Following last year's AIRA debut, Roland is launching a whole new range of Eurorack compatible modular gear.
The SYSTEM-1m is a semi-modular version of the SYSTEM-1 synth with extra features like CV/Gate connections, external input, and more comprehensive signal routing options.
Next there's a range of standalone, table-top and Eurorack compatible effects for next-level sound mangling and experimentation, with distortion, crusher, delay and scatter coming soon. Patch cables at the ready!