Benge 'Being'
Memetune Studios
http://myblogitsfullofstars.blogspot….
http://mysteryplaysrecords.com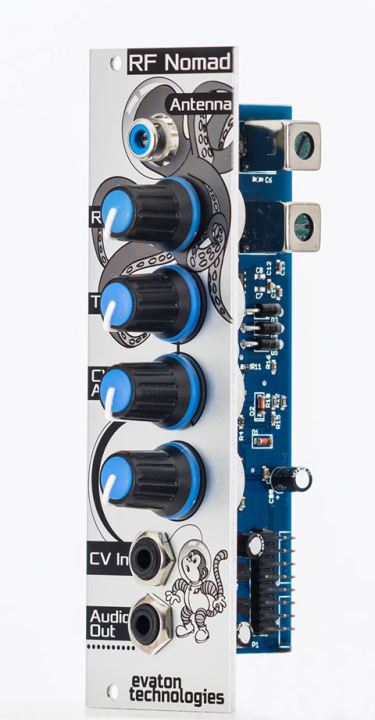 Evaton Technologies has released the RF Nomad Voltage Controlled Shortwave Receiver – a new Eurorack synthesizer module.
Here are the details:
Hissy interstation audio. Squealy heterodynes. Fading stations. Atmospheric noises. Faint voices in foreign languages from distant broadcast stations. Fire and brimstone. It's all in there, just like your granddad's old tabletop shortwave.
But, the RF Nomad adds a twist: The tuning is voltage controlled. Sure, when you were a kid, you discovered you could make spacy noises on Papa's shortwave by slowly turning the tuning dial.
But just how fast could you twist that dial? Faster than an audio-rate LFO? Hardly. Voltage controlled tuning means that the RF Nomad will let you explore sounds you never imagined you could get out of a shortwave receiver.
RF Nomad Voltage Controlled Shortwave Receiver
The RF Nomad is a voltage controlled shortwave receiver, tuning the 31 meter shortwave band. A bipolar control voltage input offsets the main tuning knob, allowing an external CV source to ramp tuning up and down from DC to audio rates.
The RF Nomad adds the squealy, squelchy, noisy, unpredictable vintage sounds of shortwave radio to your modular. According to the developer, it's been designed to be extra noisy, extra squealy, extra gritty, and just downright nasty.
No built-in output filtering means that a rich spectrum of harmonic content is available on the audio output jack. Audio levels can be driven to distortion. CV control lets you add your own creative spin on sound design.
The RF Nomad Voltage Controlled Shortwave Receiver is available now, priced at US $176.
Sonic caught up with Herr Doepfer at Musik Messe in the Spring
If you've had any exposure to modular synthesizers, chances are you'll have seen some Doepfer modules.Dieter Doepfer sarted to build right from studying physics, with a phaser module for the Formant Synthesizer then the single voice MS-404. , Thanks to him, the Eurorack module format has become a standard – adapted from the scientific rack testing system tweaked to work for synthesis. He doesn't want to take much credit, but in reality, a better power system, internal CV and Gate bussing, plus a lower cost ribbon connector system required some innovation and in my opinion has had a major impact in the proliferation of modular synthesizers in recent years.

Currently in the Doepfer range there are 171 modules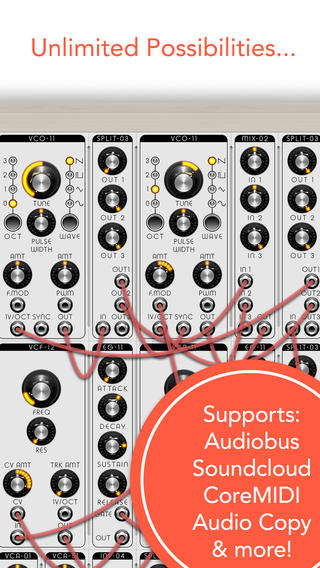 What's New in Version 1.05
This update requires iOS 7 for Audiobus 2.1 Compatibility

New Modules:

VCO-12
Analog Modeling Oscillator
Variable waveform which morphs from triangle, saw, square, and pulse
Analog circuit characteristics from minimal to extreme
Sweepable frequency modulation over the entire oscillator frequency range

VCO-13
Super Wave Oscillator
7 simultaneous oscillators which have been slightly detuned from each other to create a huge sound
Choose from Super Sine, Super Triangle, and Super Saw
Detune and mix controls
Sweepable frequency modulation over the entire oscillator frequency range

Improvements:

Audiobus 2.1 compatible

MIDI event handling vastly improved. Fast playing legato should work perfectly now.

Misc. bug fixes
Modular Analog Synthesis for the iPad
Explore new sound spaces with Tera Synth that go beyond the emulation of synthesizer legends. Use the power of analog and digital synthesis combined with new modules for physical modelling. Wireless patching of modules combined with an intelligible modulation routing simplifies the development of new synthesizer designs from scratch.
Tera Synth supports Audiobus and Inter-App-Audio for integration with other Music Apps.
Available soon in the App Store !
Make Noise interns Safarii, Asher and Adam came into the Make Noise shop 10 weeks ago with no knowledge of modular synthesis. They learned quite a bit from Walker and Tony and now they are presenting this video to teach the complete neophyte some of the basic principles of modular synthesis.
From here you could move on to:
Make Noise System Tutorial 1: Basic Sequencing
http://youtu.be/9DJzWuOz7vU?list=PL0j…
Make Noise System Tutorial 2: Basic Envelopes with MATHS
http://youtu.be/zySMtEwwSJg?list=PL0j…
visuals: quartz composer fractal experiment.
audio: analog modular synth
This composition is constructed with VoltageCtrlR's analog modular synth and arturia micro brute being clocked/drums by the electron machinedrum. additional sound design compliments of the polygon sampler by glitch machines.
Recorded 6AM 07.19.14 Akashic Siddhi Sound Temple, Los Angeles.
Shiro Fujioka
All you need is a Patchblock, a Mac or Windows PC and our free software. The software allows you to program your module the way you want. This is done in a so called "visual programming language", or in other words, you don't have to go into 100% geek mode and write code to make it happen. Visual programming is easy. You choose from a variety of low level sound processing elements and combine their functions by connecting them with virtual cables – a bit like a modular synthesiser, but in software. Your repertoire of virtual modules include various oscillators, filters, delays, and even modules for algorithmic composition.
Our editor lets you emulate how your "patch" would sound, and once you're happy with it you can upload it to your Patchblock. This is done by simply connecting it per USB. Once programmed, you can unplug it and jam away. Patchblocks are small and battery powered, so you can put them in your pocket and rock with them wherever you want.
Available at http://patchblocks.com
All sounds produced by 4 Patchblocks with the following patches:
http://patchblocks.com/groups/general…
http://patchblocks.com/groups/general…
http://patchblocks.com/groups/general…
http://patchblocks.com/groups/general…
This is a modular system in a wooden case with black vinyl liner, cover and aluminum front plate:
3 identical VCO 4 waveforms, PWM, sync and CV in
VCF low pass filter 24dB
SV variable filter 12dB simultaneous outs lp, bp y hp
3 ADSR
2 VCLFO 5 waveforms, PWM y CV in (frequency control)
VCEcho time, feedback y volumen controlados por voltaje
VCS&H sync and CV in (frequency control)
2 log VCA
2 lineal VCA
2 mixer 5 channels
Noise source 4 simultaneous outs
4 CV buffer
Gate buffer
Power supply AC 100-260V
More information at:
hardmod dot tmblr dot com
Twitter @hardmod_
Facebook hardmodelectronics
This is the front view:
hardmod.tumblr.com/image/91573094220
Sistema modular con 22 modulos MFOS, case de madera con forro de vinil, tapa protectora y panel frontal de aluminio:
3 VCO con 4 formas de onda, PWM, entrada sync y entradas CV
VCF low pass filter 24dB
SV variable filter 12dB salida simultánea lp, bp y hp
3 ADSR
2 VCLFO con 5 formas de onda, PWM y entradas CV (control de frecuencia)
VCEcho time, feedback y volumen controlados por voltaje
VCS&H entrada sync y entrada CV (control de frecuencia)
2 log VCA
2 lineal VCA
2 mixer cada uno con 5 canales
Noise source 4 salidas simultaneas
4 CV buffer
Gate buffer
Power supply AC 100-260V