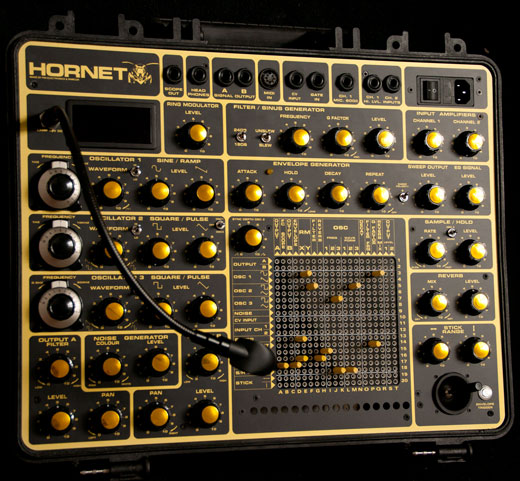 Hornet - handmade classical portable modular synthesizer with subtractive / FM analogue synthesis.
PCB design by Derek Revell.
Features
3x OCS's, switchable from hi to lo (OSC). OSC 2 with sync switch and depth pot.
1x VCF (18/24 dB)
1x Envelope Generator with inverter switch.
Ghielmetti matrix: 20 x 20 signal distributor with black panel (Sealectro look) and 16 pins.
Midi interface.
CV / Gate interface: in and outputs.
Sample & hold module
Digital frequency meter: Range 20-20000Hz.
Removable 12V BNC lamp.
Symmetrical outputs.
XY axis joystick.
Noise generator.
Spring reverb.
Suitcase with removable lid.
Additional modifications on request.
How to order?
Your Hornet will be made to order, so it is essential that we schedule its production as soon as possible.
Once your order has been placed and payment received, we'll start the production process.
4999€ net. Price does not include shipping and customs duty.
We are having a waiting list! Please send an email to pin@thesynthi.de if you are interested in purchasing/pre-order a Hornet synthesizer.
Sneak preview of the fortcoming eurorack module by Razmasynth : VIII
VIII is an 8 steps CV and Trig sequencer

The Make Noise Teleplexer is a telegraph style multiplexer (signal router) that applies the fast, physically immediate techniques of telegraphy to playing the modular synthesizer.
The user patches any number of control sources leaving the destination end of patch cables un-connected. Destinations are patched to the outputs of the Teleplexer. Touching the tip of any patch cable carrying a source signal to the surface of the Teleplexer creates a momentary connection. The user determines the destination(s) and polarity of signal by touching the patch cable to any one of the 14 metal plates.
Here's what the developers have to say about the Teleplexer:
As the building blocks of synthesis are a by-product of communications technologies, why not look to telegraphy for inspiration? The speed and agility telegraph operators displayed relaying life-altering messages across the world was staggering toward some form of future musical genius.
Features:
Use as many sources as desired
Possible sources include LFO, Envelope, Sequence, Clock, Gate, Audio Signals and more
Add & subtract voltages by using several sources at multiple plates
Auxiliary inputs allow for continuous signal source to be added to destination
Up to 3 independent destination outputs
Output signal channel, level and polarity indicated by LEDs
Outputs capable of driving multiple destinations without loading effects (no buffered mult needed)
The Make Noise Teleplexer is priced at US $115.
First single from the 905 tapes release "10 Cuba Libres" circa 2014.
All sounds created on custom True Color Of Venus synthesizers on Good Friday 2013 by Mister Matthews.
Some cool West Coast style synthesis modules with additional spin.
Dieter Doepfer introduces his new modules at Musikmesse 2014
Doepfer A-190-4 USB/Midi-to-CV/Gate/Clock Interface
Doepfer A-127 is a Breakout module for triple VCF
Doepfer A-101-6 is a six stage Opto-FET VCF A-101-6
and spoke about the new trigger sequencer
Madrona Labs has released Kaivo, a semi-modular software synthesizer that combines two ways of making sound: granular synthesis and physical modeling.
Developer Randy Jones says:
"Today we release Kaivo, our new software synthesizer. 'Kaivo' is Finnish for 'well,' as in, a deep well of sounds, and I've been working on deepening that well over the last month or so. Kaivo's models include metal, nylon and gut strings, different sizes of chimes and springs (yes, springs), wooden instrument bodies, membranes and metal plates. "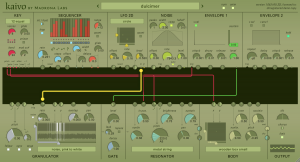 Kaivo brings 'some of the latest academic research in physical modeling to a patchable package for the first time.' Mathematically speaking, its finite difference time domain (FDTD) models let the player affect the internal vibrations inside the instrument at any point. This allows for a fine degree of realistic detail, like the bridge rattles on a "gut string" model, for example. Developers say Kaivo is also designed to apply this subtlety to more abstract creations.
Every time a model is triggered, it makes a slightly different sound due to the initial conditions when the sound starts. This subtle variety can quickly give a very lifelike quality to sounds that would be tedious to recreate with sampling. Kaivo has eight different types of tuned resonators, including strings, chimes and springs, each with its own complex response to sound. As for instrument bodies, there are four, including two wooden body models, a metal plate, and a frame drum—all true 2D models.
Dope Matrix brings the modular experience into a digital world by combining famous analog oscillators with custom made effects modules. Create your own patches to explore vast new dimensions of sound and design evolving textures for experimental sonic science. The instrument also includes a new Max for Live step sequencer that features a realtime matrix for hands-on control of your patch. Instantly access any oscillator or effects parameter with a touch of a button. Dope Matrix allows you to intuitively interface with your sounds like never before. ALL SOUNDS HEARD IN THIS VIDEO WERE CREATED USING THE DOPE MATRIX (except for some of the drums and vocals). Available now at www.sonicfaction.com
The soundtrack for the modular synth documentary I Dream Of Wires (IDOW) is featured on NPR.
The IDOW soundtrack is by Jason Amm, aka Solvent, and features lots of vintage and modern modular synthesizers. The music video, above, is for Amm's Burn The Tables, from the IDOW soundtrack New Ways.
For the music video, director Jennifer Stratford took footage from I Dream of Wires and mixed the signal into a LZX Video Synthesizer and a Fairlight CVI, the vintage machine responsible for some of the effects seen in the first MTV videos.
Mute Records founder and electronic music legend Daniel Miller talks modular synths and demos his own system at LEAF 2013.
4:25 What was your first synth?
6:24 Current resurgence of modular synths
11:00 Modular synth demonstration
Featured track: The Normal 'T.V.O.D' (Mute Records)
Buy on iTunes: http://ow.ly/t6kwT
More info on LEAF :: http://ow.ly/t1Y9O