Ambient piece from his forthcoming album on Bandcamp.
October 12, 2014 marks the 50 Year anniversary of the unveiling of the Moog modular synthesizer at the Audio Engineering Society's (AES) New York convention. On that day in 1964, Dr. Robert Moog introduced the world to a completely new type of instrument that would go on to change the course of music history and influence decades of future instrument design. Told by a Moog engineer, Moog Historian, and Bob Moog himself, this mini-documentary explores Moog Music's quest to resurrect the original methods, materials and designs used in the foundational modular synths. Through recreating Keith Emerson's modular system, Moog Music rediscovers the power, elegance, and enduring legacy of its first instruments.
Find out more at www.moogmusic.com
Testing more DIY "Retro 100″ modules.
Alex takes us throught the features and functions of the WMD Geiger Counter Eurorack Module.
Playing around with Steve Reich's "Piano Phase" on a Make Noise/Expert Sleepers 3U, with a little help from a Korg NanoKontrol and Ableton Live.
Ableton details:
Nanokontrol channels 1-4 control the signal inputs (DPO A sine, DPO A saw, DPO B sine, DPO B final):
Fader: Input level
Top button: turns Beat Repeat on/off
Middle button (not used here): toggles Beat Repeat output mode (Mix/Insert/Gate)
Bottom button: Engages record/overdub on a Looper (via sends A, B, C, D)
Nanokontrol channels 5-8 control the returns (A, B, C, D, each containing a Looper effect):
Faders: Return level
Top button: activates/deactivates Looper
Middle button (not used here): pitches loop up
Bottom button (not used here): pitches loop down
The MIDI file used here was downloaded from the following link:
explodingart.com/jmusic/jmtutorial/PianoPhase.html
"Piano Phase" can be heard here:
youtu.be/uQihuaedvSU
Steve Reich's website:
stevereich.com/
Make Noise Mysteron is center stage (coming in around 1:15). Full patch includes Zularic Repetitor, a143-1, BD909, BD808, SD808, Basimilus Iteritas, a138b, Quad LFO, Dual Delay, Erbe Verb, STO, Mysteron, e355, submit 7, Wogglebug, Maths, DPO, Echophon, Metropolis, Rene, Dual ADSR, uVCA, and Optomix.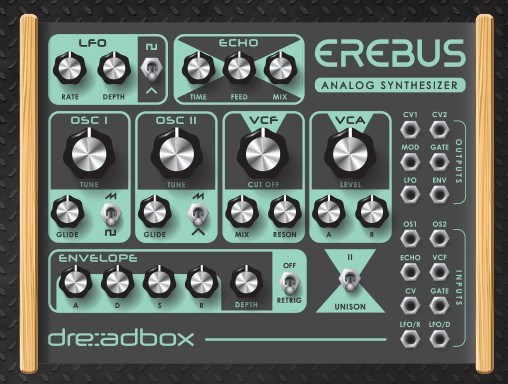 Dreadbox has introduced the Erebus, a new semi-modular paraphonic analog synth module.
It offers what is essentially a monophonic synth architecture, but that allows for independent control of its two oscillators. This means you can play (or sequence) two different pitches, but the pitches will go through a shared VCF, VCA, etc. 
Features:
Full Analog Paraphonic Synthesizer
Full Analog 2-voice Paraphony or Unison sounds
2 x VCO with separate glide controls
Two pole (12dB/ocv) resonating VC Low Pass Filter
VC LFO with additional VC Depth
2 x Envelope Generators (1xADSR and 1xAR dedicated to the AMP)
VC Delay/Echo
14 patches for an astonishing Modular experience
CV Outputs: LFO, Envelope, Modulation Wheel, Gate, Osc1 pitch (1V/ocv), Osc2 pitch (1V/ocv)
CV Inputs: Osc1, Osc2, Echo time, VCF, LFO rate, LFO depth, CV/Gate
MIDI interface: Pitch note/gate on-off, retrigger function (on-board), Mod wheel (patched on-board), Pitch wheel, MIDI Channel select 1-7 or Omni (DIP switch)
Paraphony CV/GATE outputs allows you to turn monophonic devices into Paraphonic, or even combine 2 monosynths into a paraphony orgy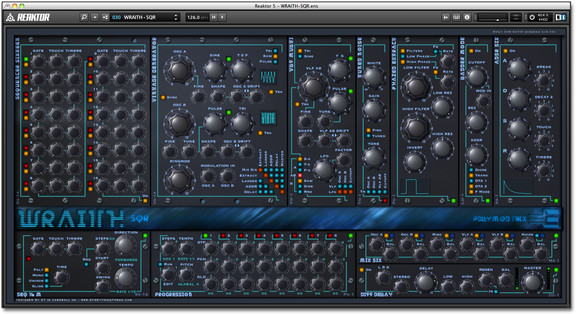 EverythingTurns has announced the release of Wraith, a PolyMod Rack series polyphonic modular analog synthesizer instrument for Native Instruments Reaktor.
Wraith is available in two form factors, the larger Wraith SQR has two built-in sequencers that can run independently to each other, Wraith Mini has all the same synthesis capabilities and is better suited for smaller screens.
PolyMod features
PolyMod is more of a template than an ensemble and has features built-in that will make the whole process of building new ensembles at ET better in so many ways.
All PolyMod ensembles have a consistent user interface making the learning curve for new designs greatly reduced.
PolyMod has skins built in – 22 to choose from and they are saved with each snapshot, having different colours for different tracks in a sequencer makes a lot of sense, red for bass and blue for pads, etc.
All PolyMod ensembles are pre-order only, this means no instant downloads, when an order is placed the instrument will be sent to you within a day or so and you will have the only copy, the original encrypted version is kept on the server as a backup if needed.
Each Ensemble is Unique to you.
Wraith is available for purchase for £18 GBP (SQR)/£14 GBP (Mini), or £28 GBP for a bundle of both. Requires Reaktor version 5.8+.
This is the MFOS 16 step analog sequencer. 1 channel, 3 cv outs (with portamento control), 2 gates, 2 triggers out, clock input, clock out, coarse/fine control voltage, multi-gate, step/reverse and randome mode.
The case is made of wooden with white finish and is powered with AC100-260V.
In this video the sequencer is controlling the selfoscillation of a VCF with a envelope generator.
More information at hardmod dot tumblr dot com
Here's DivKidMusic's overview of the Neutron Sound – Orgone Accumulator. A feature packed digital VCO with AM, FM, dual VCO sync, wavetables, waveform cross fading and loads more! Check out the videos on Neutron Sounds page to check the features of the module at the link below. "I've tried to stick to patch examples here to compliment those videos. "
Waveforms & Crossfading –
https://www.youtube.com/watch?v=TYBqq…
Tuning & Detune –
https://www.youtube.com/watch?v=XlBwm…
AM & FM –
https://www.youtube.com/watch?v=CUi5Q…