1st voice: VCO Tiptop audio Z3000, you hear some FM Modulation, 2nd Voice: MFB Microzwerg. Whole sequence done with the Urzwerg Analog Sequencer, no midi involved. Added some delay in Ableton Live. No additional effects.
A first experiment with MakeNoise Maths and the 5U modular synth.
Patch is basically;
West Coast Random Source (Sputnik) fluctuating random voltages to Maths input 4.
Slewed S&H of the same into the Maths input 1.
Stored random voltages to the Maths input 2.
STG Voltage Mini Store through Q171 quantizer into Maths input 3.
Maths 4 out into channel 1 Both.
Maths 1 out into channel 4 Both.
Maths Sum out into quantizer then Q106 VCO 1v/oct.
Maths EOR to ADSR for filter and vca.
VCO waveforms to Manhattan Analog cp3 mixer.
Mixer to STG Soundlabs Sea Devils filter.
Filter to Strymon Blue Sky then VCA.
Post mix includes Lexicon digital delays and TCE D-Two delay.
Three tracks in Cubase with adjustments to the Maths and octaves of the Q106 VCO.
All you need is a Patchblock, a Mac or Windows PC and our free software. The software allows you to program your hardware module the way you want. This is done in a so called "visual programming language", in other words, you don't have to go into 100% geek mode and write code to make it happen. Visual programming is easy, you choose from a variety of low level sound processing elements and combine their functions by connecting them with virtual cables – a bit like a modular synthesiser, but in software. Your library of software modules includes signal generators and processors (e.g. oscillators, filters, delays etc.), signal routing options and even modules for algorithmic composition. Our editor lets you emulate how your patch will sound and once you're happy with it you can upload it to your Patchblock hardware simply by connecting it via USB. Once programmed you can unplug the Patchblock and jam away.
Ken MacBeth has introduced a new synth, the MacBeth Bomber, a 'compact modular' that sounds like a monster synth. Here's what MacBeth has to say about this tiny beast:
I call this minimal 3 module Macbeth Mk1 synthesizer the Bomber! Specifically put together to Bomb that Bass!
The single Mk1 Oscillator 'B' gives you 1 x Sawtooth, 2 x Pulse Width (Square) Waveforms, 2 x Sub Octaves, one below the other whi…ch all go into the discrete Mk1 Filter 'B' – State Variable Filter that loves Overdrive! Gated and controlled by the Mk1 Dual EGs with built in Utility VCA.
As a modification- there is a Noise Generator normalized into Audio Input 3 on that Filter!
…and remember- this is just one Oscillator!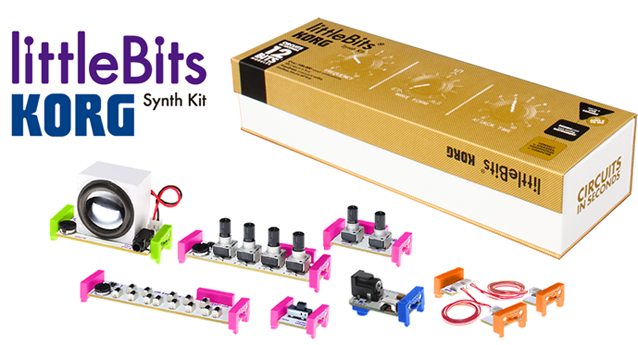 Korg has teamed up with the littleBits and created a kind of modular system set with which you could create a modular synth/instrument. With the original littleBits Exploration Kit Series anyone and everyone can use the modules to create circuits and explore the world of electronics.
The littleBits Synth Kit is a scalable and easily customizable modular synthesizer system for anyone who's interested in building their own little 'analog' system. Without knowledge of music or electronic circuit design, you now can easily assembly a synthesizer.
The whole system is really based on the littleBits Exploration Kit, however the intention is that it will and can be used for live sound and recording. The Synth Kit will be available in Japan first. If this kit will be available worldwide is not been confirmed.
The synth kit offers a variety of modules:
Power
Oscillator
Random
Keyboard
Micro Sequencer
Envelope
Filter (MS-20 style)
Delay
Mix
Split
Speaker
For now the littleBits Korg Synth Kit is expected to be released in Japan in December 2013. Pricing is expected to be around the price of ¥ 16,000. No official announcement has been released however.
More live Polymath!
Here's a little paraphonic action (chords) while Polymath's onboard sequencer steps a steady rhythm. Nothing is processed and MIDI is NOT used in this example. The chords were played live, hence the slight off-beat nature of the performance.
After the first bit, you'll hear ENV1 being switched to ENV2 (manually).
4 VCOs. Each have Pulse Width, Portamento, Saw wave, Square Wave, CV inputs, CV outputs, Sync. VCO1 has Sub-Osc output too
Multimode VCF based on (not a clone) the Oberheim SEM (LPF, BPF, HPF, Notch) with multiple CV control
Audio input, to allow processing of external audio (vocals, for example, from your DAW, etc) through the filter
2 LFOs
2 ADSR Envelopes
8 Step Analogue Sequencer with sliders
Arpeggiator – with Up, Down, Up/Down modes and Octave range
Poly Mode (Paraphonic)
Note Trig/ReTrig
Unison Mode for mega-fatness
Ring Modulation
Sample and Hold
Noise
Multiples
Adaptor
Spring Reverb – a triple spring Accutronics unit is used.
MIDI to CV Converter
Mixer
Inverter
Headphone Amp
VCA
Real Wood sides made by Lamond Design
2 LED Gooseneck Lamps included
Solid steel and aluminium construction
Carry handle
Includes an assortment of patch cables
A Video Series of Short Eurorack Modular Impromptu Experiments and Improvisations.
Dylan Brown provides another sneak preview of the upcoming Intellijel Metropolis, but it's also a massive explosion of hot Euro monster synth blinkenlights action.
Technical details:
Simple sequence with Intellijel's Metropolis showcasing the aux in used to change the root of the scale via sequenced Pressure Points. Pitch is routed through ALM Beast's Chalkboard and octaves are switched manually.
Cwejman VCO-2RM
Cwejman DMF-2
Modcan Dual Delay
Intellijel Dubmix and Aux Expander
Lexicon 224
This is what happens when you put a Buchla modular and an Arp 2600 together. At the Modular Synth Meet at Robotspeak in San Francisco.
WAV- file download link below:
https://app.box.com/s/prtaik828mc3fy9…
My first Patch on my TMSS (Theis Modular Synthesizer System) with the Soft Filter.
Sequenced by Theis Dual Skip Sequencer, LFOs from my Curetronic Modular.