Here's DivKidMusic's overview of the Neutron Sound – Orgone Accumulator. A feature packed digital VCO with AM, FM, dual VCO sync, wavetables, waveform cross fading and loads more! Check out the videos on Neutron Sounds page to check the features of the module at the link below. "I've tried to stick to patch examples here to compliment those videos. "
Waveforms & Crossfading –
https://www.youtube.com/watch?v=TYBqq…
Tuning & Detune –
https://www.youtube.com/watch?v=XlBwm…
AM & FM –
https://www.youtube.com/watch?v=CUi5Q…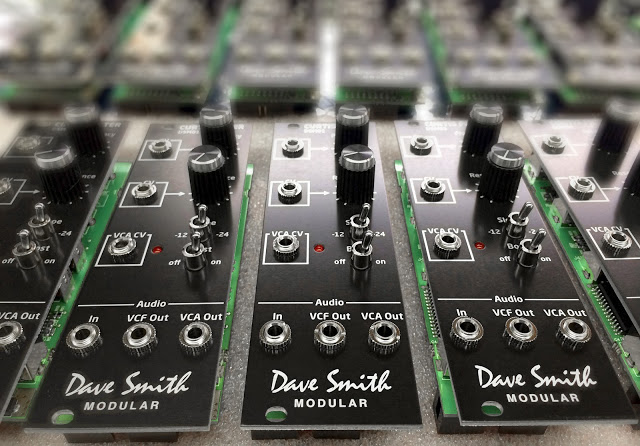 Dave Smith Instruments today began shipping the DSM01 Curtis Filter module, their first product for modular synthesizers. The module takes its name from the filter chip originally designed by the late Doug Curtis, which has been an integral part of the sound of Dave Smith's instruments from the classic Sequential Circuits Prophet-5, all the way up to recent synths such as the Evolver, Mopho, Prophet '08, and Prophet 12.

The DSM01 features a switchable 2/4-pole, resonant low-pass filter, as well as its own VCA. It is a standard 8HP wide, Eurorack-format device with interconnections made using 3.5 mm phone jacks. A carefully designed set of inputs and parameters allows voltage control of filter frequency and resonance. Filter slope is selectable between -12 dB and -24 dB. The module's VCA features two separate outputs for the filter—one pre-VCA and the other, post-VCA. A unique feature of the filter is a Boost function that introduces harmonic distortion into the signal for more aggressive coloration.

"Having the widest tonal palette possible has always been the goal for modular users," said Smith. "This product is our first—but significant—contribution to that world. We wanted to give modular users easy, affordable access to the classic Curtis filter sound, which I've always found very versatile and expressive." The Curtis sound has often been described as saturated, brash, and powerful, and has also been fundamental to such vintage instruments as the Oberheim Xpander, Rhodes Chroma and Polaris, and Elka Synthex.

"The DSM01 packs a lot of sound-shaping power into a small package. We think modular users are going to get a lot of sonic mileage out of it," said Smith.

The DSM01 Curtis Filter module is available now with a MAP of $179.
In this video 'The Tuesday Night Machines' creates a modular synth patch from scratch in 5 Minutes
MORE INFO:
Eurorack Modular Synth Modules used in this video:
– Doepfer A-138 Exponential Mixer
– Intellijel Dixie 1 VCO
– Music Thing Modular Thonk Turing Machine & Pulses Expander Sequencer
– Intellijel uScale 1 Quantizer
– Malekko Wiard Anti-Oscillator VCO
– Klangbau Wavetable VCDO
– Erika Polivoks VCF Filter
– Synthrotek EKO Delay
– Make Noise Function Generator
– Intellijel Quadra Quad Envelope Generator
Filmed with a Canon EOS 550D (Rebel t2i).
First explorations using Robin Rimbaud-Scanner's almost complete Verbos Electronics modular system. Featuring Amplitude & Tone controller, 2 x Complex Oscillators, Dual Four Pole Filter, Voltage Multistage, Manhattan Analog mixer, Doepfer a-143-3 Quad LFO, Toppobrillo Dual 281 Function Generator. Powered by Tiptop Audio Zeus Access and housed in a handsome Lio & Linn Wood + Metal 6u 84hp slanted wood eurorack case.
Created with the very capable engineer, producer and musician Paul Stoney.
Lead 'acid' like line – STO vari-waveform into Rebel Technology BIT REACTOR with tempo synced random CV'd CRUSH. Tempo synced delay via Expert Sleepers DISTING. 
Other modules used in patch:
Inner clock Systems Sync-Gen IILS (DAW synced master clock)
SSL Modulation Orgy (tempo synced random modulation of Bit Reactor)
SSF Gnd Ctrl (attenuation of Modulation Orgy output)
SSF Propagate (mults gates to MATHS)
Make Noise MATHS (envelope generators to filter and VCA)
Toppobrillo Multifilter (Hi Pass filtering of Bit Reactor output)
SSF Ultra-Random (Random CV of filter frequency)
Abstract Data Wave Boss (VCA)
Benge 'Being'
Memetune Studios
http://myblogitsfullofstars.blogspot….
http://mysteryplaysrecords.com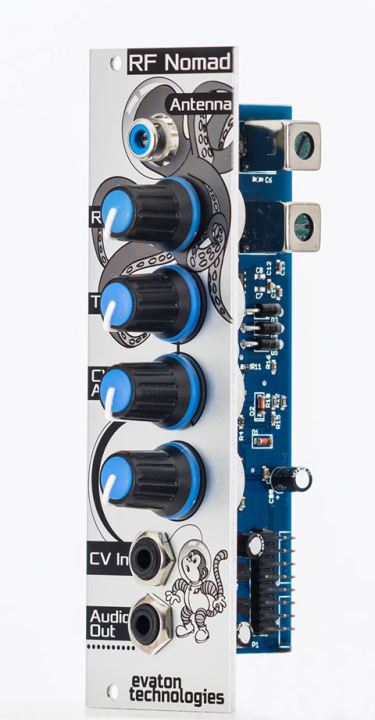 Evaton Technologies has released the RF Nomad Voltage Controlled Shortwave Receiver – a new Eurorack synthesizer module.
Here are the details:
Hissy interstation audio. Squealy heterodynes. Fading stations. Atmospheric noises. Faint voices in foreign languages from distant broadcast stations. Fire and brimstone. It's all in there, just like your granddad's old tabletop shortwave.
But, the RF Nomad adds a twist: The tuning is voltage controlled. Sure, when you were a kid, you discovered you could make spacy noises on Papa's shortwave by slowly turning the tuning dial.
But just how fast could you twist that dial? Faster than an audio-rate LFO? Hardly. Voltage controlled tuning means that the RF Nomad will let you explore sounds you never imagined you could get out of a shortwave receiver.
RF Nomad Voltage Controlled Shortwave Receiver
The RF Nomad is a voltage controlled shortwave receiver, tuning the 31 meter shortwave band. A bipolar control voltage input offsets the main tuning knob, allowing an external CV source to ramp tuning up and down from DC to audio rates.
The RF Nomad adds the squealy, squelchy, noisy, unpredictable vintage sounds of shortwave radio to your modular. According to the developer, it's been designed to be extra noisy, extra squealy, extra gritty, and just downright nasty.
No built-in output filtering means that a rich spectrum of harmonic content is available on the audio output jack. Audio levels can be driven to distortion. CV control lets you add your own creative spin on sound design.
The RF Nomad Voltage Controlled Shortwave Receiver is available now, priced at US $176.
Sonic caught up with Herr Doepfer at Musik Messe in the Spring
If you've had any exposure to modular synthesizers, chances are you'll have seen some Doepfer modules.Dieter Doepfer sarted to build right from studying physics, with a phaser module for the Formant Synthesizer then the single voice MS-404. , Thanks to him, the Eurorack module format has become a standard – adapted from the scientific rack testing system tweaked to work for synthesis. He doesn't want to take much credit, but in reality, a better power system, internal CV and Gate bussing, plus a lower cost ribbon connector system required some innovation and in my opinion has had a major impact in the proliferation of modular synthesizers in recent years.

Currently in the Doepfer range there are 171 modules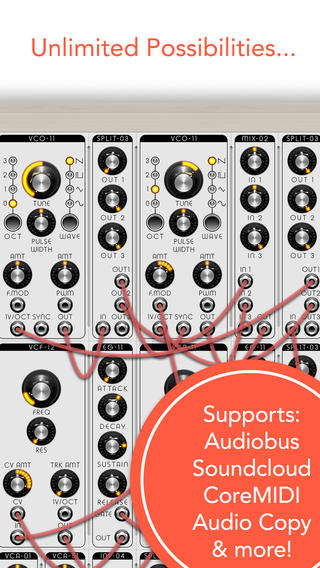 What's New in Version 1.05
This update requires iOS 7 for Audiobus 2.1 Compatibility

New Modules:

VCO-12
Analog Modeling Oscillator
Variable waveform which morphs from triangle, saw, square, and pulse
Analog circuit characteristics from minimal to extreme
Sweepable frequency modulation over the entire oscillator frequency range

VCO-13
Super Wave Oscillator
7 simultaneous oscillators which have been slightly detuned from each other to create a huge sound
Choose from Super Sine, Super Triangle, and Super Saw
Detune and mix controls
Sweepable frequency modulation over the entire oscillator frequency range

Improvements:

Audiobus 2.1 compatible

MIDI event handling vastly improved. Fast playing legato should work perfectly now.

Misc. bug fixes
Modular Analog Synthesis for the iPad
Explore new sound spaces with Tera Synth that go beyond the emulation of synthesizer legends. Use the power of analog and digital synthesis combined with new modules for physical modelling. Wireless patching of modules combined with an intelligible modulation routing simplifies the development of new synthesizer designs from scratch.
Tera Synth supports Audiobus and Inter-App-Audio for integration with other Music Apps.
Available soon in the App Store !