'djangosfire' has been experimenting with a semi-diatonic TKB patch on the Serge, details below:
Thought of a pretty weird idea:
- take the "KV" voltage out and patch it into the scaleable inputs of 2x VCO's.
- scale the VCO inputs so that you have a semi-diatonic octave.
- THEN add a single row CV out from the TKB (I used row A)… patch it to the 2x VCO's
- tune each step of row A out to bring the sum of the KV output CV to = a more accurate diatonic step.
Also, by patching the TKB "Reset" to different stage inputs … I created sub loop sequences that have a pretty, kind of doppler tuned sound…. since when you are not holding a stage pad, the TKB is transmitting ONLY the scaled KV output.
I need to fully notate this one.
And finally, I wanted to make a quick improv video that shows how easy it is to take a pretty sound into chaos…….. "Krellodic" AKA melodic Krell

Thanks for listening!
All in Japanese unfortunately, but still a nice insight into this tiny modular
Saturns Knight Microbrute patch…
Another auditory experiment featuring the Arturia Microbrute and analog modular synth.
This Microbrute patch is being clocked by the modular via Gate in on the Microbrute.
The Microbrute's gate out is triggering an Envelator eurorack module.
The Microbrute's CV/Gate out multed to all the eurorack oscillators 1v/oct in.
Microbrute's Mod matrix LFO out multed to Filter in and Metalizer in.
Just a quick demo experimenting with the arturia microbrute patched up to my modular synth.
depeche mode cover -electribe emx-arturia minibrute-er 1
A cellular automaton consists of a regular grid of cells, each in one of a finite number of states, such as on and off (in contrast to a coupled map lattice). The grid can be in any finite number of dimensions. For each cell, a set of cells called its neighborhood is defined relative to the specified cell. An initial state (time t=0) is selected by assigning a state for each cell. A new generation is created (advancing t by 1), according to some fixed rule (generally, a mathematical function) that determines the new state of each cell in terms of the current state of the cell and the states of the cells in its neighborhood. Typically, the rule for updating the state of cells is the same for each cell and does not change over time, and is applied to the whole grid simultaneously, though exceptions are known, such as the stochastic cellular automaton and asynchronous cellular automaton.
What is Cellular Automata?
http://en.wikipedia.org/wiki/Cellular…
http://mathworld.wolfram.com/Elementa…
The idea is to let the individual cells interact with one another.
Patterns change with minimal external intervention
Demo of preset stepping and morph on the Cylonix/Intellijel Shapeshifter VCO module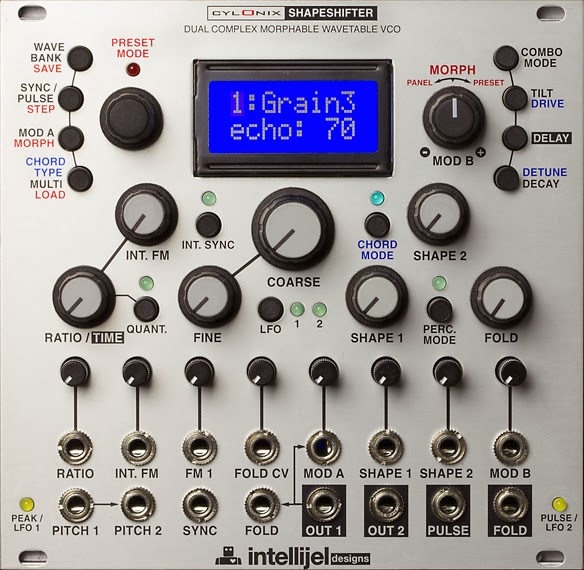 Cylonix and Intellijel have collaborated to bring you a very sophisticated and deeply complex Wavetable VCO. At the core of this module is very powerful FPGA board that he has pushed to the absolute max of its capabilities and crammed full of features. We wanted to create a module that really worked well in the modular context so there are a lot of modulation and control possibilities.
Features at a glance:
preset sequencing and morphing,
delay based resonator,
64 band vocoder mode
special audiorate modulation modes (MOD A)
analog wavefolder
extensive sync, pulse and modB options
detuneable 8 note chords and tons more
WAVETABLES
Each VCO can select from 128 banks of wavetables , each with 8 individual 512-sample waveforms for a total of 1024 waves.
The choice of waveform within the currently selected bank is under voltage control. There is smooth interpolation between the waveforms within a bank, allowing a very wide range of different possible waveshapes.
CHORDS
Oscillator 1 can be operated in a CHORD mode, which runs 8 copies of the oscillator in parallel with adjustable detuning, leading to very fat, rich waveforms. The oscillators have extensive modulation capabilities including audio rate (98KHz) Frequency and Phase Modulation (FM and PM) via external sources. Nonlinear combination processes allow the outputs of the two oscillators to interact to generate complex timbres and sonic textures.
There are 64 user selectable chords.
WAVEFOLDER
The SHAPESHIFTER module also includes the analog wave folder circuitry from
module to add analog warmth and metallic rasps to the digital oscillator output.
External signals can also be patched in.
PRESETS
The module includes a sophisticated preset mode where panel settings can be stored. There are 12 user-programmable preset slots and another 52 volatile slots that can be used as a scratchpad. These scratchpad slots are initialized to interesting presets on module powerup. The capabilities of the preset mode is not limited to mere passive storage of settings, however. In this mode the user can also step through, or sequence, the settings, either in order or randomly in response to pulses input to the external sync input. This gives the user the ability to generate complex sequences of sounds. The preset mode also allows the user to morph between the current panel settings and a preset providing a very powerful real-time performance tool.
SYNC
8 Different sync modes: HARD, SOFT, REV, HOLD, BUMP, 2=1, 1=2, OFF
with the ability to internally sync to a sub oscillator
PULSE
User selectable modes for the PULSE output: OR, AND, XOR, GLCH, +OSC1, EOC, +OSC2, -OSC2
MOD A modes: (audio rate modulation)
COMBO IN, SHAPE IN, PHASEMOD, VOCODER
MOD B options (all with CV control)
-Combo modes for OSC1 and OSC2:
NORMAL, RING, MIN, PONG, INLV, AND, XOR, GLCH
-Waveform TILT
-Chord mode overdrive
-Delay depth and FB
-Percussive mode decay time
There is so much more but it is better covered in the manual and suite of demos.
This is a very rough and spontaneous journey discovering the many faces of a single Easel patch. the slider can sometimes take it into a whole other place. excuse the hand held camera and more audio from said camera
Live noodling using chord sequence from D.C. in A Minor Excursion (35:57 in http://youtu.be/qXDtcDm7WS0), using Dotcom synth, Schaltwerk, MAQ & Korg i30 arranger keyboard. Patterns from earlier MAQ video (http://youtu.be/mV91BvJFsxw) tweaked & transferred to Schaltwerk to free up MAQ for VCF control.
The unexpected syncopation from earlier video traced to fractional length pattern being gated on its off beat, so on-beat notes become audible when EG decay/release increased.
Korg i30 used in Arranger mode so backing style follows chords played with left hand; right hand plays melody.
Midi sync & clocks distributed from Sequetron to Schaltwerk, MAQ & i30 via Philip Rees MIDI Merge 2M unit used as a 'thru' device; can just squeeze 3 outputs from 1 input. The MIDI Thru W5 unit would be more logical but it wouldn't transmit MIDI sync/clocks; may have been faulty but wasted lots of time doubting the deopfer gear (and sanity) so didn't investigate further!
A nice demo by Dante Droid using the AtomoSynth modular (3x Koe)
The littleBits synth kit is an incredibly powerful, easy to use modular synthesizer. The Synth Kit enables amateur and professional musicians to easily explore the iconic synthesizer instrument, allowing you to build your own sound machines (with signal generators, modifiers, modulators and controllers) and put on your own performances – all with little to no engineering or musical knowledge.
Developed to inspire innovation in hardware, littleBits lets users create circuits in seconds, with no soldering, no programming and no wiring required. littleBits has been recognized as "LEGO for the iPad generation" and has been heralded as the most extensive, modular and accessible electronics platform in the world. The brand's Bits™ modules revolutionize the way people interact with technology by breaking down electronics into their very basic parts (lights, sounds, sensors, motors, programmable circuits), and making engineering fun and accessible to "non experts" of all ages including children , teachers, artists, designers, makers, hobbyists and tech-enthusiasts.
littleBits makes an open source library of electronic modules that snap together with magnets for prototyping, learning, and fun.
Find out more at littleBits.cc
Credit: Reggie Watts: youtube.com/reggiewattsjash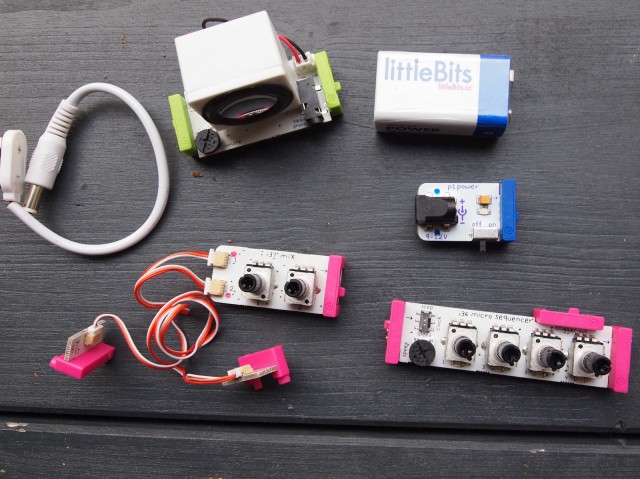 Power: On/off switch, 9-volt battery connection (included)
Oscillator: (2x) Single oscillator source, switchable to square and saw, with pitch knob (plus tune, which works when you plug in the keyboard)
Random: Noise oscillator. Switchable to two modes: "Noise" outputs white noise; "random voltage" is used for control (playing random pitches – think a sample & hold generator)
Keyboard: 13 switches give you an octave of notes; there's a dial for register. "Press" mode is momentary; "hold" sustains the pitch. You actually get two outputs: the pitch output, but also a trigger output for controlling other modules.
Micro sequencer:Step through four sequence values, each set by a knob. You can clock the sequencer either using the knob or externally (in step mode). That means you can trigger steps (via the keyboard, for instance), or send a pulse for external clock.
Envelope: Attack and Decay knobs, for a simple two-stage envelope.
Filter: Cutoff, Peak (Resonance); with Peak all the way up, the filter will self-oscillate (which means you have a third oscillator, if you like).
Delay: Time, Feedback.
Mix: Two inputs, one output. You also can use the Mix module two combine the two oscillators.
Split: (2x) One signal input, two signal outputs.
Synth Speaker: This module has a small speaker atop it, plus a volume control, but it also has a 3.5mm minijack output for headphones or line output.