This self contained Eurorack expandable Midi to CV converter/calibration system offers an uncomplicated solution to the problems of tuning and scaling both vintage synthesisers and modern VCO Eurorack modules. With 16 bit voltage resolution and a tune time of 10 seconds. The unit can compensate for VCO alignment issues and environmental factors that cause tuning drift with the push of a button. Its Digital Automatic Audio Gain Control Circuitry (DAGCC) enables the unit to be connected to most synthesiser outputs, and has been tested on a large array of makes and models. While obviously not being capable of fixing the problems of faulty circuitry it will however save time and money on re–calibration, and ensure the technical side of synth ownership doesn't impinge on the creative process.
MORE DETAILS:
vinceclarkemusic.com/circuits/
Background video description:
I fired up my oscilloscope to show you some of the basic waveforms you will find in Eurorack VCOs. Let's see what happens to them, when filtered, mixed, bit-crushed, etc.
Video description below:
I bought a new VCO, the Mos-Lab Kobol Oscillator. What a great VCO, awesome hardware quality and sound. Here is a demo where I use the Synthesizers.com Q960 sequencer to control pitch and waveform modulation of the VCO.
The VCO is patched into the Corsynth C101 OTA VCF which is patched into the synthesizers.com Q107 State Variable Filter.
I'm using the high pass output of the Q107 and it is controlled by a third envelope which is triggered by the first step of the Q960.
Demo of Clouds. Granular texture synthesizer by Mutable Instruments for the Eurorack modular.
First part are two different samples processed in normal granular mode.
Second part is a real-time processing of the CS80 wave from Braids receiving pitch from K4815 and going through Make Noise Echophon. In this second part, Clouds are in bonus mode number four (also called Spectral Madness) which is a developer left-over extra feature that you enter by pressing and holding the audio quality / blending mode button for five seconds. Note, the extra modes are not supported by the developer, but still amazing extra's.
There are four modes in Clouds in addition to mode number 1 which is the default granular engine.
1. Default granular processing.
2. Pitch and time stretcher.
3. Looping delay mode.
4. Spectral madness.
Enjoy…
Clouds: http://mutable-instruments.net/module…
Demo by Luftrum: http://www.luftrum.com
Daniel Fisher fires up the awesome Moog System 55 modular synth in this exclusive preview.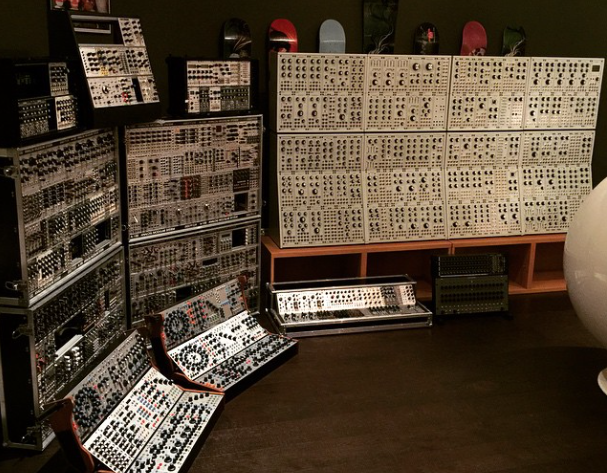 Deadmau5 (Joel Zimmerman) says that he is 'Building an analog modular fort in the basement for the production of the Seven Virtues.'
Max Ravitz gives us a private demo of an incredible newly reborn Moog Model 15 Modular Synthesizer. These systems are painstakingly recreated using new old stock parts, PCB designs and manufacturing processes wherever possible, with the Model 15 joining the System 35 and System 55 in a 2015 remake of Moog's 1972 Modular system lineup. We are now sold out in the UK – if you have one in order, we are very jealous. Enjoy! http://www.sourcedistribution.co.uk
In this video, electronic music and sound design pioneer Suzanne Ciani explores the Moog modular System 55 for the first time in decades. Ciani came to the Moog factory in Asheville, NC to play the first System 55 newly handcrafted by Moog in over thirty years. The patch, created and performed live, was shot in one take and features a sequence designed on the 960 Sequential Controller that's driving three 921B oscillators into a 904B High Pass filter whose cutoff is being modulated by a 921 oscillator. A second set of 921B oscillators is also being played manually into a 904A Low Pass filter whose cutoff knob is also being modulated by the 921 oscillator. The resulting sound of each is then sent through its own dedicated MF-104M analog delay for ambience. The audio has been captured directly with no eq, compression, or editing applied.
To learn more about Moog modular synthesizers: http://www.moogmusic.com/content/moog…
To lear more about Suzanne Ciani: http://www.sevwave.com/
NAMM 2015! Rosser Douglas from Moog music explains to me the beautiful new Model 15 modular system.
Now introducing the new Buchla Mini Systems!
Available soon from
http://www.analoguezone.com/
http://www.analoguezone.com/internati…
LET'S CONNECT!
Google+ ► https://plus.google.com/+Analoguezone/
Facebook ► http://facebook.com/analoguezonehungary
Twitter ► http://twitter.com/analoguezone
AnalogueZone ► http://www.analoguezone.com