Madrona Labs has released Kaivo, a semi-modular software synthesizer that combines two ways of making sound: granular synthesis and physical modeling.
Developer Randy Jones says:
"Today we release Kaivo, our new software synthesizer. 'Kaivo' is Finnish for 'well,' as in, a deep well of sounds, and I've been working on deepening that well over the last month or so. Kaivo's models include metal, nylon and gut strings, different sizes of chimes and springs (yes, springs), wooden instrument bodies, membranes and metal plates. "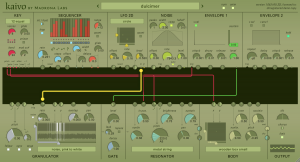 Kaivo brings 'some of the latest academic research in physical modeling to a patchable package for the first time.' Mathematically speaking, its finite difference time domain (FDTD) models let the player affect the internal vibrations inside the instrument at any point. This allows for a fine degree of realistic detail, like the bridge rattles on a "gut string" model, for example. Developers say Kaivo is also designed to apply this subtlety to more abstract creations.
Every time a model is triggered, it makes a slightly different sound due to the initial conditions when the sound starts. This subtle variety can quickly give a very lifelike quality to sounds that would be tedious to recreate with sampling. Kaivo has eight different types of tuned resonators, including strings, chimes and springs, each with its own complex response to sound. As for instrument bodies, there are four, including two wooden body models, a metal plate, and a frame drum—all true 2D models.
Dope Matrix brings the modular experience into a digital world by combining famous analog oscillators with custom made effects modules. Create your own patches to explore vast new dimensions of sound and design evolving textures for experimental sonic science. The instrument also includes a new Max for Live step sequencer that features a realtime matrix for hands-on control of your patch. Instantly access any oscillator or effects parameter with a touch of a button. Dope Matrix allows you to intuitively interface with your sounds like never before. ALL SOUNDS HEARD IN THIS VIDEO WERE CREATED USING THE DOPE MATRIX (except for some of the drums and vocals). Available now at www.sonicfaction.com
The soundtrack for the modular synth documentary I Dream Of Wires (IDOW) is featured on NPR.
The IDOW soundtrack is by Jason Amm, aka Solvent, and features lots of vintage and modern modular synthesizers. The music video, above, is for Amm's Burn The Tables, from the IDOW soundtrack New Ways.
For the music video, director Jennifer Stratford took footage from I Dream of Wires and mixed the signal into a LZX Video Synthesizer and a Fairlight CVI, the vintage machine responsible for some of the effects seen in the first MTV videos.
Mute Records founder and electronic music legend Daniel Miller talks modular synths and demos his own system at LEAF 2013.
4:25 What was your first synth?
6:24 Current resurgence of modular synths
11:00 Modular synth demonstration
Featured track: The Normal 'T.V.O.D' (Mute Records)
Buy on iTunes: http://ow.ly/t6kwT
More info on LEAF :: http://ow.ly/t1Y9O
NAMM 2014: Moon Modular Sequencers Guided tour of the large cabinet and sequencer
New on the scene this year is Verbos, a maker of high-end and beautifully designed analog synth modules. Gino Robair  checks 'em out!
Pittsburgh Modular's Richard Nichol walks us through the features of the System 90 analog synthesizer at the 2014 NAMM show in Anaheim, California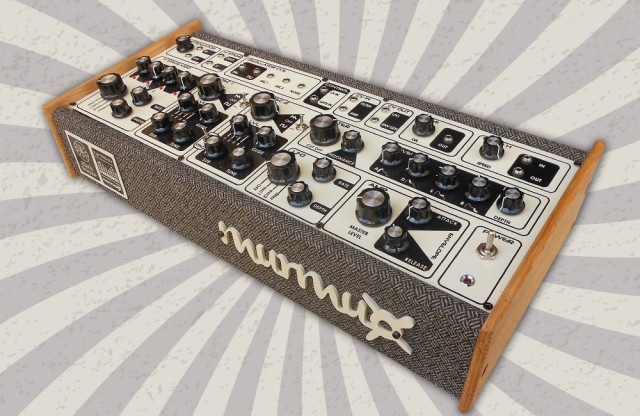 Freaqbox has introduced the Murmux semi-modular analog synthesizer.
The Murmux features retro styling, dual VCO's and patching.
Features:
Full Analog Vintage Monophonic Synthesizer
2 Voltage Controlled (VC) oscillators with suboctave
Saw and Square wave with 4 octaves control
White Noise Generator
Patchable

Sample & Hold, Attenuator
Patchable Inputs: Clock In (4 stage mode)
Osc1, Osc2, Filter, Amp, CVs
Patchable Outputs: 4 stage mode, LFO, Envelope Generator
White Noise, Osc1 saw + square

Triangle wave LFO modulation
4 step modulator
VC Amp
2 Envelopes – 1 for the Amp & 1 for the Filter
External Audio Input
Controlable via Midi Keyboard or
Analog Keyboard (CV Gate)
Completely Handmade, everything crafted by hand, with love
Electronics by Freaqbox and enclosure by Black Science
Richard Nicol of Pittsburgh Modular Synthesizers introduces us to the new System 10 synthesizer, which is housed in Pittsburgh Modular's Cell [48] Case and includes the new Synthesizer Box module along with Mix Mult, MIDI2 and Outs utility modules. The Synthesizer Box module incorporates Pittsburgh's new Waveforms oscillator and Lopass Gate
The System 90 is a complete, standalone, fully modular synthesizer that bridges the gap between classic east coast synthesis and west coast experimentation. At it heart lie Pittsburgh Modular's new Symbiotic Waves, Waveforms and Lopass Gate modules.
Housed in Pittsburgh's new 104hp Move [104] Case, the Foundation 3 is their new flagship standalone fully modular monosynth. Among its many modules are two of Pittsburgh new Waveforms oscillator modules and two of their new Envelope modules as well as the new Lopass Gate coupled with their classic Filter multi-mode filter module.
An electronic music piece representing the mindset of a humanoid on the way home from work. This is live performance / improvisation with sequencers. No computer involved.
This is also a prelude to "Are We There?" – his journey back to work.
Equipment:
Music From Outer Space 16-step sequencer
Doepfer MAQ 16/3 sequencer
Club of the Knobs C951 Arpeggiator
Club of the Knobs C1680 Analog Delay
Happy Nerding Super Sawtor
Kristp 1 S-VCO
Dotcom Q106 Oscillator
Dotcom Q109 Envelope Generator
Dotcom Q108 Amplifier
Dotcom Q112 4 Channel Mixer
Dotcom Q118 Instrument Interface
Korg EMX-1 Drum Machine