A sneak preview of the upcoming Erica Synths Matrix Mixer – a new Eurorack module, designed to bring the classic matrix patch bay into the 21st century
Erica Synths has been developing the Matrix Mixer for over 6 months, and the main challenge was to get analogue mixer part working perfect.
The module basically replaces 3 persons and 11 hands during live performances.
Features:
10 inputs
8 outputs
3,2" touchscreen
DC couped mixer connects any input to any output and mixes input signals
Routes any input to several outputs
Use the Matrix Mixer for audio and CV signals
Input signals: up to 10V ptp or up to 10V DC
Mixer gain: 1
PATCH and PERFORMANCE mode
Chain multiple patches into performance and sync it to external or internal clock
256 patch and performance memory, each patch accessible instantly
Upgradable firmware
Extention modules planned
The Matrix Mixer launch is scheduled to mid July.
 KOMA Elektronik on a studio visit with producer/remixer RAC (André Allen Anjos).
In the video, Anjos discusses how he got started with his system, how he is using it in the studio and some tips for people who would like to start putting together their own system.
The music heard in the video was made on his modular synthesizer during the interview session.
Chronicling the history of modular synths in Japan from the 1970s to the new generation of Japanese modular synth enthusiasts, details below:
We're a small team of passionate independent filmmakers producing a documentary about the current resurgence of interest in modular synthesizers in Japan, featuring interviews with some of the enthusiasts, manufacturers and artists in the growing scene, as well as some of the out-of-this-world sounds being produced in Japan right now.
Though not as immediately recognized as their Moog and Buchla cousins, large Japanese musical instrument manufacturers such as Roland and Korg produced their own unique takes on modular and semi-modular synthesizers back in the mid-to-late 1970s.
In addition to covering some of these influential synths from the past, we will be examining the relative disappearance of modular synthesizers in Japan after domestic production halted, and the corresponding blossoming of the DIY hardware/synth scene which continues to this day.
Lastly, we will be shining a spotlight on the growing modular synthesizer movement that is taking Japan by storm as access to both European and North American modules increases. We're also looking to cover the exciting development of the first Japanese-manufactured commercial modular synthesizers in many decades. We're looking to thoroughly document the 2014 Tokyo Festival of Modular, a two-day extravaganza with its finger on the pulse of the modular synthesizer scene.
This is a complex network of 2 eurorack synth cases, a micro brute being clocked by the Elektron MACHINEDRUM.
The Machinedrum is supplying 2 clocks to the modular with the gnd-imp machine.
'A Box In The Sea' explores using gestural control with a Leap Motion and Ableton Push as controllers for Reaktor and a modular synthesizer.
Starting with a beautiful sound from the Braids and Morphing Terrarium. Sampled with the Phonogene and processed through the Echophon/ZDSP/Big Sky/EPSi. The Piano is Reaktor and a water sample played together. The beginning atmosphere is KORE2 animated circuits. The Leap is controlling all the modulation in Reaktor, Big Sky and KORE2.
MW Interviews Stephen McCaul of Noise Engineering.
2014 Product Line:
Ataraxic Translatron – LFSR VCO
Basimilus Iteritas – Drum Synthesizer
Zularic Repetetor – Rhythm Sequencer
Sinclastic Empulatrix – Envelope Generator with minimum VCA
Variatic Sequent – Simple Gate Sequencer
Variatic Dilato – CV Expander for VS
Variatic Multium – Gate Expander for VS
Continuus Sequent – Simple CV Sequencer
Roticulum Sequent – Sequent family combiner
Horologic Solum – Simple LFO for sequencer clock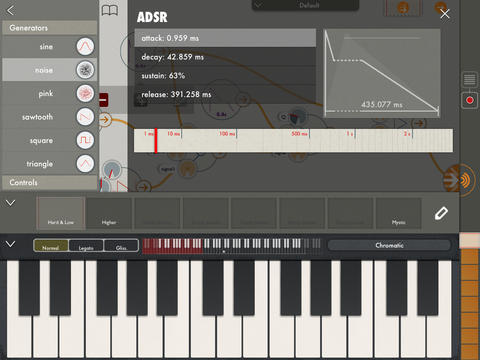 Modal Pro is a powerful app that allows you to build your own synthesizers and effects by connecting various modules together. Inspired by classical modular synthesizers, Modal Pro is nevertheless designed specifically for the iPad with touch controls that allow you to tweak the sound just the way you want it.

More than a tool for building and playing, Modal Pro is also a great learning companion. Each module is documented in detail and an extensive tutorial is included to help even absolute beginners discover the world of synthesizers. Modal Pro allows you to explore the world of sound in your living room, on the train, at school or on stage.

Features:

* Flexible and Intuitive Patching
Modal Pro allows you to connect modules whichever way you want. You can use any module to control any other module. You can even connect a module to itself. You're not guaranteed to get an interesting sound, or even any sound at all but you're guaranteed not to break anything. The touch interface allows you to rapidly connect and disconnect modules so that you can easily explore all sonic possibilities.

* Easy-to-Use Touch Controls
Modal Pro features interface elements such as its custom "double sliders" that allow you adjust each detail of the sound intuitively and accurately. Controls are adjusted specifically for each type of parameter.

* Analog Modeled Oscillators
Modal Pro's oscillator modules are built to emulate the sound of classic analog synthesizer. The traditional waveforms sound rich and warm but because they are modeled rather than sample-based you can modulate them freely, in real-time and at audio rate. Go ahead, build an FM synth with bite, with sawtooths!

* Two Workspaces
Modal Pro features two workspaces where you can build instruments or effects. The "Polyphonic Workspace" is typically where you build instruments, and offers up to 8 voices of polyphony. (Actual polyphony will vary depending on your iPad's speed and complexity of the instrument.)

The Polyphonic Workspace is connected to the "Monophonic Workspace." As the name implies, instruments that you build here can only play one sound at a time. This is the perfect place, however, for building effects that process the output of the Polyphonic Workspace.

The two workspaces are entirely separate. You save and load work on these workspaces independently so that you can easily change the effects that are applied to your polyphonic instrument.

*The Preset Slider
The state of an instrument or effect can be saved as a preset. These presets are stored in the "Preset Slider," which not only allows you to recall these states but also interpolate between them, making fluid and sometimes surprising transitions between presets possible.

*The Keyboard
Modal Pro features a keyboard optimized for the iPad's screen. The standard chromatic piano keyboard is complemented with many fixed-scale keyboards. Adjustable portamento allows you to slide notes individually.

*Comprehensive Help
Feeling lost? Touch any module and the "Live Help" window will display a detailed description featuring not only an explanation of the module's features but also advice about how to use it to get great sounds.

Modal Pro also comes with a lengthy tutorial to guide you through every feature, building your own simple synthesizer and effect along the way. In following releases, more tutorials will be added to help you learn the basics of sound design. 

[Specifications]
* Modules
- Oscillators
Sine/Square/Triangle/Sawtooth/White Noise/Pink Noise
- Controls
ADSR(Envelope)/Simple Curve
- Modulators
Amplifier/Mixer/Crossfade/Ring Modulator/Sample & Hold
- Effects
Triple Filters/Delay/Lo-Fi
* MIDI Controls
Note/Volume/Preset Control
* Keyboard
Width : 9 octaves(scrollable)
Portamento : 3 presets(None/Legato/Glissando, intermediate value selectable) 
Scales : 24
* Outside-App Communication
CoreMIDI, Inter-App Audio, AudioCopy
(Audiobus to be supported in next release)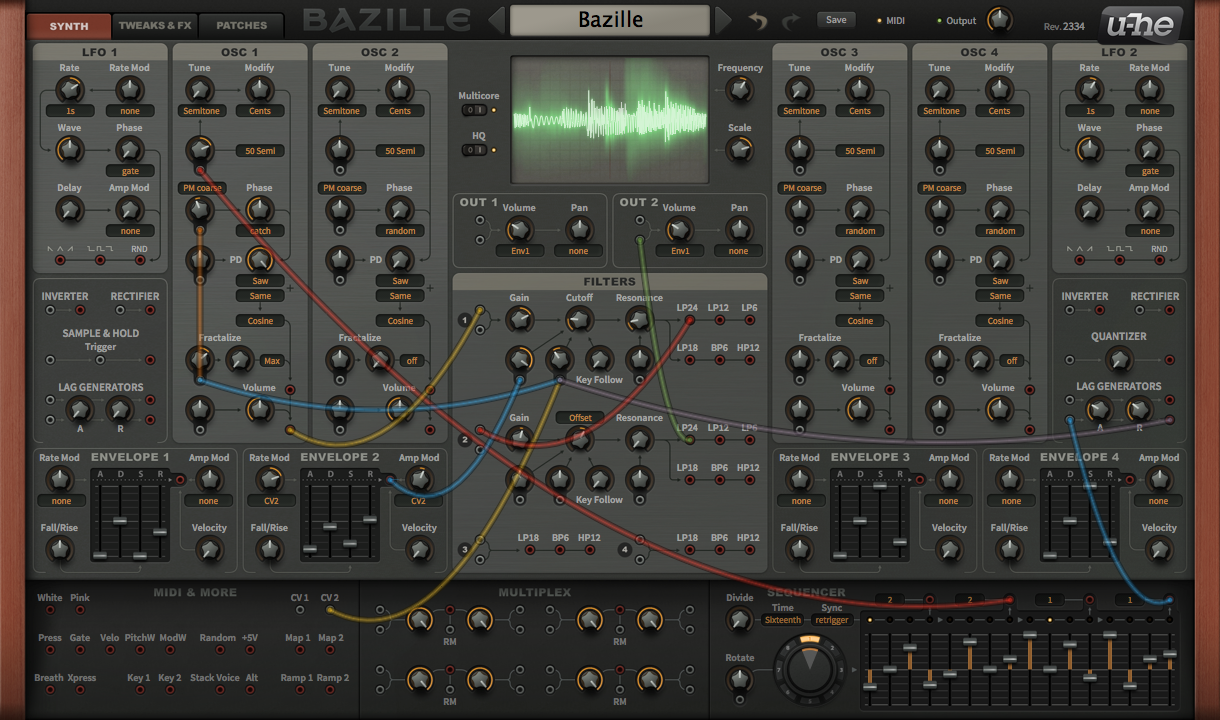 Bazille is a modular FM and Phase Distortion Synthesizer. It's modular engine allows for patching of any signal output into any signal input, regardless of signal type. This makes Bazille a sibling of ACE, but it caters for a digital synthesis paradigm rather than for subtractive (virtual analogue) synthesis.

hybrid modular system: digital oscillators, analogue filters – unlimited patching capabilities.
4 oscillators with simultaneous FM (phase modulation, linear / exponential / relative FM), PD (phase distortion) and FR (fractal resonance).
4 multimode analogue type filters, 2 of which have 6 parallel outputs.
4 ADSR envelopes, 2 LFOs with multiple outputs, 2 ramp generators.
2 modulation maps (can be used as oscillator waveforms), lag processors, quantizer, inverters, rectifiers, sample&hold.
morphing snapshot sequencer: 8 slots of 16 steps each (splittable into 4, 8 or 12-step units).
The product page http://www.u-he.com/cms/bazille has been updated as well…
BAZILLE, the modular monster. After ACE, the second spawn of our ongoing 'Berlin Modular' project, this one is a very different, much larger beast…
This is an old teaser movie:
Here's a sneak preview of the first synth inside the upcoming Berlin Modular System. This synth combines FM-Synthesis, Phase Distortion and subtractive in a rack-like appearance. In this video I'm showing teh layout and the basic oscillator functions.
Demo video for the Grayscale Algorhythm sequencer module:
grayscale.info/modules/algorhythm/
Audio taken from three sources:
Grayscale – Endless Random
soundcloud.com/grayscalemodular/endless-random
Grayscale – Algorhythm vs Turing Machine
soundcloud.com/grayscalemodular/algorhythm-vs-turing-machine
Richard Devine – Reticulating Rhythms:
vimeo.com/94437575
Lot's of modular stuff