Morton Subotnick runs through his live set-up, a unique amalgamation anchored by the Buchla Synthesizer. Filmed at the 2014 Red Bull Music Academy Bass Camp San Francisco
Play House is an automata that generates slow hypnotic acid house through mechanisms built from LEGO Technic. This piece was made for AudioGraft 2014 with a commission from Oxford Contemporary Music. A modular synth project created by Alex Allmont, that generates acid house music.
Behind the scenes: Today the plan was to hook this sequencer up to the TB303 but here was a lot more fiddly stuff than expected, so this video just demonstrates the note matrix which will eventually send CV note values over to the synth. Each note is triggered on a quarter note (I'm limiting the sequencer to 2 beats per bar rather than 4) and each relates to a single column in the note matrix. How far up or down that column makes contact with the row determines the note pitch value.
Using a sequencer, a sample and hold and two clocks you can create complex melodies, more info below:
Though this is illustrated on a Serge the concepts apply to many modular synthesizers. Let me know how you apply this on your modular synthesizer.
To see the modules used in this patch in detail see the Mystery Serge at http://www.serge.synth.net/gallery/dl….
Doug's website is http://www.neatnetnoise.com.
Interact with Doug:
http://www.youtube.com/channel/UC1LRX…
https://soundcloud.com/doug-4
https://www.facebook.com/doug.lynner
Background video description:
This is a patch I've been working on over the last days. It's recorded live and nothing is added in post. The patch in short is:
Random arpeggio: Make Noise René to DPO to MMG. The René is controlled by a series af logic and gates which in turn are controlled by Doepfer A149-1 and A149-2. Doepfer A155 controlls the random freq and cutof for the MMG. Reverb from the A199.
Bassline: Make Noise Pressure Points to Intellijel Rubicon to Koma filter. Echo from the Pittsburgh Analog Delay
Weird sounds: 2 x Doepfer A110 which FM each other and controlled by Intellijel Planar and echo by Make Noise Echophon.
Stereo panning comes from 2 x Alesis Midiverb 4.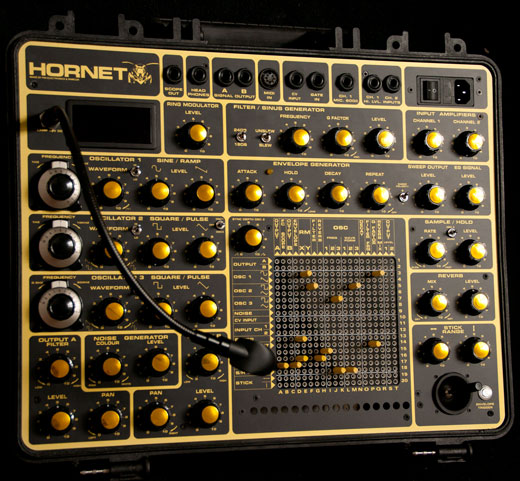 Hornet – handmade classical portable modular synthesizer with subtractive / FM analogue synthesis.
PCB design by Derek Revell.
Features
3x OCS's, switchable from hi to lo (OSC). OSC 2 with sync switch and depth pot.
1x VCF (18/24 dB)
1x Envelope Generator with inverter switch.
Ghielmetti matrix: 20 x 20 signal distributor with black panel (Sealectro look) and 16 pins.
Midi interface.
CV / Gate interface: in and outputs.
Sample & hold module
Digital frequency meter: Range 20-20000Hz.
Removable 12V BNC lamp.
Symmetrical outputs.
XY axis joystick.
Noise generator.
Spring reverb.
Suitcase with removable lid.
Additional modifications on request.
How to order?
Your Hornet will be made to order, so it is essential that we schedule its production as soon as possible.
Once your order has been placed and payment received, we'll start the production process.
4999€ net. Price does not include shipping and customs duty.
We are having a waiting list! Please send an email to pin@thesynthi.de if you are interested in purchasing/pre-order a Hornet synthesizer.
Sneak preview of the fortcoming eurorack module by Razmasynth : VIII
VIII is an 8 steps CV and Trig sequencer

The Make Noise Teleplexer is a telegraph style multiplexer (signal router) that applies the fast, physically immediate techniques of telegraphy to playing the modular synthesizer.
The user patches any number of control sources leaving the destination end of patch cables un-connected. Destinations are patched to the outputs of the Teleplexer. Touching the tip of any patch cable carrying a source signal to the surface of the Teleplexer creates a momentary connection. The user determines the destination(s) and polarity of signal by touching the patch cable to any one of the 14 metal plates.
Here's what the developers have to say about the Teleplexer:
As the building blocks of synthesis are a by-product of communications technologies, why not look to telegraphy for inspiration? The speed and agility telegraph operators displayed relaying life-altering messages across the world was staggering toward some form of future musical genius.
Features:
Use as many sources as desired
Possible sources include LFO, Envelope, Sequence, Clock, Gate, Audio Signals and more
Add & subtract voltages by using several sources at multiple plates
Auxiliary inputs allow for continuous signal source to be added to destination
Up to 3 independent destination outputs
Output signal channel, level and polarity indicated by LEDs
Outputs capable of driving multiple destinations without loading effects (no buffered mult needed)
The Make Noise Teleplexer is priced at US $115.
First single from the 905 tapes release "10 Cuba Libres" circa 2014.
All sounds created on custom True Color Of Venus synthesizers on Good Friday 2013 by Mister Matthews.
Some cool West Coast style synthesis modules with additional spin.
Dieter Doepfer introduces his new modules at Musikmesse 2014
Doepfer A-190-4 USB/Midi-to-CV/Gate/Clock Interface
Doepfer A-127 is a Breakout module for triple VCF
Doepfer A-101-6 is a six stage Opto-FET VCF A-101-6
and spoke about the new trigger sequencer