A short description of the Steady State Fate Ground Control module for Eurorack. Ground control is a handy utility with a wealth of features. Sound and Video by Raul Pena.
A new Encore Electronics Frequency Shifter prompted David Ryle to patch the modular synthsizer for this piece.
This consists of a single vco (Synthetic Soundlabs 1200) with PWM from a Segwencer and CGS dual LFO. The pulse wave goes direct to the Encore FS and the Up and Down outs are routed to the Modcan 73B Dual Delay. The Frequency Shifter has a cv input from a Yusynth voltage controlled Quadrature LFO to make the bowed or pulsing sound.
The pitch voltage is from a synthesizers.com Q960 and Q119 sequencer pair. The Q960 is run into the Q119′s ADD INPUT and the Q119 is shifted every 16th division of the Q960 by way of an SSL TTLFO and Moon Modular 554 Octal Divider. The divider also sends sync timings to the 73B delay
A final mix of the outputs of the FS are routed to the studio mixer through a panner and each channel is split off to a Strymon Blue Sky reverb. A final pair of reverbs are the Lexicon MX200 and TC Electronic D-Two.
Recorded in Cubase 6 and video processed by Apple Final Cut Pro.
Todd Barton plays the Buchla Easel
"using the keyboard's arpeggiator to drive the on board Sequential Voltage Source — some fun little patterns and timbres. . ."
"just another "getting my ya-yas" out and havin' fun. enjoy!"
About the Buchla Easel:
The Music Easel is a highly evolved electronic musical instrument. It maintains many of the design philosophies and functional characteristics of its predecessors, the 100 series Modular Electronic Music System and the 200 series Electric Music Box. The Music Easel introduces some substantial innovations in electronic instrument design – innovations that make it a truly expressive real-time instrument for composition and performance.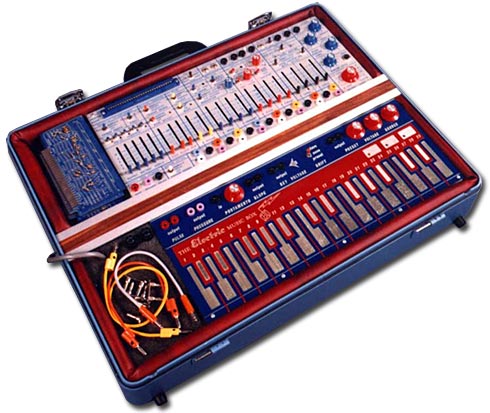 The Music Easel contains many of the elements commonly used to generate and process sound: a keyboard, sequencer, pulser, preamplifier, envelope detector and balanced modulator; oscillators, gates, envelope generators and filters; facilities for mixing, monitoring and reverberating. Many of these elements possess an unusual degree of sophistication. The keyboard is solid state, with touch sensitive, chromatically organized keys, accurate and reproducible pressure output, tactile feedback, octave shifting, and voltage controlled portamento. A complex oscillator, developed through computer aided simulation studies, is a rich source of complex audio spectra. featuring voltage control of pitch, timbre and waveform, this oscillator provides the Music Easel with a timbral range unapproached by other musical instruments.
The connectives are as important as the elements to be connected. Interconnection within the Music Easel is accomplished with a combination of switching and patching, a system which is flexible, expedient, and open ended. Logical, compact organization and color coded graphic feedback facilitate rapid and effective interaction. Multiple correlations between a performer's actions and the Music Easel's responses are readily implemented, enabling a degree of expressive articulation heretofore impossible with electronic instrumentation.
Further augmenting the Music Easel's real time performability is the capability of permanently storing and immediately retrieving complete instrument definitions (patches) or portions thereof. (An "instrument definition" includes settings of parameters, degrees of articulation, switch positions and interconnections.) Storage entails the installment of resistors on program cards; retrieval is accomplished by plugging in a desired program card and activating a switch.
With its extended timbral resources, unusual expressive capability, and its facility for storage and recall of instrument definitions, the Music Easel opens new horizons to the composer and performer. To appreciate its potential as a new musical instrument the Music Easel must be seen, heard and played.
John L Rice is back with a new modular exploration, details below:
I highly recommend adding the Moon Modular 591 manual switch (or similar and/or DIY switch) to your system, especially when using the 554 Octal Clock Divider!
Notes:
1) The 591 I have I purchased secondhand recently for less than half price of a new one, since it had been damaged and only partially repaired, so switch #3 doesn't work correctly and switch #2 is a little intermittent.
2) The video didn't compile correctly so the last 30 seconds were cut off, sorry about that! It was my second attempt and didn't want to try again since it ties up my computer for hours each time! :-/ Something is wrong with either Sony Movie Studio 12, certain plugins, Windows 8, other running applications, the PC hardware and/or a combination of everything.

A new genre within modular music perhaps
First exploration with an original Buchla 100. For better audio go to:
https://soundcloud.com/user7621213/bu…
The first major synthesizer by Buchla was the modular 100-series produced from about 1963 to the early 1970′s. The system usually consisted of a large wood case with room for a bunch of modules (up to 25 modules on a single power-supply). Although the modules consisted of your basic collection of voltage controlled oscillators, filters, etc. the unique keyboards on this and other models to follow were flat capacitance-sensitive touch-plates. Although they may feel awkward to play, they are pressure sensitive and individually tuneable. There were also 8- and 16-step analog sequencer modules available. Patching and programming a Buchla 100 was a monstrous task since lots of patch cords as well as synthesizer knowledge were a requirement to even get a sound to be heard, and the oscillators usually drift out of tune! These are extremely rare systems but they can make some awesome and unique analog music, if it still works! About the only places where Buchla 100′s can be found nowadays are at the The Audities Collection and a few scattered Schools and Universities across the US.
Analogue Solutions tells us that the Polymath modular synth has been officially released and is available for pre-order.
Features:
4 VCOs. Each have Pulse Width, Portamento, Saw wave, Square Wave, CV inputs, CV outputs, Sync. VCO1 has Sub-Osc output too
Multimode VCF based on (not a clone) the Oberheim SEM (LPF, BPF, HPF, Notch) with multiple CV control
Audio input, to allow processing of external audio (vocals, for example, from your DAW, etc) through the filter
2 LFOs
2 ADSR Envelopes
8 Step Analogue Sequencer with sliders
Arpeggiator – with Up, Down, Up/Down modes and Octave range
Poly Mode (Paraphonic)
Note Trig/ReTrig
Unison Mode for mega-fatness
Ring Modulation
Sample and Hold
Noise
Multiples
Adaptor
Spring Reverb – a triple spring Accutronics unit is used.
MIDI to CV Converter
Mixer
Inverter
Headphone Amp
VCA
Real Wood sides made by Lamond Design
2 LED Gooseneck Lamps included
Solid steel and aluminium construction
Carry handle
Includes an assortment of patch cables
Pricing and Availability:
Available for pre-order.
Estimated UK retail price: £2899 GBP (exc. VAT and delivery)
A patch idea for using the Cat Girl Synth Dual Real Ring Modulator with a Yusynth Voltage Controlled Quadrature LFO to two VCO's as modulators for the RM's.
The carrier VCO is pitched by a Q119 sequential controller from synthesizers.com. Other modulations are from an AM radio and cross-vco feedback into each of the modulator VCO's. These are the initial sounds. The beginning sound is one half of the modulated pair, gated for rhythm and a delay applied.
All other sounds are from the modular synth as well. Recorded in real-time to Cubase. Video processed by Final Cut Pro.
Product description below:
Modular, the ultimate synthesizer that will revolutionize your sound.
• High fidelity virtual analog synthesis using band limited oscillators and oversampled filters
• Audiobus and background audio modes
• CoreMIDI control with external devices or internal sequencers
• Beautifully rendered graphics
• Dynamic workspace with intuitive navigation
• 10 octave keyboard with classically styled arpeggiator
• Extensive in app help with detailed module descriptions and guides
• Record and export live performance to Soundcloud, Sonoma Audio Copy, email and iTunes file sharing
In this tutorial I get into some slightly more advanced concepts about modifying signals to make a self-generating sequencer, and then a synth to use it! Modular is out now for iPhone and iPad as a free app, with all premium modules past & present available as a bundle for $5. iTunes Link: https://itunes.apple.com/us/app/id599…
Modular is a powerful sound design tool which allows you to build your own custom synthesizer by connecting different sound modules together. By separating each synthesis process, modules can be connected in any way. You are no longer limited to fixed synthesizer design, you are now in full control of your sound. This is the beauty and power of modular synthesis. Whether you are a professional musician or a beginner who just loves sound, modular offers you an incredibly powerful synthesizer experience.
Modular looks, acts, and sounds like a hardware modular synthesizer to give you features that musicians want such as pulse width modulation, oscillator sync, 4 pole ladder filters, and 1v/oct filter tracking. Traditional modular systems are expensive and out of reach for the average artist. Modular is here to bridge that gap and allow everyone the opportunity to use these powerful synthesizers.
Modular provides modules in every category for free. Enough to build a vast array of sounds. Buy only the modules you need or get the bundle which includes all modules including future modules. Owning a module means you use as many as can fit in the modular rack. You want to build a monster 6 oscillator synth? You can.
What makes modular special is the audio and visual experience you have with it. Beautifully minimal menu systems and interface along with ultra realistic synthesizer graphics are just the beginning. The real beauty is not what you see, but what you hear. Pristine and punchy oscillators that sound great, even at the extreme ends of the frequency spectrum. It starts with band limited oscillators. Not just traditional methods of band limiting, but band limiting that enables each note you play to have the maximum number of harmonics without distorting.
Every detail of the audio has been analyzed to provide you the most amazing sound possible such as buttery smooth filter sweeps and resonance so stable you can use the filter as an oscillator!
Modular goes a step further with connectivity and supports Audiobus, Soundcloud, CoreMIDI, as well as Sonoma Audio Copy so that your music making workflow is streamlined and integrated.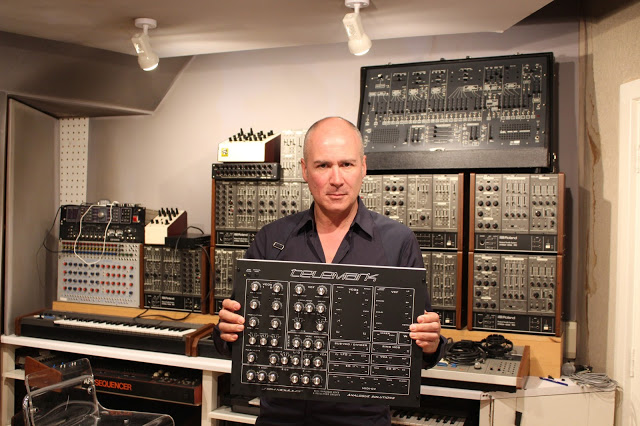 British 'boutique' analogue synthesiser and accessory designer/manufacturer Analogue Solutions is proud to announce that bona fide synthpop pioneer Phil Oakey has added a Telemark V2 semi- modular analogue monosynth to the stunning synthesiser collection currently residing at The Human League's legendary HL Studios in Sheffield…
Human League main man Phil Oakey needs little in the way of introduction. Having co-penned some of pop's finest musical moments with memorable hits spanning several decades — notably 1981's chart-topping perennial favourite 'Don't You Want Me' (which sold well over a million copies in the UK alone, making it the 25th biggest-selling single of all time there, then shifted another million copies to secure the coveted US number one spot during the following year), he helped forge a popular music landscape-changing template for pre- programmed, synth-driven song structures that are still reverberating around the world today.
Back in the day, The Human League 'Mk I' co-founder Ian Craig Marsh wasn't adverse to rhythmically riding a mid-Seventies-vintage Roland System 100 semi-modular analogue synthesiser's resonance and filter faders to create a track's Model 104 Sequencer-driven bass and snare drum on the fly! No need to do that today, of course, for HL Studios is packed floor to ceiling with old and new synths to die for. Indeed, it's fair to say that what Phil Oakey doesn't know about synths simply isn't worth knowing!
Now something of a connoisseur, Oakey owns a considerable collection of synths, sequencers, and drum machines at HL Studios, many of which are analogue. Which is exactly why he has taken delivery of an Analogue Solutions Telemark V2, a dual-VCO, rack-mountable, semi-modular analogue monosynth with multimode VCF featuring lowpass, highpass, bandpass, and notch filter types, which will be perfectly at home there since the healthy socket selection dominating the right-hand side of its spacious control panel means it can comfortably be patched to work with other modular systems and analogue sequencers for added flexibility. Features like those, combined with a generous helping of modulation routing options, provide the Telemark V2 with an extraordinarily diverse range of sound possibilities, including leads, basses, effects, and percussion, as well as being able to be used as an effects processor thanks to its audio inputs (feeding audio signals directly into its mixer).
Another distinguishing feature of the Telemark V2 is its 100% analogue voice and modulation circuitry formed from discrete components. Nothing travels through digital circuitry here, so turning a knob directly affects the associated analogue circuitry to produce a characteristic sound straight from the Seventies/early-Eighties — albeit reliant on today's reliable technology!
Improvements to Telemark V2 over and above the original version of the instrument include adding an octave divider (SUB-VCO/DIVIDER) — for creating a fuller, fatter sound or for use as a clock divider designed to be a source of lower frequencies (particularly suited to rhythmical usage) — and a ring modulator (RING MOD), typically used for fashioning metallic-type sounds (although it has other uses).
Little wonder, then, that the original Telemark and now its V2 successor are so sought after by those in the know. Chances are the characteristic sounds of Phil Oakey's new and improved Telemark V2 — in limited-edition black, no less! — could well be being heard on some more memorable musical moments from The Human League in the not too distant future. We wish them well.
Telemark V2 is available to order online directly from Analogue Solutions (http://www.analoguesolutions.org.uk/concussor/telemark.htm) for £749.00 GBP (excluding VAT and delivery) or through one of their dealers. Alternatively, the keyboard- equipped Telemark-k V2 is available for £1,099.00 GBP (excluding VAT and delivery).