Lot's of modular stuff

At MoogFest 2014, Peter Kirn gets a tour of Moog's mammoth new tribute synth, a part-for-part reconstruction of Keith Emerson's iconic Moog Modular.
In 1969, Emerson incorporated the Moog modular synthesiser into his battery of keyboards. While other artists such as The Beatles and The Rolling Stones had used the Moog in studio recordings, Emerson was the first artist to tour with one. Emerson's use of the Moog was so important to the development of new models that he was given prototypes, such as the Constellation he took on one tour[8] and the Apollo, which had its debut on the opening track of Brain Salad Surgery, "Jerusalem."
The Moog was a temperamental device; the oscillators went out of tune with temperature change. Emerson: "I had my faithful roady Rocky tune the instrument to A 440 just prior to the audience coming in, but once the audience came into the auditorium and the temperature rose up then everything went out of tune."
His willingness to experiment with the Moog led to unexpected results, such as the time he stumbled into the signature sound for Hoedown, one of ELP's most popular tunes. Emerson: "We'd started working on that arrangement and then I hit, I don't know what, I switched a blue button and I put a patch cord in there, but anyway 'whoooeee.'"
The so-called "Monster Moog," built from numerous modules, weighed in at a whopping 550 pounds, stood 10 feet tall and took 4 roadies to move. Even with its unpredictability, it became an indispensable component of not only ELP's concerts but also Emerson's.
He is known for his technical skill and for his live antics, including using knives to wedge down specific keys of hisHammond organ during solos, playing the organ upside down while having it lie over him and backwards while standing behind it, and has cited guitarist Jimi Hendrix and English organist Don Shinn as his chief theatrical influences. He also employed a special rig to rotate his piano end-over-end while he was playing it, though this of course is purely for visual effect, as a piano cannot operate as an instrument while upside down.
Japanese synthesizer document film
"The New World of Synthesizer in Osaka"
Short trailer.
The first in Dan Worrall's 4-part series about u-he's ACE modular synthesizer.
Best viewed at 720p (HD) resolution
u-he: www.u-he.com
Dan: www.platinumears.com
Ace is a semi-modular software synthesizer, with default routing like ARP 2600.
Features:
25 signal sources, 30+ signal targets
up to 8 times unison with +/-2 octave detune range each
exceptional filters, can self-oscillate
LFOs can be used as VCOs and vice versa
sync, FM, cross modulation
use multiples for inversion, amp / ring modulation etc.
custom LFO waveform "tap map"
microtuning (Scala .tun standard)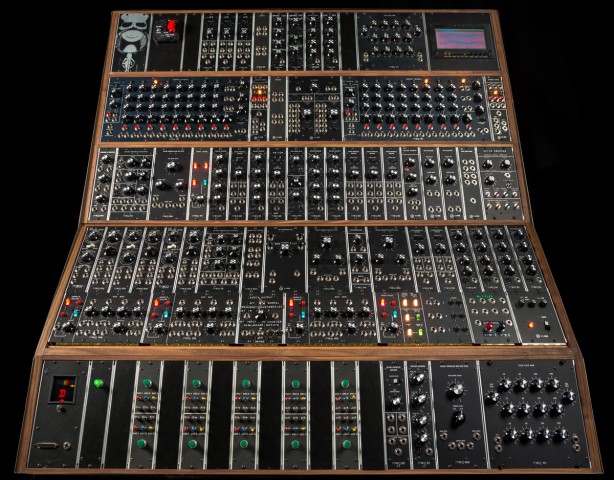 Moog Music unveils one of its largest engineering undertakings, the new Emerson Moog Modular System.   
On the 50th anniversary of the introduction of the Moog Modular, the first voltage controlled synthesizer, Moog Music is proud to honor Keith Emerson and his seminal collaboration with Bob Moog.  Today, for the first time at Moogfest 2014, Moog Music reveals its three year effort faithfully recreating the iconic Emerson Moog Modular.
In the intervening 50 years since the advent of the first Moog synthesizer, people have steadily come to appreciate the power and flexibility of the early Moog modular systems. Now in 2014, 60 years after Bob Moog started his electronic musical instrument company, with great respect for the tradition, design, and craftsmanship of the original Moog modular systems, Moog Music proudly announces the recreation of arguably the most famous synthesizer in history–Keith Emerson's Moog Modular System.
Over the last 3 years Moog Music has set out to research and build a faithful recreation of this highly complex, custom instrument. Using the original documentation as well as circuit board and art files for nearly every original Moog module, Moog Engineers have painstakingly recreated the original Emerson Modular System. The new Emerson Moog Modular System is comprised of handcrafted Moog modules built from the original circuit designs and are true recreations of the originals, utilizing the same hand assembly methods used in the Moog Music factory in Trumansburg, NY in 1969. The modules in the new Emerson Moog Modular System are built just as the originals were, by hand-stuffing and hand-soldering components to circuit boards, and using traditional wiring methods. Even the front panels are photo-etched aluminum (a rare process now), which is the classic and durable, look of vintage Moog modules.
Moog Music is proud to partner with Keith Emerson and salute his pioneering artistry with the announcement that Moog will build a handful of these incredible, custom handcrafted Emerson Moog Modular Systems.
To celebrate the introduction of the new Emerson Moog Modular System, Moog Music featured Emerson as a headliner at Moogfest 2014, where he played a special performance last night on Thursday, April 24th and is featuring a live discussion with Emerson today, Friday, April 25th.
To inquire about the new Emerson Moog Modular System, contact Moog Music. Price available upon request. 828.251.0090
4ms Peg, QCD² / Expander², QPLFO, RCD²,VCA Matrix
Analogue Systems RS100²,RS110²²,RS 360²
Arp Odyssey white noise
Bananalogue Serge VCS
Cyndustries Zero Oscillator
Doepfer R2m, A114, A118, A134²²,A141, A143-2/9,A148,
A149-1,A151²², A175²²,A185-2'³, A 138a²²b²²c²²²
Flame Chord Machine²,Talking Synth Module
foh choices
Grendel Formant Filter ²
Make Noise Brains,Pressure Points², Maths²,
modDemix²²,Optomix,QMMG,René, Wogglebug²
Malekko Anti ²² ,Uncle³,Jag
Moog Taurus 2 , Freqbox ²²,MP201
Roland SVC 350 Vocoder,System 102 & 104
SSL Modulation Orgy
Tip Top Audio Z8000 manual voltage source
Toppobrillo,Quantimator, Sportmodulator,TWF²
Logic masterclock to Kenton Pro 2000²
FX :Alesis 3630,Boss VF1,BSS DPR 402,
Lexicon PCM 80, Line6 Echopro,
Red Federation BPM FX Pro, TC M3000
mackie the mixer³
morse key
Morton Subotnick runs through his live set-up, a unique amalgamation anchored by the Buchla Synthesizer. Filmed at the 2014 Red Bull Music Academy Bass Camp San Francisco
Play House is an automata that generates slow hypnotic acid house through mechanisms built from LEGO Technic. This piece was made for AudioGraft 2014 with a commission from Oxford Contemporary Music. A modular synth project created by Alex Allmont, that generates acid house music.
Behind the scenes: Today the plan was to hook this sequencer up to the TB303 but here was a lot more fiddly stuff than expected, so this video just demonstrates the note matrix which will eventually send CV note values over to the synth. Each note is triggered on a quarter note (I'm limiting the sequencer to 2 beats per bar rather than 4) and each relates to a single column in the note matrix. How far up or down that column makes contact with the row determines the note pitch value.
Using a sequencer, a sample and hold and two clocks you can create complex melodies, more info below:
Though this is illustrated on a Serge the concepts apply to many modular synthesizers. Let me know how you apply this on your modular synthesizer.
To see the modules used in this patch in detail see the Mystery Serge at http://www.serge.synth.net/gallery/dl….
Doug's website is http://www.neatnetnoise.com.
Interact with Doug:
http://www.youtube.com/channel/UC1LRX…
https://soundcloud.com/doug-4
https://www.facebook.com/doug.lynner
Background video description:
This is a patch I've been working on over the last days. It's recorded live and nothing is added in post. The patch in short is:
Random arpeggio: Make Noise René to DPO to MMG. The René is controlled by a series af logic and gates which in turn are controlled by Doepfer A149-1 and A149-2. Doepfer A155 controlls the random freq and cutof for the MMG. Reverb from the A199.
Bassline: Make Noise Pressure Points to Intellijel Rubicon to Koma filter. Echo from the Pittsburgh Analog Delay
Weird sounds: 2 x Doepfer A110 which FM each other and controlled by Intellijel Planar and echo by Make Noise Echophon.
Stereo panning comes from 2 x Alesis Midiverb 4.