Roland is pleased to announce the development of the SYSTEM-500, an all-new, fully analog modular synthesizer based on two of the most revered electronic instruments of all time—the SYSTEM-700 and SYSTEM-100m. Designed exclusively for Eurorack, the SYSTEM-500 delivers classic Roland sound with all the advantages and reliability of a modern instrument.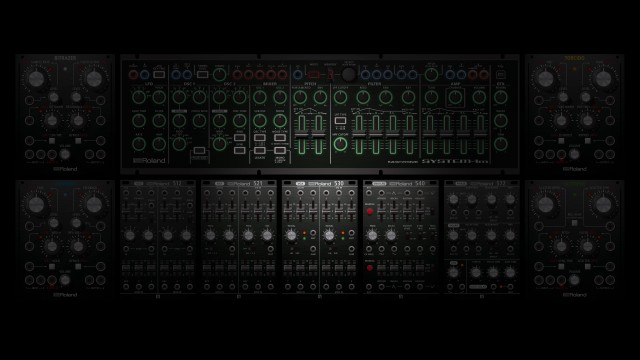 BITRAZER is a "bit and sample rate destruction" – a decimator effect.
http://www.roland.com/products/bitrazer/
DEMORA is a high-resolution delay, boasting a time range of 20 microseconds to 10 seconds, with delay time, feedback and width.
http://www.roland.com/products/demora/
SCOOPER is a "scatter" effect in a modular.
http://www.roland.com/products/scooper/
TORCIDO is a distortion.
http://www.roland.com/products/torcido/
Following last year's AIRA debut, Roland is launching a whole new range of Eurorack compatible modular gear.
The SYSTEM-1m is a semi-modular version of the SYSTEM-1 synth with extra features like CV/Gate connections, external input, and more comprehensive signal routing options.
Next there's a range of standalone, table-top and Eurorack compatible effects for next-level sound mangling and experimentation, with distortion, crusher, delay and scatter coming soon. Patch cables at the ready!
An improvised demonstration of the Sample & Hold function on the Roland System-100 semi-modular synthesizer. All sounds were recorded live from the synth. Reverb was added later. No other modifications has been made to the sounds. The style is experimental / minimal. No drums etc, just the sounds of the Roland System-100.
Another simple video in the "Playing With" series of videos just playing around on some nice gear. Hopefully it demonstrates some of the sound and features without going into one my full overview videos. Most of all though it's something I've some real fun with! Sampled the System 100m a lot too, so it'll make it's way into some new packs/products soon enough.
This was filmed at the University of Huddersfield! Some amazing facilities that I'm lucky to be able to get my hands on!
In this video, Dick Hyman acknowledges his acoustic mastery as well as his electronic explorations while improvising on the piano and the newly re-issued Moog Modular System 55.
American pianist and composer Dick Hyman is best known for his proficiency on the piano and his versatility in various jazz styles, but Hyman is also responsible for creating some of the earliest popular Moog recordings. The 1969 album Moog: The Electric Eclectics of Dick Hyman, found the accomplished jazz musician exploring new sonic territories with a brand-new instrument, the Moog synthesizer.
Music used courtesy of Eastlake Music, Inc.
Berlin's Schneidersladen aren't quite like other music gear stores, starting with their hidden location above a grocery store.
And then there's their incredible rotating rack of modular gear. We sped it up so we can stare dizzingly and watch. Guessing this doesn't exactly work as aversion therapy.
Euclidean rhythms generated by the new Knit Rider sequencer modular from Bastl Instruments (CZ) – at a workshop hosted by Schneidersladen, Berlin. More to come.
Quick live jam on the modular from Bastl Instruments (CZ) – at a workshop hosted by Schneidersladen, Berlin. More to come.
3 analog modules inspired by musical instruments pioneer Standa Filip, which form modular drum machine
Tea Kick (5HP) – kick drum and more
Noise Square (5HP) – analog, digital and square signal generator
Skis (5HP) – dual decay and vca
for more information go to: http://www.bastl-instruments.com/modu…
buy here: http://noise.kitchen/product-category…
plan here: https://www.modulargrid.net/e/modules…
http://www.synthrotek.com/products/ms…
Check out the new MST Eurorack Modules from Synthrotek
1. Dual Envelope
2. Stereo Mixer
3. Buffered Multiple
Synthrotek is pleased to offer a complete line of eurorack synthesizer modules, power, cases and accessories in both complete units and kits. We now offer a very complete analog modular monophonic voice with many accompanying utility modules. This new complete voice is the product of a collaboration with synth guru George Mattson, who now joins us in releasing our new MST (Mattson – Synthrotek) line of premium modules. The Stereo Output Mixer was designed by Scott Rise of Division 6.
This self contained Eurorack expandable Midi to CV converter/calibration system offers an uncomplicated solution to the problems of tuning and scaling both vintage synthesisers and modern VCO Eurorack modules. With 16 bit voltage resolution and a tune time of 10 seconds. The unit can compensate for VCO alignment issues and environmental factors that cause tuning drift with the push of a button. Its Digital Automatic Audio Gain Control Circuitry (DAGCC) enables the unit to be connected to most synthesiser outputs, and has been tested on a large array of makes and models. While obviously not being capable of fixing the problems of faulty circuitry it will however save time and money on re–calibration, and ensure the technical side of synth ownership doesn't impinge on the creative process.
MORE DETAILS:
vinceclarkemusic.com/circuits/
Background video description:
I fired up my oscilloscope to show you some of the basic waveforms you will find in Eurorack VCOs. Let's see what happens to them, when filtered, mixed, bit-crushed, etc.
Video description below:
I bought a new VCO, the Mos-Lab Kobol Oscillator. What a great VCO, awesome hardware quality and sound. Here is a demo where I use the Synthesizers.com Q960 sequencer to control pitch and waveform modulation of the VCO.
The VCO is patched into the Corsynth C101 OTA VCF which is patched into the synthesizers.com Q107 State Variable Filter.
I'm using the high pass output of the Q107 and it is controlled by a third envelope which is triggered by the first step of the Q960.