Make Noise Mysteron is center stage (coming in around 1:15). Full patch includes Zularic Repetitor, a143-1, BD909, BD808, SD808, Basimilus Iteritas, a138b, Quad LFO, Dual Delay, Erbe Verb, STO, Mysteron, e355, submit 7, Wogglebug, Maths, DPO, Echophon, Metropolis, Rene, Dual ADSR, uVCA, and Optomix.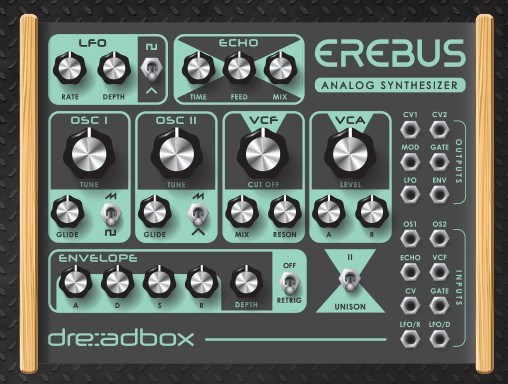 Dreadbox has introduced the Erebus, a new semi-modular paraphonic analog synth module.
It offers what is essentially a monophonic synth architecture, but that allows for independent control of its two oscillators. This means you can play (or sequence) two different pitches, but the pitches will go through a shared VCF, VCA, etc. 
Features:
Full Analog Paraphonic Synthesizer
Full Analog 2-voice Paraphony or Unison sounds
2 x VCO with separate glide controls
Two pole (12dB/ocv) resonating VC Low Pass Filter
VC LFO with additional VC Depth
2 x Envelope Generators (1xADSR and 1xAR dedicated to the AMP)
VC Delay/Echo
14 patches for an astonishing Modular experience
CV Outputs: LFO, Envelope, Modulation Wheel, Gate, Osc1 pitch (1V/ocv), Osc2 pitch (1V/ocv)
CV Inputs: Osc1, Osc2, Echo time, VCF, LFO rate, LFO depth, CV/Gate
MIDI interface: Pitch note/gate on-off, retrigger function (on-board), Mod wheel (patched on-board), Pitch wheel, MIDI Channel select 1-7 or Omni (DIP switch)
Paraphony CV/GATE outputs allows you to turn monophonic devices into Paraphonic, or even combine 2 monosynths into a paraphony orgy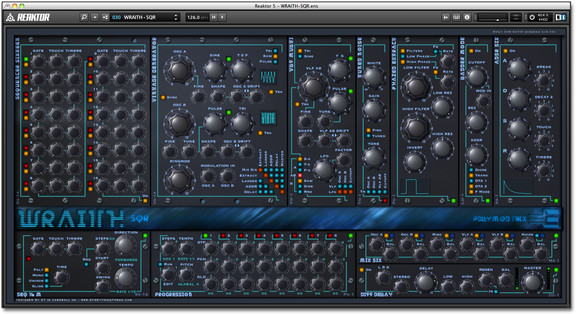 EverythingTurns has announced the release of Wraith, a PolyMod Rack series polyphonic modular analog synthesizer instrument for Native Instruments Reaktor.
Wraith is available in two form factors, the larger Wraith SQR has two built-in sequencers that can run independently to each other, Wraith Mini has all the same synthesis capabilities and is better suited for smaller screens.
PolyMod features
PolyMod is more of a template than an ensemble and has features built-in that will make the whole process of building new ensembles at ET better in so many ways.
All PolyMod ensembles have a consistent user interface making the learning curve for new designs greatly reduced.
PolyMod has skins built in – 22 to choose from and they are saved with each snapshot, having different colours for different tracks in a sequencer makes a lot of sense, red for bass and blue for pads, etc.
All PolyMod ensembles are pre-order only, this means no instant downloads, when an order is placed the instrument will be sent to you within a day or so and you will have the only copy, the original encrypted version is kept on the server as a backup if needed.
Each Ensemble is Unique to you.
Wraith is available for purchase for £18 GBP (SQR)/£14 GBP (Mini), or £28 GBP for a bundle of both. Requires Reaktor version 5.8+.
This is the MFOS 16 step analog sequencer. 1 channel, 3 cv outs (with portamento control), 2 gates, 2 triggers out, clock input, clock out, coarse/fine control voltage, multi-gate, step/reverse and randome mode.
The case is made of wooden with white finish and is powered with AC100-260V.
In this video the sequencer is controlling the selfoscillation of a VCF with a envelope generator.
More information at hardmod dot tumblr dot com
Here's DivKidMusic's overview of the Neutron Sound – Orgone Accumulator. A feature packed digital VCO with AM, FM, dual VCO sync, wavetables, waveform cross fading and loads more! Check out the videos on Neutron Sounds page to check the features of the module at the link below. "I've tried to stick to patch examples here to compliment those videos. "
Waveforms & Crossfading –
https://www.youtube.com/watch?v=TYBqq…
Tuning & Detune –
https://www.youtube.com/watch?v=XlBwm…
AM & FM –
https://www.youtube.com/watch?v=CUi5Q…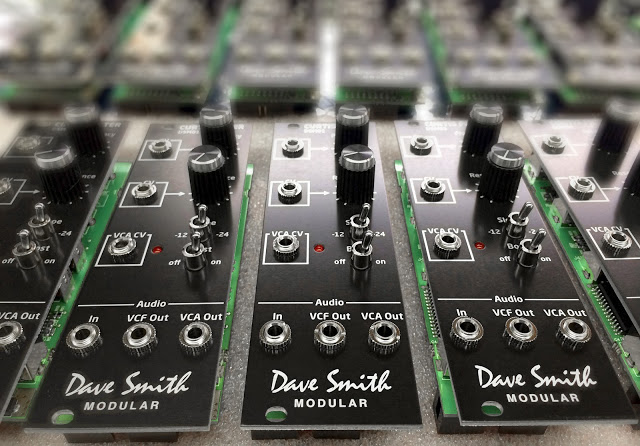 Dave Smith Instruments today began shipping the DSM01 Curtis Filter module, their first product for modular synthesizers. The module takes its name from the filter chip originally designed by the late Doug Curtis, which has been an integral part of the sound of Dave Smith's instruments from the classic Sequential Circuits Prophet-5, all the way up to recent synths such as the Evolver, Mopho, Prophet '08, and Prophet 12.

The DSM01 features a switchable 2/4-pole, resonant low-pass filter, as well as its own VCA. It is a standard 8HP wide, Eurorack-format device with interconnections made using 3.5 mm phone jacks. A carefully designed set of inputs and parameters allows voltage control of filter frequency and resonance. Filter slope is selectable between -12 dB and -24 dB. The module's VCA features two separate outputs for the filter—one pre-VCA and the other, post-VCA. A unique feature of the filter is a Boost function that introduces harmonic distortion into the signal for more aggressive coloration.

"Having the widest tonal palette possible has always been the goal for modular users," said Smith. "This product is our first—but significant—contribution to that world. We wanted to give modular users easy, affordable access to the classic Curtis filter sound, which I've always found very versatile and expressive." The Curtis sound has often been described as saturated, brash, and powerful, and has also been fundamental to such vintage instruments as the Oberheim Xpander, Rhodes Chroma and Polaris, and Elka Synthex.

"The DSM01 packs a lot of sound-shaping power into a small package. We think modular users are going to get a lot of sonic mileage out of it," said Smith.

The DSM01 Curtis Filter module is available now with a MAP of $179.
In this video 'The Tuesday Night Machines' creates a modular synth patch from scratch in 5 Minutes
MORE INFO:
Eurorack Modular Synth Modules used in this video:
– Doepfer A-138 Exponential Mixer
– Intellijel Dixie 1 VCO
– Music Thing Modular Thonk Turing Machine & Pulses Expander Sequencer
– Intellijel uScale 1 Quantizer
– Malekko Wiard Anti-Oscillator VCO
– Klangbau Wavetable VCDO
– Erika Polivoks VCF Filter
– Synthrotek EKO Delay
– Make Noise Function Generator
– Intellijel Quadra Quad Envelope Generator
Filmed with a Canon EOS 550D (Rebel t2i).
First explorations using Robin Rimbaud-Scanner's almost complete Verbos Electronics modular system. Featuring Amplitude & Tone controller, 2 x Complex Oscillators, Dual Four Pole Filter, Voltage Multistage, Manhattan Analog mixer, Doepfer a-143-3 Quad LFO, Toppobrillo Dual 281 Function Generator. Powered by Tiptop Audio Zeus Access and housed in a handsome Lio & Linn Wood + Metal 6u 84hp slanted wood eurorack case.
Created with the very capable engineer, producer and musician Paul Stoney.
Lead 'acid' like line – STO vari-waveform into Rebel Technology BIT REACTOR with tempo synced random CV'd CRUSH. Tempo synced delay via Expert Sleepers DISTING. 
Other modules used in patch:
Inner clock Systems Sync-Gen IILS (DAW synced master clock)
SSL Modulation Orgy (tempo synced random modulation of Bit Reactor)
SSF Gnd Ctrl (attenuation of Modulation Orgy output)
SSF Propagate (mults gates to MATHS)
Make Noise MATHS (envelope generators to filter and VCA)
Toppobrillo Multifilter (Hi Pass filtering of Bit Reactor output)
SSF Ultra-Random (Random CV of filter frequency)
Abstract Data Wave Boss (VCA)
Benge 'Being'
Memetune Studios
http://myblogitsfullofstars.blogspot….
http://mysteryplaysrecords.com