In this video we explore the possibilities of the the new Moog Mother-32 semi-modular analog synthesizer hosted within Eurorack modular system. The Mother-32 has already been met with high praise from experienced modular users to the novice.
Instead of reviewing its features, we wanted to demonstrate a variety of creative patches to show the Mother's timbral and musical prowess.
We've numbered each patch in the video. Tell us what you're favorites are in the comments below.
Patch #1: 0:14
Patch #2: 2:10
Patch #3: 2:41
Patch #4 3:11
Patch #5 3:59
Patch #6 4:42
Patch #7 5:36
Patch #8 6:44
Patch #9 8:31
Switched On is a store front, online retailer, repair shop, and destination for the electronic musician.
http://www.switchedonaustin.com/
Vince Clarke Music has relaesed the IMAGINATOR VCX-378, the second product release in an ongoing series of creative and utilitarian modules for the ever-present Eurorack small-format modular system, designed and built to exacting standards in close collaboration with British 'boutique' analogue synthesiser and accessory designer/manufacturer Analogue Solutions.
Musical imagination is a wonderful thing. Synthesisers and associated modern-day music technology can help make that happen in wonderful ways. With an amazing number of hit singles and chart-topping albums to his Ivor Novello Award-winning songwriting name and an accompanying hard-earned and hard-working synthesiser collection to die for, synth-pop pioneer Vince Clarke clearly has it all in spades. So just imagine if you could call upon an amazingly musically inspirational device for assistance when seeking that defining elusive musical hook… well, you need not imagine anymore as the IMAGINATOR VCX-378 does just that, fresh from the imaginative musical mind of Vince Clarke! After all, sometimes serious songwriting synth-pop pioneers still need a helping hand (or Eurorack module): "I wanted a practical writing tool that would generate musical patterns based on user-controllable variables."

Vince Clarke got what he wished for… the ingenious IMAGINATOR VCX-378 produces one-bar musical phrases based on either user-control of the Clarke company's clever bespoke musical algorithm or a quasi-random solution. So anyone seeking to trigger their own musical imagination (and MIDI synthesisers) should simply add an IMAGINATOR VCX-378 to their Eurorack small-format modular system setup. The result? Almost unlimited combinations and permutations that will both inspire and amaze as it helps when searching for that defining elusive musical hook.

Housed in a 36 HP-width Eurorack module, the IMAGINATOR VCX-378 has a front facia-located one-octave 'keyboard' — with each 'note' having a push button and associated LED — alongside two Quantize sections, Octavize and Transpose sections, a Velocity treatment, plus internal (Sequencer) and external (Midi/Clock) clocking, as well as a full MIDI interface.

In most cases, users will want to sync to their sequencing software by sending the IMAGINATOR VCX-378 a MIDI note clock. This can be downloaded from the Clarke company website. The IMAGINATOR VCX-378 then references these notes and uses this information to clock the musical patterns it produces. With everything correctly connected, users can use soft synths or send those musically imaginative patterns out to an external synthesiser — something close to Vince Clarke's musical heart.

Helpfully, Vince Clarke himself has taken time out from an always musically successful schedule to prepare some seriously userfriendly tutorials to transport the new IMAGINATOR VCX-378 user from novice to expert in no time. "For full operation of the unit, I suggest you make yourself a nice cup of tea and watch the user video," he says, before later concluding: "Thanks for watching… and now I must get back to my day job."

Jesting aside, while the IMAGINATOR VCX-378 makes for a musically imaginative holiday season gift for the seasoned synth lover in someone's life, note that it will produce inspiring musical phrases well beyond the 12 days of Christmas! Let's hand off here to 'tutor' Vince Clarke to blow our musical minds with some insightful IMAGINATOR VCX-378 note-related number crunching: "With one note there are 16 possible positions within one bar for the note to go. With two notes there are 120 possible positions. With three notes there are 560. This increases and then decreases exponentially. So, if we do the math, we can say that using one to 16 notes there are a possible 65,535 combinations. Remember: we are only talking about one note. Once you start adding pitch to
this equation then the numbers really go through the roof. No wonder there seems to be an unlimited number of one-bar patterns." Perhaps the IMAGINATOR VCX-378 is not just for Christmas, after all?
The IMAGINATOR VCX-378 is available from Analogue Solutions for £349 GBP ex tax and delivery.
A rack of the clones! Want to get the sound of a classic synth in your Eurorack set-up? An authentic sounding filter is the ideal place to start. We examine the modular world's best filter clones, from MS-20 emulations to 101-inspired modules, to see how they stack up head-to-head.
See more in issue 294 of Future Music: http://bit.ly/FMU294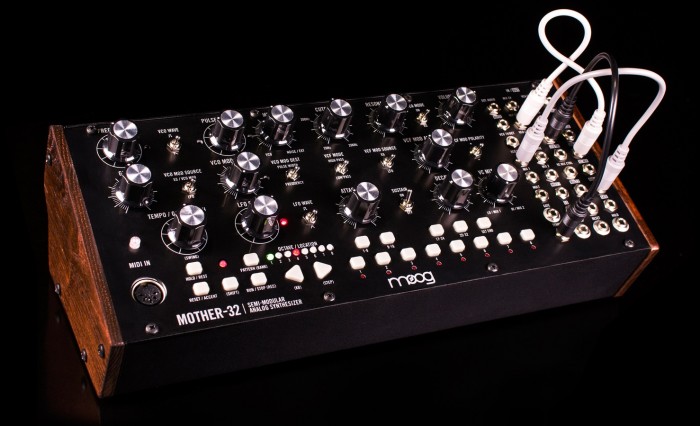 Moog has announced the Mother-32, a distinctively vintage-voiced analog performance and production synthesizer, meticulously handcrafted to inspire unique sound creation, new music and endless sonic exploration.
The Mother-32 is mounted in a black, laser-etched extruded aluminum enclosure and finished with traditional wood sidepieces. The 100% analog instrument features a comprehensive voltage-controlled sequencer and 32-point analog patchbay.

Mother-32's semi-modular design means that no patching is required to create powerful analog sound. This allows musicians of any experience level to quickly make music. Synthesists will enjoy exploring the extensive 32-point patchbay which unlocks truly expressive, unique and complex synthesis capabilities. The patchbay provides access to a wealth of sounds and functionality including an assignable CV output jack, MIDI to CV conversion, a second voltage-controlled mixer, sync, interconnectivity and expandability.

Onboard sound sources include a powerful 10-octave analog oscillator with variable pulse width, and an all-analog white noise generator. The signals from each are blended together by a voltage-controlled mixer for dynamic sound creation and manipulation. From the mixer output, sound travels through a Moog Ladder Filter with selectable low pass and high pass filter types.

Musical creation and programming is executed via Mother-32's comprehensive 32-step, voltage controlled sequencer or external MIDI controller. There are two sequencing styles, allowing each user to create new musical ideas with ease and familiarity. A total of 64 patterns can be stored within Mother-32's memory bank.

Mother-32 is an expandable analog ecosystem that allows multiple units to easily be mounted and patched together for extended synthesis capabilities.
Mother 32 features
Semi-Modular design requires no patching for swift, inspired music creation.
Voltage Controlled 32 Step Sequencer with 64 Sequence Locations.
Low Pass & High Pass Moog Ladder Filter (20Hz–20kHz) with voltage controlled resonance.
External audio input for processing outside sound sources.
Definitive Moog oscillator with Pulse and Sawtooth wave outputs.
5-pin MIDI input and MIDI to CV converter.
32 Modular Patch Points (Includes 5 patch cables).
2 Voltage controlled mixers.
Superb companion to Werkstatt 01, Minitaur and other synthesizers.
Main module can be easily transferred into a Eurorack skiff or case.
Mount 2 or 3 units vertically with optional 2 and 3 Tier kits.
Complete solution for new Eurorack users – no other items required.
The Mother-32 is available for purchase for $679 USD. Direct orders will ship within 10 weeks.
The four new Roland Aira Eurorack effects modules, Bitrazer, Demora, Scooper & Torcido. 
Bitrazer combines intense bit and sample rate crushing effects
Demora is a high-resolution delay module
Scooper combines a single-pass loop recorder and Scatter effect
Torcido is designed to deliver 'classic Roland distortion sound'
The modules are unique in that they can be used  as standalone tabletop effects or incorporated into Eurorack systems. They also can have their internal signal flow repatched, using the AIRA Module Customizer.
The modules have street prices of about $300 apiece.
The Mother32 is a Eurorack synth module that is a basic all-in-one synth voice. Architecturally, it is a single-VCO Moog synth voice – but with 32 audio and control voltage patch points, a built-in sequencer and 'Moog sound'.
Key Features:
All-in-one Moog synth voice in Eurorack format
Can be used as a standalone desktop synth module or as part of a Euro system
MIDI & CV control
32 patch points
Built-in step sequencer, with per-note control over a large number of parameters, including gate length and ratcheting
The Moog Mother32 is expected to be available in early October, priced at US $599.
David Ahlund shows us the four new digital Eurorack modules (Bitrazer, Scooper, Torcido and Demora) plus the Configurator editor.
Roland is pleased to announce the development of the SYSTEM-500, an all-new, fully analog modular synthesizer based on two of the most revered electronic instruments of all time—the SYSTEM-700 and SYSTEM-100m. Designed exclusively for Eurorack, the SYSTEM-500 delivers classic Roland sound with all the advantages and reliability of a modern instrument.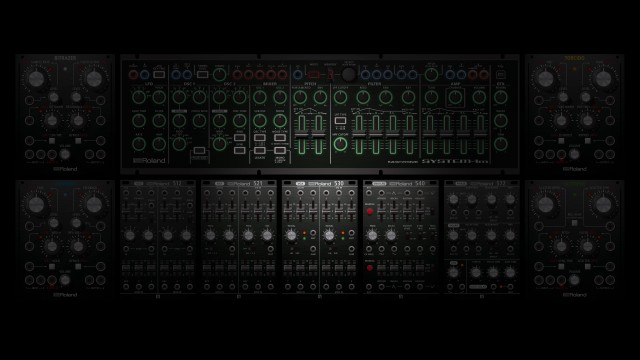 BITRAZER is a "bit and sample rate destruction" – a decimator effect.
http://www.roland.com/products/bitrazer/
DEMORA is a high-resolution delay, boasting a time range of 20 microseconds to 10 seconds, with delay time, feedback and width.
http://www.roland.com/products/demora/
SCOOPER is a "scatter" effect in a modular.
http://www.roland.com/products/scooper/
TORCIDO is a distortion.
http://www.roland.com/products/torcido/
Following last year's AIRA debut, Roland is launching a whole new range of Eurorack compatible modular gear.
The SYSTEM-1m is a semi-modular version of the SYSTEM-1 synth with extra features like CV/Gate connections, external input, and more comprehensive signal routing options.
Next there's a range of standalone, table-top and Eurorack compatible effects for next-level sound mangling and experimentation, with distortion, crusher, delay and scatter coming soon. Patch cables at the ready!
SUB frequencies = headphones required…
Here's a first look at the Analogue Solutions Telemark V2.0 synthesizer. The new release features the addition of a SUB OSC / DIVIDER as well as a RING MOD. The inclusion of these two sound sculpting elements have a vast and powerful effect on the overall sound of the TM.
As usual, the Telemark is being sequenced via the Oberkorn MK3 analogue sequencer (black face). The AS CVQ02 Quantiser was also used between the Oberkorn and the Telemark for some of the more melodic sequences heard. Transposition was done via MIDI.
The AS Spring Reverb module also makes an appearance serving processing needs for the TM.
At video end, a live melody is played atop a sequenced (Oberkorn) TM synth line.
Enjoy.