Three new Eurorack modules from Waldorf will debut at NAMM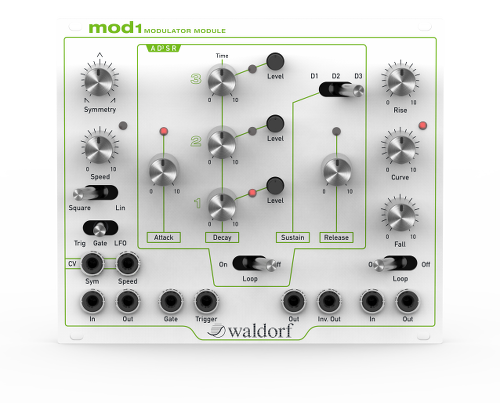 Three different modulation sources in one module make the mod1 the control center of your modular patch.
From simple envelopes and LFOs to complex looped multi-stage curves, the mod1 delivers rich and endless modulation options – all based on pure analogue circuitry for everything from super- smooth curves to razor-sharp edges that never sound "digital. From gently undulating LFOs to ultra-precise hard cuts, you get it all based on innovative analogue circuits for a truly musical touch."
Specifications
mod1 sideThree highly flexible modulation sources in one module. All based on innovative analogue circuits for snappy attacks and super smooth curves.
1. AD3SR
ADSR envelope with up to three decay stages
Each decay stage with time and target level control
Configurable for 1, 2, or 3 decay stages
Loop mode for looping from attack over all enabled decays stages
Gate and trigger inputs
Positive and Inverted output
2. Symmetry Generator
Two segment modulator with controllable symmetry
CV-inputs for speed and symmetry
Symmetry modulation keeps base frequency
LFO mode with bipolar output
Gate and Trigger envelope modes with unipolar output
Linear or rectangular wave forms
3. Rise & Fall
Two stage envelope "rise & fall"
Flexible curve control for rise stage – from smooth classical RC shape to cutting linear segments
Optional loop mode
Gate input
Signal output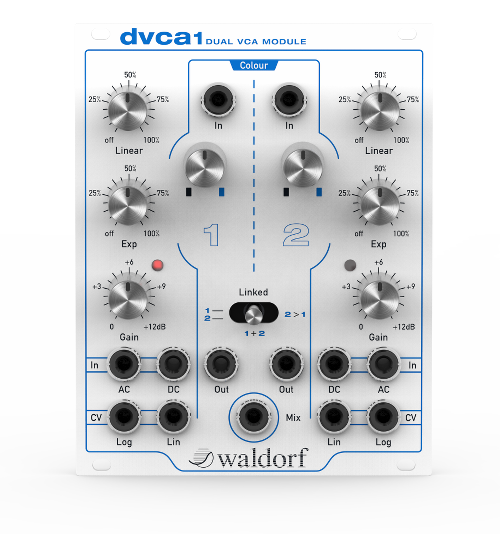 Built around two VCAs with a wide range of options including the most important one: the ability to musically colour the signal. Starting in dry mode, you get high-precision analogue amplification. But then when you turn the Colour knob, you add a warmer and more colourful timbre to the signal based on a finely-crafted state variable filtering circuit. But there's more: Simultaneous linear and exponential control as well as specialised AC and DC coupled inputs are provided. A positive gain control makes the dvca1 a true "amplifier," and flexible link modes let you create modulated panning.
Specifications
dvca1 sideTwo true analogue high-end VCAs
Optional colour control based on state variable filter technology
CV-input for colour modulation
Simultaneous linear and exponential control and CV inputs
Additional gain control for adding up to +12dB
Separate AC and DC coupled inputs for audio rsp. control signals
Separate summing output combining both signals
Link mode for parallel modulation of two signals
Anti-parallel link option for panning effects"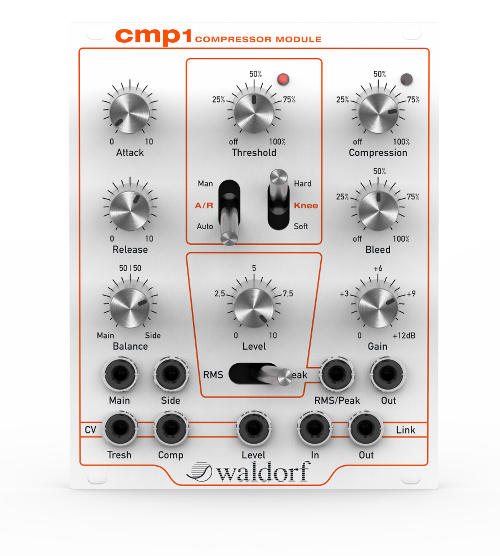 A true high-end analogue compressor not only adds punch to your signal, but it also can be modulated in intriguing and unconventional ways! Side-chaining with a adjustable balance control will open a huge set of modular possibilities. The cmp1 has all the features you expect from a modern compressor including attack and release control, automatic and manual modes, hard and soft knee as well as output gain and bleed amount of the original signal.
Specifications
cmp1 sideTru analogue high-end compressor
Flexible side-chaining
Control path based on controllable balance of side and main signal
RMS and Peak modes
Threshold and compression controllable from panel with additional CV-inputs
Attack & Release in manual or automatic mode
Hard and soft-knee compression
Bleeding control for mixing original signal to compressed output
Overall gain control
Input level control
Separate output of detector signal for use as envelope follower
Additional level control input for optional use as exponential VCA
Comments