Playlist:
Waldorf Blofeld Tutorial: How to create a tone with Self Oscilating Filter
Waldorf Blofeld Tutorial: A different Way to Trigger the Comb filter
Waldorf Blofeld Tutorial: Create a One Shot Envelope out of LFOs
Waldorf Blofeld Tutorial: Create intervals with just one oscillator on the Waldorf Blofeld
Waldorf Blofeld Tutorial: Fun with Unisono
Waldorf Blofeld Tutorial: Fun with the Filter Envelope and Modifiers
Waldorf Blofeld Tutorial:How to Split the Keyboard in Performance Mode
WALDORF MICROWAVE rev. B in Multimode. The 2 sound are routed to the LR sum Outs of the Microwave. The 2 channels are triggered with different sequencer lines of ARTURIA BEATSTEP PRO which is doing a great job here. The sound is enhanced by the stunning ENSONIQ DP/PRO and a bit of Mackie EQ in the mixing desk.
Can't wait for the SidTracker 64 to be released on appstore? Or maybe you think it is a viable alternative. Find out more in this compelling head to head battle!
SidTracker64 is the ultimate chiptune production package tool for the iPad. It emulates the SID sound chip from the dominating home computer of the 80s – The Commodore 64.
Get started immediately with the bundled songs and sounds in various styles, from old skool bleeps n blips to new school with multi speed and advanced table editing. Explore, remix and make new songs based on the old classics c64 game tracks "Commando" by Rob Hubbard or "Blood Money" by Fredrik Segerfalk, and the brand new youtube remix hit of the "True Survivor" Kung Fury soundtrack, all included in the app.
SidTracker64 is a retro-style music creation tool and synthesizer combined with modern features such as midi keyboard and controller input, Audiobus 2 and Inter App Audio for recording in your favourite DAW-app. Midi clock in lets you sync to other apps and hardware drum machines and synthesizers, such as the Elektron Analog Four.
SidTracker 64 can be used for live looping, making complete songs, and the minimum latency makes it suitable for live use. Export your music to Dropbox and e-mail as audio or .sid and even .prg files which you can run on a real Commodore 64.
Editing is based on hands on touch interaction or midi input instead of the hardcore style of direct data editing. Record live to a metronome or input notes step-style. Real SID-composing has never been simpler and more fun!
SID synthesizer engine specs:
· Fully emulated SID 8580 R5 chip.
· 3 separate voices
· 8 waveforms – tri, saw, pulse with pwm, noise, trisaw, tripulse, sawpulse, nowave
· Wavetable editing
· 3 volume envelopes
· Dedicated vibrato controls
· 1 multimode filter LP/BP/HP (12/6/12db) with sweep envelope
· Filter table editing. Change filter cutoff and modes up to 1/240
· Hard sync and Ringmod per voice
· PWM sweep envelop
· PWM table editing
· Hard restart
· Variable emulation speed from 25-240hz (standard 50)
· 32 instruments per song (copy/paste/rename)
Tracker (sequencer):
· 3 voice patterns
· Mute voices on/off
· Change instrument per step
· FX pattern – change volume/filter/speed per step
· Loop pattern
· Song building
· Live or step recording
· Metronome / count in
· Follow mode
· Note effects (Glide/sustain/vibrato/filter & pulse reset/tie)
· Song mode with transpose
Midi:
· Keyboard input 1-3 voices (mono, duo and polyphonic)
· CC-assignable synth parameteras
· Modulation wheel vibrato
· Pitch bend
· Midi Clock in
· Selectable input channel
Export:
· .s64 – native SidTracker 64 file
· .m4a – audio
· .sid – for use in sidplayer
· .prg – exports play data for a real Commodore 64
For more info:
http://www.sidtracker64.com
http://www.youtube.com/sidtracker64
http://www.instagram.com/sidtracker64
http://www.twitter.com/sidtracker64
http://www.facebook.com/SidTracker64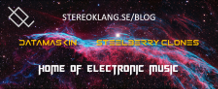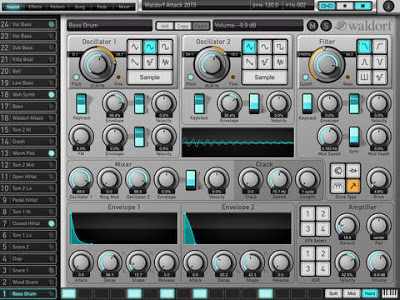 Attack Drums is a synthesizer designed mainly for drum sounds, but the powerful sound engine can also be used for everything else – including vocals. Based on the Waldorf Attack VST PlugIn from 2001, it consists of a 24-part sound engine, now packed with a pattern sequencer and a versatile effects section.
One highlight of the effects section is the new Phrase Vocoder, a vocoder that uses written text instead of spoken words. Lyrics in – song out, adjust gender as you have always wanted!
Just like Waldorf Nave, Attack Drums is a seriously in-depth musical instrument – easy and fun to use, but a a sonic beast at its core!
Specifications:
24 Sounds
Four independent effect slots with selectable effect:
Delay
Equalizer
Overdrive
Phaser
Flanger
Chorus
Phrase Vocoder
Reverb
Compressor
Pattern Sequencer
999 Patterns
Polyphonic steps – up to 8 notes per step
Fractional track/step timing
Audiobus
Inter App Audio
MIDI
Export song to audio file
compatible with iPad 2, iPad 3 (Retina), iPad 4, iPad mini (1,2,3), iPad Air (1,2)
Minimum iOS 7.0 required
AudioCopy / AudioPaste
Content control via iTunes File Sharing
Trigger Pads
Mixer
Recording
The app costs $14.99
Waldorf Microwave provides for all the sounds; Nord Drum plays the drums. Only own patches used. Everything midi-sequenced and multitracked with Cubase. Some effects (delay, reverb, chorus), EQ and dynamic processing added.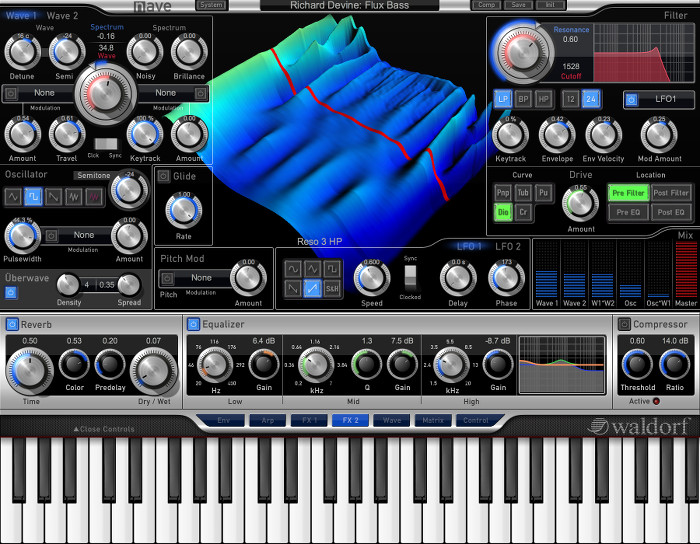 Waldorf has released Nave for VST/AU/AAX, an advanced wavetable synthesizer instrument for Windows and Mac.
Nave, our award winning next generation wavetable synthesizer, comes pre-packed with superb sounds, ranging from spatial pads to vivid wavetable scans and cutting leads to solid basses, but, above and beyond that, also an abundance of incredibly imaginative sound worlds – many of them professionally produced by some of the top sound designers around.

As a synthesizer thoroughbred at heart, Nave really represents a phenomenal playground for sound creation creativity. Its oscillators offer expanded wavetable functionality with elaborate editing facilities and an extremely effective speech synthesizer.
Nave features
Two independent advanced wavetable oscillators.
Osc module with (up to) 8-oscillator Überwave with saw, triangle, PWM, white and pink noise.
Two ring modulators.
Multimode filter with LP/BP/HP, 12dB and 24dB.
3 envelopes, 2 LFOs.
10 Modulation Matrix entries.
Drive with adjustable curve, depth, and position.
Modulation effect with either Chorus, Flanger or Phaser.
Reverb, Modulation Delay.
Three-Band Parametric Equalizer, Compressor.
Blades with musical scales and optional chord mode.
Polyphonic Aftertouch.
Up to 3 X/Y control pads.
Arpeggiator.
Polyphonic unison.
Speech synthesizer for wavetables, 3D wavetable editing.
Generation of wavetables from external audio files.
Patch management with user banks and patch categories.
Sound Patches can be exchanged with Nave iPad version.
Supporting 32bit & 64bit VST, VST3 and AudioUnit hosts.
Supporting ProTools 11 with AAX64 native.
Nave for VST/AU/AAX is available for purchase for 149 EUR.
Waldorf make a preview of their upcoming IOS Drum Synthesizer Waldorf Attack.
In the audio demos in the middle of the video, there is a special sentence used "this is for Synth Anatomy", maybe you hear the vocoder sentence
Waldorf Blofeld synthesizer. All patches 100% custom made, played live with only internal effects used. A wonderful synthesizer, capable of such a wide range of sounds, from ethereal to grating, with many magical occurrences. Very easy to program through the excellent display and programming matrix, yet quite deep and powerful. More smooth sounding than other Waldorfs, and with a great modern sound and look. I love it. If you want analog emulation why not just get a real analog synth? This is a wavetable synth, and it is in those realms that it shines. Also, the latest OS update is a must as the knob control is much improved.
More about Pulse Emitter http://www.pulseemitter.com/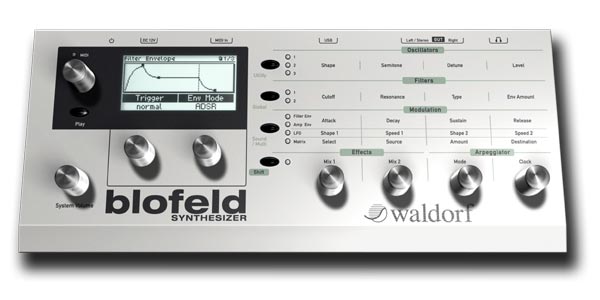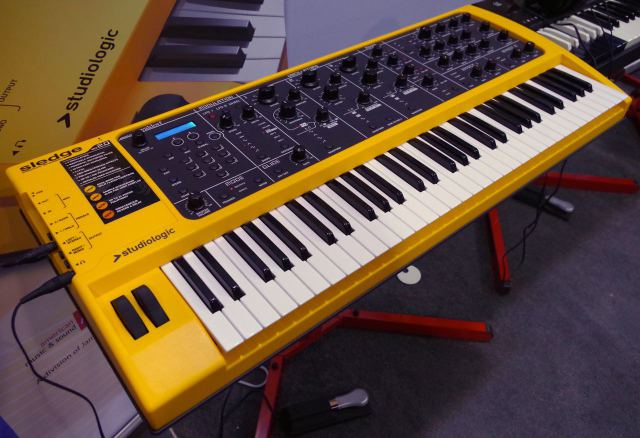 Studiologic has introduced Sledge 2.0 – an updated version of its vintage-inspired digital keyboard that offers a lot more synth for less money.
With Sledge 2.0, Studiologic and Waldorf Labs have made it more flexible as a pure synthesizer, added Dual mode for Split/Layer functions, introduced support for user samples, expanded the instrument's polyphony from 8 notes to 24 and improved its effects engine.
Sledge 2.0 Key Features:
Auto Dual mode: Sledge 2.0 can now play two sounds at the same time, in Split or Layer mode; the feature is controlled by a new page of the Global function and allows to simply keep one note (for Split) or more notes (for Layer) and then select a new sound, that will be added to the previous sound; as any other sound, also Dual Sound combinations can be permanently stored in any of the 1.000 available presets;
Sample Player: sound samples and new waves can be loaded in the internal 60 megabyte of Flash memory, played by OSC 1 and modifiable by all parameters of the control panel, adding other oscillators, setting filters, envelopes and effects. This feature can constantly expands the instrument's sounds and create a totally new combination of synthesis and sampling.
Pitch & Hold controls: a new Global page allows to enable the Pitch and the Hold separately for the Lower and Upper sounds in Dual Mode, allowing to use the Pitch bend on the Upper sound (i.e. for solo parts) and the Hold pedal to control only the Lower (to keep playing a Drums groove or as a Damper for a Piano sound) and vice versa, or to enable Pitch Bend and Hold on both Upper and Lower sounds;
Reverb+Delay: a new function allows to mix both effects; the Reverb keeps the setting previously selected, while the real time controls (time and level) allows to set the parameters of Delay also when mixed.
Enhanced Polyphony: the total maximum number or notes that can be played at the same time have been expanded to 24, allowing to get a better real time control over the new sound possibilities obtainable from synthesis and sampling together.
Sledge Spectre: samples can be edited (keyboard range, tuning and other parameters) and transmitted to Sledge 2.0 by the USB port, with a sample editor that allows to first load and play the samples on your Computer and then download them into the instrument's memory.
Specifications:
Keyboard 61 keys + Aftertouch

2 Pots – 3 "chicken head" rotary switches (7 positions) – 1 rotary encoder + push function

2 x 16 digits backlit LCD

High Quality Pitch and Mod Wheels

Up to 999 programmable Sounds

Fast and efficient sound selection via numeric keypad
Modulation
2 fast LFOs per voice with adjustable Speed and Depth

1 extra modulation routing for Mod Wheel, with adjustable Speed and Depth
– LFO Shape: Sawtooth, Rectangular, Triangle, Sine, Sample & Hold, Ramp


– Destination: Osc 1, Osc2, Ocs3, PWM / Wave / FM, Volume, Filter Cutoff
Sound Generation
24 Voices polyphony – Monophonic mode with single or multiple trigger

3 Oscillators per voice OSC1/OSC2/OSC3
– Range from 64′ to 1′ with Semitone ant Detune controls
– Shapes: Sawtooth, Square, Triangle, Sine, Pulse (with Pulse Width Modulation)


– OSC 1 with 66 Original PPG Wavetables + Sample Player (60MB internal memory)

FM – Frequency Modulation of Sine and Triangle – Oscillator Hard sync (OSC 2 to OSC 3)

Noise Generator – White and Pink noise

Mixer with Volume and On/Off switch for each Oscillator and Noise

AUTO DUAL MODE : Split or Layer mode – prog. split point for each Program
Filter & Amplifier
1 Multi Mode Filter per voice – 24 / 12dB – Lowpass – Highpass – Bandpass


– Resonance up to Self-Oscillation and beyond – Adjustable Key track and Drive

2 fast Envelopes per voice (Filter-Amplifier) with Amount and Velocity control (Filter+Ampli)
Arpeggiator
Powerful Arpeggiator – Latch mode – syncable to MIDI Clock


– Direction Up, Down, Alternate – Range up to 10 Octaves
Effects
2 simultaneous Effects
– Effect 1: Chorus / Phaser / Flanger


– Effect 2: Reverb / Delay / Reverb+Delay
Controls & Connections
Master Volume Control

Power Switch

Stereo line output

Headphone output

Expression pedal input

MIDI IN / OUT

USB connector for MIDI IN/ OUT, Firmware Update, Samples Loading (with Spectre)
– uses standard USB MIDI driver provided by host computer OS
– Windows ME minimum, Windows XP or newer recommended


– Mac OS X 10.2 minimum, Mac OS X 10.3 or newer recommended

Built in power supply
Size & Weight
97 cm x 40,5 cm x 11 cm

38,19″ x 15,94″ x 4,33″

8,3 Kg | 18,3 lbs
Additional Package Content
The Studiologic Sledge synthesizer has a street price of about $1,000.