Waldorf Microwave provides for all the sounds; Nord Drum plays the drums. Only own patches used. Everything midi-sequenced and multitracked with Cubase. Some effects (delay, reverb, chorus), EQ and dynamic processing added.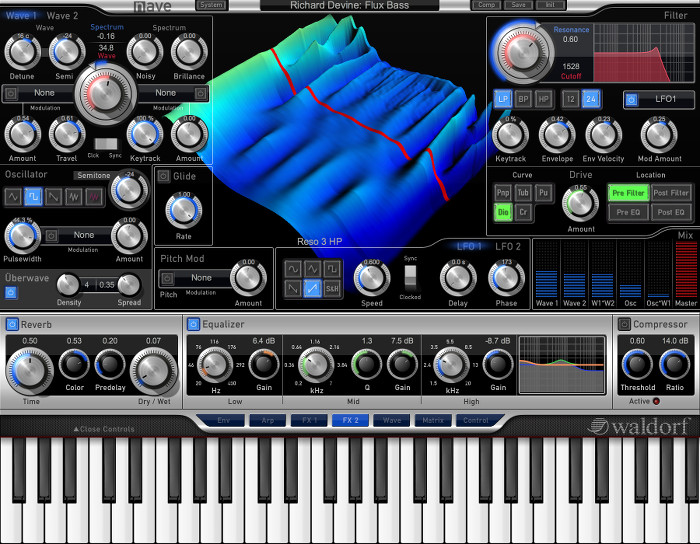 Waldorf has released Nave for VST/AU/AAX, an advanced wavetable synthesizer instrument for Windows and Mac.
Nave, our award winning next generation wavetable synthesizer, comes pre-packed with superb sounds, ranging from spatial pads to vivid wavetable scans and cutting leads to solid basses, but, above and beyond that, also an abundance of incredibly imaginative sound worlds – many of them professionally produced by some of the top sound designers around.

As a synthesizer thoroughbred at heart, Nave really represents a phenomenal playground for sound creation creativity. Its oscillators offer expanded wavetable functionality with elaborate editing facilities and an extremely effective speech synthesizer.
Nave features
Two independent advanced wavetable oscillators.
Osc module with (up to) 8-oscillator Überwave with saw, triangle, PWM, white and pink noise.
Two ring modulators.
Multimode filter with LP/BP/HP, 12dB and 24dB.
3 envelopes, 2 LFOs.
10 Modulation Matrix entries.
Drive with adjustable curve, depth, and position.
Modulation effect with either Chorus, Flanger or Phaser.
Reverb, Modulation Delay.
Three-Band Parametric Equalizer, Compressor.
Blades with musical scales and optional chord mode.
Polyphonic Aftertouch.
Up to 3 X/Y control pads.
Arpeggiator.
Polyphonic unison.
Speech synthesizer for wavetables, 3D wavetable editing.
Generation of wavetables from external audio files.
Patch management with user banks and patch categories.
Sound Patches can be exchanged with Nave iPad version.
Supporting 32bit & 64bit VST, VST3 and AudioUnit hosts.
Supporting ProTools 11 with AAX64 native.
Nave for VST/AU/AAX is available for purchase for 149 EUR.
Waldorf make a preview of their upcoming IOS Drum Synthesizer Waldorf Attack.
In the audio demos in the middle of the video, there is a special sentence used "this is for Synth Anatomy", maybe you hear the vocoder sentence
Waldorf Blofeld synthesizer. All patches 100% custom made, played live with only internal effects used. A wonderful synthesizer, capable of such a wide range of sounds, from ethereal to grating, with many magical occurrences. Very easy to program through the excellent display and programming matrix, yet quite deep and powerful. More smooth sounding than other Waldorfs, and with a great modern sound and look. I love it. If you want analog emulation why not just get a real analog synth? This is a wavetable synth, and it is in those realms that it shines. Also, the latest OS update is a must as the knob control is much improved.
More about Pulse Emitter http://www.pulseemitter.com/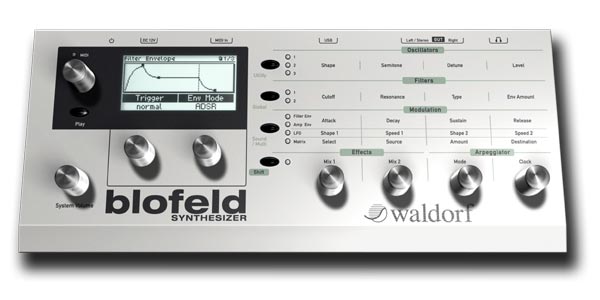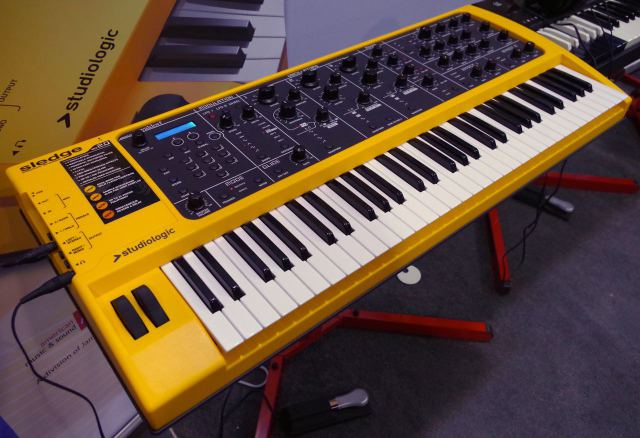 Studiologic has introduced Sledge 2.0 – an updated version of its vintage-inspired digital keyboard that offers a lot more synth for less money.
With Sledge 2.0, Studiologic and Waldorf Labs have made it more flexible as a pure synthesizer, added Dual mode for Split/Layer functions, introduced support for user samples, expanded the instrument's polyphony from 8 notes to 24 and improved its effects engine.
Sledge 2.0 Key Features:
Auto Dual mode: Sledge 2.0 can now play two sounds at the same time, in Split or Layer mode; the feature is controlled by a new page of the Global function and allows to simply keep one note (for Split) or more notes (for Layer) and then select a new sound, that will be added to the previous sound; as any other sound, also Dual Sound combinations can be permanently stored in any of the 1.000 available presets;
Sample Player: sound samples and new waves can be loaded in the internal 60 megabyte of Flash memory, played by OSC 1 and modifiable by all parameters of the control panel, adding other oscillators, setting filters, envelopes and effects. This feature can constantly expands the instrument's sounds and create a totally new combination of synthesis and sampling.
Pitch & Hold controls: a new Global page allows to enable the Pitch and the Hold separately for the Lower and Upper sounds in Dual Mode, allowing to use the Pitch bend on the Upper sound (i.e. for solo parts) and the Hold pedal to control only the Lower (to keep playing a Drums groove or as a Damper for a Piano sound) and vice versa, or to enable Pitch Bend and Hold on both Upper and Lower sounds;
Reverb+Delay: a new function allows to mix both effects; the Reverb keeps the setting previously selected, while the real time controls (time and level) allows to set the parameters of Delay also when mixed.
Enhanced Polyphony: the total maximum number or notes that can be played at the same time have been expanded to 24, allowing to get a better real time control over the new sound possibilities obtainable from synthesis and sampling together.
Sledge Spectre: samples can be edited (keyboard range, tuning and other parameters) and transmitted to Sledge 2.0 by the USB port, with a sample editor that allows to first load and play the samples on your Computer and then download them into the instrument's memory.
Specifications:
Keyboard 61 keys + Aftertouch

2 Pots – 3 "chicken head" rotary switches (7 positions) – 1 rotary encoder + push function

2 x 16 digits backlit LCD

High Quality Pitch and Mod Wheels

Up to 999 programmable Sounds

Fast and efficient sound selection via numeric keypad
Modulation
2 fast LFOs per voice with adjustable Speed and Depth

1 extra modulation routing for Mod Wheel, with adjustable Speed and Depth
– LFO Shape: Sawtooth, Rectangular, Triangle, Sine, Sample & Hold, Ramp


– Destination: Osc 1, Osc2, Ocs3, PWM / Wave / FM, Volume, Filter Cutoff
Sound Generation
24 Voices polyphony – Monophonic mode with single or multiple trigger

3 Oscillators per voice OSC1/OSC2/OSC3
– Range from 64′ to 1′ with Semitone ant Detune controls
– Shapes: Sawtooth, Square, Triangle, Sine, Pulse (with Pulse Width Modulation)


– OSC 1 with 66 Original PPG Wavetables + Sample Player (60MB internal memory)

FM – Frequency Modulation of Sine and Triangle – Oscillator Hard sync (OSC 2 to OSC 3)

Noise Generator – White and Pink noise

Mixer with Volume and On/Off switch for each Oscillator and Noise

AUTO DUAL MODE : Split or Layer mode – prog. split point for each Program
Filter & Amplifier
1 Multi Mode Filter per voice – 24 / 12dB – Lowpass – Highpass – Bandpass


– Resonance up to Self-Oscillation and beyond – Adjustable Key track and Drive

2 fast Envelopes per voice (Filter-Amplifier) with Amount and Velocity control (Filter+Ampli)
Arpeggiator
Powerful Arpeggiator – Latch mode – syncable to MIDI Clock


– Direction Up, Down, Alternate – Range up to 10 Octaves
Effects
2 simultaneous Effects
– Effect 1: Chorus / Phaser / Flanger


– Effect 2: Reverb / Delay / Reverb+Delay
Controls & Connections
Master Volume Control

Power Switch

Stereo line output

Headphone output

Expression pedal input

MIDI IN / OUT

USB connector for MIDI IN/ OUT, Firmware Update, Samples Loading (with Spectre)
– uses standard USB MIDI driver provided by host computer OS
– Windows ME minimum, Windows XP or newer recommended


– Mac OS X 10.2 minimum, Mac OS X 10.3 or newer recommended

Built in power supply
Size & Weight
97 cm x 40,5 cm x 11 cm

38,19″ x 15,94″ x 4,33″

8,3 Kg | 18,3 lbs
Additional Package Content
The Studiologic Sledge synthesizer has a street price of about $1,000.
Waldorf has announced a range of new products which will be shown during the upcoming NAMM show in Anaheim this week.
nw1 is our debut product for the popular Eurorack format. It includes an advanced wavetable engine with independent control of spectral envelope and noisiness – just like Nave.

Wavetable scanning is cyclic with optional modulation of travel speed, position, spectrum and more. By providing the worshipped Waldorf wavetable set from the classic Microwave and Wave synthesizers, nw1 will enrich your Eurorack modular system as a potently powerful sound source.
nw1 Wavetable Module will be shipping Q2 2015 for SRP 329 EUR.
We have migrated our virtual drum and percussion synthesizers Attack to the iPad. Its impressive sound engine is cleverly complemented by an integrated 16-step sequencer that is as fun to use as it is useful.

Attack offers 24 instruments – each entirely programmable through a stunning, touch-optimized user interface. Its oscillators are fat, the filter flexible, and envelopes lightning fast.
Attack for iPad for ship approx. Q2 2015, priced at 17.99 EUR.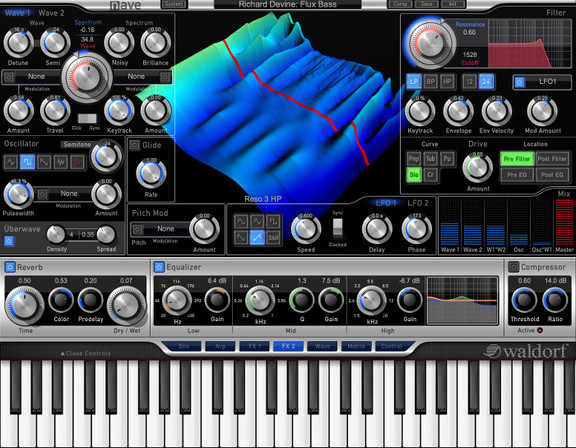 The award-winning Nave has succeeded in changing perceptions of what a serious iOS instrument can be, thanks to unique sounds simply unachievable with any other synthesizer.

We have often been asked when Nave would be available on other platforms. This new Nave brings that notable Nave sound engine to your favourite DAW.
NAVE for VST/AU/AAX will be available for purchase Q2 2015 for 149 EUR.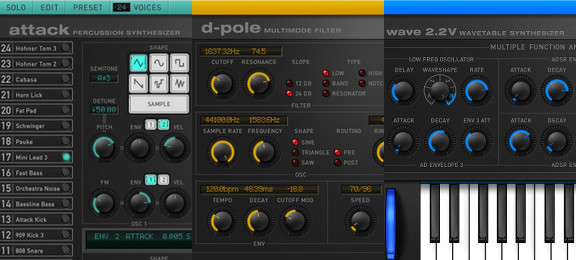 Tellingly, the classic Waldorf Edition has had a visual makeover, but its core values remain unchanged and unchallenged: the holy trinity of inspiring software instruments! Get your groove on with a slamming drum synth providing plenty of powerful percussion voices. Flex your sound-sculpting muscles with a real – and really assertive – Waldorf filter.

The new Waldorf Edition 2 version also brings an exceptionally expanded effects section (with Delay, Equalizer, Drive, Phaser, Flanger, Chorus, and Reverb)
Waldorf Edition 2 will be available Q2 2015 for 69 EUR. All owners of a Waldorf Edition will be able to update for 10 EUR only.
Headphones highly recomended
An afternoon improvisation.
Gear used: Waldorf Blofeld and MicroQ, Arturia Microbrute through Eventide H9, Elektron Machinedrum, Akai mpc500 as main sequencer, Korg Ms2000, Clavia Nord Modular G2 and DSI Tetr4. Hardwire DL7 and RV8 were used on the Tetra.
Headphones highly recomended
An afternoon improvisation.
Gear used: Waldorf Blofeld and MicroQ, Arturia Microbrute through Eventide H9, Elektron Machinedrum, Akai mpc500 as main sequencer, Korg Ms2000, Clavia Nord Modular G2 and DSI Tetr4. Hardwire DL7 and RV8 were used on the Tetra.
A funky moog jam. Drums are 100% Tempest, I also added a moog bass line, some rhodes sounds off the nord, and a clav type patch off the prophet 08. The main moog lead is going through an MXR carbon copy.
A really great demo of what you can do with streichfett – way more than chorus strings.