See how quickly you can create your own sample and transfer it to your Nord keyboard using the Nord Sample Editor. Download the Nord Sample Editor for free and create your own samples today!
Download the Nord Sample Editor for here: http://www.nordkeyboards.com/download…
Read more about the Nord Sample Editor and here:
http://www.nordkeyboards.com/software…

The Nord Sample Editor let's you load your own WAV files into your Nord keyboard! Adjustments, loop points, pitch and level are all done within an easy to use application, and will get your started in no time!
The Editor will assist you in your editing efforts; it contains powerful tools for various actions that can be applied to a sample. These tools will for instance help you in setting a start point of a sample, creating a loop and other tasks that are essential in making the samples ready for use in the Nord unit. The Editor also has functions for automatic mapping of samples across the keyboard and much more.
Waldorf Microwave provides for all the sounds; Nord Drum plays the drums. Only own patches used. Everything midi-sequenced and multitracked with Cubase. Some effects (delay, reverb, chorus), EQ and dynamic processing added.
Clavia's first and most compact modular synthesizer + the state of the art multi FX unit of the same era ENSONIQ DP/PRO excelling in its reverb algorithms.
Since its introduction in 2001 the Nord Electro has been the natural choice for musicians in need of authentic emulations of classical electro mechanical and acoustic instruments in a portable and easy to use package.
With greatly expanded memory, the added ability to split and layer and a live focused program section, the new Nord Electro 5 is a highly refined, focused yet flexible stage keyboard.
Read more: http://www.nordkeyboards.com/products…
Production by Kilogram
Musician: Erik "Errka" Petersson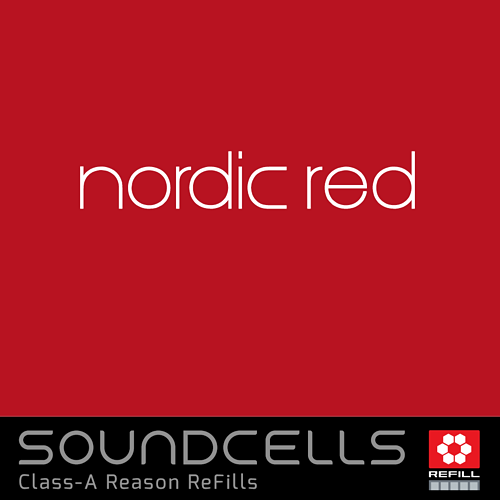 Nordic Red is a marvelleous sounding ReFill based on samples from the Nord Modular G2x synthesizer.
This ReFill pleases with "otherworldly" atmospheric stuff, great keys, "in-your-face" bass patches and wonderful pads when diving into this ReFill.The "self-playing" patches (called "Noodles" in the G2), for example, are great starting points to create some ultra-deep atmospheric textures – an ideal entry for composing film scores or game music. Or simply pitch down the samples to listen to the "hidden magic" inside these up to 90 seconds long 'Noodle' recordings.
As usual, the combinator buttons and knobs were carefully assigned to allow dramatic changes to the default sounds you´ll be hearing initially.
Nordic Red contains:
•  171 combinator patches.
•  
192 NNXT patches containing the basic patches which were used to build the combinators
•  
800+ samples, 1.65 GB uncompressed, 47 'self-playing' noodles.
•  
11 demo tracks in Reason format included.
Price per unit is 27.90 ,- EUR.
This update is free for owners of any previous full version!
For more information please visit the product page: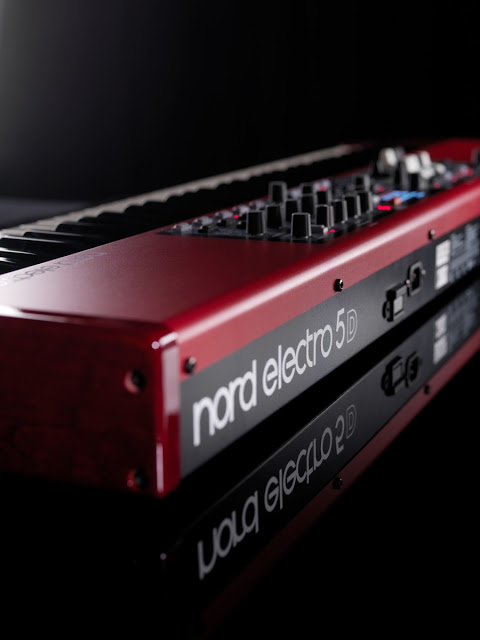 The Nord Electro 5 will be shown for the first time at the NAMM Show 2015, Anaheim, California, January 22-25th in the Nord Booth #6464
"With enhancements to every area of the instrument, the Electro 5 redefines Nord's legendary live keyboard.
Nord Keyboards are proud to present the new Electro 5 Series – the latest incarnation of our famous keyboard for the performing musician. Since its introduction in 2001 the Nord Electro has been the natural choice for musicians in need of authentic emulations of classical electro mechanical and acoustic instruments in a portable and easy to use package. With enhancements to every sound-generating section, to its user-interface, and to its functionality, the Electro 5 is more refined, more live-focused, and more flexible than ever.

HIGHLIGHTS
General
Splits and Layers – Piano/Organ, Piano/Sample, Sample/Organ
1 GB memory for Nord Piano Library
256 MB memory for Nord Sample Library
OLED Display for excellent overview and readability
6 Split Points with LED indicators
Redesigned Program section with Set List feature
E-E key range for 5D 73 and 5 HP
Piano Section
Sympathetic String Resonance
Sample Synth
Dedicated Sample Synth section with Attack/Release and dynamic controls
Organ
Physical Drawbars on 5D 61 and 5D 73 models
Principal Pipe Organ model
B3 Tone Wheel Bass
Leslie 122 simulation from Nord C2D
Mount for Half-Moon Switch for Rotary Speaker control (5D 61/73)
Effects
All effects now in Stereo
Tube overdrive simulation
Vibe effect
Separate Reverb/Delay effects
Tremolo, Pan, Ring-Mod and Wah-wah can be controlled with Control Pedal
PIANO SECTION
The new Electro 5 series all feature 1GB of Piano Sample memory, allowing you to bring even more of our unique sampled acoustic and electric pianos on stage. The subtle but effective Sympathetic String Resonance technology derived from the Nord Piano is now implemented in the Electro 5 delivering an unprecedented degree of realism to your performance when using our Grand or Upright pianos.
The piano section of the Electro 5 contains acoustic and electric pianos from the ever-expanding, and freely downloadable Nord Piano Library. Expertly sampled and brimming with unique character, the Grand and Upright Acoustic Pianos, legendary Electric Pianos, Clavinet and Harpsichord, provide a stunning sound palette.
ORGAN SECTION
The Electro 5 Organ section features a new Principal Pipe Organ mode as well as the classic Tone Wheel simulation and the highly acclaimed Rotary Speaker simulation of a vintage 122 unit from the award winning Nord C2D Combo Organ.
A new B3 Tone Wheel Bass feature gives you the classic 16" and 8" bass drawbars in the left hand and can even be used with the Piano and Sample section for a thick and meaty bottom. Both the Electro 5D 61/5D 73 feature physical Drawbars and can accommodate the Nord Half-Moon switch with stop/slow/fast modes (optional accessory).
SAMPLE SYNTH SECTION
The new Electro 5 features a dedicated Sample Synth section with expanded memory for the Nord Sample Library (256 MB) and additional controls for attack, decay/release and dynamics (filter/velocity). The Nord Sample Library features a broad selection of free sounds from acclaimed sample producers as well as exclusively licensed sounds of the legendary Mellotron and Chamberlin.
EFFECTS
Electro 5 also features new improvements in the Effect section – all effects are now in Stereo, the Delay and Reverb are now separate effects. The Modulation effects now include a Vibe effect and the Amp section features an added Stereo Tube overdrive. Tremolo, Pan, Ring-Mod and Wah-wah effects can all be controlled with a Control Pedal.
SPLIT AND LAYERS
The Nord Electro 5 has two sound slots that can be combined in a layer or split over the keyboard (Organ/Piano, Piano/Sample Synth or Sample Synth/Organ). Each of the sound slots can have specific effects and separate Control Pedal and/or Sustain Pedal assignments. For example chorus and Sustain Pedal on the Piano and some Delay and a Control Pedal on the Sample Synth. The split function includes 6 split points, indicated with LED lights for obvious identification on stage.
Each of the effects sections can be assigned freely to either Upper or Lower parts.
NEW DISPLAY
The super clear new OLED display offers excellent overview when selecting sounds and editing programs.
SET LIST FEATURE
The Electro 5 features a new Set List mode that lets you easily organize a group of Programs for each specific song in the list. Each song can consist of up to 4 different Programs, freely assignable from your existing Programs. You can create unique Set Lists for different bands or situations and the names and order can be easily customized on the fly without connecting it to a computer.
ELECTRO 5 MODELS
Three Electro 5 models will be available:
The Electro 5D 61 and Electro 5D 73 feature semi-weighted waterfall keybeds with 61 notes (key-range C-C) and 73 notes (key-range E-E) respectively. Both feature physical drawbars for the Organ section.
The Electro 5 HP 73 features a Hammer Action Portable 73 note keybed (key-range E-E) with Nord's electronic LED drawbars.
The Electro 5D 61 and Electro 5D 73 weigh just 7 kg and 8 kg respectively, whilst the Electro 5 HP 73 weighs just 11 kg even with its Hammer Action Portable keybed.
PRICING AND AVAILABILITY
All models will be shipped in April 2015 with pricing to be announced. Like all Nord keyboards, the Electro 5 is handmade in Sweden with meticulous attention to detail and quality control."
Headphones highly recomended
An afternoon improvisation.
Gear used: Waldorf Blofeld and MicroQ, Arturia Microbrute through Eventide H9, Elektron Machinedrum, Akai mpc500 as main sequencer, Korg Ms2000, Clavia Nord Modular G2 and DSI Tetr4. Hardwire DL7 and RV8 were used on the Tetra.
This tutorial explains how to create a drum kit with acoustic qualities.
Performance by Boska.
Read more about the Nord Drum 2:
http://www.nordkeyboards.com/products…
New video from Mark Mosher exploring the Nord Lead 4
A video from my archives. I made this in January of 2014 when I was only 5 hours in with Nord Lead 4. This video shows off the first three single-slot custom presets I created (the Nord Lead 4 can is really 4 independent synths). Some pretty cool stereo imaging about half-way in so use headphones. I'm getting huge timbre and rhythm texture shifts by morphing a whole lot of parms (arp speed, delay time, filter, distortion…) with the mod wheel and morph buttons.
The Nord Lead 4 went on to be my primary controller and synth for studio and live work at festivals throughout 2014.