See how quickly you can create your own sample and transfer it to your Nord keyboard using the Nord Sample Editor. Download the Nord Sample Editor for free and create your own samples today!
Download the Nord Sample Editor for here: http://www.nordkeyboards.com/download…
Read more about the Nord Sample Editor and here:
http://www.nordkeyboards.com/software…

The Nord Sample Editor let's you load your own WAV files into your Nord keyboard! Adjustments, loop points, pitch and level are all done within an easy to use application, and will get your started in no time!
The Editor will assist you in your editing efforts; it contains powerful tools for various actions that can be applied to a sample. These tools will for instance help you in setting a start point of a sample, creating a loop and other tasks that are essential in making the samples ready for use in the Nord unit. The Editor also has functions for automatic mapping of samples across the keyboard and much more.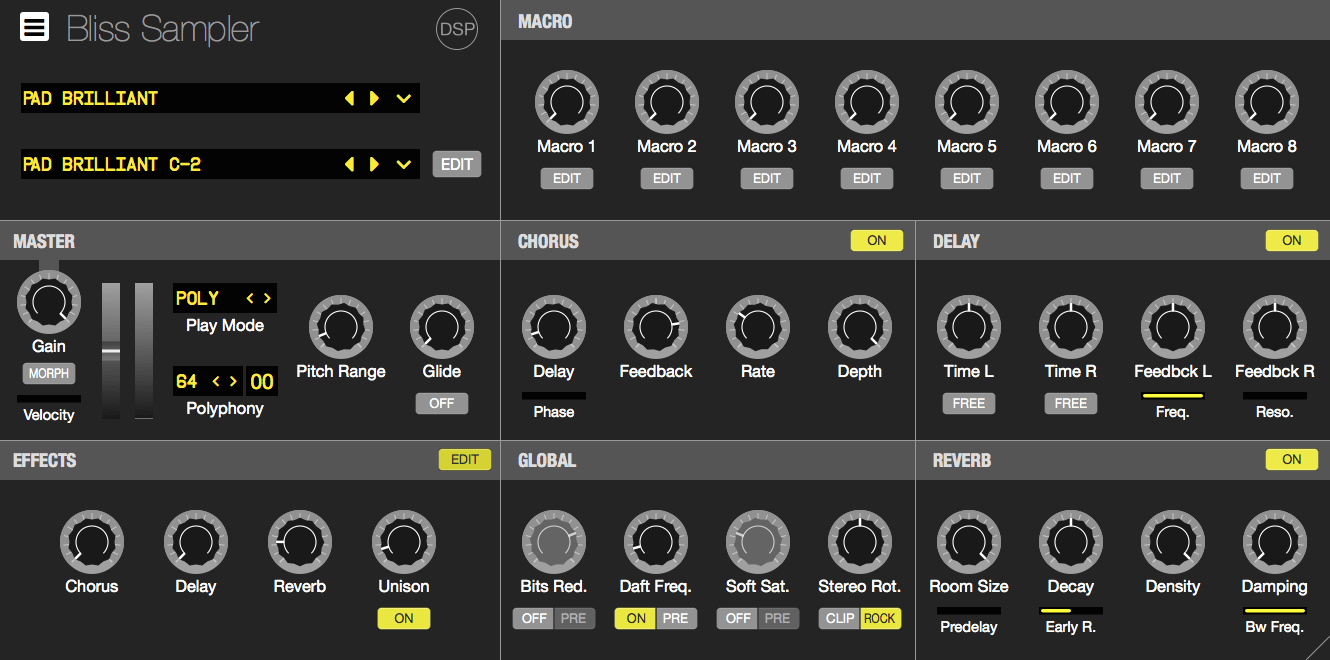 discoDSP has announced the release of Beta 2 of Bliss, a new sampler instrument plugin that is also able to load and host VSTi instruments for multi-sampling them without any quality loss for Mac, Windows & Linux.
Changes in Bliss Beta 2
Added Samples and SFZ export with 24-bit resolution.
Added an options to play slices until the end of the sample or only at the next slice boundary.
Added an option to unload automatically the plugin after sampling.
Added an option to freeze plugin appending samples to current program to create multi layered sound easily.
Added keyboard focus indication to wave view.
Added crossfade loop range slider.
Added sustain pedal midi support (sample will sustain indefinitely until pedal is switched to off, which will then trigger release stage).
Added GUI size allowed to go as low as 60%.
Added macro editor min and max sliders now display real parameter values.
Improved interpolators (normal and high for real time / extreme for offline).
Improved voice generation speedup.
Improved support for plugin hosting.
Improved modulation destination amount display of unipolar/bipolar values.
Changed macros controls moved to envelope section.
Changed downsampling filter passband to allow more frequencies near nyquist while still decrease aliasing.
Changed beta release expiration dialog appears when 7 days are left instead of 30.
Fixed bug LFO2 amount behaving incorrectly in some cases.
Fixed SF2 import for files with more than a single program.
Fixed SFZ import.
Fixed oversampling messing up plugin hosting.
Fixed the use of slices and loop modes at the same time.
Bliss is available for purchase at 50% off until the beta period ends (regular $99 USD / 89 EUR / £59 GBP). Previous customers can download beta 2 at Members Area.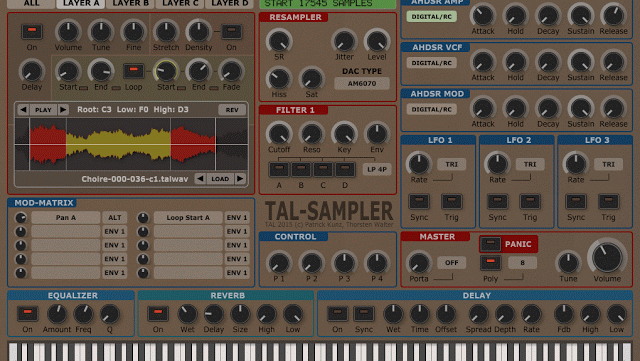 TAL-Sampler is not just a sample player. It's a full featured analog modeled synthesizer with a sampler engine as sound source, including a powerful modulation matrix and a high quality self-oscillating 24/12/6 dB low pass filter.
Don't expect a 40GB piano sample library with samples for every velocity or something similar. The idea is to bring back the fun sampling was in the good old times with small samples, fast loading times and an intuitive work-flow to create your own sample presets without getting lost in the settings.
It's possible to choose between different digital analog converters (DAC's) to get the vintage sound of different hardware samplers inside your DAW. We don't make cheap bit crushing or decimation on the output signal. We really down-sample the sample to the desired sampling frequency, then process the data depending on the chosen DAC and up-sample it to the desired pitch. Most DAC modes offer a LEVEL slider. This feature allows the user to reduce the volume of the recorded sample and decreases the sample quality. Load your favorite high quality sample and make it sound vintage and noisy. The 24dB low pass filter will like it!.."
Features
Vintage DAC modes (Emu II, AM6070, Sample Hold).
Steep 96dB low-pass reconstruction filter (Emu II and AM6070 F).
Variable sample rate.
Powerful MOD-Matrix.
Four sample layers.
Three AHDSR envelopes with vintage Digital / RC mode.
Three LFO's (Triangle, Saw, Rectangle, Random, Noise).
High Quality effects (Reverb, EQ, Delay).
Self resonating zero feedback delay filter (24/12/6 dB LP).
Wide range of audio formats supported (*.wav, *.aiff, *.aif, *.mp3, *.ogg, *.flac).
Scallable high resolution user interface.
The possibility to change font and background colour.
Fast sample and preset loading.
More than 100 presets available as download (on the right).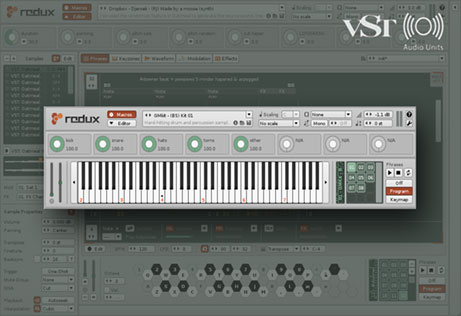 Renoise Redux is a sample-based instrument VST/AU, for Linux, Mac & Windows, that features a powerful built-in phrase sequencer.
Features:
Sequencer – The sequencer in Redux is closely integrated with the instrument, and used to create musical phrases. These phrases are controlled via notes and program-change events, and allow you to alter the playback in a variety of ways.
Open-ended – Create sounds from scratch with the built-in sample recorder and draw tool. Or import existing files by simple drag and drop. Redux understands most common audio file-formats, including the .sfz multi-sample format.
Tracker Notation – Redux has inherited and expanded upon a rich set of features from its bigger brother, Renoise, including techniques to trigger notes and control sample playback with surgical precision.
Sample Modulation – Redux offers true per-note polyphonic modulation, which can be used to transform your material into anything from a short stab to a lush ambient soundscape.
Dozens of DSP FX – With a large selection of DSP effects and a quasi-modular system that allows devices to modulate one another, the sound design possibilities are almost endless.
Macro Controls – Redux features a straightforward automation system with eight globally accessible macro controls. Each of these macros can be connected to any number of parameters and functions under the hood.
Keyboard Driven – A tracker typically make use of numerous keyboard shortcuts and commands. Redux features an innovative on-screen keyboard to help unlock these secrets and provide visual feedback.
Waveform Editor – Use the waveform editor to adjust volume levels, cut leading or trailing silence, apply effects, chop samples into slices, and much more. Everything is saved along with the preset
Cross-platform – Redux is available for Windows, OSX and Linux, in VST and AudioUnit formats. Your license does not restrict you to any particular platform and is fully portable.
Redux is available for US $65/58 Euro. A demo version is also available.
Gaz WIlliams takes a look at the first digital Volca. 4MB sample Ram (playback) and the usual Volca sequencing facilities.
Sample Logic has released CYCLONE RETWISTED, which they describe as the ultimate sample synth. This is what they have to say about it…
Completely re-engineered and re-imagined, CYCLONE RETWISTED is the next generation of Sample Logic's CYCLONE. Now equipped with Sample Logic's proprietary Step and FX Animator technology along with a new dual-voice additive synthesizer, CYCLONE RETWISTED is truly a one-stop shop for astounding, inspiring electronic sounds, and the ultimate sample synth solution for Kontakt. So whether you're on a tight deadline, in need of inspirational presets and production tools, or looking to dig deep and create your own twisted instruments, CYCLONE RETWISTED delivers amazing multi presets and instruments that are production ready and can be quickly customized for instant transformation.
Send sample data directly from your iPhone to your volca sample!
AudioPocket enables you to program your volca sample memory with audio samples.
In addition to merely importing samples from your computer via iTunes, the free AudioPocket app has a built-in recorder – you can record something to sample as and when you need it, or you can record anything that crops up when you're out and about to put into your Volca Sample later, as long as you have your iPhone with you…
Coming Soon!
More Details about volca sample:
http://www.korg.com/volca_sample/
Strom for iPad, 'an incredibly fun sampler' for the iPad that offers tight integration with the Elektron Analog Rytm.
This video focuses on using Strom, independent of the Analog Rytm.
STROM is available now in the App Store for US $4.99. Rytm Upgrade is an In-App-Purchase. Elektron Analog Rytm is a hardware instrument which must be purchased separately. A USB-Lightning Camera adapter is required for the MIDI connection.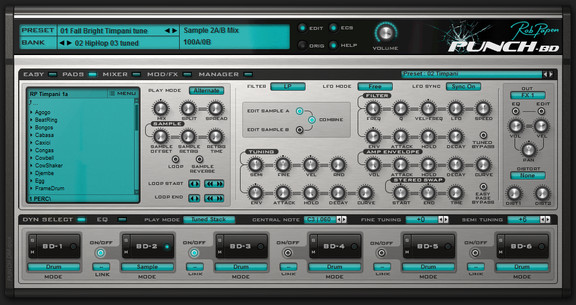 Rob Papen has introduced Punch-DB, a bass drum synthesizer and sample player plug-in based around the BD module of the multi award winning Punch virtual drum synthesizer.
Stacking bass drums is a popular technique used by today's music producers and Punch-BD gives you the ability to stack up to 6 in total. Divide the 6 BD pads over the keyboard or use them 'stacked' in tuned mode to produce creative new BD sounds for all styles of contemporary music.

Punch-BD delivers synthesized drums in the finest audio quality or you can choose to load in your own samples for complete flexibility. Each pad has its own distortion module with several distortion types as well as its own 3 band graphic EQ. What's more, each individual pad also has its own preset section next to the overall 'BD kit'.

Like its big brother, Punch-BD features four FX units each with many 31 types of top quality FX plus further filters, envelopes, modulation routings and more for crafting your own unique sound.

From Electronic Dance and Hip Hop to Soundtrack projects, Punch-BD provides a solid speaker-busting sound for your productions.
Punch-DB will be available soon for Windows and Mac (VST/AU/AAX), priced at 49 EUR / $59 USD.
The volca sample is a sample sequencer that lets you edit and sequence up to 100 sample sounds in real time for powerful live performances. It's a powerful addition to any existing volca setup, or simply on its own. The new volca lets you recapture the excitement of the first generation of samplers, in which any sound — vocals, spoken words, ambient sound, or glitches — becomes material for your creations!
See more informations:
http://www.korg.com/volca_sample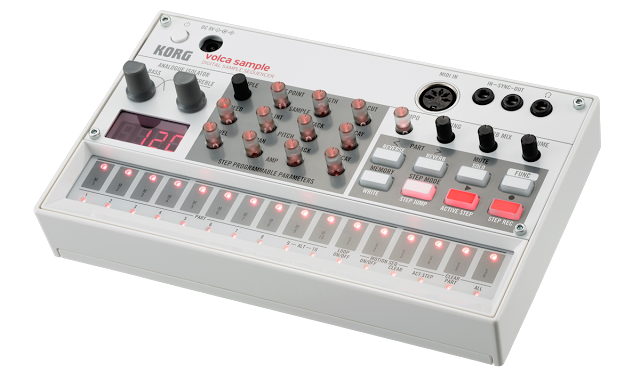 Tweak, Play, and Sequence Samples – volca-Style 

You can perform with just one unit — the volca sample.

The volca sample is a sample sequencer that lets you edit and sequence up to 100 sample sounds in real time for powerful live performances. It's a powerful addition to any existing volca setup, or simply on its own. The new volca lets you recapture the excitement of the first generation of samplers, in which any sound — vocals, spoken words, ambient sound, or glitches — becomes material for your creations!

*Sample input only possible via special iOS app

Intuitive, ultra-powerful volca sequencer 
・ A fun to use sequencer with superb improvisatory potential 
・ Motion sequencer records and plays back up to 11 parameters 
・ Active Step and Step Jump functions let you insert or remove steps 
・ Swing function lets you generate grooves

Sculpt samples with the Analog Isolator 
・ Powerful and great-sounding Analog Isolator 
・ Reverb effect

New functions of the volca sample 
・ Record, manage, and download samples from volca sample's dedicated iOS app 
・ Song mode allows more dynamic performances 
・ Reverse function plays sampled sounds backwards

Convenient functions as found on the entire volca series 
・ Familiar and intuitive panel layout with numerous parameters to edit sounds and sequences 
・ Synchronized playback with other volca units, electribe, or DAW. 
・ MIDI In for sample trigger, sync and parameter changes from any MIDI device 
・ Compact size, battery-powered operation, and built-in speaker for enjoyment anywhere