Gaz WIlliams takes a look at the first digital Volca. 4MB sample Ram (playback) and the usual Volca sequencing facilities.
Sample Logic has released CYCLONE RETWISTED, which they describe as the ultimate sample synth. This is what they have to say about it…
Completely re-engineered and re-imagined, CYCLONE RETWISTED is the next generation of Sample Logic's CYCLONE. Now equipped with Sample Logic's proprietary Step and FX Animator technology along with a new dual-voice additive synthesizer, CYCLONE RETWISTED is truly a one-stop shop for astounding, inspiring electronic sounds, and the ultimate sample synth solution for Kontakt. So whether you're on a tight deadline, in need of inspirational presets and production tools, or looking to dig deep and create your own twisted instruments, CYCLONE RETWISTED delivers amazing multi presets and instruments that are production ready and can be quickly customized for instant transformation.
Send sample data directly from your iPhone to your volca sample!
AudioPocket enables you to program your volca sample memory with audio samples.
In addition to merely importing samples from your computer via iTunes, the free AudioPocket app has a built-in recorder – you can record something to sample as and when you need it, or you can record anything that crops up when you're out and about to put into your Volca Sample later, as long as you have your iPhone with you…
Coming Soon!
More Details about volca sample:
http://www.korg.com/volca_sample/
Strom for iPad, 'an incredibly fun sampler' for the iPad that offers tight integration with the Elektron Analog Rytm.
This video focuses on using Strom, independent of the Analog Rytm.
STROM is available now in the App Store for US $4.99. Rytm Upgrade is an In-App-Purchase. Elektron Analog Rytm is a hardware instrument which must be purchased separately. A USB-Lightning Camera adapter is required for the MIDI connection.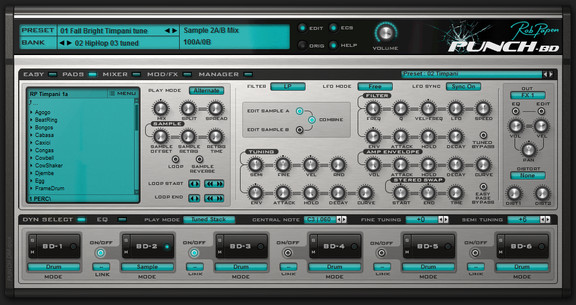 Rob Papen has introduced Punch-DB, a bass drum synthesizer and sample player plug-in based around the BD module of the multi award winning Punch virtual drum synthesizer.
Stacking bass drums is a popular technique used by today's music producers and Punch-BD gives you the ability to stack up to 6 in total. Divide the 6 BD pads over the keyboard or use them 'stacked' in tuned mode to produce creative new BD sounds for all styles of contemporary music.

Punch-BD delivers synthesized drums in the finest audio quality or you can choose to load in your own samples for complete flexibility. Each pad has its own distortion module with several distortion types as well as its own 3 band graphic EQ. What's more, each individual pad also has its own preset section next to the overall 'BD kit'.

Like its big brother, Punch-BD features four FX units each with many 31 types of top quality FX plus further filters, envelopes, modulation routings and more for crafting your own unique sound.

From Electronic Dance and Hip Hop to Soundtrack projects, Punch-BD provides a solid speaker-busting sound for your productions.
Punch-DB will be available soon for Windows and Mac (VST/AU/AAX), priced at 49 EUR / $59 USD.
The volca sample is a sample sequencer that lets you edit and sequence up to 100 sample sounds in real time for powerful live performances. It's a powerful addition to any existing volca setup, or simply on its own. The new volca lets you recapture the excitement of the first generation of samplers, in which any sound — vocals, spoken words, ambient sound, or glitches — becomes material for your creations!
See more informations:
http://www.korg.com/volca_sample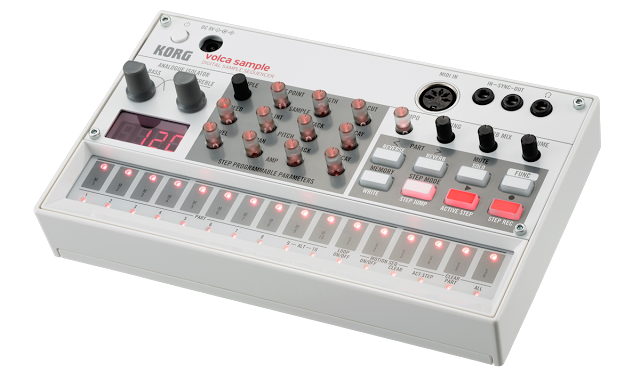 Tweak, Play, and Sequence Samples – volca-Style 

You can perform with just one unit — the volca sample.

The volca sample is a sample sequencer that lets you edit and sequence up to 100 sample sounds in real time for powerful live performances. It's a powerful addition to any existing volca setup, or simply on its own. The new volca lets you recapture the excitement of the first generation of samplers, in which any sound — vocals, spoken words, ambient sound, or glitches — becomes material for your creations!

*Sample input only possible via special iOS app

Intuitive, ultra-powerful volca sequencer 
・ A fun to use sequencer with superb improvisatory potential 
・ Motion sequencer records and plays back up to 11 parameters 
・ Active Step and Step Jump functions let you insert or remove steps 
・ Swing function lets you generate grooves

Sculpt samples with the Analog Isolator 
・ Powerful and great-sounding Analog Isolator 
・ Reverb effect

New functions of the volca sample 
・ Record, manage, and download samples from volca sample's dedicated iOS app 
・ Song mode allows more dynamic performances 
・ Reverse function plays sampled sounds backwards

Convenient functions as found on the entire volca series 
・ Familiar and intuitive panel layout with numerous parameters to edit sounds and sequences 
・ Synchronized playback with other volca units, electribe, or DAW. 
・ MIDI In for sample trigger, sync and parameter changes from any MIDI device 
・ Compact size, battery-powered operation, and built-in speaker for enjoyment anywhere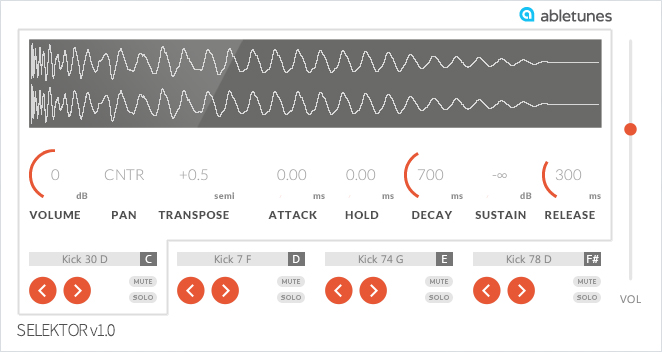 Abletunes has announced the release of Selektor, a simple drum sampler that allows user to switch between samples (much like presets on synth) on the fly while the track is playing and hear an instant result.
Features:
Can switch between samples on the fly.
Has 4 tabs for samples.
Visual representation of the sample.
Each sample tab is mapped on the keyboard.
Volume, transposing and panning controls for each sample tab.
AHDSR envelopes for each sample tab.
Responds to velocity.
Price: $35. Selektor is available for Windows and Mac OS X in VST and AU plug-in formats.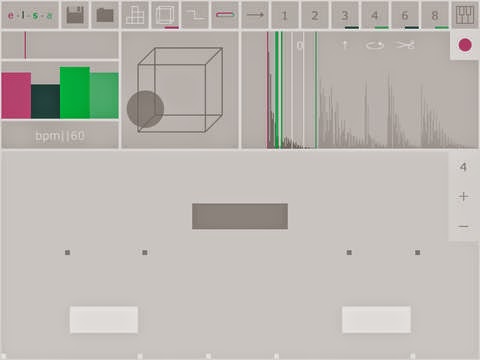 Elsa is a retro style sampling keyboard with tempo based looping. Record, save, load, reverse samples with a multi octave on screen keyboard or plug in your core midi device of choice, soft- or hardware. Elsa comes with three built in effects, a reverb, a resonant low pass filter and a frequency/bit crush. Samples are looped in three different modes, one off, forward and/or forward-reverse. The start and end of playback also comes in three modes, one set of start and stop for all, one set per note and/or one set per octave, allowing for many different types of samples. Additionally at playback time, sample length can also be controlled by a set of sample dividers, 1-8.
Specifications:
Sample keyboard
Tempo based looping
ADSR
Bit crush
Reverb
Resonant low pass filter
Record, trim, normalise, reverse, pre note shift, zoom
Multi octave keyboard
3 loop modes (one off, forward, forward-reverse)
3 start/stop modes (one for all, one per note, one per octave)
Playback length dividers (1,2,3,4,5,6,7,8)
Save/Load
Import/Export ACP 2.0
Inter app audio (audiobus)
Core Midi (note input)
e-l-s-a is priced at $1.99.
)
monophonic handmade granular sampler / MIDI in, sync, crush + much more
info and buy: http://www.bastl-instruments.com/inst…
Features
-monophonic mono sampler
-microSD card (storing + recording samples, storing presets)
-6 sounds with full adjustments storable in a preset at once
-60 presets in 10 banks (6 preset per bank), stored as .txt files on microSD card
-wav sample playback from microSD card (mono, 22050 Hz, 8 or 16 bit, two letter file name)
-8-bit 22050Hz wav recording via line input or onboard microphone
-hold button
-sample rate (tuned or free run)
-crush
-start, end position with repeat, instant loop
-granular settings: grain size and shift speed (positive or negative)
-amplitude envelope attack and release
-MIDI Input — responds to note, cc and clock (synchronize loop and grains)
-MIDI side chain envelope restart
-copy, paste
-input & output volume knob
-power switch — plug / battery
-hackable — arduino based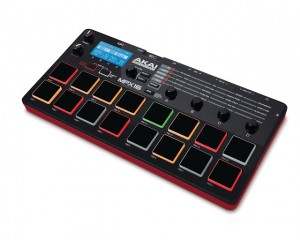 Akai launches playable, practical solution for sample-based performers.
Innovator of audio sampling technology for music production and performance, announces the MPX16, an advanced sample player with onboard sound recording.
The portable MPX16 plays and records .WAV samples using SD cards for powerful, reliable performance in live and studio situations. Like the popular MPX8, samples are triggered internally from the highly responsive MPC-style pads or an external MIDI device via USB-MIDI and 3.5mm (1/4-inch) MIDI inputs. Also a feature-packed MIDI pad controller, the MPX16 is equally capable of launching clips or adding trigger pads to a producer's studio.
Samples are captured at CD-quality via dual 6.3mm (1/4-inch) inputs or the on-board stereo microphone and saved to an SD card. The user may assign audio clips to the pads and apply tuning, filters, envelopes and "choke" grouping for creative, dynamic performances. An LCD screen and illuminated trigger pads provide visual feedback during use, and the MPX16 may be powered from a USB port or the included power supply. Naturally, users may load existing sound files onto an SD card or use the MPX16 as an SD card reader for drag-and-drop convenience on a Mac or PC. A software tool for even easier sample management is included via download.
Highlights:
• Plays and records stereo samples using easily accessible and reliable SD cards
• 16 velocity sensitive, illuminated pads let the user play back samples in real-time
• Balanced 6.3mm (1/4-inch) inputs let you capture audio from a wide variety of sources
• Built-in stereo microphone lets you capture sounds on-the-fly
• USB-MIDI as well as MIDI Input and MIDI Output jacks for integration into virtually any
MIDI setup for use as a pad controller, sample bank or both
• Onboard sound processing–tune samples, adjust ADSR envelopes and filters
• USB or wall powered (adapter included) for use virtually anywhere
"The versatility and capability of the MPX16 will make it a workhorse for performers of all types," notes Akai Professional Product Manager Dan Gill. "We knew that an affordable sample player

with Akai Professional's practical MIDI integration would fit the needs of people wanting a no- nonsense way to access samples without computer dependency."
The MPX16 will be available in Summer 2014, distributed worldwide with a $199.99 USD street price. Akai Professional will unveil the MPX16 at Musikmesse, Hall 5.1, Booth B45, March 12-15 in Frankfurt, Germany. For more information, visit: akaipro.com/messe2014.