)
monophonic handmade granular sampler / MIDI in, sync, crush + much more
info and buy: http://www.bastl-instruments.com/inst…
Features
-monophonic mono sampler
-microSD card (storing + recording samples, storing presets)
-6 sounds with full adjustments storable in a preset at once
-60 presets in 10 banks (6 preset per bank), stored as .txt files on microSD card
-wav sample playback from microSD card (mono, 22050 Hz, 8 or 16 bit, two letter file name)
-8-bit 22050Hz wav recording via line input or onboard microphone
-hold button
-sample rate (tuned or free run)
-crush
-start, end position with repeat, instant loop
-granular settings: grain size and shift speed (positive or negative)
-amplitude envelope attack and release
-MIDI Input — responds to note, cc and clock (synchronize loop and grains)
-MIDI side chain envelope restart
-copy, paste
-input & output volume knob
-power switch — plug / battery
-hackable — arduino based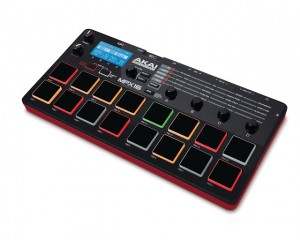 Akai launches playable, practical solution for sample-based performers.
Innovator of audio sampling technology for music production and performance, announces the MPX16, an advanced sample player with onboard sound recording.
The portable MPX16 plays and records .WAV samples using SD cards for powerful, reliable performance in live and studio situations. Like the popular MPX8, samples are triggered internally from the highly responsive MPC-style pads or an external MIDI device via USB-MIDI and 3.5mm (1/4-inch) MIDI inputs. Also a feature-packed MIDI pad controller, the MPX16 is equally capable of launching clips or adding trigger pads to a producer's studio.
Samples are captured at CD-quality via dual 6.3mm (1/4-inch) inputs or the on-board stereo microphone and saved to an SD card. The user may assign audio clips to the pads and apply tuning, filters, envelopes and "choke" grouping for creative, dynamic performances. An LCD screen and illuminated trigger pads provide visual feedback during use, and the MPX16 may be powered from a USB port or the included power supply. Naturally, users may load existing sound files onto an SD card or use the MPX16 as an SD card reader for drag-and-drop convenience on a Mac or PC. A software tool for even easier sample management is included via download.
Highlights:
• Plays and records stereo samples using easily accessible and reliable SD cards
• 16 velocity sensitive, illuminated pads let the user play back samples in real-time
• Balanced 6.3mm (1/4-inch) inputs let you capture audio from a wide variety of sources
• Built-in stereo microphone lets you capture sounds on-the-fly
• USB-MIDI as well as MIDI Input and MIDI Output jacks for integration into virtually any
MIDI setup for use as a pad controller, sample bank or both
• Onboard sound processing–tune samples, adjust ADSR envelopes and filters
• USB or wall powered (adapter included) for use virtually anywhere
"The versatility and capability of the MPX16 will make it a workhorse for performers of all types," notes Akai Professional Product Manager Dan Gill. "We knew that an affordable sample player

with Akai Professional's practical MIDI integration would fit the needs of people wanting a no- nonsense way to access samples without computer dependency."
The MPX16 will be available in Summer 2014, distributed worldwide with a $199.99 USD street price. Akai Professional will unveil the MPX16 at Musikmesse, Hall 5.1, Booth B45, March 12-15 in Frankfurt, Germany. For more information, visit: akaipro.com/messe2014.
SECTOR – stochastic sample slice sequencer, for iPad.
Wish List:
Maintain pitch while changing bpm.
Choose probability (as is) OR a definite 1 in X jump OR warp.
Ability to rotate the 'wave form ring' to match the slots better.
Import individual samples into each slot.
Set custom lengths for each slot (perhaps by merging slots): – select when the 'jump' would take place. – enable polyphony or x-fade to continue the sound after the 'jump'
Be a midi controller.
all synth sounds: E-MU Emax SE Sampling Synthesizer (1986)
drums: LinnDrum (1982)
recording: multi-tracking including the Emax internal sequencer
fx: reverb and delay
The Emax is a classic sampler workstation from E-mu. It is sort of a next generation Emulator II, it's not as good as an Emulator III but it's more powerful than previous EII's. The Emax can be found in several forms: the Emax, the Emax Rack, the Emax HD (built-in 20MB hard disk), the Emax HD Rack and the Emax SE (Synthesis Enhanced) with a built-in synthesizer section. The Emax's editing system will be familiar to users of E-mu's excellent ESI series.
The Emax has an extensive library collection of samples that can be loaded via the built-in 3.5″ hard drive. Or you can sample your own sounds. The Sampler is powerful, but lo-fi. It samples at 12-bit resolution with variable sample-rates up to 42kHz. The built-in memory is 512K which only gives you a few good seconds really. Sampling and editing is easy, complete and intuitive with auto sample placement, auto-looping, truncating, reversing, velocity cross-fade, etc. The Emax also features individual channel outputs and stereo outputs and extensive MIDI implementation.
The Emax features many common analog synth-type controls for easily shaping your samples. Tune, filter and shape the envelope or use LFO's and chorus to liven up your samples. There's also an on-board sequencer section. A real-time only 16-track, non-quantizable sequencer for basic scratch-pad use or simple arpeggios or patterns. The SE and SE Plus models, the most advanced of the 12-bit Emax's, add a synthesizer section, newer advanced digital signal processors for sample editing and a SCSI port (standard on the SE Plus). The Emax instruments were the most advanced of the classic keyboard samplers of the late 1980's.
The Emax II which was released in 1989 brought the Emax series up to modern specs with 16-bit sampling, 16-voice polyphony, 16 MIDI channels, stereo samples, 1MB RAM expandable to 8MB, SCSI, 8 assignable outputs and the SE's synthesis functions. And finally, the Emax II Turbo came with 4MB RAM standard and a 4MB hard disk. Whichever Emax you choose, they're all classic machines still capable of professional quality results when used in making the music of today.
Twisted Tools has released Ultraloop, a new sample based loop engine for Native's Reaktor, details below:
AVAILABLE NOW: http://twistedtools.com/shop/reaktor/…
ULTRALOOP is a first-of-its-kind loop remixing sampler with a fast and intuitive visual workflow for Native Instruments *Reaktor. ULTRALOOP combines advanced loop layering, comping, effect processing and automation techniques to generate new grooves, riffs and song ideas. You can use ULTRALOOP with the included factory sample library or to remix your own samples, injecting new life into any existing loop library. ULTRALOOP is available now from the Twisted Tools Shop for $69.
Video by Scott Pagano.
Pricing and availability
ULTRALOOP is available from the Twisted Tools Shop for $69
Additional Expansion Loop Packs can be purchased for $19/each
Further product information and press material
http://twistedtools.com/shop/reaktor/…
Loop Expansions
http://twistedtools.com/shop/loops
Features
• Loop Remixing Sampler.
• Advanced layered sampler engine with intuitive interface.
• Visual loop compositing.
• Generative Gestural FX to create fills, articulations and variations.
• FX Sequencer
• Specialized track sequencer with mono and poly draw modes.
• Layered playback and editing of up to eight tracks simultaneously.
• Independent controls per layer, organized into parameter cells with sliders.
• Automatable Preset Grids per parameter group, with 17 memory slots each
• 8 Global Scenes per snapshot
• Preset Grids and Scenes are playable via mouse, MIDI or OSC.
• Extensive randomization options.
• Time and pitch stretching to allow loops with different BPMs.
• Flexible multi-output routing per layer.
• Master Punch control
• Swing
• Control nearly every parameter with included iPad Lemur OSC Template by Antonio Blanca
• 3+ banks of presets
• 2224 Sound Variations
• Over 800mb of included factory sample content by from Enig'matik Records, Loopmasters and Sounds of Revolution.
• Optional Expansion Packs by cutting edge artists such as Dusty Fungus, Chris Carter and Si Begg
Sample content and sound design by
• Antonio Blanca, Apparition, Chris Komus, Dusty Fungus, Fine Cut Bodies, Flint Kids, Josh Hinden, Ion Driver, Itsu, Kilowatts, Loopmasters, Oliver Schmitt, Sounds of Revolution, Sonictwist, Sun in Aquarius and Whitebear
http://www.sampletank.com/ipad and http://www.sampletank.com/iphone for more information
SampleTank is the first professional-quality sound and groove module that puts hundreds of world-class instruments and patterns in your pocket. What's more, you can now expand your library with our new Downloadable Sound Collections via in-app purchase. Our latest collection is SampleMoog™ – Mobile Edition, featuring classic synth sounds from Moog Music®. We also recently released the Miroslav Philharmonik – Mobile Edition, a downloadable collection of orchestral and choir sounds.
You can play SampleTank instruments on stage with the iRig PRO or iRig MIDI interfaces and a keyboard or pad controller just like you would any other sound or synthesizer module. Or pair it with iRig KEYS, our 3-octave, bus-powered mini-keyboard to create the ultimate portable MIDI studio.
A few sounds from the Emulator II sound libraries. Some of these sounds were popular in the '80s and have become classic.
An affordable classic early eighties sampler/workstation synthesizer. It's a sampler that sounds like an analog synth because it has analog filters! It samples at a low 8-bits (up to 17.6 seconds) so it's got that lo-fi sound which is great for some types of electronic music. Especially nice is its ability to create warm analog-ish pads and sounds. It uses those giant 5″ floppy disks for storage. Also on-board is a useful 8-track sequencer. It can be hooked up to a Mac for easier editing using software such as Digidesign's Sound Designer.
The Emulator II had many new features for its time. MIDI, SMPTE and computer control. Editing samples includes truncating, manual/auto looping, reverse, velocity switch cross-fading and splicing samples together. A great feature is the 24 dB/oct analog 4-pole low pass filter. There are eight separate LFO's and eight extra individual outputs for each voice. Make no mistake, the Emulator II was a long standing professional sampler of the mid-eighties for musicians and sound designers.
The Emulator II received numerous upgrades during its four year production run from 1984 to 1988. These included the Emulator II+ with double the sample memory and the Emulator II+HD which adds a 20MB internal hard drive.
A quick demo of one of 'SynthMania's' "vintage sampler" setups in his studio.
"The E-mu Emulator II is a classic '80s machine, and one of my favorite samplers. With a Macintosh SE and a Macintosh Classic running Sound Designer. Rhythms by LinnDrum. The effects are Lexicon model 200 reverb and AMS DMX15-80S delay. Tracked on a 1984 Soundcraft Series 1600 24ch. mixing console."
A new piece of pad based sample playback hardware from Akai, sounds familiar…
Details below:
Load virtually any sample via standard SD or SDHC card and assign it to any of the MPX8's eight backlit velocity- and pressure-sensitive pads. MPX8 also has USB MIDI plus standard MIDI inputs and outputs. Control everything from music software on your laptop to outboard MIDI gear. The included USB cable and 1/8″-to-MIDI adapter make it easy to connect. With the included sample kit editor, you can easily arrange, tune, and add reverb to your samples on your Mac or PC before loading them onto MPX8. The editor's drag-and-drop functionality makes loading your samples as easy as possible. MPX8 also comes with a free Loop Library download from Akai Pro, plus a large library of standard samples built in, which can be used for live performance in front of a crowd, on a radio show, or for in-studio production.