Vintage sampler demo by RetroSound
The Emax from the year 1986 is the follower of the Emulator II. A 12 bit sampler with analog filters (SSM 2047). The sound is vintage, organic and really cool. The next generation the Emax II has unfortunately digital filters and the sound is very different to the Emax. Depeche Mode used the Emax in the studio and at the 101 tour.
more info: http://www.retrosound.de
Download Octatrack OS 1.25 it for free from http://www.elektron.se
More info about the Octatrack: http://www.elektron.se/products/octat…
In OS 1.25, three brand new effects have been implemented. A stereo image shaping Spatializer, a gritty and twangy Spring Reverb and a lush, smooth and wide Dark Reverb.
Get Frame at http://www.reaktortips.com/2013/05/fr…
Frame is a simple Reaktor sampler Peter Danes has created to implement a type of freeform looping and creative sampling he felt was missing from most other software samplers on the market. Frame allows you to define a window of sound and sweep it across the sample as it plays without glitching or popping.
This tutorial looks at using the Sine Bank Module in Reaktor to build basic waves such as Saw, Sqr, and Tri. We also talk about using the very powerful "Iteration" module to calculate all the partials as fast as possible, and briefly discuss the idea of Anti-Aliased Oscillators.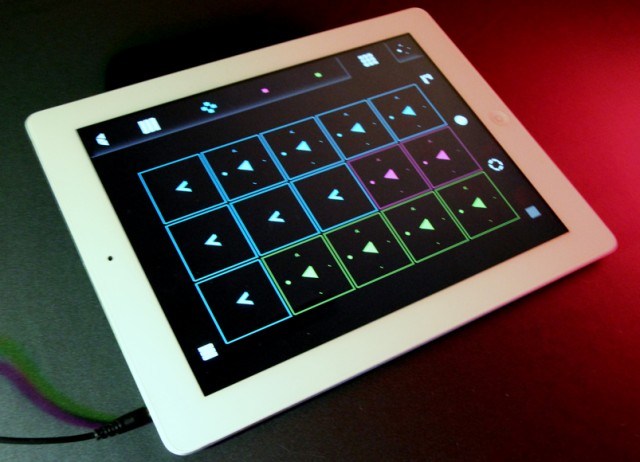 Pierre Guilluy has released a new performance sampler for iOS, Protein Der Klang.
Protein Der Klang is designed to let you play, record and manipulate audio samples using an intuitive multi-touch interface. You can sample directly from the audio input or import via iTunes Sharing.
Features:
Play with 12 simultaneous samples on the 3 coloured tracks.
Scratch, revert, slice, pause, fade & resync up to 4 clips on each track.
Play with an effect on each track & a master effect.
5 sound effects: Crusher, Repeater, Delay, Phaser, LP Filter.
Import and export your samples and patches using iTunes Sharing.
Record live loops from audio-input and internal mixer.
Exclusive playback resync feature.
BPM-synced clip trigger and playback & metronome.
Smart controls for faster actions.
Low latency audio engine.
4 fresh demo patches.
140+ audio samples included.
Support for 16bit wav samples.
Embedded user manual and feedback.
Protein Der Klang is available now for $4.99 in the App Store, for iPad, iPhone & iPod Touch.
The WaveChaser is a sample player that uses a granular synthesis engine to play any sample with independent control over pitch and time. Generating lush sequenced effects that scan and morph around the eight dimension windows, producing never ending midi playable wave sequencing textures.
For more information visit http://www.everythingturns.com/
The WaveChaser places the same sample in each of the eight windows, and then reads the waveform as the sequencer jumps from window to window in a repeating loop, each time a window becomes active it plays the waveform as it scans to the position set by the crosses in each window, the crosses set the sample position and playback length.

You can play a static window via MiDi to achieve a granular synthesis effect or you can get the WaveChaser to play 2 or more windows in a sequence and play them via MiDi or just let it do it's thing and record the loop via Reaktor's in built recorder, drag the loop to the desktop and then use it in your sequencer.
Background video description below:
Samplr jam using only Factory sounds with iPad 2
Closed circuit t-shirt live sessions-90's boy by diodo
Had some latency issues when I tried to play drums, sorry
My 2nd song for the RPM challenge
https://soundcloud.com/diodo
At NAMM 2013 Akai show Future Music their new MPX8 eight-pad sample launcher complete with SD card slot, built in effects and MIDI I/O.
WEJAAM – iOS MUSIC GENERATOR
Make your own music Electro, Techno, House … and share a Jam with friends.
Loop-based music sequencer specially designed for playing live, it is associated with an innovative and powerful randomization tool.
WEJAAM allows you to take great pleasure in making music without being a musician.
CREATE
It's very simple to make a beat, just select from the Djaam library or you also can pick up from the World Jaam community the only think you have to do it's to create you beat using the hit editor, add sound, delete sound that's so easy…
LIVE
Give you access to a 5 pads controllers instead than knob in this way you will control simple your feeling with your finger on the screen, we also record your live session.
MASTERING
WEJAAM's complete mastering system in a single integrated app includes Limiter, Reverb, Delay, Flanger, Equalizer, Chorus, Distortion.
​Based on feedback and requests gathered from mastering professionals, Wejaam advanced includes exclusive controls and features.
RANDOM
Random your imagination
With this exclusive features you can easily have access to one million of possibilities, during your live performance run and tap to the random bar to bring up a new pattern idea.
RECORD
Ready to go now ?
Make your own song within minutes and sound like a pro just record your live and create the best traxx ever. Then upload the song and share your mix all around the world.
FEATURES
• Sequencer 6 patterns of 32 notes.
• 6-channel instrument (synthesizer or sampler).
• 1 parametric Filter by channel.
• 2 effect sends per channel (Delay, Reverb, Flanger, Chorus, Overdrive).
• 3-band equalizer.
• Output limiter.
• Export recordings and programs with iTunes.
• Bluetooth Synchronization allows you to play with another person and have the same audio output on each device.