A new piece of pad based sample playback hardware from Akai, sounds familiar…
Details below:
Load virtually any sample via standard SD or SDHC card and assign it to any of the MPX8's eight backlit velocity- and pressure-sensitive pads. MPX8 also has USB MIDI plus standard MIDI inputs and outputs. Control everything from music software on your laptop to outboard MIDI gear. The included USB cable and 1/8″-to-MIDI adapter make it easy to connect. With the included sample kit editor, you can easily arrange, tune, and add reverb to your samples on your Mac or PC before loading them onto MPX8. The editor's drag-and-drop functionality makes loading your samples as easy as possible. MPX8 also comes with a free Loop Library download from Akai Pro, plus a large library of standard samples built in, which can be used for live performance in front of a crowd, on a radio show, or for in-studio production.
Inear Display describes Tkapik as an amplitude controlled generative sampler plugin. They say that you ad it to a track, then load a sound file and Tkapik will trigger the sample with random settings every time an amplitude peak is detected in the input signal. The sample can either be mixed with the input according to its amplitude envelope or completely replace the signal using the "solo" mode.
"Don't get fooled by the minimalist interface : being sample-based, Tkapik opens a wide array of sonic possibilities. You can use it to simply layer a kick drum with some field recordings or in a more extreme way to replace a whole part by a chaos of random drills and glitches. When the sample is triggered, its start offset, loop points and optionally pitch are randomized, giving you surprising results every time."
Additional features include the ability to resize the plugin interface to fit your display (Windows and Os X only), and map your MIDI controller easily using the built-in MIDI learn system. By its very nature, Tkapik has no preset system, but its state will be properly recalled when re-opening a project in your DAW.
Tkapik is available for Windows, Mac Os X and Linux, as VST (32/64 bit) and AU (32/64 bit, Mac only).
Features:
Sampler supporting wav and aiff audio files
Sample triggering based on input signal amplitude
Combine the sample and the input signal using the envelope follower
Replace the input signal using the solo mode
Random start offset, loop points and optionally pitch on every trigger
User defined range for pitch random
Sample reverse
MIDI learn
Vector based resizable user interface (Windows and Os X only)
Lifetime free updates for registered users
10€ – introductory price until 08/03/2013 (regular price: 20€)
The latest version of Steinberg's HALion VST sampler adds new features that extend the boundaries of virtual sampling and sound design software. New instruments and sound sources, new effects, and much more combine to form a powerfully inspirational instrument that forms the heart of modern sound creation or production environments.
For more information please visit www.steinberg.net/halion
HALion Sonic 2 is a unique software workstation that breaks new ground in terms of instrument quality, versatility and ease of use. Comprising 2,500 first-class instruments in almost every conceivable style, this multi-faceted instrument has the power to captivate and inspire you, and become the heart of your creative process.
Try it free at http://www.bketech.com/demo/demo-form…
A full production capable sampling beat machine
Create full songs with BEAT THANG. It includes a 16-track real-time sequencer & 24-bit sampler. You can record, compose, mix and master in sample-accurate 44.1kHz stereo with no computer required. BEAT THANG sampling beat machine also comes with an exact software replica (BTV Software) that you can use on your PC or MAC. (want pricing?)
100% all metal chassis (zero plastic casing), 3.5″ full-color LCD screen and 13 chromatic premium full-velocity sensitive keypads
Zero data compression, true 24-bit signal path for ultra-low THD (.008%) & High S/N ratio (103db)
More than a sampling beat machine. It's an all-in-one sampling workstation for producers and a live performance instrument for DJs.
3,254 original samples. Big, bold, punchy sounds that are warm, beefy and inspiring.
One of the most powerful and unique advantages of BEAT THANG sampling beat machine is the ability to pick it up and quickly make music. The BEAT THANG sampling beat machine has an innovative and award-winning user-interface that is well organized and feels clean and clutter-free so you can easily and quickly navigate through various modes and functions.
You never know when or where your creative inspiration will strike and you never know how long that inspiration will last. With BEAT THANG sampling beat machine you'll be ready to capture your inspiration at the speed of thought, wherever you are. It is designed to quickly capture your raw stream of consciousness and to vibe in the moment. It is truly a real-time performance tool.
Dedicated buttons for the most common functions
Eliminated the need for a shift key
No complicated menus to navigate
Intuitive functions and shortcuts
Multiple paths to the same operation
One-touch access to everything you need
Vintage sampler demo by RetroSound
The Emax from the year 1986 is the follower of the Emulator II. A 12 bit sampler with analog filters (SSM 2047). The sound is vintage, organic and really cool. The next generation the Emax II has unfortunately digital filters and the sound is very different to the Emax. Depeche Mode used the Emax in the studio and at the 101 tour.
more info: http://www.retrosound.de
Download Octatrack OS 1.25 it for free from http://www.elektron.se
More info about the Octatrack: http://www.elektron.se/products/octat…
In OS 1.25, three brand new effects have been implemented. A stereo image shaping Spatializer, a gritty and twangy Spring Reverb and a lush, smooth and wide Dark Reverb.
Get Frame at http://www.reaktortips.com/2013/05/fr…
Frame is a simple Reaktor sampler Peter Danes has created to implement a type of freeform looping and creative sampling he felt was missing from most other software samplers on the market. Frame allows you to define a window of sound and sweep it across the sample as it plays without glitching or popping.
This tutorial looks at using the Sine Bank Module in Reaktor to build basic waves such as Saw, Sqr, and Tri. We also talk about using the very powerful "Iteration" module to calculate all the partials as fast as possible, and briefly discuss the idea of Anti-Aliased Oscillators.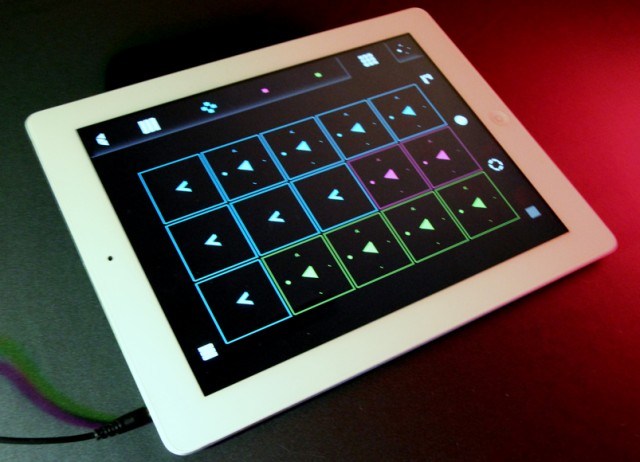 Pierre Guilluy has released a new performance sampler for iOS, Protein Der Klang.
Protein Der Klang is designed to let you play, record and manipulate audio samples using an intuitive multi-touch interface. You can sample directly from the audio input or import via iTunes Sharing.
Features:
Play with 12 simultaneous samples on the 3 coloured tracks.
Scratch, revert, slice, pause, fade & resync up to 4 clips on each track.
Play with an effect on each track & a master effect.
5 sound effects: Crusher, Repeater, Delay, Phaser, LP Filter.
Import and export your samples and patches using iTunes Sharing.
Record live loops from audio-input and internal mixer.
Exclusive playback resync feature.
BPM-synced clip trigger and playback & metronome.
Smart controls for faster actions.
Low latency audio engine.
4 fresh demo patches.
140+ audio samples included.
Support for 16bit wav samples.
Embedded user manual and feedback.
Protein Der Klang is available now for $4.99 in the App Store, for iPad, iPhone & iPod Touch.