The 606 has been modded by Analogue Solutions.
Much punchier than my old one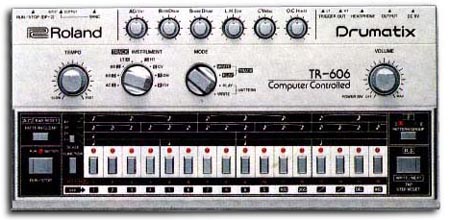 The 606 was the percussion side-kick to the TB-303. It even looks like the 303. It stores up to 32 patterns and 8 songs. The 606 allows switching between Pattern Play and Write mode while running – making the 606 the only drumcomputer in the X0X series that can be edited while performing and switching patterns. It is also possible to link up to 4 consecutive patterns in Pattern Play mode. There is only a mono audio output, however there are mods from Kenton Electronics and Analog Solutions that will add individual outputs for each drum tone.
The 606 has seven analog drum sounds which are simple, yet great! Kick, Snare, 2 toms, open hat, closed hat, cymbal, accent. The hi-hats are a very tinny electronic sound and its toms are great for soft tribal patterns.
In this series, we demonstrate how to efficiently and painlessly create sample chains, to be used in the Elektron Octatrack, or any other sampler. This video focuses on creating a very simple chain with 8 similar sounding samples.
Mark Mosher looks at the Mixtape Alpha – here's what he has to say about it:
The goal of this jam for me was to experiment with using the Octatrack to 1) act as a mixer and process output from a variety of Rick's collection of of noise and music making gadgets 2) To sample Rick's performance on the fly into multiple tracks on the Ocatatrack then contribute to the jam by playing, effecting and doing live sequencing using only these samples are audio sources.  I really love the Octatrack for this sort of thing, as it allows me to organically jam using the palette made from the jam itself.
While this video shows the Octatrack with the Mixtape Alpha, we used a lot of other fun stuff throughout the jam like Korg Monotrons, Korg Monotribe,  Beep-It and more. You can see some of the gadgets in a bin at the 0:17 mark.
Elektron Octatrack real-time sampling and mangling the Korg Volca units. http://www.elektron.se/products/octat…
I wanted to show how the Elektron Octatrack can take any audio and manipulate it in real time. Korg Volca Beats and Bass are routed into the Octatrack's stereo inputs separately. By pressing YES on the Octatrack, I can capture the incoming audio and start mangling and re-arranging the recorded loop on the Octatrack. Sending MIDI out from Octatrack into Volca Beats and sync out into the Volca Bass.
I have created 2 Parts inside the Octatrack. Part 1 has got THRU machines where I can add FX to incoming audio. Part 2 has 2 Flex recording buffers assigned to it. So, I record the incoming audio on Part 1 and start manipulating the recording on Part 2.
Personally, I found the Volca Beats very limiting and the overall sound is not for me. The Bass one however is satisfying…
But for the price of them you can't go wrong.
Waldorf Nave – Live Loop with Elektron Octatrack
All synth sound came from Waldorf Nave on the iPad.
Minibrute was used as a controller only.
Khantipol Kasemsant explores the Rocket from Waldorf:
My first day with Waldorf Rocket
with Elektron Octatrack for Drums, Midi Sequencer and Effects
Only 4 bars of midi sequence was used for the Rocket.
OP-1 and Analog Four were not used in this video.
Download Octatrack OS 1.25 it for free from http://www.elektron.se
More info about the Octatrack: http://www.elektron.se/products/octat…
In OS 1.25, three brand new effects have been implemented. A stereo image shaping Spatializer, a gritty and twangy Spring Reverb and a lush, smooth and wide Dark Reverb.
Here's how to use the Octatrack to draw custom audio waveforms like can be done on the classic Fairlight CMI. You can then use your custom-drawn waves in the Octatrack, Monomachine, or other audio gear.
To see the original Fairlight making custom waveforms:
Example of creating visually understand the "light pen" (wand) and a sound change some parameters or effects.
More info here : http://mustudio.fr
Performance set up below:
Main Sequencer: Elektron Monomachine
Drums Synthesis and Slaved Rythm Sequencing: Elektron Machinedrum
Melody Synthesizer: Access Virus Ti2 Desktop
Audio Effects & Realtime Dynamics Processor: Elektron Octatrack
Elektron tapes (#9). Beat making and noise design inspired by Aphex Twin, Autechre, Pan Sonic & Venetian Snares productions — using Elektron Octatrack, Moog Slim Phatty and Glamour Box.
Performed by sound artist & noise designer Zviij © 2012.
* Booking : zviij AT zviij.com
• Discography:
- Zviij "Quadrifolium" (Album/Digital) http://zviij.bandcamp.com/album/quadrifolium (Bandcamp)
- Zviij "Sub-system design" (Album/CD) http://www.odiolorgnette.com/discography.html
- Zviij "Naked flowers" (Album/Digital) http://zviij.bandcamp.com/album/naked-flowers (Bandcamp)
Zviij — (born Franck Smith) is a French sound artist, noise designer and electronic musician, active as a soloist, living and working in Brussels.