Jam Session with Doepfer A-100, Roland Aira, Elektron Octatrack, Analog Rytm, Korg Kaoss Pad
Audio: http://soundcloud.com/zeropage
Short improvisation with a triple Moog setup and Elektron Octatrack.
Background video description:
My first Octatrack Tutorial is made with the newcomers in mind. It's a deep machine, with a LOT of possibilities. It can be overwhelming before you get into it. Perhaps this little video can help you get started?

Polyrhythmic sequences modulated by sequenced arpeggios with transposes at random intervals.
Elektron Octatrack controls the Jomox Xbase999 and Korg MS2000 via MIDI and clocks the Elektron Analog Four. Slight reverb from the T-rex Room-mate over the Xbase's signal.
A remake of The Prodigy – Smack My Bitch Up.
Only hardware used.
Gear used:
Elektron Octatrack
Elektron Analog Four
Roland Aira TR-8
Roland Aira TB-3
www.facebook.com/nerwrak
Thanks Liam Howlett and "jimpavloff" for the inspiration

A mashup with Front 242 – Circling Overland and Gesaffelstein – Hate And Glory.
All live, no computer.
Gear used:
Elektron Octatrack
Elektron Analog Four
Roland Aira TR-8
Roland Aira VT-3
A Box In The Sea, captures a live granular sampling synth jam, Alpha Seed.
My concept in this piece was to use the Strymon big sky reverb to modulate and process all of the granular sampling I'm doing with the Octatrack.

I'm using 2 Midi tracks on the Octa to constantly modulate (using LFO's and P-locks) 6 different parameters on the Big Sky (Midi CC's on a reverb pedal of this standard is brilliant).

The sounds you hear are created with custom impulse responses I made (inspired byDiego Stocco) and reprocessing the same sound with itself (blowing my mind in the process).

The Cocoquantus is being modulated by a Sidrax. I've routed the Sidrax through an SSF Ground Control so I can apply DC bias and visualize it with a Dave Jones O'tool.
The 606 has been modded by Analogue Solutions.
Much punchier than my old one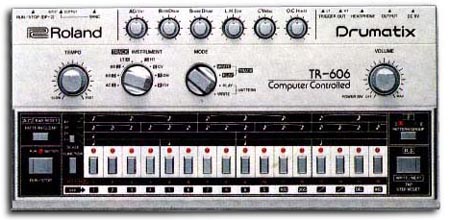 The 606 was the percussion side-kick to the TB-303. It even looks like the 303. It stores up to 32 patterns and 8 songs. The 606 allows switching between Pattern Play and Write mode while running – making the 606 the only drumcomputer in the X0X series that can be edited while performing and switching patterns. It is also possible to link up to 4 consecutive patterns in Pattern Play mode. There is only a mono audio output, however there are mods from Kenton Electronics and Analog Solutions that will add individual outputs for each drum tone.
The 606 has seven analog drum sounds which are simple, yet great! Kick, Snare, 2 toms, open hat, closed hat, cymbal, accent. The hi-hats are a very tinny electronic sound and its toms are great for soft tribal patterns.
In this series, we demonstrate how to efficiently and painlessly create sample chains, to be used in the Elektron Octatrack, or any other sampler. This video focuses on creating a very simple chain with 8 similar sounding samples.
Mark Mosher looks at the Mixtape Alpha – here's what he has to say about it:
The goal of this jam for me was to experiment with using the Octatrack to 1) act as a mixer and process output from a variety of Rick's collection of of noise and music making gadgets 2) To sample Rick's performance on the fly into multiple tracks on the Ocatatrack then contribute to the jam by playing, effecting and doing live sequencing using only these samples are audio sources.  I really love the Octatrack for this sort of thing, as it allows me to organically jam using the palette made from the jam itself.
While this video shows the Octatrack with the Mixtape Alpha, we used a lot of other fun stuff throughout the jam like Korg Monotrons, Korg Monotribe,  Beep-It and more. You can see some of the gadgets in a bin at the 0:17 mark.