Quick little jam featuring two analog synths and a drum machine.
Hardware:
Moog Minimoog Voyager Old School
Korg MS-20
Jomox XBase 888
"Just messing around with a MFB-522, Moog Slim Phatty, Jomox Mbrane 11, Electro Harmonix Clap Track and Boss DM-100 delay."
MFB-522 is a drum computer with a fully analogue sound engine that offers plenty of editing capabilities. It includes a step-sequencer with popular TR-style running-light-programming. Memory locations are available for 72 patterns as well as for 8 songs.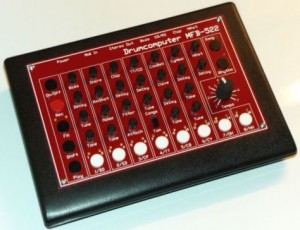 The step-sequencer allows programming of 72 basic patterns plus 72 fill-ins. The latter being associated to the basic pattern memory location, resulting in a two-bar-pattern when using the fill-in. Patterns can be combined to eight songs that each hold a user-definable sequence of up to 64 patterns. In addition to the instruments, a global accent-track is available. When set, the corresponding step will be played with a higher or lower volume-setting in comparison to the standard level. The MFB-522's sequencer offers three different steps of shuffling. A stereo output will carry all instruments minus those where individual outputs are in use (bass drum, snare drum/rimshot, claps and Hihat). Using the MIDI-In, drum-sounds can be played with a keyboard or external sequencer. Here, the sound sources act velocity sensitive. Finally, MFB-522 can be synchronized to incoming MIDI-clock.
Music composition based around old skool sequencing programming combined with some edgy synth sounds. Featuring Jomox Xbase09 drums, SH101 & Pro-one sequences, Juno & JP8 arpeggiators, JP6 lead, Prodigy bassnotes, plus other bits & pieces.
The XBase-09 is serious about emulating the Roland TR-909. Like the 909, it is an analog drum machine, and it sounds just like the 909, and more! It offers the same types of analog controls that the TR-808 and TR-909 did such as tuning, level, decay, snap, etc. However it provides more of these controls for more sounds than the originals ever did and has MIDI implementation and Patch memory making the XBase-09 a much more versatile machine than those originals.
Kick and snare are true analog, not emulation and not sampled. The Hihats, cymbal, ride, rimshot, claps and noise sounds are samples but are still quite tweakable. All your edited sounds can be stored into the 100 patches of memory. Use the built-in LFOs to modulate the Bass drum pitch, Snare Tune, Snare Snap, Snare Noise Tune, HiHat Tune or LFO 2.
The XBase-09′s built-in sequencer is also more advanced yet faithful to the style of its mentors. Step or Real-Time programming just like it's done on the 909 and 808! However, on the XBase, any edits to the sounds will also be stored with the pattern or song! This really liven's up your beats and allows you freedom and control to do things not easily possible on the original beat boxes! There's also an extensive Shuffle mode. Of course the XBase-09 is also happy as a simple drum tone module, with all editable controls accessible using MIDI. The controls also send MIDI data when tweaked so you can record real-time edits into your external sequencer.
Looking for a place to find nice drum samples? At Cyberworm you can find a real nice collection of synthetic drum sample packs from the likes of the Polivoks above, the Jomox, the Access Virus and genre kits like glitch/electro house/minimal.