ACTION STRIKES delivers high-impact, orchestral percussion with state-of-the-art workflow and playability. http://www.native-instruments.com/act…
Re-envision your orchestral percussion. 12 full ensembles plus 65 single instruments, exclusively recorded in uncompromising quality. Hundreds of timeless rhythms, adaptable for any project. And a state-of-the-art interface that lets you direct the drama in real time. Become the conductor — this is ACTION STRIKES.
Learn how to use Action Strikes' state-of-the-art interface in this informative tutorial video. http://www.native-instruments.com/act…
Raz Mesinai (Badawi) is a composer, sound designer, instructor, and dub visionary. In this tutorial, Raz shows you how to create sub-heavy, 808-style kick drums using Ableton Live's versatile software instrument Operator.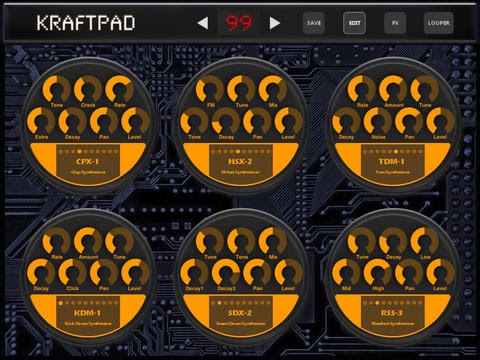 Kraftpad is a Virtual Analog Drum Synthesizer which is capable of creating your own electronic drum sounds by offering 10 different kinds of dedicated synthesizers to easily create each drum sound.
Main Features
– Virtual Analog Drum Synthesizer (no samples used)
– 10 Different kinds of dedicated synthesizers to easily create each drum sound
– Kick, Snare, Rimshot, Clap, Hi-hat, Tom, Conga, Claves, Cowbell, Cymbal
– 6 Pads (6 Voices)
– 99 User editable & storable programs
– Master Reverb FX
– Real-time Looper for Live Performance
– Wave file export for iTunes File Sharing
– Exported files can be re-loaded to Looper for overdubbing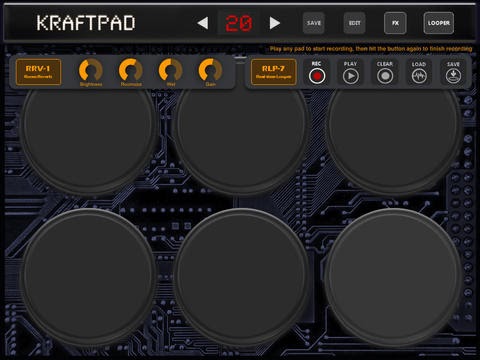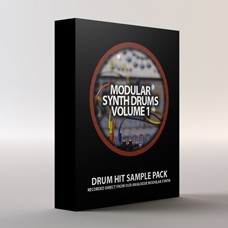 Minimal System Instruments has announced the release of its Modular Synth Drums Volume 1 sample library.
Modular Synth Drums Volume 1 is a drum sample pack that was born from intensive and great fun recording sessions with the huge Minimal System modular synth setup over a number of years.

This sample pack consists of 85 recorded 24-bit analogue drum samples which have been designed from the ground up using modular system and treated through a selection of our favourite outboard signal processors. Modular Synth Drums Volume 1 is a flexible electronic drum sample library for modern music production.
The sample pack is available to purchase for the introductory price of £1.99 GBP.
Here is a 38 Min look at what makes Kontakt 5 a monster power-house of a sample playback plug-in. Also showing how cool it is to take samples from other Kontakt 5 libraries and load them into the MegaMacho Drums Interface for tons of sonic mayhem!  MegaMacho Drums comes out July 1st, 2013!
Motif of rhythm guide for drummer.
PIC12F683
YMO – 1979.11.19 朝の国営放送より
The original OCTAPAD was a revolutionary percussion instrument that was adopted by musicians worldwide and set the standard for future percussion pads. With the OCTAPAD SPD-30, an exciting new chapter in Octapad history begins. Combining cutting-edge drum and percussion sounds with the latest triggering technology, a Phrase Loop function, USB MIDI, and much more, the OCTAPAD SPD-30 is a rugged instrument that's versatile for any musical application.
Includes new percussion sounds from around the world, plus 30 types of multi-effects
The latest pad-sensing technology developed for V-Drums® provides even and accurate pad triggering with excellent isolation between pads
Four dual-trigger inputs, plus hi-hat controller for adding pads to create a mini kit, or for connecting triggers from acoustic drums
Phrase Loop function inspires your creativity; record your playing in real time and overdub up to three layers
USB connectivity for MIDI and memory storage
Large backlit LCD and pad indicator lights for easy operation in low-light conditions
Rugged, road-worthy design
Background video description:
For more on the Roland SPD-30 and BT-1 go to our blog: http://www.uniquesquared.com/blog/pro…
To purchase the Roland SPD-30 Octapad visit our website: http://www.uniquesquared.com/roland-s…
Be sure to Fan us on Facebook, Follow us on Twitter, and Subscribe to our YouTube Channel if you want more videos like this:
http://www.facebook.com/UniqueSquared
http://www.twitter.com/UniqueSquared
http://www.youtube.com/user/UniqueSqu…
Drums. They're absolutely everywhere and vital to most music. A good drum track can make or break a track. Luckily Mattias has some useful tricks up his sleeve to help you spice up your drum patterns!
Learn about ghost notes, tips for using REX loops to add some groove and how to create complex patterns in simple ways using polymeter.
Renowned drummer Adam Deitch (Break Science, Lettuce) is also a widely sought after producer whose credits include 50 Cent, Talib Kweli, Redman and many more. He's also done session drum work for artists such as Justin Timberlake, Daniel Bedingfield and Anthony Hamilton, to name a few. Adam recently put together this fantastic music video featuring his Wavedrum Mini, showing off its great sound and portability. And he's not just tapping on random surfaces for fun; the Wavedrum Mini comes with a clip allowing you to turn any surface into a potential drum head! Enjoy!
No dogs were harmed in the making of this video.
For more on the Wavedrum Mini head over to http://www.korg.com/wavedrummini. To learn more about Adam check out http://www.royalfamilyrecords.com/adamdeitch
Background details:
Circuitbended toy with 4 drum sounds, changed the buttons contacts to car antenna and metal sponges -the idea is from Mateo Carabajal- playing along with a 555 osc -drawdio style- on a Plectranthus australis (aka dollar plant)