Another work-in-progress demo of the Dave Smith Instruments Mono Evolver Keyboard, the Moog Sub 37 Tribute Edition synth, and the Korg Wavedrum Global Edition. Recorded into Ableton Live 9 Suite with additional Piano track played using the Ableton Push controller.
Video shot with the Fujifilm X-E1 camera. Edited in Final Cut Pro X. Atomic blast footage is from a public domain film found at the Prelinger Archive.
Audio only version of this song can be found at – https://soundcloud.com/genshi/untitle…
A demo of the 50 new presets from the latest addition to the Korg Wavedrum family..The Global edition..this contains all the sounds from the previous two and 50 new ones, plus more loop phrases and better sound..
Renowned drummer Adam Deitch (Break Science, Lettuce) is also a widely sought after producer whose credits include 50 Cent, Talib Kweli, Redman and many more. He's also done session drum work for artists such as Justin Timberlake, Daniel Bedingfield and Anthony Hamilton, to name a few. Adam recently put together this fantastic music video featuring his Wavedrum Mini, showing off its great sound and portability. And he's not just tapping on random surfaces for fun; the Wavedrum Mini comes with a clip allowing you to turn any surface into a potential drum head! Enjoy!
No dogs were harmed in the making of this video.
For more on the Wavedrum Mini head over to http://www.korg.com/wavedrummini. To learn more about Adam check out http://www.royalfamilyrecords.com/adamdeitch
Background details:
i hooked the korg wave drum up to the korg kaossilator pro and took them for a test run with a quick, peaceful improv jam and looping demonstration…this is just a small sample of what these two machines can do together…shot with a panasonic lumix g3 20mm f1.7 and recorded dry with a roland micro br.
Soundcells are back with a new Refill for Propellerhead's Reason suite:
"WaveDrummin" is not just another percussion ReFill.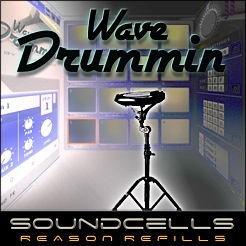 By finding a whole new continent Columbus redrew the map of our planet. Now it´s your turn to do so. By making use of this ReFill you can combine enchanting and haunting rhythms coming from all continents, maybe even from other planets as well as Wavedrummin opens doors to percussive bliss that have never been opened before. At the studio in Central Europe Soundcells recorded their favorite hits and bits coming from the ever popular Wavedrum by Korg while being caught by rhythms coming from distant worlds. The result of this all has become this ReFill, a work of art, a tool that lets you draw your own restyled map of our precious planet.
Realism vs mixability
Lots of samples taken from acoustic, real percussion instruments have the tendency to sound kind of dull in your mixes. The power of their sound often gets mudded by the rest of your instruments. With this in mind Soundcells processed all DSP generated percussion coming from Korg´s Wavedrum Oriental in such a way that the sounds will always sit conveniently in your mixes. Their impact and power will never get lost. Another point that needs to be highlighted is this special stereo knob coming with lots of combinators that works wonders for the mixability of our loops. Check it out!
Genre Crossover
The sounds of this percussion library are as authentic as you wish and at the same time they can be as electronic as you wish. There is no limit to their sonic possibilities. So whether you are a dance producer druling over techno or electro beats or you are a vegetarian ethno guru spiritualist… Wavedrummin will help you getting there. Check out the demos!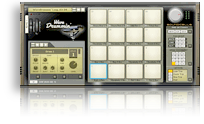 WaveDrummin Contents:
• 115 combinator patches stuffed with inspiring new energy.
• 107 rex loops that range from authentically acoustic to crazy electronic stuff, 20 Kong kits, 20 NNXT patches and 7 Redrum kits.
• 210 single hits to build your own kits from.
• Recorded impact noises coming from Brushes, Rods, Sticks and Fingers to add extra realism to the loops. The combinators carry knobs to control their volumes.
• All single loops and samples are included into this download in Rex and Wave format.
By purchasing this pack you are not restricted to Reason only. However there is a lot more magic to be found within the ReFill.
A web address to link to for more info and many "WaveDrummin" only MP3s:
Offering price per unit is 19,90 ,- EUR (normal price is 24,90 ,- EUR)
That was a compact WAVEDRUM! Battery-powered, built-in speaker, built-in clip allows sensor new concept, the more vibrant Introducing WAVEDRUM Mini.
Percussion icon Carl Palmer demonstrates the Korg Wavedrum
Shared by KORG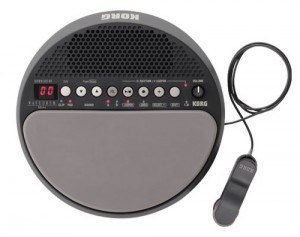 Korg will be releasing a Wavedrum Mini Dynamic Percussion Synthesizer. There is not so much information posted about the device functions or specifications, but the most apparent new feature seems to be a clip on pick-up for triggering the Wavedrum Mini. The new Wavedrum also appears to have a built in speaker and some kind of presets or sequencing functions.