The Roland System 500, created in conjunction with Portland-based Malekko Heavy Industries, is a new line of Eurorack analog synthesizer modules, based on two of the most revered electronic instruments of all time—the SYSTEM-700 and SYSTEM-100m.
Now introducing the new Roland AIRA Digital Eurorack Modules!
Ein Messe-Highlight sind die neuen Module im Euro-Rack-Format.
Besonders geil sind die neuen alten Roland 100 Module und das System 1 Rack.
MESSE 2015: Roland System 100M Analog Modules Made in conjunction with Malekko
Rolands new Eurorack modules – System1M and four new digital programmable effects modules too
Today at the Musikmesse in Frankfurt I played around with the Roland System 1M – Plug out synthesizer. You can see it offers a lot of options and direct controls. I will update you with more detail information asap.
Some close up features of the upcoming KOMA Elektronik Komplex Quad Sequencer right before Musikmesse! Now, the sequencer length is displayed by the LEDs beneath each step as it is changed momentarily. The Komplex Sequencer is driving the pitch and filter cutoff of the Korg MS10 while the Volca Beats provides a rhythm. The KOMA Elektronik RH301 provides the master clock.
For more info and preorders visit: http://www.koma-elektronik.com
More goodies showcased at MusikMesse 2013, this time live from the MFB booth
Audio demos of their new products the Dominion synth and the Tanzbär drum machine
The Dominion 1 features three oscillators, three LFOs and three envelopes. It has a 3-octave keyboard and comes with its own arpeggiator/sequencer. Other features include an extended FM mode, double oscillator sync, an analogue and digital ring modulator and a discrete SED filter module with 12 modes.
The keyboard supports aftertouch and you also get two ribbon controllers, a velocity matrix and a patchbay.
The Tanzbär, meanwhile, is a 16-sound drum machine that sports a "super-tight" 16-step sequencer with accent and pitchbend. You can store 144 patterns and there's a Fill and Chain function. There are two CV/Gate channels, roll/flam recording and various swing options.
Steelberry Clones at MusikMesse 2013
Taking a close look at the Novation Bass Station II
Copyright 2013 Stereoklang Produktion
Audio demo:
The full sounds of the new analog synth from Novation, live from MusikMesse 2013
Background video description:
weitere Videos:http.//www.musotalk.de . Ich bin wieder auf der Musikmesse 2013 für euch unterwegs. Hier ein erster Sneak Preview am Vorabend der Messe.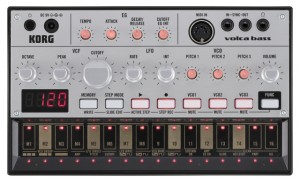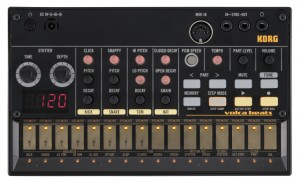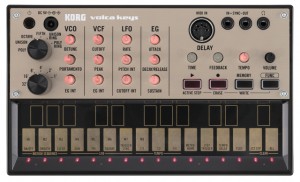 It looks like at least one of the Musikmesse leaks may pan out to be true!
Here are some additional shots of a trio of small Volga boxes. The Korg Volca Bass looks like it may have had some inspiration from a famous bassline synth. If Roland won't make a new 303 and give it three oscillators, it looks like Korg will.
MESSE13: Nord Lead 4 – World Exclusive Pre show sneak peak

After a couple of days of teasing – the new Nord Lead 4 has finally been fully revealed, and boy does it look promising


We will of course take a closer look at it down at  MusikMesse, stay tuned for more on this red beauty
Nord Lead 4 is a 4-part multi-timbral synthesizer sporting a brand new 2-oscillator virtual analog sound engine with 2x oversampling. In addition to the classic analog waveforms there's a Wavetable mode with unique new Formant Wavetables. Frequency Modulation and Hard/Soft sync options are available for mutilating your sound further and the True Voice Unison mode can stack up to four oscillators per voice for really thick, beefy leads and pads.
The filter section boasts Low Pass (12/24dB), High Pass, and Band Pass filters and also stunning new simulations of two transistor and diode ladder filters capturing the squeaky, dirty character of the originals. A dedicated filter overdrive can distort your sound before it passes through the effect section.
The new Variation buttons let you override almost any parameter of the synthesizer, instantaneously. Ever wanted to change LFO speed, Modulation routings and reverb amount – all at once, in the middle of a sound? With the Nord Lead 4 you can! With 7 assignable variations per program Nord Lead 4 gives you creative freedom to warp and improvise your sound live, both rhythmically and sonically and thanks to the Master Clock Synchronization, it can be done in perfect sync to other layers or an external MIDI Clock.
All 4 slots have dedicated effect sections with delay, reverb, tube amp simulated overdrive, a Talk effect modeled after a vocal tract and a sample rate reducing Crush effect.
The Nord Lead 4 is also available as a Tabletop/Rack version, the Nord Lead 4R.

Key features
4-part multi-timbral with 4 separate outs.
2-Oscillator Virtual Analog Subtractive synthesis, with Frequency Modulation, Hard and Soft Sync and True Voice Unison.
Morph and Variation performance controls.
Wavetable synthesis, including unique Formant Wavetables.
12/24 dB Low-pass, High-pass, Band-pass filter section plus transistor and diode ladder filter simulations.
2 LFO/Arpeggiator sections and Mod Env section with flexible routing possibilities.
LFO, Arpeggiator and Delay can be synchronized to the Master Clock (or external MIDI-Clock).
Crush, Talk and Distortion, Reverb, Delay effects (available per slot)
2x oversampled sound engine.
49­-key velocity sensitive keyboard (C-C) (Not Nord Lead 4R).
USB MIDI.
Suggested Street Price:
Nord Lead 4: 1,849 euro, shipping May 2013. Nord Lead 4R: 1,649 euro, shipping August 2013
More info: www.nordlead4.com
Novation appears to have a bass synth in the making, teasers pics from thier Facebook site yesterday below:
Or perhaps a a two oscillator mono synth
MFB has introduced the Tanzbär Drumcomputer – a new analog drum machine.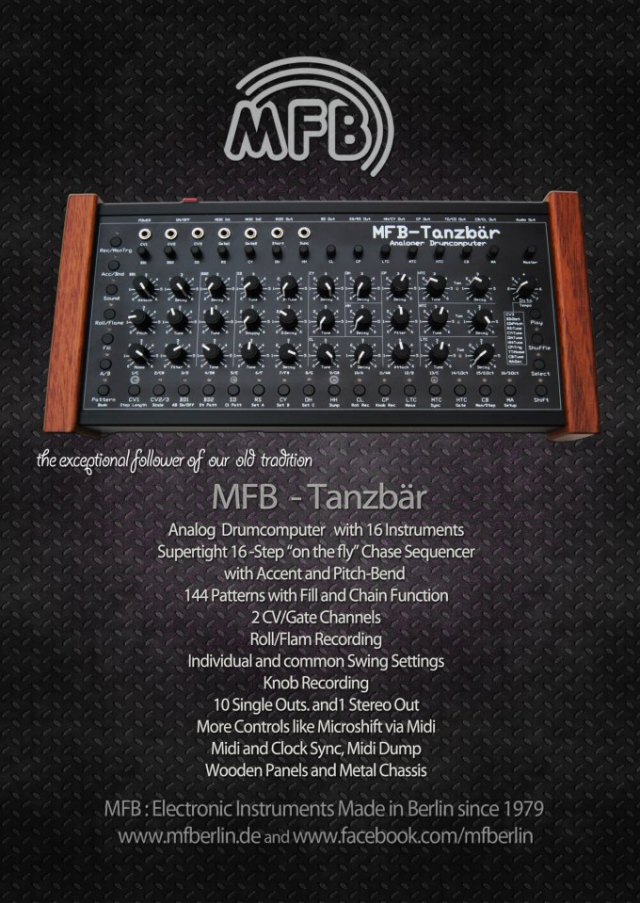 Audio demo below:
MFB Drum Computer Session 2 by Yapacc on Mixcloud
And finally a new electronic instrument from Dualo: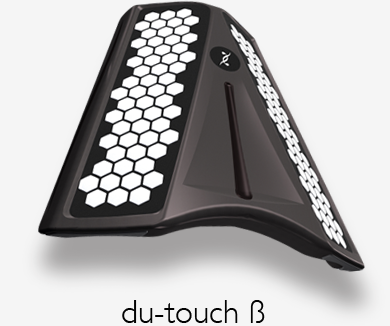 Dualo, a start-up company etablished in 2011 by two musicians and engineers, has designed a musical instrument based on a innovative and intuitive keyboard: the du-touch ß.
This original key layout, which is closer to harmony, is an alternative to the layout encountered in a piano, and is called the dualo keyboard.The manner in which the keys have been laid out has been validated by several musicians, and is designed to provide an opportunity to learn, to read and to play music faster than traditional instruments.
In Decembre 2012, after two years of extensive research and development, Dualo has released a limited edition of his first instrument, dualo du-touch ß, already sold-out. Several famous artists decided to support our project, including Cyril Atef (-M-, Bumcello, …), Fixi (Java) and Khalid K.
In view of the enthusiastic reception for our instrument, Dualo is now launching a crowd-funding campaign on KissKissBankBank.com to finance the professional edition, which will be delivered from Decembre 2013.
Our first instrument, "dualo du-touch ß" is designed for amateurs and professionals.
innovative : it's the first instrument in the world which use a layout of keys based on the dualo principle
compact, portable and featuring a wide tessitura : light, designed to come with you everywhere, 5 octaves for 29cm high
standalone : battery-powered, built-in synthesizer, built-in multi- effect processor, built-in multitrack looper ; audio line out and amplified audio headphones out
versatile : thanks to the built-in features which allows to play with a wide palette of sounds and to organize them in songs
original and allowing a wide stage presence : fitted with gesture and movement sensors offering a new generation of musical gesture, a new feel and a new phrasing
intuitive and instructive : thanks to the dualo principle and to the built-in help system : screen, light display
CASIO demonstrator Ralph Maten explains the features of the CASIO Perfomance Synthesizer XW-P1