March 24, 2012 · Posted in
Uncategorized
·
Comments Off

on Novation at Musikmesse 2012
A view of the Novation product range on show at Musikmesse 2012, including information on the new Daniel Fisher sound pack for the Ultranova.
March 23, 2012 · Posted in
Uncategorized
·
Comments Off

on MusikMesse 2012 – Closer look at the new Roland Jupiter 50 and 80
Roland Jupiter-50 official information
With its unprecedented fusion of synthesis and acoustic instruments, the new-generation Roland JUPITER has changed the way we play, react to, andfeela keyboard. By combining the supreme expression of the JUPITER-80 with the portability of the JUNO series, the new JUPITER-50 brings SuperNATURAL sound and pro performance to every stage and studio.
Stunning SuperNATURAL sounds powered by Roland's most advanced sound engine
Portable design, 76-note weighted keyboard
Fast, friendly user interface with intuitive colour-coded buttons and sliders
Registration function for saving and selecting sounds instantly
Pro-quality multi-effects and high-quality reverb
Expressive performance controllers, including D-Beam, pitch/mod lever, and control input jacks
USB Song Player/Recorder
USB audio/MIDI functionality; bundled with SONAR LE and JUPITER-50 Control Surface plug-in for SONAR
March 22, 2012 · Posted in
Uncategorized
·
Comments Off

on Musikmesse 2012: Roland Jupiter 50 Synthesizer
Roland demonstrate their new Jupiter 50 Synthesizer at Musikmesse 2012.
As was announced yesterday – here's a video of the Jupiter 50 in action
March 21, 2012 · Posted in
Uncategorized
·
Comments Off

on Propellerhead unveils it all – Rack Extensions and Figure App Technology Preview
Here's the background details:
We couldn't hold back anymore. We were too excited about what we've got in the works that we flew down to the Musikmesse Convention in Frankfurt, invited a room full of our friends in the press and development community, and lifted the curtain on some groundbreaking new technology we're working on.
In this presentation we'll introduce you to Figure, our new mobile adaptation of actual Reason devices running on your phone and Rack Extensions, our new technology which will allow third party developers to create fully functional Reason rack devices complete with CV, cable routing, combinator patch creation, and everything else that makes Reason so versatile and creative.
To learn more and to find out about getting started with our SDK, visit: http://www.propellerheads.se
March 21, 2012 · Posted in
Uncategorized
·
Comments Off

on Yamaha launches the all new CL-series for digital mixing

25 years after first setting the standards in digital mixing, Yamaha has taken digital consoles to another evolutionary level with the launch of the three-model CL series at ProLight + Sound 2012.
Retaining essential features and functionality that have become standards over the past quarter of a century, the CL series of digital mixing consoles offers an evolved experience in accessible mixing. Combined with sonic purity and advanced sound shaping capabilities, the new range gives the most imaginative artists and engineers unprecedented creative freedom.
Yamaha CL series:
Combining a tactile, ergonomic user interface with elegant and contemporary design, the CL series comprises three models – the CL1, CL3 and CL5. Ranging in mix capacity from 48 to 72 mono plus eight stereo inputs, all models feature 16 DCAs, 24 mix and eight matrix busses, plus stereo and mono output busses.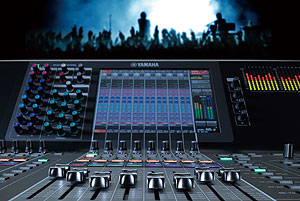 User interface
At the heart of the CL series is Yamaha's acclaimed Centralogic user interface, ensuring that the consoles will be immediately familiar to many thousands of live sound engineers.
It has evolved considerably on the new consoles, incorporating a new generation, highly responsive colour touch screen and an array of user definable rotary encoders and buttons. Newly designed faders offer optimum feel, visibility and accuracy and are freely configurable to allow control of any combination of inputs, outputs or the 16 DCA faders. The control surface also provides editable, backlit channel name displays above each fader, with assignable colour bars. The CL1 and CL3 also feature the option of an external meter bridge.
Audio quality
Audio quality and character were top priorities in the development of the new consoles. In addition to featuring newly-designed mic preamps and delays on every input channel and output port, the range debuts a prestigious line up of studio quality processing.
The Effects Rack provides the equivalent of eight SPX2000 effects processors, along with a range of VCM EQs and dynamics, while two further virtual racks provide access to up to 32 channels of graphic EQs.
However, probably the most exciting sonic innovation is the introduction of the Premium Rack concept. Developed by Yamaha's Dr K (Toshi Kunimoto) and his team, the Premium Rack provides a range of extremely high quality, dynamic processors and EQs. Yamaha is particularly proud and pleased to have collaborated closely with Rupert Neve to incorporate the highly acclaimed Portico 5033 EQ and 5043 Compressor as key elements in this new concept. These processors are included as standard in the CL series, eliminating the need for any plug-in management.
"For the first time we have the capability of bringing Rupert Neve sound into the live audio field, entirely due to Yamaha VCM technology. I believe that it is indistinguishable from the original analogue sound," says Neve.
Scalable solution
A key factor in making the CL series so flexible is the pair of accompanying I/O racks, the Rio3224-R and Rio1608-D, and the fact that consoles are the first to feature built-in Dante networking as a standard feature.
A scalable system is easily constructed by simultaneously attaching up to eight I/O racks via Dante, providing up to 256 input sources. Pairs of CL series consoles can also be cascaded to handle larger mixing requirements.
Connection of basic systems is easy, using the console's auto-configuration facility. Two or more consoles can share the inputs from one set of I/O racks without fear of unexpected level changes due to the inclusion of Auto Gain Compensation within the I/O racks themselves. With the new Dante 32-bit mode of operation, gain compensation can be provided without audibly affecting the dynamic range.
"We are extremely excited to be collaborating with Yamaha on the extraordinary new CL series and I/O racks," notes Audinate CEO Lee Ellison. "Dante provides a flexible, low latency, highly scalable, plug and play networking solution to connect Yamaha networked systems, Dante Virtual Soundcards or any other Dante networked device. We believe the combination of technologies integrated in this new platform will provide an unsurpassed digital experience."
The Rio3224 also includes four stereo AES-EBU outputs, keeping signals in the digital domain right through to the amplifier. The new consoles feature three MY card slots on the rear panel, maintaining compatibility with every existing audio format as well as newer cards like the MY8-Lake speaker processing card and the MY16-Dugan auto mixing card.
The three card slots also allow for additional i/o alongside the consoles' onboard eight mic inputs and eight line outputs.
Software control
CL Editor is a new standalone online / offline editor which runs on both Macs and Windows PCs. Featuring all the functionality that users will be familiar with from other Yamaha Editor software, it does not require Yamaha Studio Manager as a host.
Further new software applications include a new version of StageMix for iPad, which offers comprehensive wireless remote control and has been expanded to include new features such as channel naming, DCA fader control and tap tempo. Crucially, both CL Editor and StageMix can be run simultaneously, allowing very flexible options for engineers, sound designers and system technicians alike.
Meanwhile, Yamaha's new File Converter software has been upgraded to allow straightforward exchange of console files between the CL series, PM5D, M7CL and LS9.
Recording
Every CL console customer will receive a copy of the new Steinberg Nuendo Live recording software, which has been designed specifically for live recording applications. Available from July, it includes unique features not found in any other live recording software and will be tightly integrated with CL consoles to provide optimum ease of use.
When combined with Audinate's Dante Virtual Soundcard (also included with every CL console) engineers can easily use the Dante network to record up to 64 tracks of audio to either a Mac or Windows PC.
"Nuendo Live is not only ultra stable and easy to use, but it integrates seamlessly with the latest generation of Yamaha live consoles," says Steinberg Managing Director, Andreas Stelling. "This is another successful example of the strong ongoing relationship between Yamaha and Steinberg."
In addition, basic stereo recordings can be done via a convenient two track USB recording and playback function.
Setting the standards
Having worked very closely with engineers and rental companies for a quarter of a century, Yamaha knows that the key requirements from digital consoles are flexibility, audio quality, ease of use and, of course, the company's well known standards of reliability.
With the advent of the CL Series, the company is confident these products strike the perfect balance between innovative functionality and sound investment potential.
"The CL series ideally answers today's needs using today's technology" says Kazunori Kobayashi, General Manager of Yamaha's Pro Audio Division. "The collaboration between Yamaha, Rupert Neve Designs, Audinate and Steinberg has made it possible to deliver a sublime balance of sound, performance, and features that results in uncompromised overall mixing capability and quality. After a quarter century of evolution, the CL series represents a momentous new chapter in the history of Yamaha digital mixing."
The CL5 and Rio3224-D are scheduled to be released in the spring of 2012, with the CL1, CL3 and Rio1608-D available in the summer.
March 21, 2012 · Posted in
Uncategorized
·
Comments Off

on Roland announces TD-15 and TD-11 drum sound modules with SuperNATURAL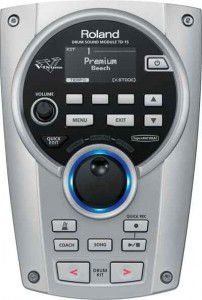 Roland has introduced the <>TD-15 and TD-11 Drum Sound Modules, two new sound engines for V-Drums electronic percussion products featuring all new SuperNATURAL sounds with Behavior Modeling Technology. The company says that these modules offer V-Drums players an unmatched level of playability and dynamic expression.
The flagship TD-30 Drum Sound Module, released in January 2012, was the first V-Drums sound engine equipped with SuperNATURAL sounds produced by Behavior Modeling Technology. Originally developed for their synthesizers and pianos, Roland says that these leading-edge technologies deliver a quantum leap in realism in both sound and expression for emulating drums, percussion, and other traditional instruments.
With the TD-15 and TD-11, SuperNATURAL sounds are now available in mid- and entry-level V-Drums models. In addition to the ultra-expressive sounds, these modules include an enhanced Ambience feature, plus Coach and Quick REC functions for building drumming skills and capturing drumming performances.
Roland tells us that each new module has a large LCD and the intuitive V-Drums interface for easy navigation and sound customization. Two different USB ports allow users to play audio files from convenient flash media and connect directly to computers for MIDI/Audio over USB.
The TD-15, available standalone and as part of the new TD-15KV and TD-15K V-Tour Series V-Drums sets, features 500 instruments and 100 user-customizable drum kits. Ten multi-effects are provided for processing drum sounds, and the front panel offers dedicated buttons for tuning, muffling, and effects. There are 11 trigger inputs, plus a click output that can be assigned to the headphone or master outputs.
The TD-11, available standalone and as part of the new TD-11KV and TD-11K V-Compact Series V-Drums sets, features 190 instruments, 50 user-customizable drum kits, and 10 trigger inputs.
Pricing and Availability:
The TD-15 and TD-11 Drum Sound Modules will be available in late spring.
More information:
March 20, 2012 · Posted in
Uncategorized
·
Comments Off

on MusikMesse: Introducing UNVEIL – De-Reverberation and Signal Focusing
More things are "unveiled" as we approach tomorrows MusikMesse, here's one from Zynaptiq: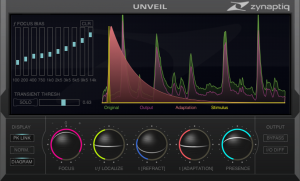 UNVEIL is a real-time, de-mixing based plug-in that allows attenuating or boosting reverb components within a mixed signal of any channel count, including mono sources, as well as modifying reverb characteristics. Additionally, UNVEIL allows you to bring the key features of a recording into focus, or move them to the background, by attenuating or boosting perceptionally less important signal components. Based on our proprietary, artificial intelligence based MAP (Mixed-Signal Audio Processing) technology, UNVEIL allows fixing previously unusable location audio and dialog, tightening up live music recordings, removing reverb and "mud" from musical signals, as well as creative sound design.
UNVEIL has many uses, some of which are:
Audio engineers can attenuate reverb in recordings
Film mixers and dialog editors can remove reverb from dialog and location sound
Music producers can turn vintage drum-loops rich in reverb into dry recordings, and vice-versa
Foley artists can remove ambience from sub-optimally captured sounds
Mix and mastering engineers can bring key mix elements into focus by attenuating components commonly referred to as "mud"
Removing reverb from recordings has always been difficult to impossible. Existing de-reverberation strategies either manipulate signal dynamics, require specific channel formats, are limited to certain signal types, or all of the above. Enter UNVEIL.
UNVEIL is not an expander or envelope shaper, is not a spectral thresholding processor, does not use phase cancellation techniques or inter-channel correlation analysis, and thus works with any channel count from mono to whichever surround formats your DAW supports, and without changing signal dynamics. To achieve this, it utilizes a model of the human auditory system to discern which parts of the signal are reverb, effectively "listening" to your signal much like a human would. These components are then separated from your signal for processing using our MAP technology. From there, reducing the amount of reverb in your recording is as easy as adjusting the value of one of our slick track-ball-esque sliders.
Conversely, UNVEIL allows increasing the amount of reverb in a recording, too. You can turn a close-miked drum kit into a full-on room-heavy monster, move a sound back in the sound-stage or adapt the amount of reverb on different location recordings to match each other better. Additionally, UNVEIL gives you several parameters that allow manipulating reverb characteristics…like all of it's features, within a mixed signal, in real-time and even using mono source material. No, that's not magic, that's advanced science.
UNVEIL's algorithm isn't limited to processing reverb. Actually, it processes any signal components that the human auditory system considers as being of little significance, which includes the parts that many engineers refer to as "mud". As a result, UNVEIL allows reducing the level of all the stuff that clouds your signal and masks the detail you work so hard to capture, bringing the key features into focus and, well, unveiling all the inherent detail. As a bonus, this also increases headroom, so you'll even be able to increase perceived levels without having to slam the meters. And again, you can use the inverse function to add grit and a less up-front character to your recording.
Except for the mathematics under the hood, everything about UNVEIL is simple and easy, results are always just one small step away. That being said, UNVEIL allows adjusting the process in a very wide range. No dumbed-down "easy-mode" in sight, just a perfectly stream-lined, no-nonsense GUI that looks as slick as UNVEIL sounds. And oooooh yes does it sound good. But don't take our word for it, grab the demo for a test-drive!
March 20, 2012 · Posted in
Uncategorized
·
Comments Off

on MusikMesse: Pioneer announces the new REMIX STATION RMX 1000
At the Musikmesse 2012, Pioneer is introducing the RMX-1000 Remix Station, a three-in-one system made up of editing software, a hardware controller and VST and AU plug-ins. The RMX-1000 is designed to deliver the possibilities of studio effects and beatboxes, with the added physicality of pro-DJ equipment. Pioneer's remixbox editing software lets you customize the RMX-1000 hardware to your own performance style and load it up with your own banks of samples. The RMX-1000 VST and AU plug-ins lets you use the Remix Station with your current digital audio workstation software.
The RMX-1000 is expected be available in May 2012 for 699 Euro, including VAT.
Pioneer is setting a new benchmark in pro-DJ equipment, with the awe-inspiring RMX-1000 remix station. Taking a totally new direction to effectors and samplers, the RMX-1000 is a three-in-one system comprising editing software, innovative performance hardware and VST and AU plug-ins.
For more detail visit, http://pioneerdj.com
Features:
Customizable remix station unit

The RMX-1000 can be used with mixers, CDJs and laptops in the booth, or with a PC in the studio for recording and producing.
The control parameters can be completely modified using the remixbox software included.
The hardware offers three ways to access settings. Default activates Pioneer's intuitive factory settings. And User settings can be stored on the unit, or on an SD card to be taken along to the booth – DJs simply plug their SD card in to get immediate access to their personalised controls.
Pioneer plans to make settings from internationally renowned DJs such as Chuckie, Kissy Sell Out, Kutski, James Zabiela, Doorly and Laidback Luke available for DJs to download.
The unit's controls are divided into four categories:
Scene FX

The Scene FX wheel allows DJs to build up and break down tracks by combining ten types of effects.
Use the top section to build up, adding effects like Noise, Echo and Spiral Up and the bottom section to break down, cutting sounds with effects like Crush Echo, Spiral Down and Reverb Down.
Twist the central knob to move from Wet to Dry to add pitch and intensity to the effect that's in play.
Plus, two sub-parameter dials allow DJs to manipulate the Time and Resonance parameters for even more character.

Isolator FX

Inherited from Pioneer's high-end DJM-1000 mixer, the RMX-1000′s isolators allow DJs to change the main audio input's rhythm and timbre using hi-, mid- and low-frequency bands.
Plus, three effects are loaded into the dials for more flexibility: Cut/Add, Trans/Roll and Gate/Drive.

X-Pad – with Pitch control

DJs can instantly get involved with the unit's drum samples by tapping the individual sample buttons (Kick, Snare, Clap and Hi-Hat), or by using the X-Pad to roll (repeat) the samples at different speeds.
DJs can record their own beats and patterns on the fly by switching on Overdub, then use Roll and Mute to manipulate each sample in a variety of impressive combinations.
The Quantize button snaps each tap of the sample pads to the nearest beat, so DJs always sound on time.
DJs can add up to 16 samples across the four sample banks, which they can trigger and manipulate during live performance.
DJs can edit the sample banks through remixbox and even alter them during play.
The RMX-1000′s Pitch knob alters the pitch to add even more character to each repeated beat.

Release FX

The Release FX allows DJs to exit complex effect combinations and return to the original track.
Three modes with three customisable speeds – Spin Back, Echo and Break ­­­– allow DJs to choose exactly how they want to return to normal play.
For even more flexibility, DJs don't have to exit totally from the engaged effect; they can come partially out and go back in by manipulating the highly sensitive Release switch. Or they can cut the original track out completely so just the engaged effects are heard.

Fully customizable with specially designed remixboxsoftware

Designed by Pioneer exclusively for the RMX-1000, the remixbox software allows DJs to prepare sets – while the hardware leaves plenty of room for spontaneity.
And DJs can use the software to modify the unit's features and change its parameters. By hovering their mouse over the remixbox's virtual RMX-1000, DJs can edit features, change parameters or adjust effects on the hardware itself.

First DJ-dedicated controller for Virtual Studio Technology/Audio Units

As the first VST/AU controller dedicated to the DJ industry, the RMX-1000 brings the operability of hardware into the recording studio.
By just plugging the unit into a laptop, DJs and producers can use the RMX-1000′s dedicated controls to manipulate the VST/AU's features.
There's no need to fiddle around with the mouse and keyboard: just hit a button, twist a dial, or turn a knob – the RMX-1000 literally puts every effect right at producers' fingertips.

Other features

High-quality sound design reduces noise for clear and pristine sound.
The Quantize function can be applied at any stage during play or production for real-time music analysis and automatic synchronisation of the beat.
Auto BPM function automatically measures and follows the tempo of the music.
USB-MIDI connection means the RMX-1000 can be used as a MIDI controller.
Compact and sleek design makes the RMX-1000 highly portable – and it looks good as part of any DJ set-up.
March 14, 2012 · Posted in
Uncategorized
·
Comments Off

on KOMA Elektronik goes guerrilla at Musikmesse 2012
http://youtu.be/qYsrwV9imYU
As MusikMesse gears up – here's a budget teaser from KOMA:
More information: http://www.koma-elektronik.com/musikmesse
Facebook: http://www.facebook.com/KOMAelektronik
As a small Berlin based analog effects manufacturer we have no large promotion budget, this is why this year KOMA Elektronik will go guerrilla at Musikmesse 2012. Instead of the "usual" booth the KOMA crew will be driving the press and everybody else who is interested in our products around in the "KOMA Cab," and we'll throw a big party on thursday night. You wanna fight the good fight with us?
PLAYING AT OUR PARTY (MARCH 22ND):
EMIL NIKOLAISEN & ÅDNE MEISFJORD (Serena-Maneesh, NO) (4AD)
http://4ad.com/artists/serenamaneesh
KAAP DE GOEDE HOOP (Planty Herbs, NL) (WAX-ON Records)
http://soundcloud.com/kaapdegoedehoop
O TANNENBAUM DJ'S (Ole Records, Berlin)
http://o-tannenbaum-berlin.de/
Pure analog super synth

This seems to have really captured the imagination – its a massive totally analog 8-voice polysynth, with 4 OSC, 7 VCF and many, many other elements. Concieved from the one mind of Mr Schmidt it really is something to behold.