If you want to get up to speed on the new convolution reverb that's part of Reason 8.3's revamped RV7000 MkII reverb unit, then you've come to the right place. In this tutorial we'll take a look at the history of reverb to understand how convolution fits into the story, how it works, and how you can go about making your own presets with custom spaces.
Grab the free RV7000 MkII Patches ReFill: https://shop.propellerheads.se/produc…
Learn more about Reason:
http://propellerheads.se/tryreason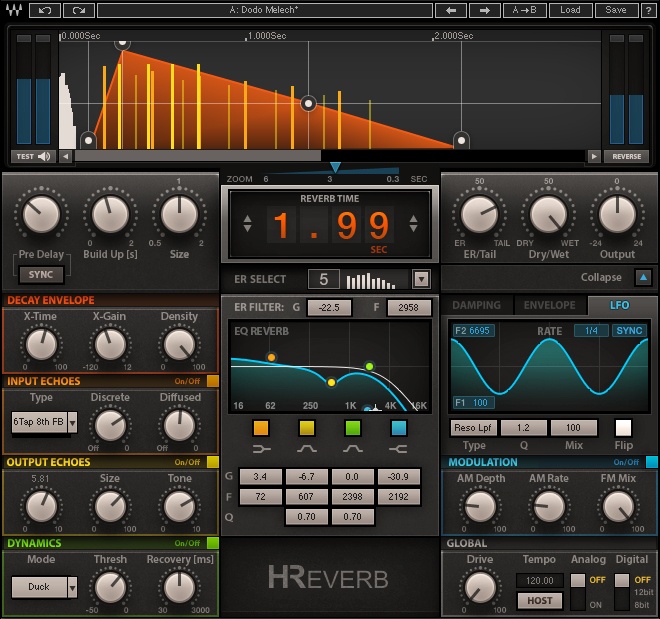 Waves Audio has announced it is now shipping the H-Reverb effect plug-in, a pioneering reverb based on innovative algorithmic FIR (Finite Impulse Response) reverberation technology, providing richer, deeper reverb tails that sit beautifully in the mix while breathing crisp air into your tracks.
The FIR engine that powers H-Reverb lets you shape and customize the reverb decay envelope beyond the standard linear forms, resulting in perfectly gated, real reverse, and dense reverb tails that don't muddy up the mix. Taking things one step further, H-Reverb incorporates Waves' advanced analog modeling along with a drive control, offering signal behavior that until now was found exclusively in high-end hardware reverb devices. This unique design also enables input drive, a technique favored by many top engineers.

To top it off, H-Reverb includes an impressive library of artist presets from the industry's leading mixing engineers (including Toni Maserati, Brad Divens, Daniel Green, Dave Darlington, Dave Stagl, James Ebdon, Ken "Pooch" Van Druten, Kevin Madigan, Pete Keppler, Ross Hogarth and Yoad Nevo, to name just a few). Their personal settings may be the perfect space you're looking for, or simply the perfect point to start from.

By fusing classic reverb concepts with forward-thinking features that break new ground in digital reverb processing, H-Reverb provides uncompromising sound quality and boundless creative control.
H-Reverb features
Impulse-variable resonant filtering for creating unfamiliar and advanced reverb effects.
EQ and dynamics module for compression, ducking and de-essing.
ADA analog modeling and drive control for input clipping.
Full buildup timing and shaping.
Pre-delay BPM sync.
Artist presets from the industry's leading mixing engineers.
Support for full 5.1-channel surround setups.
H-Reverb is available for purchase for the introductory price of $199 USD (regular $349 USD).
This is a preview, more info soon at http://www.amazingnoises.com
The Amazing Noises Reverb is a Feedback Delay Network (FDN) Reverb Effect, which can create nice reverberated ambiences, from small rooms to huge buildings. It can also simulate alien and unreal spaces, for your experimental fun!
The realistic sound of famous reverb equipment for your iPad and iPhone! Includes a large built-in library of the highest quality reverb impulses taken from actual devices and the possibility to upload your own reverb space impulses. Intuitive and compact user interface for maximum ease and efficiency. More details: http://audio-mastering-ipad.com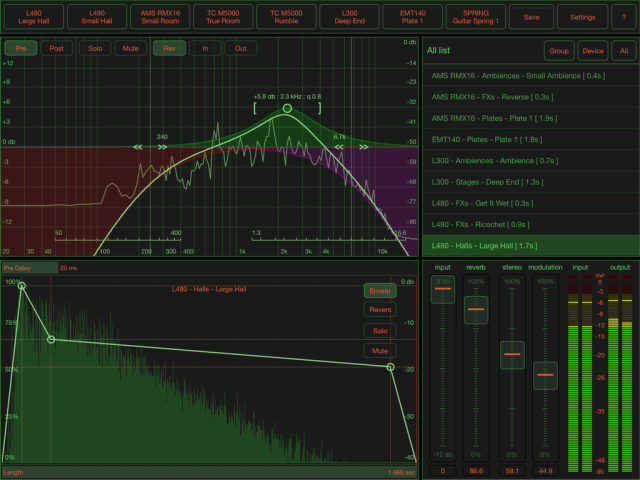 Igor Vasiliev, creator of Audio Mastering for iPad, has announced a new convolution reverb for iPad and iPhone.
Using a convolution reverb, one can load 'impulse responses' of acoustic spaces or gear, effectively sampling the reverb or effect and allowing it to be applied to any signal.
Here's what he has to say about the new iPad + iPhone convolution reverb:
The first convolution reverb for iPad and iPhone. The most realistic sound of a very famous reverb gears.
Includes a more than 100 samples of factory presets from different devices. Supports 64-bits processing. Inter-App Audio and Audiobus.
Has many options to tweak sample – parametric eq, envelope, stereo base, modulation, pre-delay, length.
Details on pricing and availability are to come, but he says that it is 'coming soon.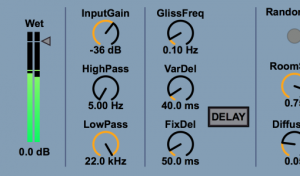 Amazing Noises has released GliderVerb, a free Max for Live device.
GliderVerb is a "reverberator with glissandos" simulating a room gradually changing its shape. It is an expanded version of an algorithm created by James McCartney for his Supercollider 2 programming language.
The original algorithm had no user-variable parameters: this device adds a series of parameters to create a wide palette of effects; from evolving reverberations to granular disintegration to smooth resonances.
GliderVerb is available to download at no charge. Requires Live 9 and Max for Live.
Put the "sproing" in your mix with Softube's Spring Reverb. Spring Reverb is now avaialbe for Reason Rack Extensions, as well as VST, AAX, AU and RTAS formats.
More information on Spring Reverb and Softube's other products at http://www.softube.com.

Softube has announced that its Spring Reverb is now available in the Rack Extensions format for Propellerheads Reason.
Spring Reverb is an authentic spring reverb recreation that will add vintage character and grit to any audio track.

It also includes novel features such as a fully automatable Shake control that will shake the virtual springs around for those thunderous spring effects.

Get some recognizable character in your mix with the Spring Reverb!
Spring Reverb RE is available to purchase for $79 USD / 65 EUR.
More info on Reason: https://www.propellerheads.se/product…
The RV7000 is a high quality stereo reverb that's all about embedding your sound in rich, sophisticated reverb. Regardless if you want the sound of a concert hall, a retro spring reverb or a cramped closet – RV7000 can handle it. In this tutorial we'll take a closer look at its features and what it can do to your music.

The RV7000 is a stereo effect unit dedicated to highquality reverberation.
This device is set on embedding your sounds in the kind of rich, transparent sounding reverb that only the most sophisticated reverb machines are capable of. In short, it sounds amazing. And despite its pro studio sound and million-dollar features, this machine is very easy to use. Your basic reverb controls are located on the main panel – for instant access and control – and the rest, eight separate knobs for algorithms and their parameters, can be accessed from a fold-out remote at the touch of a button.
The RV7000 is advanced and flexible without ever getting too complicated, and lets you dial in your desired reverb sound in seconds, and saving it as your own preset. The future of reverberation, only for Reason users.
The Sections
The RV7000 is made up of three separate sections whose controls and settings are easily accessed from the fold-out remote panel: the Reverb, the main workhorse in RV7000, always enabled. The EQ, for processing of the wet signal. And the Gate, which can be applied to any chosen reverb program or algorithm, allowing for very sophisticated gating effects.
The Reverb
The reverb engine consists of nine carefully crafted reverb algorithms, with seven individual parameters each: Small Space, Room, Hall, Arena, Plate, Spring, Echo, Multitap and Reverse, each with up to seven individual parameters.
Where some algorithms simply make up the basic reverb types, others are less traditional: Spring is a very accurate emulation of a classic spring reverb, and Echo is a Reverb/Delay combo that works wonders with vocal samples.
The EQ
Hitting the EQ switch on the front panel calls up a handy parametric and low shelving equalizer for additional tweaking of your reverberated signal. Combine this section with the HF Damp and HF Smooth knobs on the front panel, and be the master of your wet signal's every frequency.
The Gate
Instead of having a traditional gate algorithm squeezed in with the others, the RV7000 keeps it's gate on the outside, letting you apply gating to any and all reverb types. Ever heard a gated Spring Reverb? You have now. You are also free to trigger the gate with CV or MIDI, and to record and automate it as you desire. Which is of course the case with all the knobs and parameters inside and and outside of the RV-7000.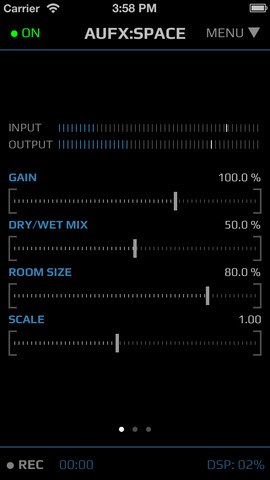 Kymatica has introduced AUFX:Space – a real-time reverb audio effect for AudioBus.
Features:
High quality 32-bit DSP engine.
A multitude of parameters to tweak to get a wide range of sounds.
Process hardware input/output
Process other apps through Audiobus (input/filter/output slots supported).
Ready for the future inter-app audio standard.
Save and load user presets.
Comes with several bundled presets.
Fully MIDI controllable, including Virtual MIDI.
Background Audio.
Record the result directly in app.
Email recordings or export to AudioShare audio document manager app.
Access user presets and recordings through iTunes File Sharing.
AUFX:Space is available for US $3.99.

MaxSynths lets us know that DSP-2 is a high precision insert effect for vocal processing which includes an Intelligent Dynamic Processor, a saturator, a four band equalizer fixed on vocal key frequencies and a room emulator based on the Schroeder reverberator. They say that DSP-2 has been designed to be an easy to understand solution for all your vocal processing needs.
Features:
Intelligent Dynamic Processor (IDP)
Four different automatic operative modes:
Fast attack, fast release
Fast A, slow R
Slow A, fast R
Slow A, slow R
Selectable compression ratio
Saturator with three different operation modes
EQ fixed on vocal key frequencies
Room emulator based on Schroeder reverb model
Transparent increment of the perceived volume level
High precision input/output VU-meter
Low CPU usage