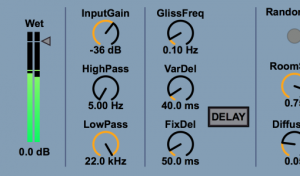 Amazing Noises has released GliderVerb, a free Max for Live device.
GliderVerb is a "reverberator with glissandos" simulating a room gradually changing its shape. It is an expanded version of an algorithm created by James McCartney for his Supercollider 2 programming language.
The original algorithm had no user-variable parameters: this device adds a series of parameters to create a wide palette of effects; from evolving reverberations to granular disintegration to smooth resonances.
GliderVerb is available to download at no charge. Requires Live 9 and Max for Live.
Put the "sproing" in your mix with Softube's Spring Reverb. Spring Reverb is now avaialbe for Reason Rack Extensions, as well as VST, AAX, AU and RTAS formats.
More information on Spring Reverb and Softube's other products at http://www.softube.com.

Softube has announced that its Spring Reverb is now available in the Rack Extensions format for Propellerheads Reason.
Spring Reverb is an authentic spring reverb recreation that will add vintage character and grit to any audio track.

It also includes novel features such as a fully automatable Shake control that will shake the virtual springs around for those thunderous spring effects.

Get some recognizable character in your mix with the Spring Reverb!
Spring Reverb RE is available to purchase for $79 USD / 65 EUR.
More info on Reason: https://www.propellerheads.se/product…
The RV7000 is a high quality stereo reverb that's all about embedding your sound in rich, sophisticated reverb. Regardless if you want the sound of a concert hall, a retro spring reverb or a cramped closet – RV7000 can handle it. In this tutorial we'll take a closer look at its features and what it can do to your music.

The RV7000 is a stereo effect unit dedicated to highquality reverberation.
This device is set on embedding your sounds in the kind of rich, transparent sounding reverb that only the most sophisticated reverb machines are capable of. In short, it sounds amazing. And despite its pro studio sound and million-dollar features, this machine is very easy to use. Your basic reverb controls are located on the main panel – for instant access and control – and the rest, eight separate knobs for algorithms and their parameters, can be accessed from a fold-out remote at the touch of a button.
The RV7000 is advanced and flexible without ever getting too complicated, and lets you dial in your desired reverb sound in seconds, and saving it as your own preset. The future of reverberation, only for Reason users.
The Sections
The RV7000 is made up of three separate sections whose controls and settings are easily accessed from the fold-out remote panel: the Reverb, the main workhorse in RV7000, always enabled. The EQ, for processing of the wet signal. And the Gate, which can be applied to any chosen reverb program or algorithm, allowing for very sophisticated gating effects.
The Reverb
The reverb engine consists of nine carefully crafted reverb algorithms, with seven individual parameters each: Small Space, Room, Hall, Arena, Plate, Spring, Echo, Multitap and Reverse, each with up to seven individual parameters.
Where some algorithms simply make up the basic reverb types, others are less traditional: Spring is a very accurate emulation of a classic spring reverb, and Echo is a Reverb/Delay combo that works wonders with vocal samples.
The EQ
Hitting the EQ switch on the front panel calls up a handy parametric and low shelving equalizer for additional tweaking of your reverberated signal. Combine this section with the HF Damp and HF Smooth knobs on the front panel, and be the master of your wet signal's every frequency.
The Gate
Instead of having a traditional gate algorithm squeezed in with the others, the RV7000 keeps it's gate on the outside, letting you apply gating to any and all reverb types. Ever heard a gated Spring Reverb? You have now. You are also free to trigger the gate with CV or MIDI, and to record and automate it as you desire. Which is of course the case with all the knobs and parameters inside and and outside of the RV-7000.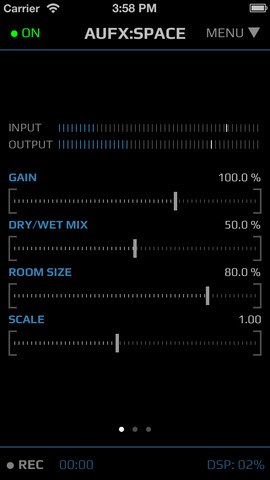 Kymatica has introduced AUFX:Space – a real-time reverb audio effect for AudioBus.
Features:
High quality 32-bit DSP engine.
A multitude of parameters to tweak to get a wide range of sounds.
Process hardware input/output
Process other apps through Audiobus (input/filter/output slots supported).
Ready for the future inter-app audio standard.
Save and load user presets.
Comes with several bundled presets.
Fully MIDI controllable, including Virtual MIDI.
Background Audio.
Record the result directly in app.
Email recordings or export to AudioShare audio document manager app.
Access user presets and recordings through iTunes File Sharing.
AUFX:Space is available for US $3.99.

MaxSynths lets us know that DSP-2 is a high precision insert effect for vocal processing which includes an Intelligent Dynamic Processor, a saturator, a four band equalizer fixed on vocal key frequencies and a room emulator based on the Schroeder reverberator. They say that DSP-2 has been designed to be an easy to understand solution for all your vocal processing needs.
Features:
Intelligent Dynamic Processor (IDP)
Four different automatic operative modes:
Fast attack, fast release
Fast A, slow R
Slow A, fast R
Slow A, slow R
Selectable compression ratio
Saturator with three different operation modes
EQ fixed on vocal key frequencies
Room emulator based on Schroeder reverb model
Transparent increment of the perceived volume level
High precision input/output VU-meter
Low CPU usage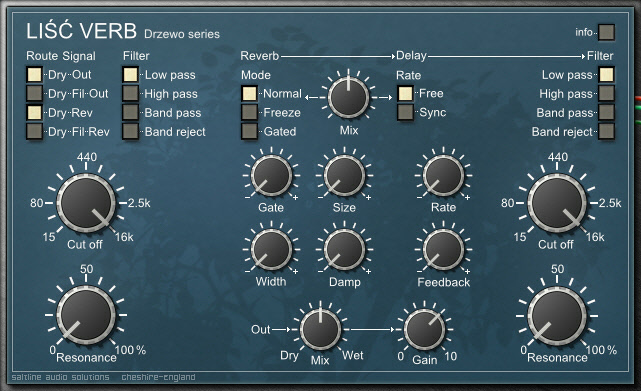 Saltline has announced Liść-verb, a freeware reverb and delay effect plug-in for Windows.
Liść-verb is a reverb and delay effect. It's simple layout and structure can bring texture and space to any sound source, from creating strange ambience for pads to interesting musical textures for beats.

Liść-verb for Windows (VST) is available to download as freeware.
Listen to a demo that Liść-verb has been used in to create most of the space and ambiance:
Developed with experts from the University of Huddersfield, Ableton Live 9′s Convolution Reverb gives your sound new space. Use one of over 200 included impulse responses from professional acousticians, or create your own with the IR Measurement Device.
Convolution Reverb, Convolution Reverb Pro and IR Measurement Device are available as part of Ableton Live 9 Suite: https://www.ableton.com/en/live/
AfroDJMac's Free Ableton Live Pack #67: Gated Reverb! This Ableton Live FX rack will give you that 1980s gated reverb sound for your drums or any instrument you apply it to. It's a free download!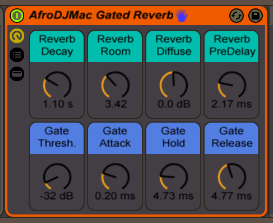 Get it here: http://bit.ly/freesynth67
The 1980s brought us some pretty cool production techniques.  I often try to emulate them in Ableton.  One of the more timestamped effects is gated reverb.  Producers wanted huge drum sounds, but didn't want the drums washed out in reverb.  The solution was found by placing a gate after the reverb.  This will suddenly silence the reverb once it drops to a certain level.  Think Phil Collins' "Coming in the Air Tonight." If you have ever wanted your drums to sound like they were being played by Godzilla in the Grand Canyon, this is the technique for you.

I found myself looking for those 80s drum sounds and created an Ableton Live effect rack called the AfroDJMac Gated Reverb Rack.  It's a pretty simple but very useful effect rack.  It gives you control over various reverb parameters and various gate parameters.  Together you should be able to dial in the exact gated reverb sound you are going for.
Exponential Audio has announced PhoenixVerb and R2, which they describe as a pair of high-quality reverb plugins for audio professionals. They say that PhoenixVerb is an easy-to-use neutral reverb appropriate for instrumental, vocal and post-production applications and that it features an attractive user interface, flexible control, and a novel new preset organization method.
Exponential Audio tells us that R2 is an active reverberator, with chorus, gate and flexible equalization and that it features the same keyword-based preset structure as PhoenixVerb as well as the same processor efficiency. Both plugins are cross-platform and multi-format, working both as 32 and 64-bit plugins. On OSX, the AU, VST, RTAS and AAX formats are supported. On Windows, the VST format is supported.
Exponential Audio is a new company founded by longtime audio developer Michael Carnes, who says it is committed to creating powerful tools for demanding professionals.
Pricing and Availability:
PhoenixVerb will be available for sale in late 2012, at a list price of $199.
R2 will also be available in late 2012, at a list price of $299.
More information:
More things are "unveiled" as we approach tomorrows MusikMesse, here's one from Zynaptiq: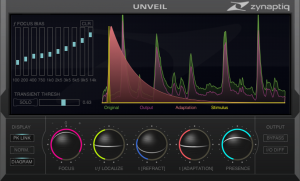 UNVEIL is a real-time, de-mixing based plug-in that allows attenuating or boosting reverb components within a mixed signal of any channel count, including mono sources, as well as modifying reverb characteristics. Additionally, UNVEIL allows you to bring the key features of a recording into focus, or move them to the background, by attenuating or boosting perceptionally less important signal components. Based on our proprietary, artificial intelligence based MAP (Mixed-Signal Audio Processing) technology, UNVEIL allows fixing previously unusable location audio and dialog, tightening up live music recordings, removing reverb and "mud" from musical signals, as well as creative sound design.
UNVEIL has many uses, some of which are:
Audio engineers can attenuate reverb in recordings
Film mixers and dialog editors can remove reverb from dialog and location sound
Music producers can turn vintage drum-loops rich in reverb into dry recordings, and vice-versa
Foley artists can remove ambience from sub-optimally captured sounds
Mix and mastering engineers can bring key mix elements into focus by attenuating components commonly referred to as "mud"
Removing reverb from recordings has always been difficult to impossible. Existing de-reverberation strategies either manipulate signal dynamics, require specific channel formats, are limited to certain signal types, or all of the above. Enter UNVEIL.
UNVEIL is not an expander or envelope shaper, is not a spectral thresholding processor, does not use phase cancellation techniques or inter-channel correlation analysis, and thus works with any channel count from mono to whichever surround formats your DAW supports, and without changing signal dynamics. To achieve this, it utilizes a model of the human auditory system to discern which parts of the signal are reverb, effectively "listening" to your signal much like a human would. These components are then separated from your signal for processing using our MAP technology. From there, reducing the amount of reverb in your recording is as easy as adjusting the value of one of our slick track-ball-esque sliders.
Conversely, UNVEIL allows increasing the amount of reverb in a recording, too. You can turn a close-miked drum kit into a full-on room-heavy monster, move a sound back in the sound-stage or adapt the amount of reverb on different location recordings to match each other better. Additionally, UNVEIL gives you several parameters that allow manipulating reverb characteristics…like all of it's features, within a mixed signal, in real-time and even using mono source material. No, that's not magic, that's advanced science.
UNVEIL's algorithm isn't limited to processing reverb. Actually, it processes any signal components that the human auditory system considers as being of little significance, which includes the parts that many engineers refer to as "mud". As a result, UNVEIL allows reducing the level of all the stuff that clouds your signal and masks the detail you work so hard to capture, bringing the key features into focus and, well, unveiling all the inherent detail. As a bonus, this also increases headroom, so you'll even be able to increase perceived levels without having to slam the meters. And again, you can use the inverse function to add grit and a less up-front character to your recording.
Except for the mathematics under the hood, everything about UNVEIL is simple and easy, results are always just one small step away. That being said, UNVEIL allows adjusting the process in a very wide range. No dumbed-down "easy-mode" in sight, just a perfectly stream-lined, no-nonsense GUI that looks as slick as UNVEIL sounds. And oooooh yes does it sound good. But don't take our word for it, grab the demo for a test-drive!