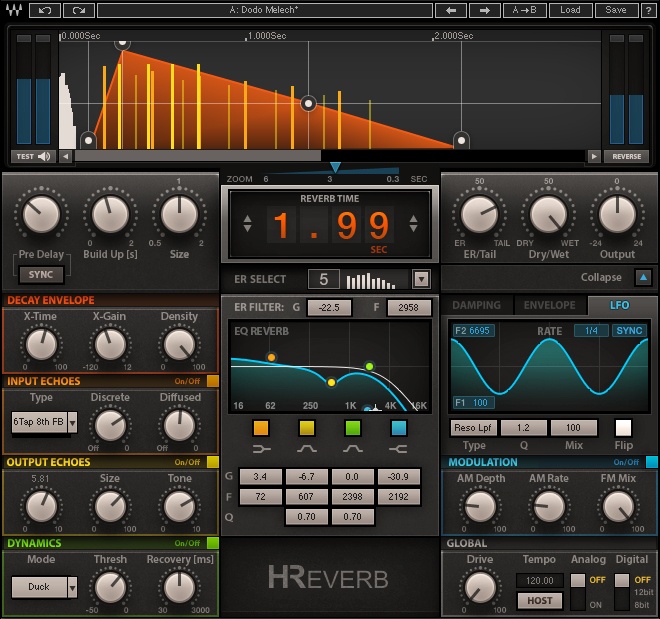 Waves Audio has announced it is now shipping the H-Reverb effect plug-in, a pioneering reverb based on innovative algorithmic FIR (Finite Impulse Response) reverberation technology, providing richer, deeper reverb tails that sit beautifully in the mix while breathing crisp air into your tracks.
The FIR engine that powers H-Reverb lets you shape and customize the reverb decay envelope beyond the standard linear forms, resulting in perfectly gated, real reverse, and dense reverb tails that don't muddy up the mix. Taking things one step further, H-Reverb incorporates Waves' advanced analog modeling along with a drive control, offering signal behavior that until now was found exclusively in high-end hardware reverb devices. This unique design also enables input drive, a technique favored by many top engineers.

To top it off, H-Reverb includes an impressive library of artist presets from the industry's leading mixing engineers (including Toni Maserati, Brad Divens, Daniel Green, Dave Darlington, Dave Stagl, James Ebdon, Ken "Pooch" Van Druten, Kevin Madigan, Pete Keppler, Ross Hogarth and Yoad Nevo, to name just a few). Their personal settings may be the perfect space you're looking for, or simply the perfect point to start from.

By fusing classic reverb concepts with forward-thinking features that break new ground in digital reverb processing, H-Reverb provides uncompromising sound quality and boundless creative control.
H-Reverb features
Impulse-variable resonant filtering for creating unfamiliar and advanced reverb effects.
EQ and dynamics module for compression, ducking and de-essing.
ADA analog modeling and drive control for input clipping.
Full buildup timing and shaping.
Pre-delay BPM sync.
Artist presets from the industry's leading mixing engineers.
Support for full 5.1-channel surround setups.
H-Reverb is available for purchase for the introductory price of $199 USD (regular $349 USD).
Aegean Music has released Doppler Dome a free audio plug-in, for Mac & WIndows, based on the Doppler effect.
Explained simply, the Doppler effect is something that happens to sound when the listener and the sound source are getting closer together or farther appart. For example, a car sound when you are in the car might have a particular frequency, but the frequency will be lower if the car is moving away from you, and will be like a record played at a lower speed. If the car passes right by you it will be high as it gets closer and then low as it gets farther. Doppler dome lets you adjust the amount of the pitch effect as well as pan and volume based on distance.
In Doppler Dome, the center is the listener and the sound source moves along a path. Drag the dots to adjust the path's bezier curves. The path can act like an LFO, or a loop. A midi note in message sent to the plugin will reset the path position to sync it with the project.
The Blend will mix the pitch effect with the dry signal, this is a bit like a chorus or modulated delay. The Pitch Scale knob determines how much pitch is affected, it can be turned off by setting it to zero. The Volume Scale Scale knob determines how much volume affected, based on distance. The Pan Scale Scale knob determines how much L/R position is affected, based on left and right position.
The buttons and switches can be used to set up curves and lines for the path (mouse over them to see their description).
Doppler Dome is a free download from the Aegean Music site.
Control any effect in Ableton Live with a wave of your hand
Get it for free at Utami.co
Make a remix on the spot with Deconstruct.  It works with live input, so you can cut up your tracks on the fly, create new rhythms, reverse your drums, screw with live vocals, repitch or detune anything and snap it right back to where it was with just a knob twist.
Deconstruct is designed to be played — both on stage or in your studio.  With eight buttons for quick remixing, you can tap out new rhythms with your controller or a mouse.  Slice and change the pitch and everything stays connected to your underlying BPM.  Add legato and when you chop up your sounds you'll find secret effects and tricks waiting to come out.
If you are using a Mac, you can send out the visualizer to your favorite VJ software and make music for people's eyes too.
Deconstruct requires Max for Live 6.1.9 or higher and Ableton Live.  Syphon support requires a Mac.
Get it exclusively at the Utami online shop  with credit card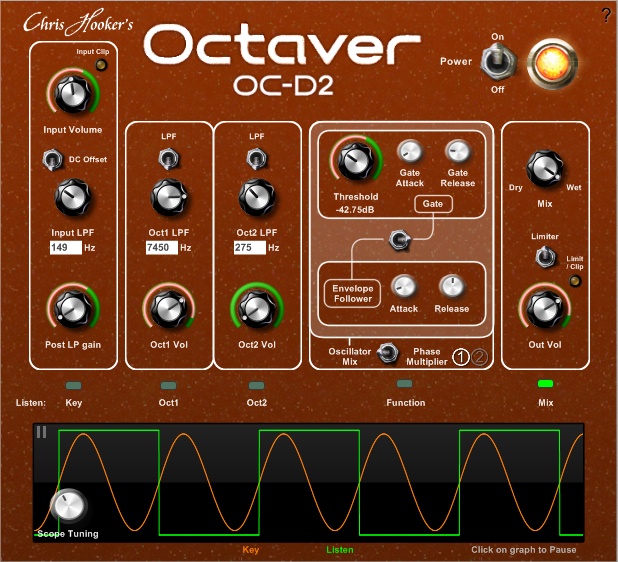 Christopher Hooker has released Octaver OC-D2, a free octave divider effect plug-in for Windows.
OC-D2 is an octave divider plug-in that generates signals one and two octaves below the original. It's based on the popular Boss OC-2 pedal, but with many more features and customizability far beyond what other octavers offer (both pedal and plug-in types).
Octaver OC-D2 features
Control the tracking accuracy.
Control the oscillator tone.
Control the dynamic envelope.
View the waveforms.
Tap the audio at any stage.
OC-D2 is available for download for Windows (32-bit VST).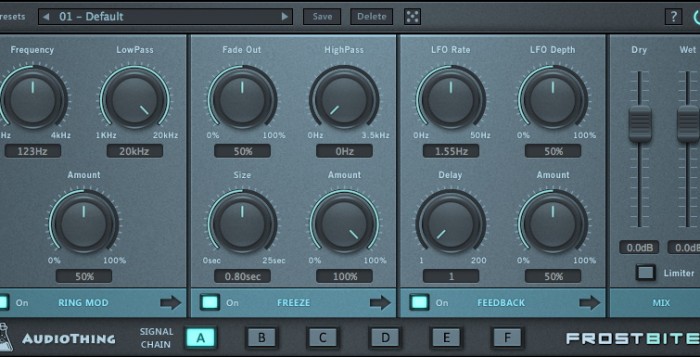 AudioThing has released Frostbite, a multi-effect plug-in featuring Ring Modulator, Feedback, and Freeze effects.
Frostbite is aimed at ambience and cinematic music, but can also be used for extreme sonic experiments.The Signal Flow is flexible with 6 different combinations.

The Ring Modulator multiplies the input signal with a Sine wave (with frequency up to 4kHz). It is also possible to reduce the high-end with the Low Pass filter.

The Feedback module features a delay function (up to 200 samples) which can be modulated by an LFO.

The Freeze module features a Freeze effect that can hold the input up to 25 seconds. The Fade Out and High Pass controls can additionally shape the behaviour of the freezed sound.
FrostBite features
Ring Modulator.
Feedback.
Freeze.
Preset system with randomizer.
Formats: VST, AU, and AAX (32/64-bit).
Platforms: OS X, Windows.
The plugin is available for purchase for the introductory price of 29 EUR/$34 USD until April 8th, 2015 (regular 36 EUR/$42 USD).
Producer Butch Vig (Nirvana, Smashing Pumpkins, Garbage, Foo Fighters) demos the Butch Vig Vocals plugin, created in collaboration with Waves.
Butch Vig Vocals Plugin:http://www.waves.com/plugins/butch-vi…
Waves has released the Butch Vig Vocals plugin, created in collaboration with ProducerButch Vig (Nirvana, Smashing Pumpkins, Garbage, Foo Fighters).
Features: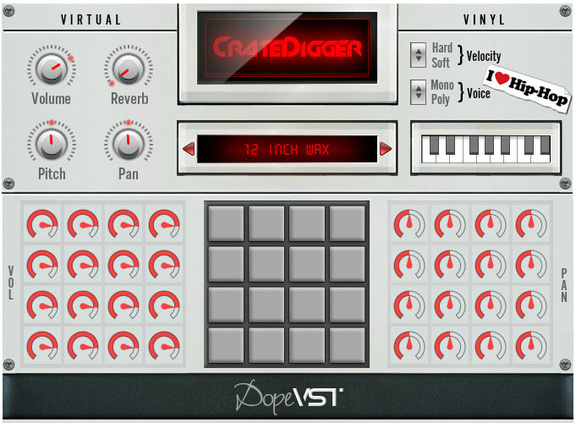 Plugin Boutique has introduced Crate Digger, a virtual vinyl system by DopeVST.
Crate Digger is an innovative VST / AU plug-in for PC or MAC. We have designed this "instrument" to give beat makers and crate diggers an instant library of royalty free, vinyl style Hip Hop samples.

The software contains 800 unique hand crafted samples distributed across 50 included patches and with a new "crate" expansion pack released monthly, you will never be short of ideas in the lab.
Crate Digger features
800 quality crafted classic samples including stabs, chops, loops, FX and more.
50 themed patches all EQ'ed mixed and key grouped for instant use.
100% Royalty Free, all these samples are made from scratch by our own team of producers.
16 separate volume and pan controls.
Velocity selection and Mono/Poly modes..
Built in flexible pitch and drive controls.
Includes a built in analog style reverb.
New "crate" expansions will be released monthly.
Ultra low CPU usage [perfect if you own a laptop / tablet / low spec PC/MAC].
Ultra fast patch loading [flick through patches in lightening quick times].
Program your chops manually or use a MIDI/USB controller/keyboard/MPD Royalty Free Hip Hop Samples.
Crate Digger is available from Plugin Boutique for £60.50 GBP.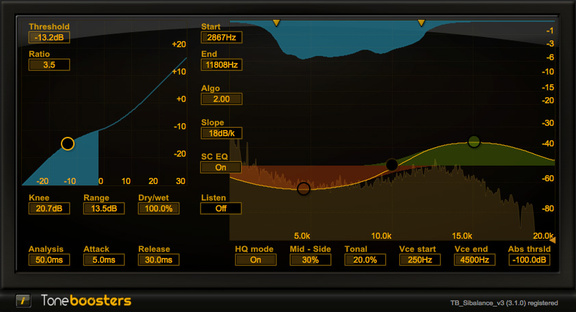 ToneBoosters has announced the release of TB Sibalance, a de-esser effect plug-in for Windows and Mac.
De-essers can be an evil necessity. Vocal recordings may be too sibilant requiring de-essing (or excess sibilance removal), but most de-essers come with very clearly audible drawbacks as well. After de-essing, vocals may sound muffled, the 's' may sound more like an 'f', or even worse, the operation of a de-esser manifests itself as a clearly-audible time-varying filter.

TB Sibalance provides very powerful tools to reduce excess sibilance in a minimally invasive way. In contrast to conventional de-essers, TB Sibalance uses so-called 'matched filter' technology to only process those frequencies that are causing excess sibilance, while leaving all other frequency components untouched. The result of TB Sibalance will therefore sound cleaner and more transparent than that obtained with other de-essers.
TB Sibalance for Windows and Mac (VST/AU) is available for purchase for 19.95 EUR.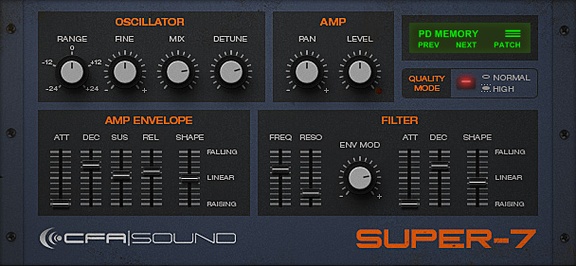 CFA-Sound is celebrating its 7th anniversary with the release of SUPER-7, a free supersaw synthesizer plug-in for Windows.
Everyone who produces electronic music knows the infamous Supersaw of the Roland JP8000/8080, and even it`s a relatively old synthesizer this specific waveform or better sayed oscillator mode is still heavy in use and wanted. Also for myself, but more in terms of discovering how it works and how to emulate it.

During the last year, i worked on a small emulation of it as little side project for fun & learning primary, and well here it is, the final result. Surely in some specific areas not 100% like original but very close based on the comparision to the real one and the specs. All packed into a slim synthesizer shell with an easy-to-use interface, decent on CPU usage and most of all – it`s for free.
SUPER-7 features
Polyphonic virtual-analog modelled synthesizer.
32 voices polyphony.
One emulated supersaw oscillator.
4-pole lowpass filter.
Shape-able envelopes.
20 presets included.
The plug-in is available to download for Windows (VST).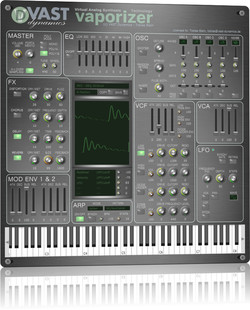 VAST Dynamics has launched Vaporizer, an analogue/subtractive synthesizer plug-in for Windows and Mac.
The intention of this development is to combine a fat virtual analog sound with low system CPU resource usage. And all this with an unbeatably low pice (factor 10 lower than usual synths in that category).

Even though this synth basically follows a traditional subtractive analog synthesis model, we believe that is has it's own character and sound that needs to be explored. A main focus was laid on modelling fat supersaw-like sounds with various unison and detune models. VAPORIZER does not want to be smooth and gentle. It has sharp edges and can also be brutal. Check it out.
Vaporizer features
Innovative virtual analog synthesis model that allows an almost unlimited number of oscillators per voice (e.g. 96 saw-tooth oscillators).
Three modes – 16 and 4 voice polyphony plus monophonic mode.
Full stereo – all generators, effects and chains.
Full effect bank with high quality oversampling effects (distortion, chorus, delay, reverb, comb filter and parametric EQ).
Old school UI with real analog feeling.
Everything at sight – no hidden tabs or menus.
Eye-catching retro-style oscilloscope for immediate visual feedback.
Monophonic and polyphonic portamento in all modes including ARP.
More than 50 presets with many different styles.
Completely alias free oscillators (6 different waveforms).
Up to 97 parallel oscillators per voice (4 unison / detune banks with max 24 plus 1 noise oscillator).
16 voice polyphony with a maximum number of 1552 oscillators per plug-in at a time.
Vaporizer for Windows and Mac (VST/AU) is available for purchase for 24.90 EUR (+VAT within EU).