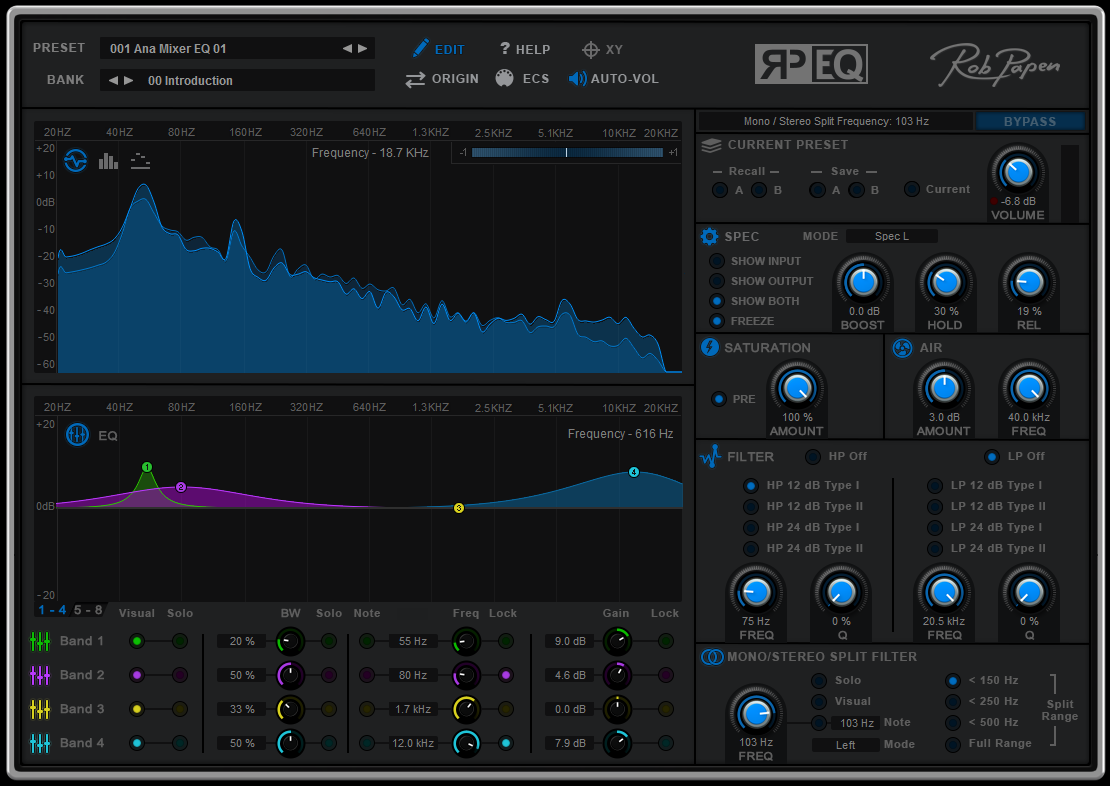 Rob Papen has launched RP-EQ, a new equalizer effect plug-in for Windows and Mac.
In the virtual music world there are a countless number of different EQ's available…so why another one? Well, Rob Papen is all about sound and he was convinced he could add something special to the EQ plugins.

When you first open RP-EQ in your DAW software you will see that it is far from a basic bread-and-butter equalizer. Unique elements were added to the core equalizer unit.
The toolbox includes a Mid/Side equalizer mode and Mono/Stereo split filter which is used frequently in modern EDM/Dance music styles. The Air section is fantastic on your master channel and the proven X/Y Pad adds a dynamic and creative edge to an already very musical RP-EQ.

In true Rob Papen style, RP–EQ comes with many great presets to get you started and with the 'sound' of RP-EQ you will have a great go to plug-in for your top notch music productions!
RP-EQ for Windows and Mac (VST/AU/AAX) is available for purchase for 79 EUR / $89 USD. The eXplorer-III bundle now also includes RP-EQ. The bundle now includes 14 plug-ins, and costs 585 EUR / $699 USD (over 50% off buying the plug-ins individually).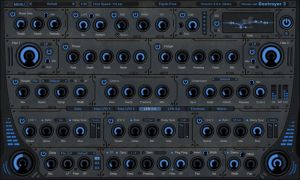 rf Music has released Destroyer 3, a Multi-FX VST plug-in for Windows.
Destroyer 3 is a collection of effects gathered in a single plugin with a designed to be easy to use interface and flexible signal routing. In addition to the effects, there are also LFOs, step LFOs and envelops that can be used to modulate some of the main parameters of the plugin and create movements and morphing sounds.
Features:
Noise gate / Expander.
Over drive.
Distortion.
Lo-Fi: Sample and bit rate reduction.
Cabinet simulator.
2 Filters.
Parametric EQ.
Phaser.
Flanger.
Chorus.
3 Delay units.
Reverb.
Stereo control.
Trance gate.
6 LFOs.
2 Step LFOs.
3 Envelopes.
Price: $69.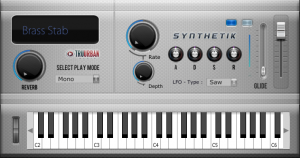 Tru-Urban has released Synthetik, a free synth VST/AU Plugin. Synthetik is designed to deliver inspiring sounds and FX for Hip-Hop and R&B productions.
The Synthetik VST/AU Plugin is called a "semi-synth" because it does not posses all of the traditional functions of a full synthesizer. Instead, the user gets sounds that can be fine-tuned and tweaked further using the LFO settings, Reverb and ADSR. Synthetik has glide control and the full range of play modes such as Mono, Poly and Legato.
Price: Free.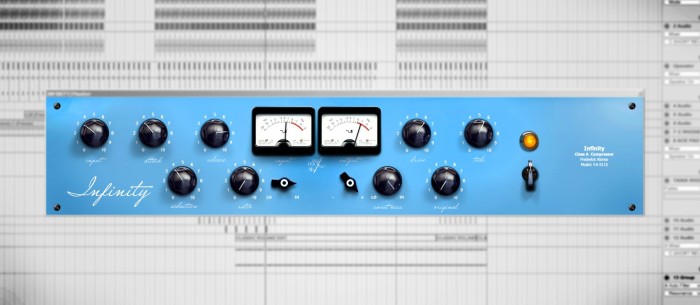 Frederick Alonso has announced the release of Infinity, a free analog style mastering compressor and tube saturation effect plugin for Windows.
This free plugin is based on a concept for a hardware device which has been patented in 2014. Apparently, the developer is planning to build a hardware version of this mastering compressor which was inspired by classic analogue devices such as the Pultec EQ and Thermionic Culture stereo compressor.

The software version is currently available only as a 32-bit VST plugin for Windows, however a Mac OS X version is expected to be released in the future.
Infinity features
Subtle low end warmer.
0 to 100% pure incoming audio + added Infinity dynamics.
Brightness and width in mid and high frequencies.
Subs will sound subtle, full and more focused.
Kicks feel more alive, while the track becomes more open.
You can add tube saturation (Lundahl transformer based).
Audio gets auto limited to -0.02dB when you go over 0dB.
A/B comparison (On/Off switch or toggle switch).
Infinity is available as a free download. Donations are appreciated.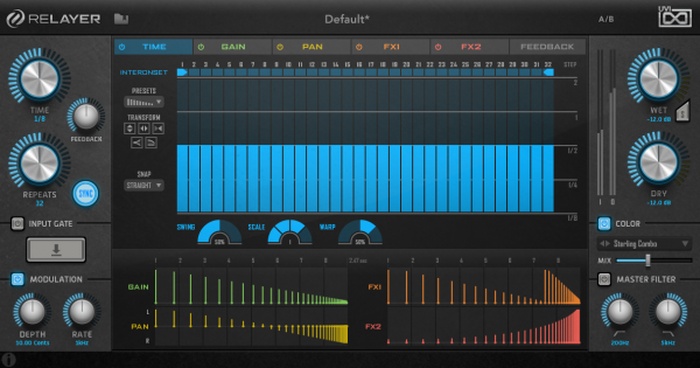 UVI has announced the release of Relayer, a precision creative delay effect plug-in for Windows and Mac.
Designed from the ground-up to provide an efficient and inspiring workflow, Relayer lets you dial in everything from basic delays to radical rhythmic multi-effects with speed, precision and natural musicality.

Both an efficient utility and powerful creative mangler, Relayer is a versatile and inspiring musical effect. Its unique combination of features, incredible sound quality and easy to master interface help to make it an indispensable tool, both live and in the studio.
Relayer features
Variable multi-tap delay (up to 32 lines) with extensive shaping controls.
Per-tap modulation editors for Time, Gain, Pan, and 2 Multi-Effects.
Visualizer helps you understand important settings at-a-glance.
Intuitive interface for lightning-fast workflow.
Input Gate for expressive playability.
Relayer for Windows and Mac (VST/AU/AAX) is available for purchase for the introductory price of $79 USD until July 31st, 2015 (regular $129 USD).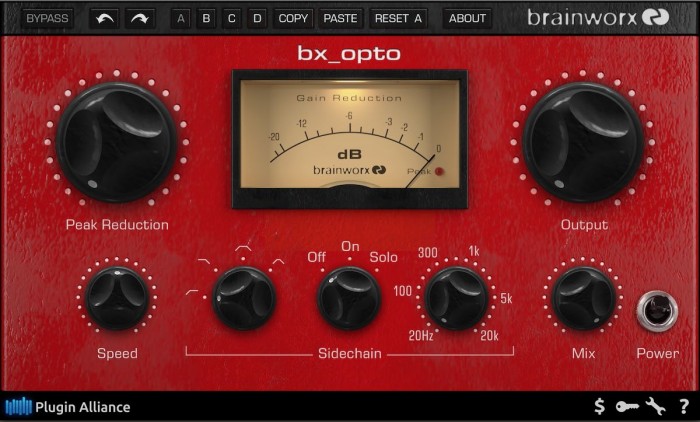 Plugin Alliance has launched bx_opto, a compressor effect plug-in by Brainworx.
The Brainworx bx_opto compressor combines some of the best colors, character and features from what Brainworx has learned modeling the optical circuits of some of the world's best-loved compressors. Rather than recreating a hardware product in software, the bx_opto takes the best aspects and anomalies from these legendary light-dependent circuits to create a software compressor you'll wish you could buy a hardware version of. The result is a beastly little dynamics processor, teeming with character and spitting out sounds no analog optical compressor can.

Most optical compressors are appreciated for their musical, program dependent character introduced by anomalies in the light dependent circuitry of the sidechain; the general speed of compression is cemented by the given behavior of the compressor's Light Dependent Resistor (LDR). Hardware opto-compressors can only allow users the ability to adjust the effect of this character by introducing a separate resistance circuit that gives some control over the compression envelope.
bx_opto features
Analog, optical compression colors with more control.
Content-dependent peak reduction / compression with one knob.
'Speed' knob controls the coefficient of Light Dependent Resistor, creating unique transient response.
Fully sweepable (20 Hz – 20 kHz) LP/HP/BP (wide)/ BP (narrow) sidechain filter .
Wet/Dry mix for parallel compression .
Accurate metering for reading amount of gain reduction.
NOT a transparent compressor; gently level or completely raze your sound with harmonically pleasant results.
bx_opto for Windows and Mac (VST/AU/RTAS/AAX/AudioSuite) is available for purchase for $149 USD.
Promotional video about Antresol showing some key features of the plug-in.
Here's what they have to say about it:
The original, conceived in the mid-70s, quickly became a benchmark for flanger-type effects by offering a uniquely rich character defined by luxuriously harmonious interacting resonances, and has been heard ever since on countless classic recordings. That's why D16 couldn't resist the opportunity to resurrect the soul of this classic in a thoroughly modern incarnation with Antresol, our newest effect in the SilverLine Collection!

Features:
True emulation of BBD based analog delay line
Optional independent parameter control for each stereo channel
Selectable L/R or M/S stereo processing modes
'Mistress mode' allows the whole unit to work the same as the classic flanger
LFO can be synchronized with your host application
3 different LFO-to-BBD clock curves
Ultra-low aliasing output
Highly musical and pleasant sound
Tag-based browser
Two alternative GUI sizes
MIDI-learn functionality throughout
64bit internal processing
Antresol is available now for US $49/39 Euro. A demo version is also available.
Get this cool new exciter by Fine Cut Bodies for free at http://finecutbodies.com
Fine Cut Bodies has released La Petite Excite – a free exciter plugin that they say 'can lead you into a brighter future.'
The video demonstrates how to use La Petite Excite. You can also reference the manual, included in the download.
Specifications:
OS – Windows XP or newer / OSX Leopard (10.5) or higher
Host – 32bit or 64bit
Format – VST2.4 / VST3 / AU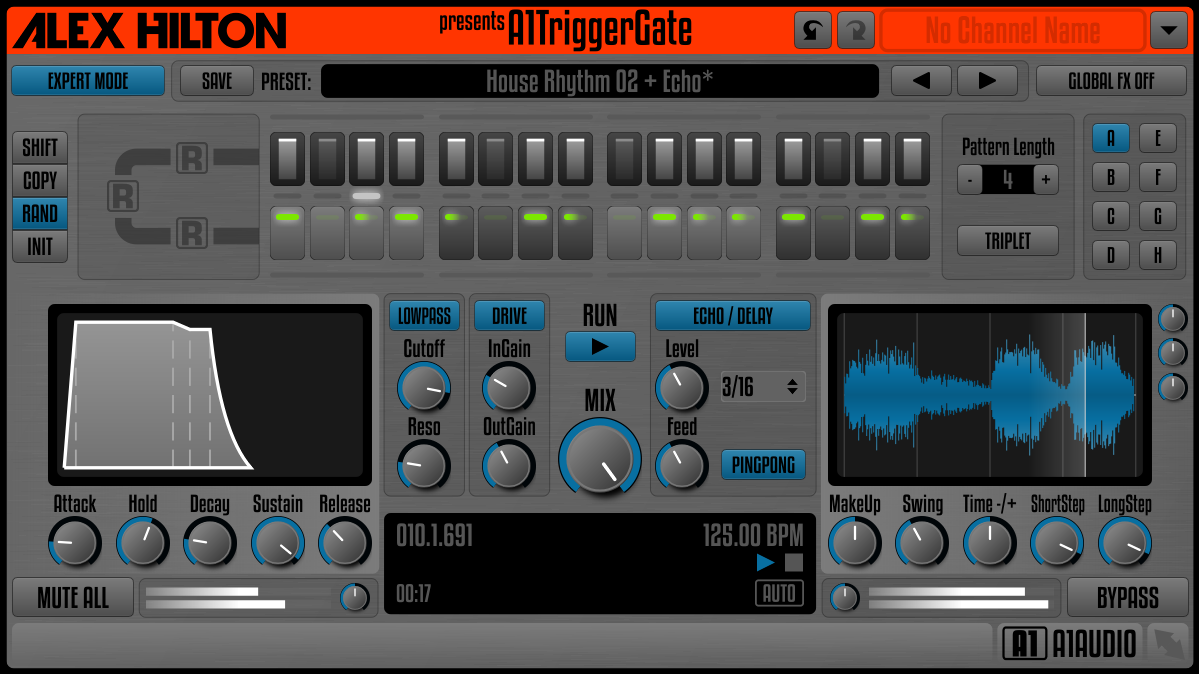 A1TriggerGate is a 'Sequenced Gate' plugin to chop up any incoming audio signal. It is a well known effect in electronic music and sometimes also known as 'Trance Gate' effect.
This plugin synchronizes to the host sequencer / DAW tempo. Each internal sequencer pattern consists of 4 beats / 16 steps (or 12 steps in Triplet mode). Each step length is eighter a 'ShortStep', 'LongStep', 'StepLink' or 'NoStep' and has its own step volume fader. There are 8 independent patterns that can be switched via automation.
The integrated FX (Lowpass Filter, Drive/Distortion and Echo/Delay) are designed for easy usage. There is only a minimal number of parameters to get the desired effect as fast as possible. Of course there is a 'Global FX Off' switch to step through all presets without hearing any of the integrated FX. Professional producers will appreciate that little feature.
In Expert Mode there a 4 pattern command tabs featuring 'shift left/right', 'copy & paste, 'random' and 'init' commands eighter for the step volume values, the step lenght values or all of them. Especially the 'random' command on step length values gives interesting results and is a good source for inspiration.
Features:
FREE.
VST / AU / RTAS / AAX for MAC & PC (32 / 64-bit).
Sequenced gate.
8 Patterns, 4 beats.
Triplet mode.
Additional internal FX (Lowpass Filter, Drive/Distortion, Echo/Delay).
All parameters automatable.
All parameters fully undoable (undo / redo).
No latency.
Resizable GUI (fully vector-based, nice on 'retina' displays or even very small ones)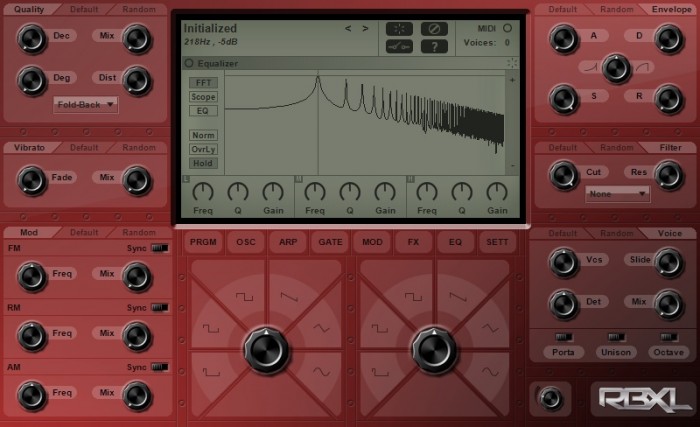 Sound-Base Audio has announced the release of RBXL, a synthesizer instrument for Windows.
RBXL is a full-size, dual oscillator subtractive hybrid VST plug-in combined with FM, RM, and AM. This synth also has built-in effects, an EQ, and an arpeggiator. RBXL is the bigger brother of Retro Boy and was made for retro quality sounds.
RBXL features
Dual seven shape oscillators: 12.5% Pulse, 25% Pulse, 50% Pulse, Saw, Triangle, Sine, Noise.
1 to 64 note polyphony with portamento and slide.
16 step arpeggiator with adjustable oct/semi/fine tuning, gate, and velocity.
16 step mono gate.
LFO, sequence, and envelope modulation for 20+ parameters.
Low usage reverb, delay, chorus, stereo, and phaser effects.
Built in parametric EQ and FFT/scope analysis.
Multi slope lowpass, highpass, bandpass, and band reject filters.
Frequency, ring, and amplitude modulation with frequency syncing.
Unison mode with detune and octave spread.
User settings and personalization features.
RBXL is available for purchase for $59 USD.