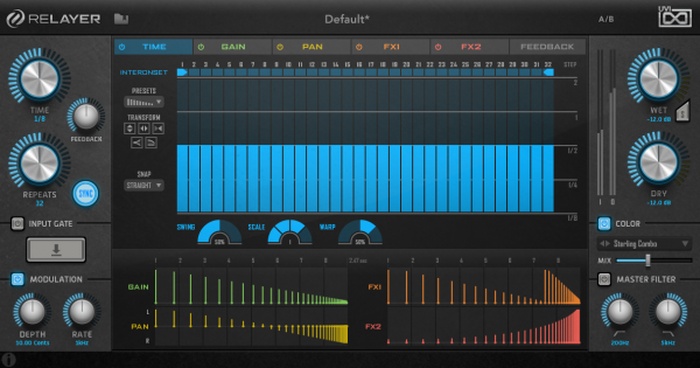 UVI has announced the release of Relayer, a precision creative delay effect plug-in for Windows and Mac.
Designed from the ground-up to provide an efficient and inspiring workflow, Relayer lets you dial in everything from basic delays to radical rhythmic multi-effects with speed, precision and natural musicality.

Both an efficient utility and powerful creative mangler, Relayer is a versatile and inspiring musical effect. Its unique combination of features, incredible sound quality and easy to master interface help to make it an indispensable tool, both live and in the studio.
Relayer features
Variable multi-tap delay (up to 32 lines) with extensive shaping controls.
Per-tap modulation editors for Time, Gain, Pan, and 2 Multi-Effects.
Visualizer helps you understand important settings at-a-glance.
Intuitive interface for lightning-fast workflow.
Input Gate for expressive playability.
Relayer for Windows and Mac (VST/AU/AAX) is available for purchase for the introductory price of $79 USD until July 31st, 2015 (regular $129 USD).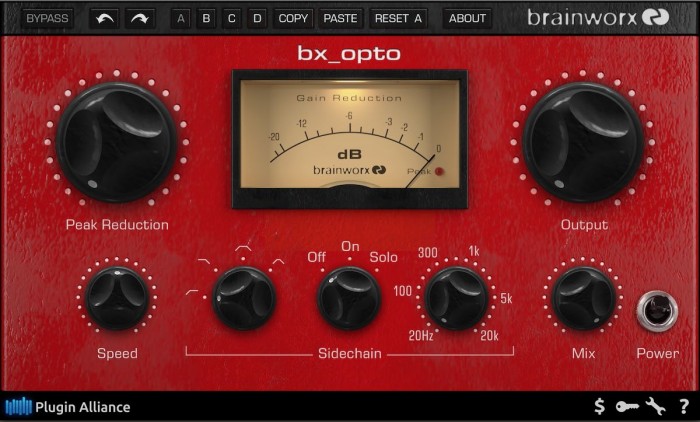 Plugin Alliance has launched bx_opto, a compressor effect plug-in by Brainworx.
The Brainworx bx_opto compressor combines some of the best colors, character and features from what Brainworx has learned modeling the optical circuits of some of the world's best-loved compressors. Rather than recreating a hardware product in software, the bx_opto takes the best aspects and anomalies from these legendary light-dependent circuits to create a software compressor you'll wish you could buy a hardware version of. The result is a beastly little dynamics processor, teeming with character and spitting out sounds no analog optical compressor can.

Most optical compressors are appreciated for their musical, program dependent character introduced by anomalies in the light dependent circuitry of the sidechain; the general speed of compression is cemented by the given behavior of the compressor's Light Dependent Resistor (LDR). Hardware opto-compressors can only allow users the ability to adjust the effect of this character by introducing a separate resistance circuit that gives some control over the compression envelope.
bx_opto features
Analog, optical compression colors with more control.
Content-dependent peak reduction / compression with one knob.
'Speed' knob controls the coefficient of Light Dependent Resistor, creating unique transient response.
Fully sweepable (20 Hz – 20 kHz) LP/HP/BP (wide)/ BP (narrow) sidechain filter .
Wet/Dry mix for parallel compression .
Accurate metering for reading amount of gain reduction.
NOT a transparent compressor; gently level or completely raze your sound with harmonically pleasant results.
bx_opto for Windows and Mac (VST/AU/RTAS/AAX/AudioSuite) is available for purchase for $149 USD.
Promotional video about Antresol showing some key features of the plug-in.
Here's what they have to say about it:
The original, conceived in the mid-70s, quickly became a benchmark for flanger-type effects by offering a uniquely rich character defined by luxuriously harmonious interacting resonances, and has been heard ever since on countless classic recordings. That's why D16 couldn't resist the opportunity to resurrect the soul of this classic in a thoroughly modern incarnation with Antresol, our newest effect in the SilverLine Collection!

Features:
True emulation of BBD based analog delay line
Optional independent parameter control for each stereo channel
Selectable L/R or M/S stereo processing modes
'Mistress mode' allows the whole unit to work the same as the classic flanger
LFO can be synchronized with your host application
3 different LFO-to-BBD clock curves
Ultra-low aliasing output
Highly musical and pleasant sound
Tag-based browser
Two alternative GUI sizes
MIDI-learn functionality throughout
64bit internal processing
Antresol is available now for US $49/39 Euro. A demo version is also available.
Get this cool new exciter by Fine Cut Bodies for free at http://finecutbodies.com
Fine Cut Bodies has released La Petite Excite – a free exciter plugin that they say 'can lead you into a brighter future.'
The video demonstrates how to use La Petite Excite. You can also reference the manual, included in the download.
Specifications:
OS – Windows XP or newer / OSX Leopard (10.5) or higher
Host – 32bit or 64bit
Format – VST2.4 / VST3 / AU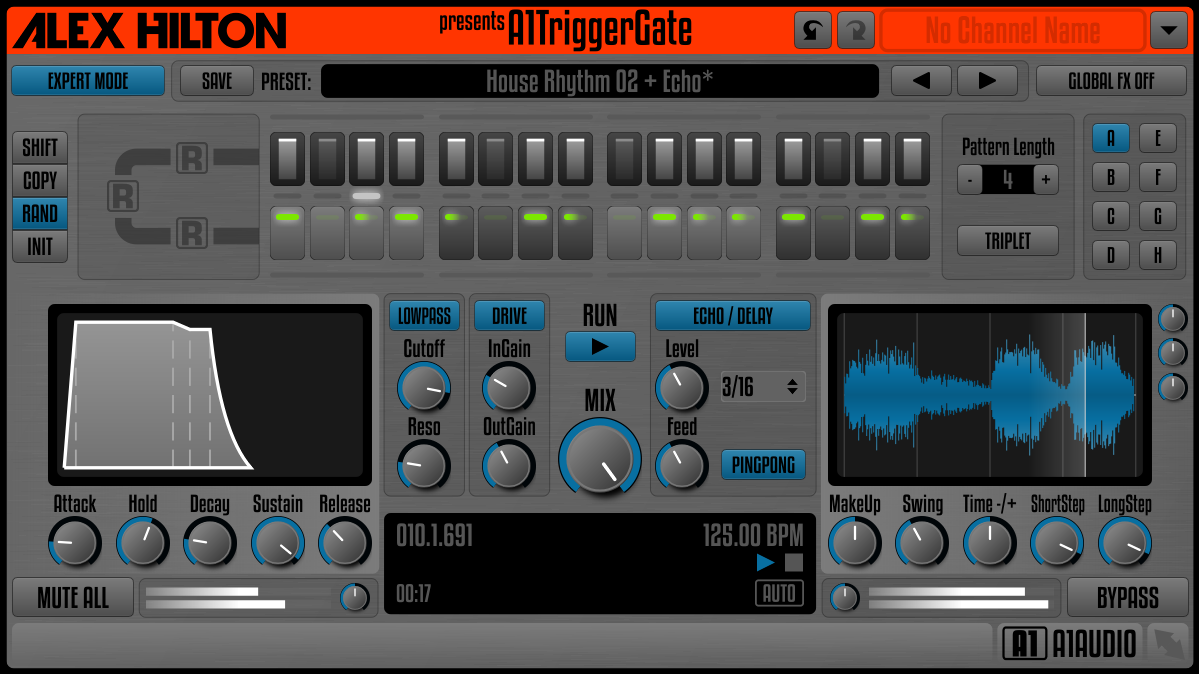 A1TriggerGate is a 'Sequenced Gate' plugin to chop up any incoming audio signal. It is a well known effect in electronic music and sometimes also known as 'Trance Gate' effect.
This plugin synchronizes to the host sequencer / DAW tempo. Each internal sequencer pattern consists of 4 beats / 16 steps (or 12 steps in Triplet mode). Each step length is eighter a 'ShortStep', 'LongStep', 'StepLink' or 'NoStep' and has its own step volume fader. There are 8 independent patterns that can be switched via automation.
The integrated FX (Lowpass Filter, Drive/Distortion and Echo/Delay) are designed for easy usage. There is only a minimal number of parameters to get the desired effect as fast as possible. Of course there is a 'Global FX Off' switch to step through all presets without hearing any of the integrated FX. Professional producers will appreciate that little feature.
In Expert Mode there a 4 pattern command tabs featuring 'shift left/right', 'copy & paste, 'random' and 'init' commands eighter for the step volume values, the step lenght values or all of them. Especially the 'random' command on step length values gives interesting results and is a good source for inspiration.
Features:
FREE.
VST / AU / RTAS / AAX for MAC & PC (32 / 64-bit).
Sequenced gate.
8 Patterns, 4 beats.
Triplet mode.
Additional internal FX (Lowpass Filter, Drive/Distortion, Echo/Delay).
All parameters automatable.
All parameters fully undoable (undo / redo).
No latency.
Resizable GUI (fully vector-based, nice on 'retina' displays or even very small ones)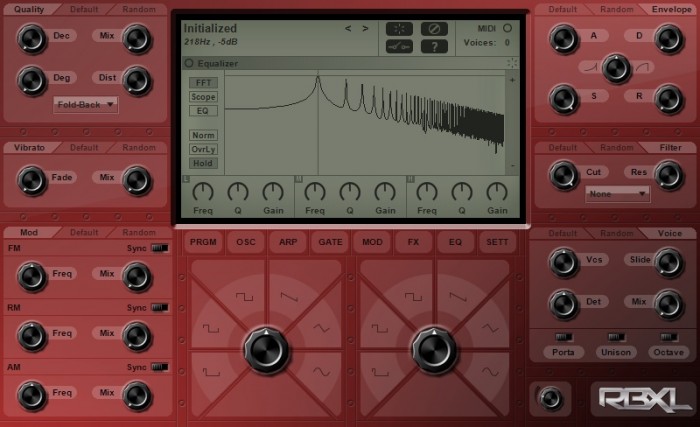 Sound-Base Audio has announced the release of RBXL, a synthesizer instrument for Windows.
RBXL is a full-size, dual oscillator subtractive hybrid VST plug-in combined with FM, RM, and AM. This synth also has built-in effects, an EQ, and an arpeggiator. RBXL is the bigger brother of Retro Boy and was made for retro quality sounds.
RBXL features
Dual seven shape oscillators: 12.5% Pulse, 25% Pulse, 50% Pulse, Saw, Triangle, Sine, Noise.
1 to 64 note polyphony with portamento and slide.
16 step arpeggiator with adjustable oct/semi/fine tuning, gate, and velocity.
16 step mono gate.
LFO, sequence, and envelope modulation for 20+ parameters.
Low usage reverb, delay, chorus, stereo, and phaser effects.
Built in parametric EQ and FFT/scope analysis.
Multi slope lowpass, highpass, bandpass, and band reject filters.
Frequency, ring, and amplitude modulation with frequency syncing.
Unison mode with detune and octave spread.
User settings and personalization features.
RBXL is available for purchase for $59 USD.

Kuassa has announced the release of Kratos 2 Maximizer, an updated version of the limiter/loudness maximizer effect plug-in for Windows and Mac.
The purpose of the original Kratos Maximizer VST / AU plugin was to make your mixes immediately LOUD.

In addition, the new Kratos 2 Maximizer also serves as a solid mix finalizer; aside from offering additional methods to manage your mixes' dynamics with Adaptive Mode, you can now push further than before without fear: Crank the Maximize knob, tune the unique Texture knob to taste, tweak Attack and Release for tighter or loose response, then adjust the Knee for harder / smoother limiting action.

Throughout, the signature Kuassa no-nonsense design will guide your hands, eyes, and ears, giving you the freedom to create your maximum sound.
Kratos 2 Maximizer features
Transparent, precision limiting / loudness maximizing.
Unique Texture knob for smooth or harder character.
Attack and Release parameter with the new adaptive option.
3 dithering options with 3 modes of bit depth to accommodate wide range of mastering needs.
Up to 4x oversampling mode.
CV Control Inputs.
Compact user interface, straightforward workflow.
Kratos 2 Maximizer for Windows and Mac (VST/AU/AAX) is available for purchase for $69 USD. Owners of Kratos Maximizer V1 can upgrade for $15 USD via the Member Area. A free upgrade is available for those who purchased the plug-in in March 2015 and after.
The Rack Extension Version is available via the Propellerhead Shop.
Buy it now! http://www.themaschinewarehouse.com/k…
All new VST /AU drum machine from Themaschinewarehouse.com
160 Kits (stereo and Multi-outs!)
12 drum pads per kit
2 layers per drum pad
12 Dirt Layers with pre and post trigger
808 sub layer on trap kits
ADSR control over each sound
Global reverb tune and level controls
individual pan and volume per pad
over $40k worth of sound sources captured
High quality analog drum machines run through boutique FX chains captured and sculpted for all new sounds never heard before.
Available this JUNE 2015!
catch the intro price
during the month of
june only $99 (normally $149)

Tek'It Audio has released 8kut version 2 – an updated version of their free 8-band frequency cutter effect plug-in.
8kut 2 cuts frequencies with 8 pads, from bass to mids range, high mids and treble, and is designed with Dj's and live performance in mind.
This new version brings 8kut to Mac OS X in addition to Windows and add 64-bit support to both platforms. 8kut 2 also comes with a "zero-delay filter" which sounds much clearer. The user interface has been redesigned to be bigger, cleaner and improve your workflow.
Features:
8 bands frequency cutter.
Independent left and right channel pass through.
Phase inverter, Effect bypass, Gain boost and Dry/Wet Mix.
ZDF Filter design.
64-bit internal processing.
Full MIDI automation support.
Works in mono or stereo.
Integrated Preset manager, rename, copy, save, load…
40 Factory presets.
Up to 128 user presets per bank.
Comes with user manual.
Easy installer.
Freeware
8kut v2 is a free download for Mac & Windows.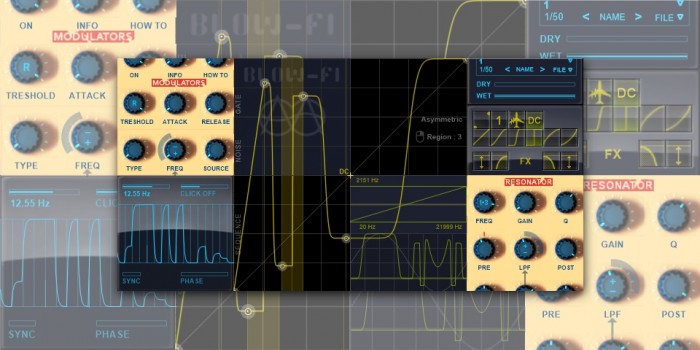 Outofmind has released Blow-fi, a shaper distortion effect plug-in for Windows.
Blow-fi is designed to change an audio signal into a different result that fits into genres like industrial, noise, dark ambient, or hard electro, and experimental. Methods of use can be from screamer, noise gate, bit crusher, filter, loudness maximizer to noise generation, re-looping, changing synths waves and others.
Blow-fi features
Symmetric / Asymmetric shaper mode.
Up to 20 editable points and 19 areas with six shapes per one area on transmission curve with cubic interpolation.
Editable frequency range at distortion input, with modulated lowpass filter on output.
Envelope follower, noise and sequence modulators.
Modulated PRE and POST gain.
Graphic display of the FX behavior on example sine wave.
Optional DC offset filter in asymmetric mode.
Blow-fi for Windows (VST) is available for purchase for 24 EUR.