Soundtoys 5 – new massive effects collection and plug-ins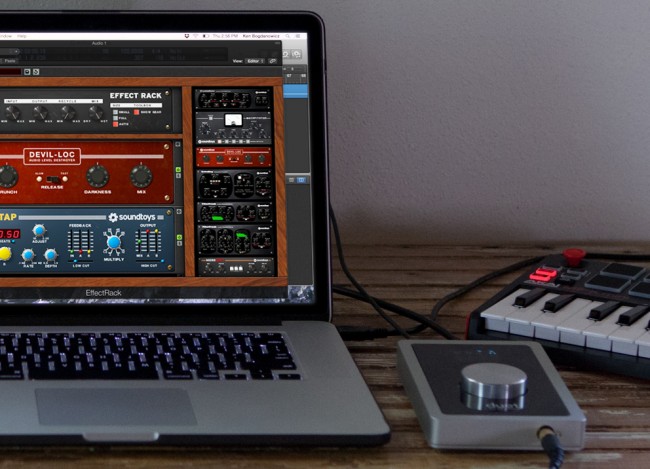 SoundToys has launched Soundtoys 5, a new effects collection that includes the entire line of Soundtoys plug-ins in one package. Soundtoys 5 adds the new Soundtoys Effect Rack, Little AlterBoy, and the new PrimalTap retro delay plug-in.
New Effect Rack
At the core of Soundtoys 5 is the new Effect Rack, a powerful multi-effects processor that improves workflow by providing a single place to browse the entire Soundtoys effects catalog, and to mix, match, tweak and save combinations of Soundtoys effects. The Effect Rack's global controls – input and output trim, wet/dry mix, tempo, and the unique "Recycle" control – make it possible to create effects that would otherwise require complicated routing in most DAWs. The Effect Rack ships with over 200 factory presets covering a wide range of effects, from basic saturation and coloration to lush delays, chorus, filters, modulation, rhythmic, and extreme sound design effects.
All Soundtoys effects are carefully handcrafted, based on decades of experience creating professional effect processing hardware and software, and inspired by Soundtoys' extensive collection of rare and classic studio gear. In addition to the Effect Rack, Soundtoys 5 includes expanded delay time for EchoBoy and Crystallizer, new, redesigned Tweak panels, enhanced groove control for Tremolator, and an improved LFO waveshape and rhythm editor that makes it easy to create custom beat-synced modulation patterns.
Soundtoys 5 also includes the complete line of Soundtoys effects plug-ins:
Saturation, compression and distortion: Decapitator, Radiator, and Devil-Loc.
Vintage and modern echo and delay: EchoBoy and PrimalTap.
Pitch, chorus and widening effects: Crystallizer and MicroShift.
Voice alteration: Little AlterBoy.
Modulation and beat-synced rhythmic effects: PanMan, Tremolator, FilterFreak 1 and 2, and PhaseMistress.
All of the plug-ins in the Soundtoys 5 collection can also be used outside the Effect Rack, preserving workflow and session compatibility with earlier versions of Soundtoys effects.
Little AlterBoy
Little AlterBoy is a vocal effects plug-in that features pitch and formant shifting, distortion, pitch-quantize tuning effects, and robotic voice effects. Little AlterBoy was recently released for purchase after being offered as a free plug-in during Soundtoys' Plugged-in Austin sharing promotion during SXSW 2015.
Primal Tap
PrimalTap, Soundtoys' newest effect plug-in, is the company's take on an early hardware studio delay processor. PrimalTap captures the highly distinctive sonic imprint of its quirky hardware inspiration, bringing with it a healthy dose of lo-fi grit and vibe. Like the original, PrimalTap has two delay outputs, a built-in LFO, and a "Freeze" and "Multiply" function for capturing and modifying simple loops. Soundtoys has expanded the modulation and feedback options over the original, and added tempo-locked delay and loop times, taking PrimalTap far beyond just a simple emulation.
Price: $499 at soundtoys.com. The release offers a new iLok dongle-optional licensing option and two activations per license – allowing users to choose two activations such as a studio computer, laptop or iLok.
Comments