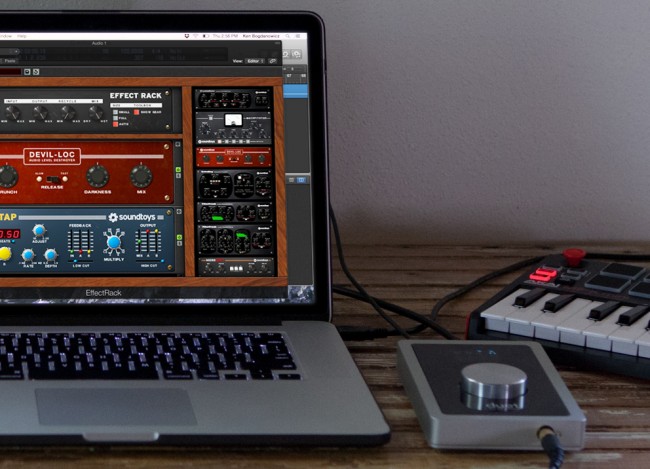 SoundToys has launched Soundtoys 5, a new effects collection that includes the entire line of Soundtoys plug-ins in one package. Soundtoys 5 adds the new Soundtoys Effect Rack, Little AlterBoy, and the new PrimalTap retro delay plug-in.
New Effect Rack
At the core of Soundtoys 5 is the new Effect Rack, a powerful multi-effects processor that improves workflow by providing a single place to browse the entire Soundtoys effects catalog, and to mix, match, tweak and save combinations of Soundtoys effects. The Effect Rack's global controls – input and output trim, wet/dry mix, tempo, and the unique "Recycle" control – make it possible to create effects that would otherwise require complicated routing in most DAWs. The Effect Rack ships with over 200 factory presets covering a wide range of effects, from basic saturation and coloration to lush delays, chorus, filters, modulation, rhythmic, and extreme sound design effects.
All Soundtoys effects are carefully handcrafted, based on decades of experience creating professional effect processing hardware and software, and inspired by Soundtoys' extensive collection of rare and classic studio gear. In addition to the Effect Rack, Soundtoys 5 includes expanded delay time for EchoBoy and Crystallizer, new, redesigned Tweak panels, enhanced groove control for Tremolator, and an improved LFO waveshape and rhythm editor that makes it easy to create custom beat-synced modulation patterns.
Soundtoys 5 also includes the complete line of Soundtoys effects plug-ins:
Saturation, compression and distortion: Decapitator, Radiator, and Devil-Loc.
Vintage and modern echo and delay: EchoBoy and PrimalTap.
Pitch, chorus and widening effects: Crystallizer and MicroShift.
Voice alteration: Little AlterBoy.
Modulation and beat-synced rhythmic effects: PanMan, Tremolator, FilterFreak 1 and 2, and PhaseMistress.
All of the plug-ins in the Soundtoys 5 collection can also be used outside the Effect Rack, preserving workflow and session compatibility with earlier versions of Soundtoys effects.
Little AlterBoy
Little AlterBoy is a vocal effects plug-in that features pitch and formant shifting, distortion, pitch-quantize tuning effects, and robotic voice effects. Little AlterBoy was recently released for purchase after being offered as a free plug-in during Soundtoys' Plugged-in Austin sharing promotion during SXSW 2015.
Primal Tap
PrimalTap, Soundtoys' newest effect plug-in, is the company's take on an early hardware studio delay processor. PrimalTap captures the highly distinctive sonic imprint of its quirky hardware inspiration, bringing with it a healthy dose of lo-fi grit and vibe. Like the original, PrimalTap has two delay outputs, a built-in LFO, and a "Freeze" and "Multiply" function for capturing and modifying simple loops. Soundtoys has expanded the modulation and feedback options over the original, and added tempo-locked delay and loop times, taking PrimalTap far beyond just a simple emulation.
Price: $499 at soundtoys.com. The release offers a new iLok dongle-optional licensing option and two activations per license – allowing users to choose two activations such as a studio computer, laptop or iLok.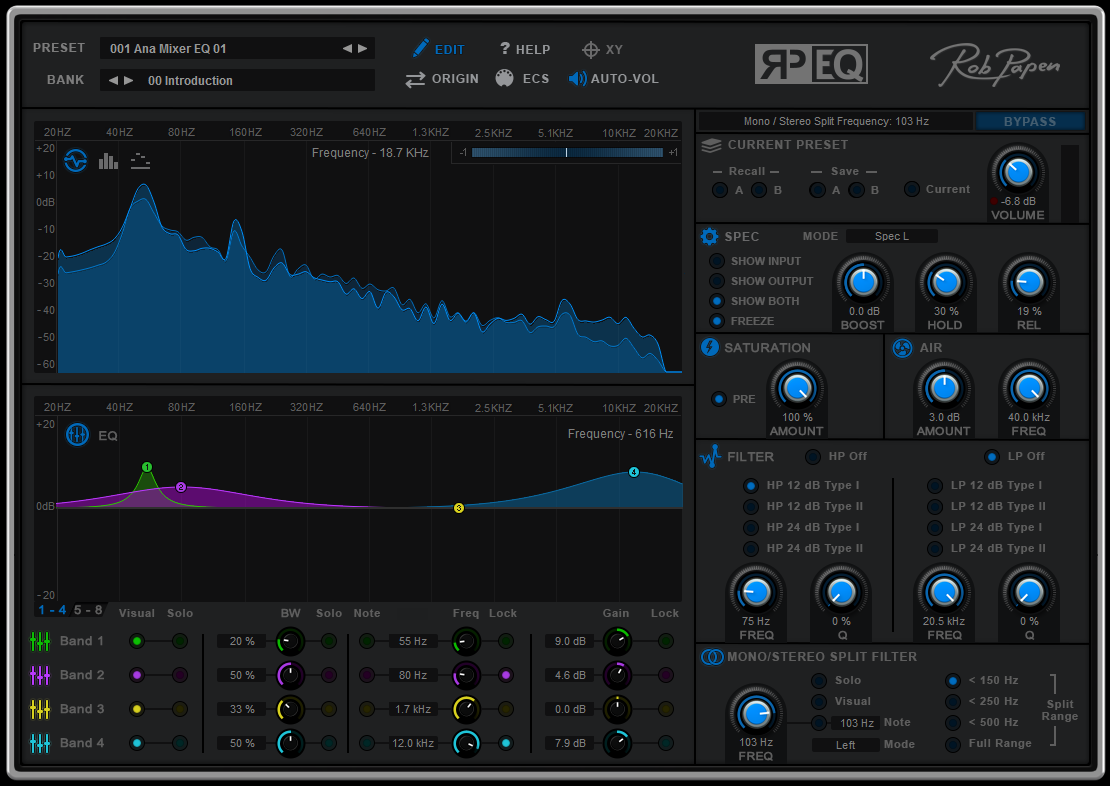 Rob Papen has launched RP-EQ, a new equalizer effect plug-in for Windows and Mac.
In the virtual music world there are a countless number of different EQ's available…so why another one? Well, Rob Papen is all about sound and he was convinced he could add something special to the EQ plugins.

When you first open RP-EQ in your DAW software you will see that it is far from a basic bread-and-butter equalizer. Unique elements were added to the core equalizer unit.
The toolbox includes a Mid/Side equalizer mode and Mono/Stereo split filter which is used frequently in modern EDM/Dance music styles. The Air section is fantastic on your master channel and the proven X/Y Pad adds a dynamic and creative edge to an already very musical RP-EQ.

In true Rob Papen style, RP–EQ comes with many great presets to get you started and with the 'sound' of RP-EQ you will have a great go to plug-in for your top notch music productions!
RP-EQ for Windows and Mac (VST/AU/AAX) is available for purchase for 79 EUR / $89 USD. The eXplorer-III bundle now also includes RP-EQ. The bundle now includes 14 plug-ins, and costs 585 EUR / $699 USD (over 50% off buying the plug-ins individually).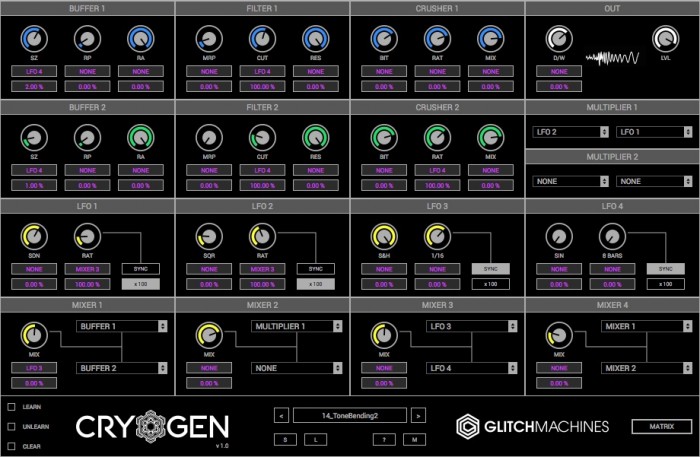 Glitchmachines has announced the release of Cryogen, a modular buffer effects processor designed to generate robotic artifacts and abstract musical malfunctions.
Cryogen features dual buffer effects, dual multimode filters with morphable modes and dual bit crusher effects. With the advent of its extremely flexible architecture and modulation options, Cryogen is capable of generating everything from subtle glitches to stunning signal mutations, making it an exciting tool for electronic musicians and sound designers alike.

Cryogen features a fully modular drag & drop modulation matrix which makes it possible to bend the signal path to your will. This versatile matrix adds a fresh dimension of possibilities to the plugin when used in conjunction with its four signal mixers and two mod multipliers, all of which are capable of combining audio and modulation signals. Cryogen comes loaded with 140 factory presets from sound designers Ivo Ivanov, Thomas Hennebert, Nicholas Yochum, Daed and Alex Retsis.
Cryogen features
Dual Buffer Effects.
Dual Bit Crusher Effects.
Dual Multi-Mode Filters with Mode Morph Control.
Modular Architecture with Drag & Drop Modulation Matrix.
4 LFOs with X100 Rate Option, Host Sync and Variable Shapes.
4 Signal Mixers and 2 Modulation Multipliers.
140 Factory Presets from our top sound designers.
Cross-platform compatibility (PC/Mac – VST/AU 32bit & 64bit).
Cryogen for Windows and Mac is available for purchase for $39 USD.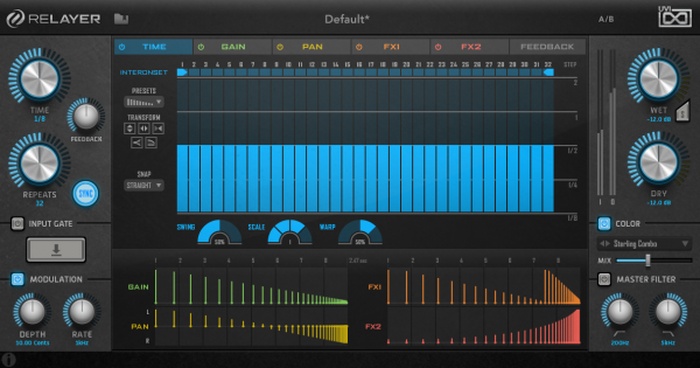 UVI has announced the release of Relayer, a precision creative delay effect plug-in for Windows and Mac.
Designed from the ground-up to provide an efficient and inspiring workflow, Relayer lets you dial in everything from basic delays to radical rhythmic multi-effects with speed, precision and natural musicality.

Both an efficient utility and powerful creative mangler, Relayer is a versatile and inspiring musical effect. Its unique combination of features, incredible sound quality and easy to master interface help to make it an indispensable tool, both live and in the studio.
Relayer features
Variable multi-tap delay (up to 32 lines) with extensive shaping controls.
Per-tap modulation editors for Time, Gain, Pan, and 2 Multi-Effects.
Visualizer helps you understand important settings at-a-glance.
Intuitive interface for lightning-fast workflow.
Input Gate for expressive playability.
Relayer for Windows and Mac (VST/AU/AAX) is available for purchase for the introductory price of $79 USD until July 31st, 2015 (regular $129 USD).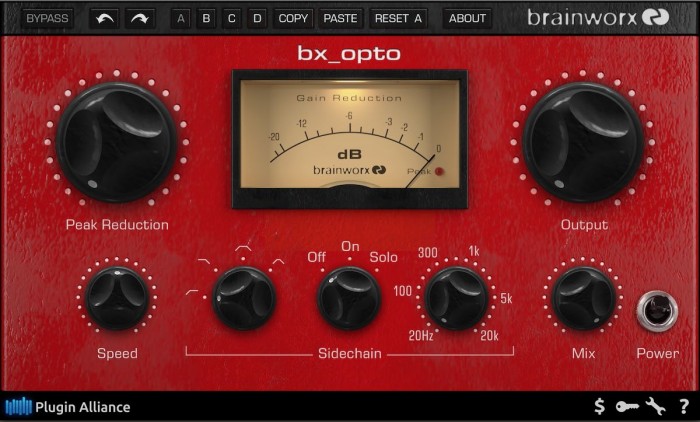 Plugin Alliance has launched bx_opto, a compressor effect plug-in by Brainworx.
The Brainworx bx_opto compressor combines some of the best colors, character and features from what Brainworx has learned modeling the optical circuits of some of the world's best-loved compressors. Rather than recreating a hardware product in software, the bx_opto takes the best aspects and anomalies from these legendary light-dependent circuits to create a software compressor you'll wish you could buy a hardware version of. The result is a beastly little dynamics processor, teeming with character and spitting out sounds no analog optical compressor can.

Most optical compressors are appreciated for their musical, program dependent character introduced by anomalies in the light dependent circuitry of the sidechain; the general speed of compression is cemented by the given behavior of the compressor's Light Dependent Resistor (LDR). Hardware opto-compressors can only allow users the ability to adjust the effect of this character by introducing a separate resistance circuit that gives some control over the compression envelope.
bx_opto features
Analog, optical compression colors with more control.
Content-dependent peak reduction / compression with one knob.
'Speed' knob controls the coefficient of Light Dependent Resistor, creating unique transient response.
Fully sweepable (20 Hz – 20 kHz) LP/HP/BP (wide)/ BP (narrow) sidechain filter .
Wet/Dry mix for parallel compression .
Accurate metering for reading amount of gain reduction.
NOT a transparent compressor; gently level or completely raze your sound with harmonically pleasant results.
bx_opto for Windows and Mac (VST/AU/RTAS/AAX/AudioSuite) is available for purchase for $149 USD.

Kuassa has announced the release of Kratos 2 Maximizer, an updated version of the limiter/loudness maximizer effect plug-in for Windows and Mac.
The purpose of the original Kratos Maximizer VST / AU plugin was to make your mixes immediately LOUD.

In addition, the new Kratos 2 Maximizer also serves as a solid mix finalizer; aside from offering additional methods to manage your mixes' dynamics with Adaptive Mode, you can now push further than before without fear: Crank the Maximize knob, tune the unique Texture knob to taste, tweak Attack and Release for tighter or loose response, then adjust the Knee for harder / smoother limiting action.

Throughout, the signature Kuassa no-nonsense design will guide your hands, eyes, and ears, giving you the freedom to create your maximum sound.
Kratos 2 Maximizer features
Transparent, precision limiting / loudness maximizing.
Unique Texture knob for smooth or harder character.
Attack and Release parameter with the new adaptive option.
3 dithering options with 3 modes of bit depth to accommodate wide range of mastering needs.
Up to 4x oversampling mode.
CV Control Inputs.
Compact user interface, straightforward workflow.
Kratos 2 Maximizer for Windows and Mac (VST/AU/AAX) is available for purchase for $69 USD. Owners of Kratos Maximizer V1 can upgrade for $15 USD via the Member Area. A free upgrade is available for those who purchased the plug-in in March 2015 and after.
The Rack Extension Version is available via the Propellerhead Shop.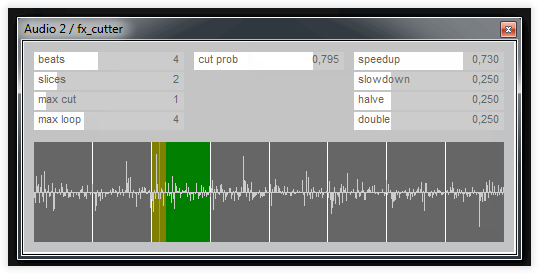 Tor-Helge Skei has released fx_cutter, a free loop slicer/buffer FSU effect plug-in for Windows.
Audio is continually recorded into a buffer (length is 'beats', each slice subdivided into 'slices'), and randomly ('cut prob'), a few slices will be selected ('max cut'), and subdivided ('max loop'), and then this small bit is looped for the duration of the outer selection, the longer bit (the 'max cut' part).. and each time this loop wraps around, it can possibly halve ('slowdown') or double ('speedup') its playback speed, or halve ('halve') or double (yes, 'double') the size of the looped bit..

it is pretty uncontrollable and unrepeatable with all the probibilities, so i usually run a track several times through this, and cut out the good parts..
The plug-in is available for download for Windows (VST).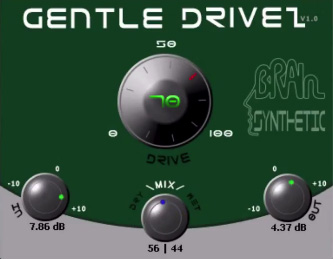 Bedroom Producers Blog has introduced GentleDrivez by Synthetic Brain, a free effect plug-in for Mac based on a gentle saturation/distortion algorithm suitable for warming up synthesizers, electronic drums and other digital sound sources.
GentleDrivez comes with a simple and easy to use GUI, with no more than four parameters. There's the Drive knob for controlling the amount of distortion being applied to the processed signal, the Mix knob for easy parallel processing, and the Input and Output knobs for gain staging.

The plugin is optimized for subtle distortion (and this kind of effect really does sound nice in the demo video), but it can also be pushed harder to achieve some more devastating distortion types.
GentleDrivez for Mac (VST/AU) is available for download from Bedroom Producers Blog.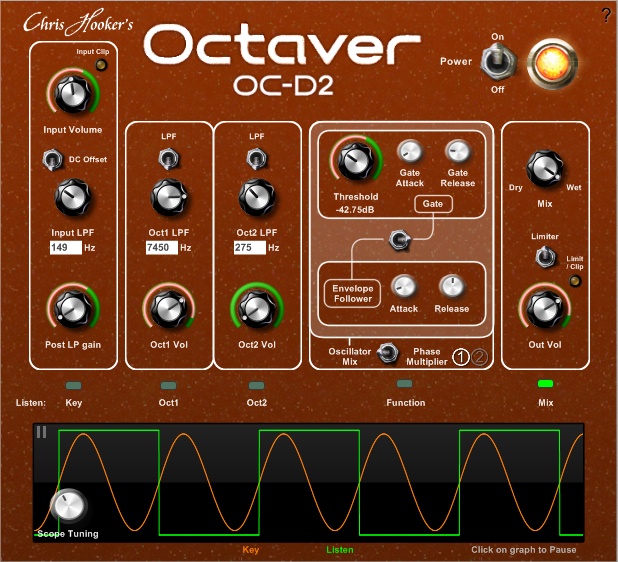 Christopher Hooker has released Octaver OC-D2, a free octave divider effect plug-in for Windows.
OC-D2 is an octave divider plug-in that generates signals one and two octaves below the original. It's based on the popular Boss OC-2 pedal, but with many more features and customizability far beyond what other octavers offer (both pedal and plug-in types).
Octaver OC-D2 features
Control the tracking accuracy.
Control the oscillator tone.
Control the dynamic envelope.
View the waveforms.
Tap the audio at any stage.
OC-D2 is available for download for Windows (32-bit VST).
Download http://johnnyfxapp.com/download
All sounds in the music for this video are just guitar processed with Johnny, the only synths used were for bass and drums. The mix was done with a self imposed "no post processing" rule including no eq or compressors, in order to show how Johnny can be used in a musical context, with as raw of a tone as possible.
I've made the Auria project for this track available for download for anyone who wants to poke around with the mix and listen to the individual tracks to hear what Johnny is capable of.
Download the Auria project
http://johnnyfxapp.com/promo-song-pro…
Johnny is a highly versatile stereo multiwave tremolo effect designed for Audiobus and Inter-App Audio, perfect for adding everything from classic guitar amp style tremolo to pulsating, rhythmic multiwave modulation effects for guitar, synths, voice and more. Harmonic Tremolo modes create vintage phaser and univibe like tones, you can also modulate the rate of the main LFOs with a second LFO for interesting speed sweep effects.
In addition to Audiobus and Inter-App Audio, Johnny can process external hardware by connecting a professional USB audio interface such as the Apogee Jam or Apogee ONE, and many more compatible USB interfaces. You can also use the built in headset microphone. Guitarists can use the effects live by connecting the output of their audio interface to an amp.
Johnny supports USB MIDI interfaces via the Camera Connection kit, Bluetooth MIDI (iOS 8), Virtual MIDI and WiFi connections. The MIDI Learn function lets you easily assign your MIDI controller's knobs and sliders to control Johnny's effect parameters.
For more info and video demos visit: http://johnnyfxapp.com
Check out our entire FX series including Caramel, Crystalline, Echo Pad, Stereo Designer and Swoopster!
COMPATIBILITY:
● requires iOS 7.1 or later
● iPad 2, iPad Mini 1st gen or newer
● Audiobus compatible (Effect, state saving)
● Inter-App audio compatible (effect node)
● Compatible with DAW apps such as Auria, Cubasis, Garageband and Multitrack DAW
● compatible with USB audio interfaces
● Core MIDI (USB, Virtual, Wifi)
● MIDI over Bluetooth (iOS 8, receiver)
FEATURES:
● Control Left and Right channel Tremolo Rate, Depth, Shape, and Multiwave parameters to produce everything form subtle tremolo to wildly modulated stereo tremolo effects.
● Multiple modes including Classic Tremolo and Harmonic Tremolo.
● Modulate the rate of the main LFOs with a second LFO for interesting speed sweep effects.
● BPM synced tremolo including MIDI clock sync, independent per channel or linked.
● Audiobus compatible with state saving
● Inter-app Audio compatible
● Core MIDI compatible, works with any MIDI controller via MIDI Learn
Johnny works with just about any professional iOS compatible USB audio interfaces. Here is a list of interfaces that have been tested and verified to be compatible:
● Apogee Jam and Jam96k
● Apogee Mic and Mic96k
● Apogee ONE for iPad/Mac
● Apogee DUET for iPad/Mac
● Apogee QUARTET for iPad/Mac
● iConnectMIDI2+
● iConnectMIDI4+
● iRig
● iRig HD
● iRig iMic
● Focusrite Scarlett series (*requires USB hub)
● Focusrite iTrack dock
● Alesis io2
● Alesis IO Dock
● Behringer UCA202
● many more