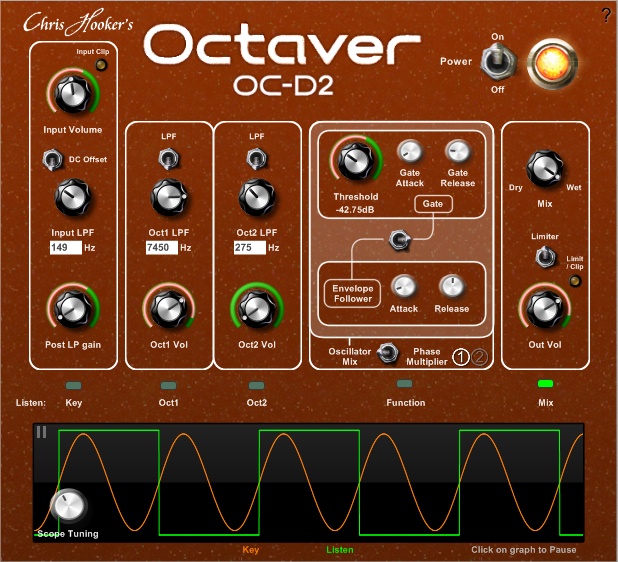 Christopher Hooker has released Octaver OC-D2, a free octave divider effect plug-in for Windows.
OC-D2 is an octave divider plug-in that generates signals one and two octaves below the original. It's based on the popular Boss OC-2 pedal, but with many more features and customizability far beyond what other octavers offer (both pedal and plug-in types).
Octaver OC-D2 features
Control the tracking accuracy.
Control the oscillator tone.
Control the dynamic envelope.
View the waveforms.
Tap the audio at any stage.
OC-D2 is available for download for Windows (32-bit VST).
Download http://johnnyfxapp.com/download
All sounds in the music for this video are just guitar processed with Johnny, the only synths used were for bass and drums. The mix was done with a self imposed "no post processing" rule including no eq or compressors, in order to show how Johnny can be used in a musical context, with as raw of a tone as possible.
I've made the Auria project for this track available for download for anyone who wants to poke around with the mix and listen to the individual tracks to hear what Johnny is capable of.
Download the Auria project
http://johnnyfxapp.com/promo-song-pro…
Johnny is a highly versatile stereo multiwave tremolo effect designed for Audiobus and Inter-App Audio, perfect for adding everything from classic guitar amp style tremolo to pulsating, rhythmic multiwave modulation effects for guitar, synths, voice and more. Harmonic Tremolo modes create vintage phaser and univibe like tones, you can also modulate the rate of the main LFOs with a second LFO for interesting speed sweep effects.
In addition to Audiobus and Inter-App Audio, Johnny can process external hardware by connecting a professional USB audio interface such as the Apogee Jam or Apogee ONE, and many more compatible USB interfaces. You can also use the built in headset microphone. Guitarists can use the effects live by connecting the output of their audio interface to an amp.
Johnny supports USB MIDI interfaces via the Camera Connection kit, Bluetooth MIDI (iOS 8), Virtual MIDI and WiFi connections. The MIDI Learn function lets you easily assign your MIDI controller's knobs and sliders to control Johnny's effect parameters.
For more info and video demos visit: http://johnnyfxapp.com
Check out our entire FX series including Caramel, Crystalline, Echo Pad, Stereo Designer and Swoopster!
COMPATIBILITY:
● requires iOS 7.1 or later
● iPad 2, iPad Mini 1st gen or newer
● Audiobus compatible (Effect, state saving)
● Inter-App audio compatible (effect node)
● Compatible with DAW apps such as Auria, Cubasis, Garageband and Multitrack DAW
● compatible with USB audio interfaces
● Core MIDI (USB, Virtual, Wifi)
● MIDI over Bluetooth (iOS 8, receiver)
FEATURES:
● Control Left and Right channel Tremolo Rate, Depth, Shape, and Multiwave parameters to produce everything form subtle tremolo to wildly modulated stereo tremolo effects.
● Multiple modes including Classic Tremolo and Harmonic Tremolo.
● Modulate the rate of the main LFOs with a second LFO for interesting speed sweep effects.
● BPM synced tremolo including MIDI clock sync, independent per channel or linked.
● Audiobus compatible with state saving
● Inter-app Audio compatible
● Core MIDI compatible, works with any MIDI controller via MIDI Learn
Johnny works with just about any professional iOS compatible USB audio interfaces. Here is a list of interfaces that have been tested and verified to be compatible:
● Apogee Jam and Jam96k
● Apogee Mic and Mic96k
● Apogee ONE for iPad/Mac
● Apogee DUET for iPad/Mac
● Apogee QUARTET for iPad/Mac
● iConnectMIDI2+
● iConnectMIDI4+
● iRig
● iRig HD
● iRig iMic
● Focusrite Scarlett series (*requires USB hub)
● Focusrite iTrack dock
● Alesis io2
● Alesis IO Dock
● Behringer UCA202
● many more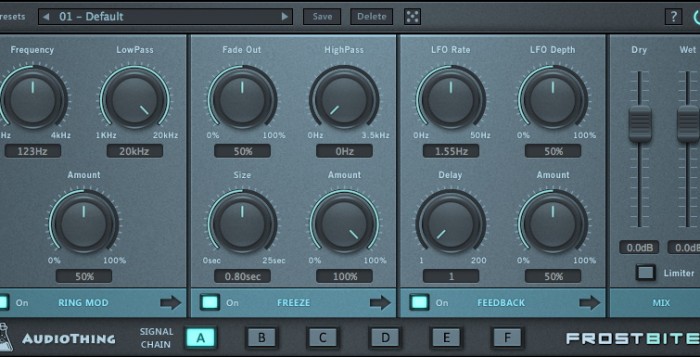 AudioThing has released Frostbite, a multi-effect plug-in featuring Ring Modulator, Feedback, and Freeze effects.
Frostbite is aimed at ambience and cinematic music, but can also be used for extreme sonic experiments.The Signal Flow is flexible with 6 different combinations.

The Ring Modulator multiplies the input signal with a Sine wave (with frequency up to 4kHz). It is also possible to reduce the high-end with the Low Pass filter.

The Feedback module features a delay function (up to 200 samples) which can be modulated by an LFO.

The Freeze module features a Freeze effect that can hold the input up to 25 seconds. The Fade Out and High Pass controls can additionally shape the behaviour of the freezed sound.
FrostBite features
Ring Modulator.
Feedback.
Freeze.
Preset system with randomizer.
Formats: VST, AU, and AAX (32/64-bit).
Platforms: OS X, Windows.
The plugin is available for purchase for the introductory price of 29 EUR/$34 USD until April 8th, 2015 (regular 36 EUR/$42 USD).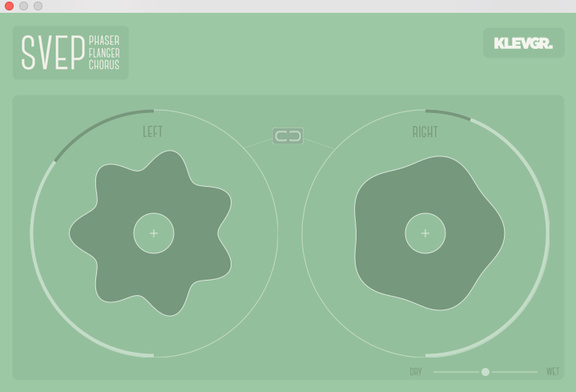 Klevgränd Produktion has announced the release of an AudioUnit and VST plug-in version of Svep, its modulation effect processor previously released for iOS.
Svep is a stereo modulation filter effect suitable for any sound. All parameters are easily editable in one screen and the clean and responsive user interface encourages creativity. Tweak it to produce anything from old-school phasers to subtle choruses.
Svep is available as a free download.
Klevgränd has also released a VST plug-in version of SquashIt, the multiband distortion effect. The plug-in is available for purchase for $7.99 USD.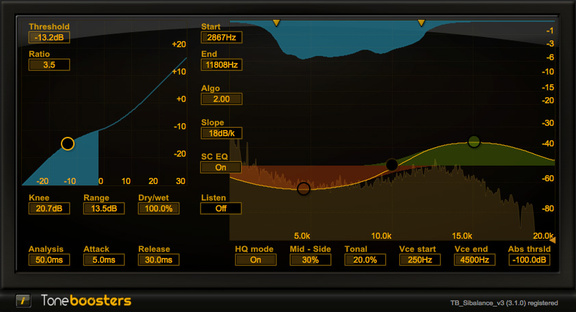 ToneBoosters has announced the release of TB Sibalance, a de-esser effect plug-in for Windows and Mac.
De-essers can be an evil necessity. Vocal recordings may be too sibilant requiring de-essing (or excess sibilance removal), but most de-essers come with very clearly audible drawbacks as well. After de-essing, vocals may sound muffled, the 's' may sound more like an 'f', or even worse, the operation of a de-esser manifests itself as a clearly-audible time-varying filter.

TB Sibalance provides very powerful tools to reduce excess sibilance in a minimally invasive way. In contrast to conventional de-essers, TB Sibalance uses so-called 'matched filter' technology to only process those frequencies that are causing excess sibilance, while leaving all other frequency components untouched. The result of TB Sibalance will therefore sound cleaner and more transparent than that obtained with other de-essers.
TB Sibalance for Windows and Mac (VST/AU) is available for purchase for 19.95 EUR.
This is a demo of 15 presets from FLUX:FX, processing a simple drum loop.
Available now on the AppStore: http://bit.ly/getfluxfx
FLUX:FX is a multi-effect audio processor app for the iPad that lets you 'play' your effects. Innovative, intuitive and exciting, FLUX:FX lets you manipulate any audio signal into something entirely new, and redefines the possibilities of audio design and live performance in an app with an almost unlimited range of effect options. FLUX:FX is a truly authentic digital platform for designing your sound. Featuring more than 30 modular effects blocks, a master Performance view with 1-touch interaction, an advanced Edit view with multi-touch and full assignment possibilities, and an innovative Sequencer view to bring motion to the audio signal, this app allows the user to easily create previously unheard sounds. Fully compatible with Audiobus, Inter-App Audio and MIDI, FLUX:FX is made to connect seamlessly with existing live rigs and studio workflows. Designed and built by the collective NOIISE – incorporating the acclaimed US guitarist Adrian Belew, mobile specialists MOBGEN and audio experts Elephantcandy.
Full details on the FLUX:FX application can be found at http://flux.noii.se
Klevgränd has introduced Svep – a stereo modulation filter effect for iPad.
All parameters are easily editable in one screen.
Features:
Inter App Audio (IAA) compatible. Works fine with Garageband and other IAA compatible hosts.
Supports Audiobus 2 including state saving.
Load / Save presets
Remembers IAA hosts (will automatically load last used settings when a host connects)
Low cpu usage
Simple but yet powerful user interface
Svep is available for US $1.99 in the App Store.

Audiority has released The Abuser, an aggressive distortion effect designed to provide a unique sound to guitars, bass, synthesizers, drums and more.
System Requirements
PC:
Windows XP SP2 or later.
Intel Core2Duo 2GHz / AMD Athlon 64 or equivalent.
2GB RAM.
Screen resolution: 1024×768.
VST2 32-bit or 64-bit host.
MAC:
OS X 10.6.8 or later.
Core Duo 2GHz.
2GB RAM.
Screen resolution: 1024×768.
VST2 and AU 32-bit or 64-bit host.
Intro price: €39 – Introductory price of €29 until Dec 1st. More info here >>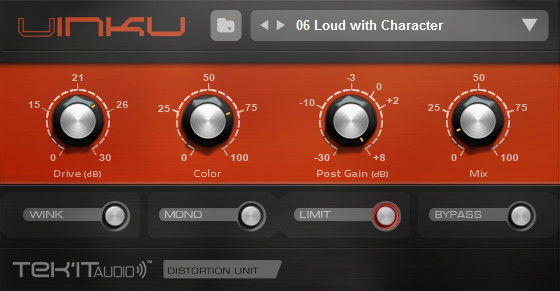 Tek'it Audio has announced the release of Uinku, a fold-back distortion effect plug-in for Windows and Mac.
Uinku creates subtle harmonic changes to extreme distortion helped by the "Drive" control to add saturation and the "Color" control in an effort to bake the perfect tones.

The interface features a "Mix" control for blending the original sound with the sound of Uinku and an "Output Gain" control with a clipper stage to drive distortion further.
Uinku features
2 Flavors of Foldback distortion, including the "Winkl" sound.
Distortion drive and color controls.
Mix and output gain controls.
Activable gain stage clipper.
Bypass switch.
x16 Oversampling.
64-bit internal processing.
Full MIDI automation support.
Preset manager, rename, save, load presets and banks.
Works in mono or stereo.
16 factory presets.
The plug-in is available for Windows and Mac (VST/AU), priced at 39 EUR / $49 USD.
Klevgränd Produktion has introduced Vandelay – a new audio effect, for iOS and Mac, that offers three separate delays in as many frequency regions.
Each delay has an LFO that modulates the pitch of the audio stream. Together with tempo based delay times and feedback control, you can create a rich sound from almost any source. 
Features:
Full Audiobus 2 compatibility including state saving.
Inter App Audio (IAA) compatible.
Unique pitch modulation.
Delay times are tempo based and can be quantized using the snap function.
All parameters are visible and editable in one screen, wrapped in an intuitive user interface.
Load / Save presets
Vandelay is available in the App Store for US $2.99. The free Audio Unit (AU) version of Vandelay is available via the developer's site.