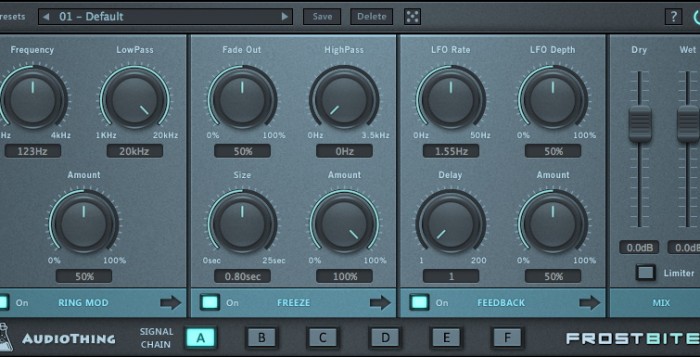 AudioThing has released Frostbite, a multi-effect plug-in featuring Ring Modulator, Feedback, and Freeze effects.
Frostbite is aimed at ambience and cinematic music, but can also be used for extreme sonic experiments.The Signal Flow is flexible with 6 different combinations.

The Ring Modulator multiplies the input signal with a Sine wave (with frequency up to 4kHz). It is also possible to reduce the high-end with the Low Pass filter.

The Feedback module features a delay function (up to 200 samples) which can be modulated by an LFO.

The Freeze module features a Freeze effect that can hold the input up to 25 seconds. The Fade Out and High Pass controls can additionally shape the behaviour of the freezed sound.
FrostBite features
Ring Modulator.
Feedback.
Freeze.
Preset system with randomizer.
Formats: VST, AU, and AAX (32/64-bit).
Platforms: OS X, Windows.
The plugin is available for purchase for the introductory price of 29 EUR/$34 USD until April 8th, 2015 (regular 36 EUR/$42 USD).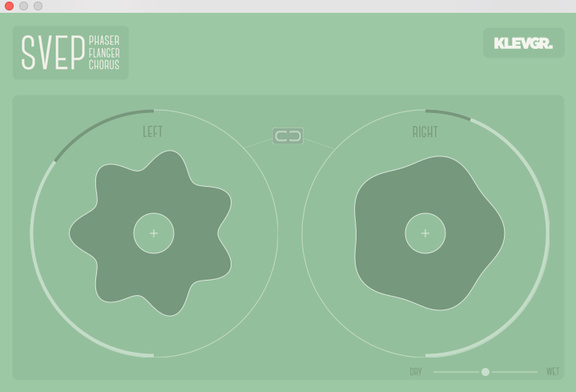 Klevgränd Produktion has announced the release of an AudioUnit and VST plug-in version of Svep, its modulation effect processor previously released for iOS.
Svep is a stereo modulation filter effect suitable for any sound. All parameters are easily editable in one screen and the clean and responsive user interface encourages creativity. Tweak it to produce anything from old-school phasers to subtle choruses.
Svep is available as a free download.
Klevgränd has also released a VST plug-in version of SquashIt, the multiband distortion effect. The plug-in is available for purchase for $7.99 USD.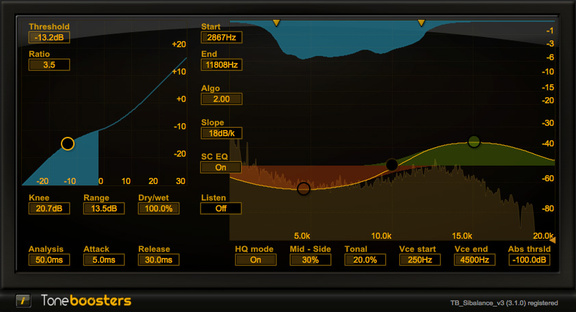 ToneBoosters has announced the release of TB Sibalance, a de-esser effect plug-in for Windows and Mac.
De-essers can be an evil necessity. Vocal recordings may be too sibilant requiring de-essing (or excess sibilance removal), but most de-essers come with very clearly audible drawbacks as well. After de-essing, vocals may sound muffled, the 's' may sound more like an 'f', or even worse, the operation of a de-esser manifests itself as a clearly-audible time-varying filter.

TB Sibalance provides very powerful tools to reduce excess sibilance in a minimally invasive way. In contrast to conventional de-essers, TB Sibalance uses so-called 'matched filter' technology to only process those frequencies that are causing excess sibilance, while leaving all other frequency components untouched. The result of TB Sibalance will therefore sound cleaner and more transparent than that obtained with other de-essers.
TB Sibalance for Windows and Mac (VST/AU) is available for purchase for 19.95 EUR.
This is a demo of 15 presets from FLUX:FX, processing a simple drum loop.
Available now on the AppStore: http://bit.ly/getfluxfx
FLUX:FX is a multi-effect audio processor app for the iPad that lets you 'play' your effects. Innovative, intuitive and exciting, FLUX:FX lets you manipulate any audio signal into something entirely new, and redefines the possibilities of audio design and live performance in an app with an almost unlimited range of effect options. FLUX:FX is a truly authentic digital platform for designing your sound. Featuring more than 30 modular effects blocks, a master Performance view with 1-touch interaction, an advanced Edit view with multi-touch and full assignment possibilities, and an innovative Sequencer view to bring motion to the audio signal, this app allows the user to easily create previously unheard sounds. Fully compatible with Audiobus, Inter-App Audio and MIDI, FLUX:FX is made to connect seamlessly with existing live rigs and studio workflows. Designed and built by the collective NOIISE – incorporating the acclaimed US guitarist Adrian Belew, mobile specialists MOBGEN and audio experts Elephantcandy.
Full details on the FLUX:FX application can be found at http://flux.noii.se
Klevgränd has introduced Svep – a stereo modulation filter effect for iPad.
All parameters are easily editable in one screen.
Features:
Inter App Audio (IAA) compatible. Works fine with Garageband and other IAA compatible hosts.
Supports Audiobus 2 including state saving.
Load / Save presets
Remembers IAA hosts (will automatically load last used settings when a host connects)
Low cpu usage
Simple but yet powerful user interface
Svep is available for US $1.99 in the App Store.

Audiority has released The Abuser, an aggressive distortion effect designed to provide a unique sound to guitars, bass, synthesizers, drums and more.
System Requirements
PC:
Windows XP SP2 or later.
Intel Core2Duo 2GHz / AMD Athlon 64 or equivalent.
2GB RAM.
Screen resolution: 1024×768.
VST2 32-bit or 64-bit host.
MAC:
OS X 10.6.8 or later.
Core Duo 2GHz.
2GB RAM.
Screen resolution: 1024×768.
VST2 and AU 32-bit or 64-bit host.
Intro price: €39 – Introductory price of €29 until Dec 1st. More info here >>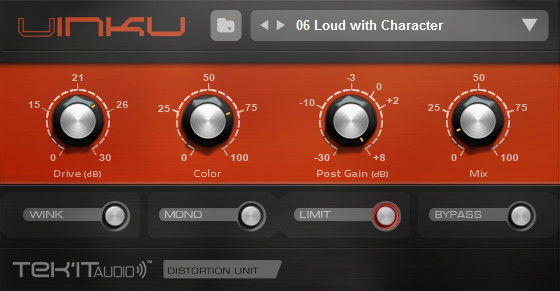 Tek'it Audio has announced the release of Uinku, a fold-back distortion effect plug-in for Windows and Mac.
Uinku creates subtle harmonic changes to extreme distortion helped by the "Drive" control to add saturation and the "Color" control in an effort to bake the perfect tones.

The interface features a "Mix" control for blending the original sound with the sound of Uinku and an "Output Gain" control with a clipper stage to drive distortion further.
Uinku features
2 Flavors of Foldback distortion, including the "Winkl" sound.
Distortion drive and color controls.
Mix and output gain controls.
Activable gain stage clipper.
Bypass switch.
x16 Oversampling.
64-bit internal processing.
Full MIDI automation support.
Preset manager, rename, save, load presets and banks.
Works in mono or stereo.
16 factory presets.
The plug-in is available for Windows and Mac (VST/AU), priced at 39 EUR / $49 USD.
Klevgränd Produktion has introduced Vandelay – a new audio effect, for iOS and Mac, that offers three separate delays in as many frequency regions.
Each delay has an LFO that modulates the pitch of the audio stream. Together with tempo based delay times and feedback control, you can create a rich sound from almost any source. 
Features:
Full Audiobus 2 compatibility including state saving.
Inter App Audio (IAA) compatible.
Unique pitch modulation.
Delay times are tempo based and can be quantized using the snap function.
All parameters are visible and editable in one screen, wrapped in an intuitive user interface.
Load / Save presets
Vandelay is available in the App Store for US $2.99. The free Audio Unit (AU) version of Vandelay is available via the developer's site.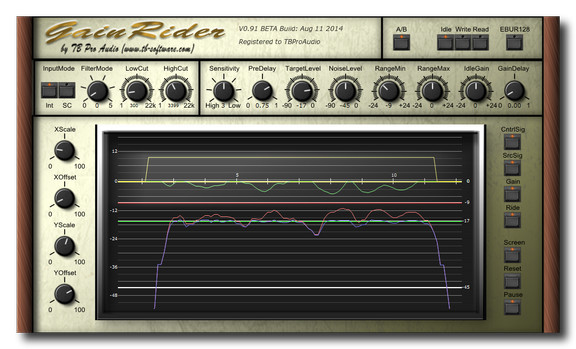 TB Pro Audio has launched GainRider, a gain riding effect plug-in for Windows and Mac.
Gainrider is a (vocal-) gain riding tool which gives fully control over the gain riding process.
GainRider features
Easy setup of algorithm sensitivity.
Detailed control of gain modification (min, max, idle).
Exact control when gain modification happens (pre delay).
Large display to monitor visually impact of plugin parameters.
Flexible pre filter including preset ITU 1770 filter curve.
DAW side chaining (VST3/RTAS) or channel 3+4 (VST2).
Read/Write automation data.
A/B control.
GainRider for Windows and Mac (VST/AU/RTAS) is available for purchase for 59 EUR.
FabFilter has released Pro-Q 2, an updated version of its equalizer effect plug-in for Windows and Mac.
Here are all the details:
Completely redesigned EQ engine

For Pro-Q 2, FabFilter has completely redesigned the internal filter engine from the ground up — not only improving the existing Zero Latency and Linear Phase processing modes, but also introducing a unique Natural Phase mode. Besides perfectly matching the magnitude response of analog EQ'ing, Natural Phase also closely matches the analog phase response, without introducing noticeable pre-ring or a long latency. Last but not least, FabFilter Pro-Q 2 is more than twice as CPU-efficient as its predecessor.

Universal filter slope support

Very steep filter slopes of up to 96 dB/octave are now available, and, uniquely, FabFilter Pro-Q 2 lets users change the slope of any filter type — not just the usual Low/High Cut filters. This makes it possible to create super-narrow bell filters, very steep or gently sloping shelves, and more. In addition to the existing Bell, Low/High Shelf, Low/High Cut, and Notch filters, Pro-Q 2 also features new Band-Pass and Tilt Shelf filter types.

More interface innovations

Furthermore, FabFilter Pro-Q 2 is boosted by an abundance of user interface innovations. Spectrum Grab enables users to directly adjust peaks in the real-time spectrum analyzer display. Pro-Q 2 offers flexible interface resizing, in addition to a Full Screen mode that makes it easier than ever to do ultra-precise adjustments. EQ Match lets users match the spectrum of another track in just a few seconds. All this power is neatly integrated into a gorgeous, uncluttered interface that lets users focus freely on music and workflow.

Original and trailblazing

Of course, Pro-Q 2 features everything that was great about the original Pro-Q — up to 24 EQ bands, innovative interface with unsurpassed workflow and multi-band selection, per-channel EQ'ing in L/R or M/S mode, real-time spectrum analyzer, intelligent solo mode, double-click text entry, stereo/mono plug-ins, Pro Tools hardware surface support — as well as all the trailblazing FabFilter bells and whistles that users have come to expect and love — perfectly fine-tuned knobs and controllers, GPU-powered graphics acceleration, interactive MIDI Learn, undo/redo and A/B switch, Smart Parameter Interpolation for smooth parameter transitions, an extensive help file with interactive help hints, sample-accurate automation, advanced optimization, and more.
New in Pro-Q 2
Different interface sizes and additional Full Screen mode.
Operates in zero latency mode, linear phase mode with adjustable latency or the unique Natural Phase mode.
Spectrum Grab: just grab and adjust a peak in the real-time spectrum analyzer right away!.
Filter shapes: Bell, Notch, High/Low Shelf, High/Low Cut, Band Pass, Tilt Shelf.
Universal filter slope support for all filter types, up to 96 dB/oct.
EQ Match feature to automatically match the spectrum of another track via the side-chain input.
Phase Invert option to change polarity.
Highly improved CPU optimization: Pro-Q 2 uses less memory and is more than twice as efficient as its predecessor!.
Optional Gain-Q interaction.
Auto Gain and Gain Scale.
Built-in spectrum analyzer with Pre-EQ, Post-EQ and SC modes, adjustable range, speed, resolution, tilt and freeze.
Optional piano roll display to quantize EQ frequencies to musical notes.
Large output level meter with peak level readout.
FabFilter Pro-Q 2 for Windows and Mac (VST/AU/RTAS/AAX/AudioSuite) is available for purchase for 149 EUR/$199 USD/£124 GBP. Bundles with FabFilter Pro-Q 2 and other FabFilter plug-ins are also available. Existing FabFilter customers can purchase or upgrade to Pro-Q 2 with a discount from their online user accounts.