An oscillator can produce a frequency that is too low to be perceived as a pitch. In this case it is known as an LFO or low frequency oscillator. Because the oscillator in your kit can be both low frequency or audio range, you can turn up the frequency of one oscillator and feed it into another oscillator to create "frequency modulation".
littleBits makes an expanding library of modular electronics that snap together with magnets. Bits modules are just the beginning. Combine them with craft materials, building sets, and other toys to electrify your life. Find out more at littleBits.com
Background video description:
In my last video, I showed how the Microbrute's LFO will sync to external MIDI clock and used the LFO to modulate the MicroBrute itself. But using the LFO CV OUT from the Micro, you can also modulate another synth. In this video, I've got the Micro's LFO modulating the filter on the MiniBrute. You've probably notices I'm using a Leatherman multi-plier to hold down keys on the MicroBrute to allow the sequence to run "hands-free". I have been told that Arturia is releasing a software update on Nov. 12 that will allow the sequencer to run hands-free using a MIDI CC command. Until I get the update, I'll be using the weight of the tool to hold keys down.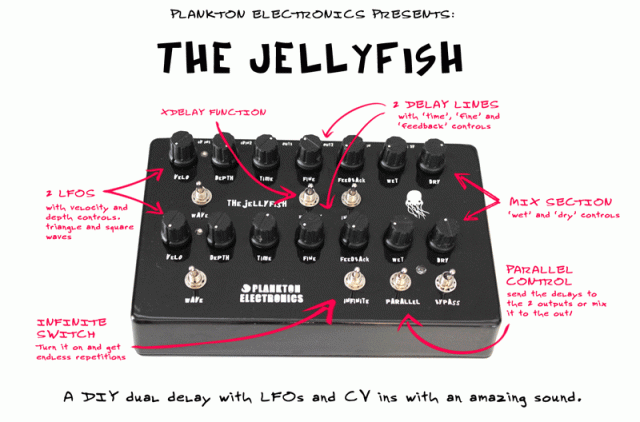 Plankton Electronics has introduced The Jellyfish – a DIY double delay, with modulation options capable of a wide variety of sounds, from simple delay lines to crazy modulated stereo sounds.
Features:
Analog passive filters
CV inputs
Two LFOs
Infinite feedback switch
Xdelay function
Dry/Wet controls
Pseudo-stereo (1 in-2 outs) or mono mixed sound
The Jellyfish is available as a kit for 120 Euro (the case is additional).  Schematics and other documentation are provided on their site – right here >>
Here is a brief exploration of the Dewanatron Swarmatron's optional frequency modulation feature which allows one or more its eight voices to frequency modulate the overall pitch as well as the spread of its 8-note cluster.
The Swarmatron was created to produce eight tones tuned approximately to one note, each tone slightly different in pitch to produce a complex and natural choral effect. These eight oscillators can be played with a single ribbon controller (variable resistor) to move the pitch center up or down. The span control expands the sound of a swarm of eight notes spread just a few cents apart into a wide chord of equidistant pitches spread over the entire spectrum. The player can "taffy pull" the resulting chord by using the span control and pitch ribbon in tandem. Swarms of sine waves evoke swarms of angels congregating. Swarms of sawtooth waves evoke the swarming of bees. The sound of a host of voices, earthly or unearthly, has a unique character recognized by the ear even when they are folded together in unison.
Exploring filter modulation on the Prophet, details below:
I was able to to borrow a Prophet 12 recently. Since it has analog filters, I thought it might be interesting to do "analog things" to it. This is part of what happened next.
At first I was disappointed when I saw that there were no CV connections, but I soon found that the two pedal inputs can be used with a variety of CV gear.
In this video I have the Koushion Step Sequencer iPad app sending MIDI notes to the Moog Mult-Pedal. The Multi-Pedal converts them to an analog control Voltage which step-sequences the Prophet 12′s filter.
The Moog CP-251 allows us to make multiple copies of the Control Voltage so we can also step-sequence a Moog Voyager and Little Phatty. Learn more at www.experimentalsynth.com
This Bitwig Studio beta video demonstrates the unified modulation system in Bitwig Studio. Whether you're working with macro controls, setting up modulation devices (such as LFOs or envelope followers controlling plug-ins), or just assigning velocity to the filter in our virtual analog synth—assignments are all made using the same powerful but easy-to-use concept.
For more information visit: www.bitwig.com
An implementation of the Bob Borries modulation trick to mimic PWM on a Miniwave.
Simply put, an LFO (or EG, or other modulation source) sweeps the cutoff on a ramp (rising sawtooth) wave being fed into a highpass filter. The output of the highpass HPF drives the Miniwave input.
Changing the waveshape of the ramp changes the spectral content of the Miniwave, lending a PWM style tonal sweep.
Not everything sounds great, but they beauty of it is that one can go from subtle sweeps to nails-on-a-chalkboard grind with relatively little effort.
This overview is an exploration into the versatility of the Braids' wavetable synthesis using heavy modulation. The Timbre, Color, FM, Trigger inputs are being fed intense modulation. If you want to hear specific waveforms, they are all timestamped on Youtube in About/Show More. All the waveforms are timestamped on the YouTube page. The basic waveforms can be heard below in Equinoxoz Music Solutions' video. This overview does not cover the universal paramaters like Bits, Rate, Trig, META, etc… You can find additional information in the Braids Manual.
More information: http://trashaudio.com/?p=9333
Waveforms:
CSAW
/\/|-_-_ 0:21
/|/|-_-_ 0:45
SYNC 1:01
FOLD 1:15
_|_|_|_|_ 1:35
RING 1:54
/|/|/|/| 2:16
/|/|_|_|_ 2:36
TOY* 3:05
ZLPF 3:20, ZPKF 3:42, ZHPF 4:01
VOSM 4:11
VOWL, 4:29 VFOF 4:57
FM 5:15, FBFM 5:37, WTFM 5:50
BELL 6:09
PLUK 6:19
BOWD 6:40
BLOW 7:09, FLUTE 7:29
WTBL 7:49
WMAP 8:02
NOIS 8:18
TWNQ 8:32
CLKN 8:41
CLOU 8:51, PRTC 8:59
QPSK 9:18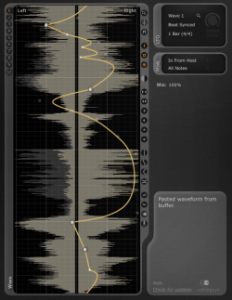 CableGuys has released PanCake 2 – an plugin that allows you to create flexible pan modulations.
Key Features:
Free, and available for both PC and Mac.
Creative Modulation Tool: Create complex pan modulations with ease.
Unique Waveform Drawing Capabilities:Construct your own modulation curves in a very intuitive manner. Waveforms can be easily drawn using soft or hard control points, thus producing gentle transitions or sharp bends in the waveform.
Customized Waveforms: Up to 10 customized waveforms can be stored.
LFO Speed: LFO speed can be set free-running from 0.02 Hz to 5.24 kHz. It can also be set in rhythmic units synced to the host sequencer, from a fast 1/128 note modulation up to 32 bars.
Always in Sync: The LFO will always stay in sync, even when you make tempo changes in your host software, or jump ahead to different parts of your track.
Complete Parameter Control via Automation: Absolutely everything in PanCake can be automated. Even the shape of the modulating waveform can be automated. And if you want to use more than four modulation curves in a song, you can automate the plugin to switch between them.
New in version 2: A precise display of channel left/right volume for helpful visual control, an option to trigger the LFO via MIDI notes, a dry/wet control, plus a redesigned interface.
The Moog Foundation has really been busy over night – uploading some 20+ videos, below you will find a snapshot on what you can explore on their Youtube channel
This is the introductory video for the Bob Moog Foundation/macProVideo series "The Foundation of Synthesis." In it, Marc Doty sets the stage for the intent of these videos, which is an integrative instruction which not only describes synthesizer function and operation, but also gives a historical foundation for the functionalities and their implementation.
Pulse Width Modulation is a pleasing aural effect generated by the voltage-controlled adjustment of the width of a square wave. In this Foundation of Synthesis video, Marc demonstrates this function on several classic synthesizers. The video includes an oscilloscope, which shows you exactly what is happening when the width of the square wave output of the oscillator is changed!
In this part of the 3rd Tutorial of the Foundation of Synthesis, Marc outlines the history of the filter from its origin in the telephone to its application in electronic devices in order to give a firm understanding of how the filter came to be an important part of modern synthesizers. The filter is a function which removes harmonics from a sound. Since harmonics define the timbre of the sound, this is a fast and easy way to create new timbres.
Control voltage is the concept synthesis had waited for for 60 years. This technology united the synthesizer into a single device as well as allowed that device to become fully controllable and automated. Control voltage was a revolution in synthesis. In this video, Marc gives a short history to this amazing development.