Background video information:
First touch with CLOUDS. Stunning what comes out of a simple drum pattern from ELEKTRON ANALOG RYTM processed by CLOUDS… Some modulations + filter…
& sorry there is a letter missing the credits: should be RME FIREFACE UC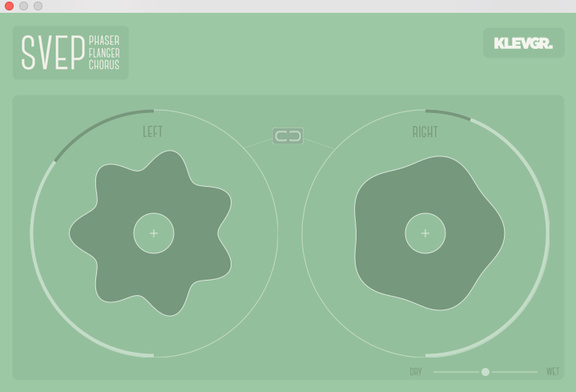 Klevgränd Produktion has announced the release of an AudioUnit and VST plug-in version of Svep, its modulation effect processor previously released for iOS.
Svep is a stereo modulation filter effect suitable for any sound. All parameters are easily editable in one screen and the clean and responsive user interface encourages creativity. Tweak it to produce anything from old-school phasers to subtle choruses.
Svep is available as a free download.
Klevgränd has also released a VST plug-in version of SquashIt, the multiband distortion effect. The plug-in is available for purchase for $7.99 USD.
Learn more here: http://bit.ly/Sub37MoogMusicInc
This is the power of modularity with the immediacy of a self contained instrument. Detailing the underlying philosophies and design goals that culminated in the realization of the Sub 37 Bob Moog Tribute Edition paraphonic analog synthesizer, this video explores the vast modulation possibilities and sequencing options available via the front panel.
This video contains complex harmonic content that may be difficult for your computer speakers or phone to reproduce.
We recommend using a high quality set of headphones for the proper listening experience.
Klevgränd has introduced Svep – a stereo modulation filter effect for iPad.
All parameters are easily editable in one screen.
Features:
Inter App Audio (IAA) compatible. Works fine with Garageband and other IAA compatible hosts.
Supports Audiobus 2 including state saving.
Load / Save presets
Remembers IAA hosts (will automatically load last used settings when a host connects)
Low cpu usage
Simple but yet powerful user interface
Svep is available for US $1.99 in the App Store.
Improvisations on the EMS VCS 3 synthesizer using cross modulation, feedback and nonlinear patching. Recorded in June 2013 at WORM Studio, Rotterdam.
FM percussion patch on the Tinysizer. Using Waveshaping + linear FM (Frequency Modulation). No filtering. Pattern made with Max for Live mono-sequencer (Ableton 9) controlled with nanoKontrol2
An oscillator can produce a frequency that is too low to be perceived as a pitch. In this case it is known as an LFO or low frequency oscillator. Because the oscillator in your kit can be both low frequency or audio range, you can turn up the frequency of one oscillator and feed it into another oscillator to create "frequency modulation".
littleBits makes an expanding library of modular electronics that snap together with magnets. Bits modules are just the beginning. Combine them with craft materials, building sets, and other toys to electrify your life. Find out more at littleBits.com
Background video description:
In my last video, I showed how the Microbrute's LFO will sync to external MIDI clock and used the LFO to modulate the MicroBrute itself. But using the LFO CV OUT from the Micro, you can also modulate another synth. In this video, I've got the Micro's LFO modulating the filter on the MiniBrute. You've probably notices I'm using a Leatherman multi-plier to hold down keys on the MicroBrute to allow the sequence to run "hands-free". I have been told that Arturia is releasing a software update on Nov. 12 that will allow the sequencer to run hands-free using a MIDI CC command. Until I get the update, I'll be using the weight of the tool to hold keys down.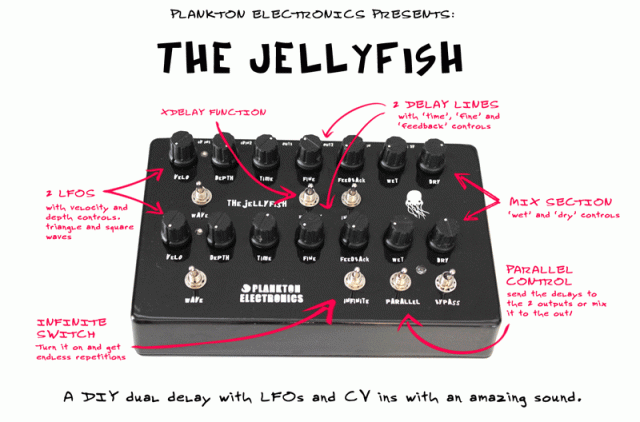 Plankton Electronics has introduced The Jellyfish – a DIY double delay, with modulation options capable of a wide variety of sounds, from simple delay lines to crazy modulated stereo sounds.
Features:
Analog passive filters
CV inputs
Two LFOs
Infinite feedback switch
Xdelay function
Dry/Wet controls
Pseudo-stereo (1 in-2 outs) or mono mixed sound
The Jellyfish is available as a kit for 120 Euro (the case is additional).  Schematics and other documentation are provided on their site – right here >>
Here is a brief exploration of the Dewanatron Swarmatron's optional frequency modulation feature which allows one or more its eight voices to frequency modulate the overall pitch as well as the spread of its 8-note cluster.
The Swarmatron was created to produce eight tones tuned approximately to one note, each tone slightly different in pitch to produce a complex and natural choral effect. These eight oscillators can be played with a single ribbon controller (variable resistor) to move the pitch center up or down. The span control expands the sound of a swarm of eight notes spread just a few cents apart into a wide chord of equidistant pitches spread over the entire spectrum. The player can "taffy pull" the resulting chord by using the span control and pitch ribbon in tandem. Swarms of sine waves evoke swarms of angels congregating. Swarms of sawtooth waves evoke the swarming of bees. The sound of a host of voices, earthly or unearthly, has a unique character recognized by the ear even when they are folded together in unison.